Grandparents show you the truest form of unconditional love: homes full of food ready for any hungry grandkids. You always turned to g'ma and g'pa when mom and dad said no, and they spoil you ever chance they get. For all that they do, they deserve the best gifts. Make them feel loved and appreciated for everything. It's time to spoil them for a change. Find the perfect gifts for grandparents as a small "thank you" for everything they do for you.
Check out these 15 great gifts for grandparents that are sure to put a smile on their faces.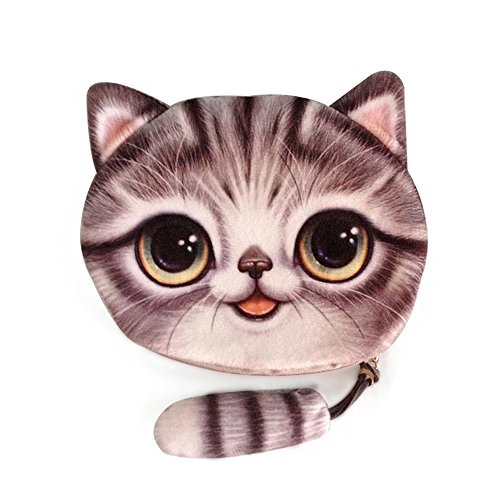 With their free time, some grandparents choose to collect certain objects. Some collect coins, some collect shot glasses from places they have been and some collect cats. If your grandmother loves cats, make your contribution to her collection more memorable by finding something she can use in her everyday life instead of getting her a simple cat figurine. "I am a collector of cats, all kinds, and over the years I have received a few of those," said Mary Manley, a grandmother in Spencer, Iowa. All her friends at bingo will be jealous.
Price: $7.88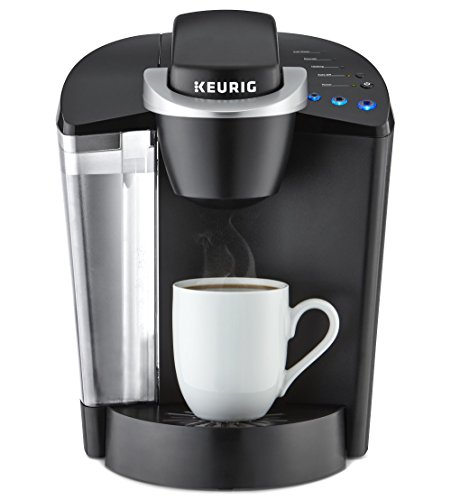 For the coffee-loving grandparent, nothing beats the gift of a brand-new coffee maker. A coffee maker will wake up your grandparents for early morning obligations like cheering at your high school siblings' Saturday morning games and will save them money by avoiding coffee shops so they have more cash to slip in your pocket when you visit. Your grandparent will definitely love not having to leave the house for a fancy cup of coffee in their slippers and pajamas.
Price: $55.79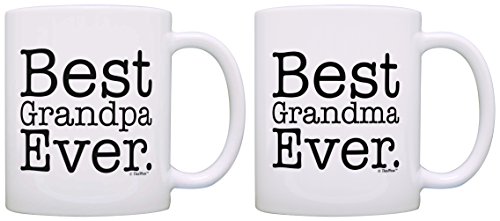 Sometimes classic gifts make the best gifts, so get your grandparents a simple coffee mug. A mug from you will always remind them of their favorite grandchild as soon as they wake up.
Price: $24.99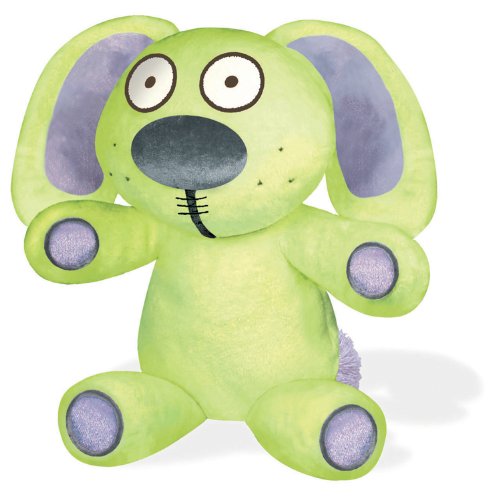 Sometimes grandparents don't need anything useful–they just need a good laugh. "These two things with some weird faces, I don't even know how to describe them, they just make me smile," said Denny Manley, a grandfather in Spencer, Iowa. While this may not be something they need, the smile plastered on their face every time they look at it says it all. Humor beats functionality, and 26 dollars means nothing in the face of putting a little humor and laughter in to the lives of the people who have brought so much joy to yours.
Price: $26.00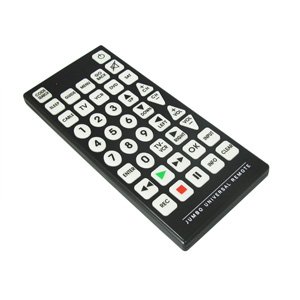 At some point, everyone, young or old, loses the TV remote. Help your grandparents avoid this problem by getting them the largest TV remote you can find. No more losing it between the couch cushions or not noticing it on the coffee table; with a remote this big it will be almost a challenge to lose it. When your grandmother or grandfather opens up a comically large remote they are sure to try to defend their eyesight even though everyone knows they really do need a remote that size.
Price: $8.26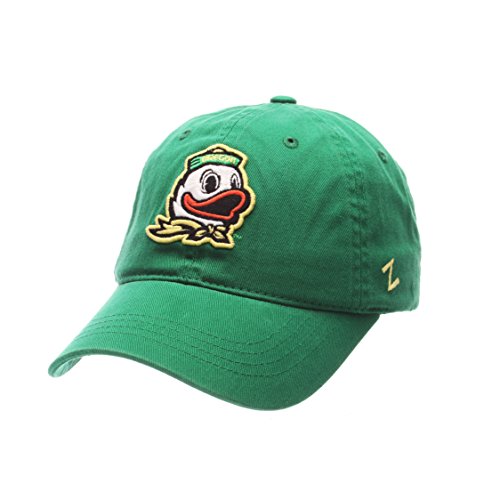 For the grandfather who has never been seen in public without a hat on his head, give him one from your college. "I got my grandpa a hat from the college I go to and he is so proud to wear it," said Morningside College freshman Mackenzie Johnson. Gramps will look stylish as ever, and it will remind him to brag about you with his friends at their weekly fishing or coffee dates. Not only does it make a simple gift, but your grandpa will look great while keeping his receding hairline warm.
Price: $19.72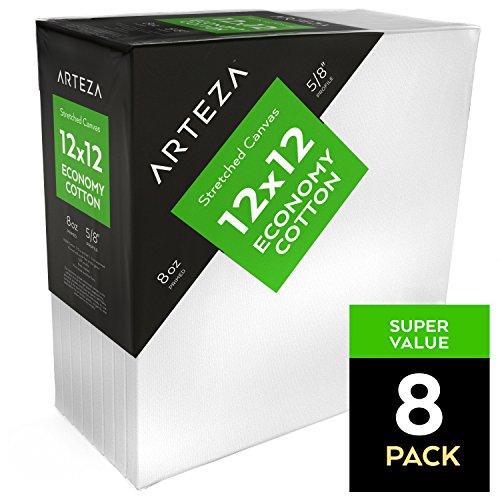 The artsy college student doesn't have to look much further than their own talents for a great gift. "This year I'm painting my grandparents some pictures on canvases. Something to look at and remind them of me since I'm away at school and thought it would be better since this is something that they'll probably have on their walls forever," said University of Iowa freshman Gabi Davis. The painting will be a truly one of a kind gift, and the perfect personal touch to add to empty walls. Buy multiple canvases to cover any inevitable painting mistake. By the time you feel satisfied with your work, your grandparents will be thrilled to get "an original."
Price: $23.49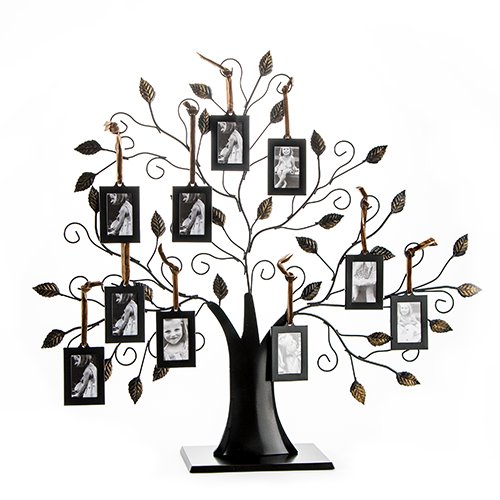 Whether you're an only child or have so many siblings and cousins your grandparents can't keep you all straight, each and every one of them mean something special. No matter the size of family, a family tree will capture all the love. A framed photo will serve as a constant reminder of family even when they've all spread out.
Price: $39.95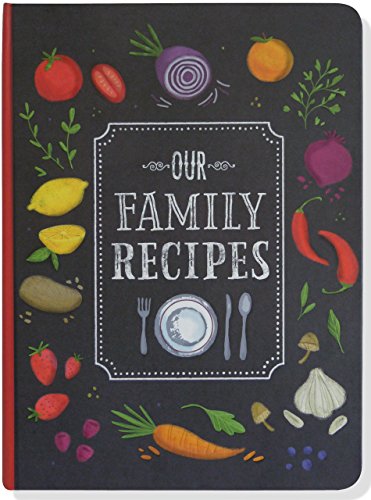 Nothing compares to grandma's home-cooked meals, so give her a way to write down all her recipes in one place. This will help her stay organized while trying to figure out the best pie to make for Thanksgiving, and she'll have plenty of pages to fill up as the years progress. All those recipes she created or inherited will be easily accessible when you want to join her and try your own hand at cooking.
Price: $9.99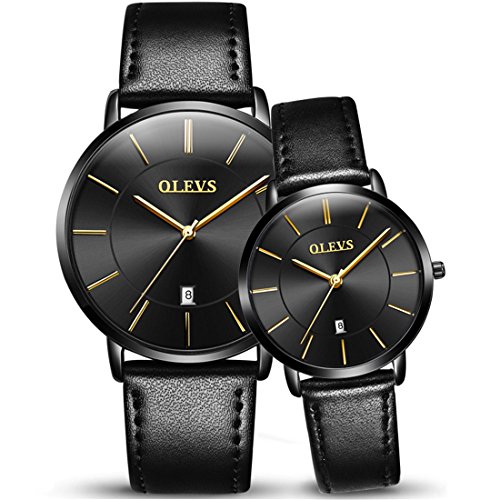 Want to give your grandparents a timeless gift? Help grandma and grandpa stay in style with some classy his and her watches. You'll have the perfect matching gift for grandparents who still love each other after all this time.
Price: $49.88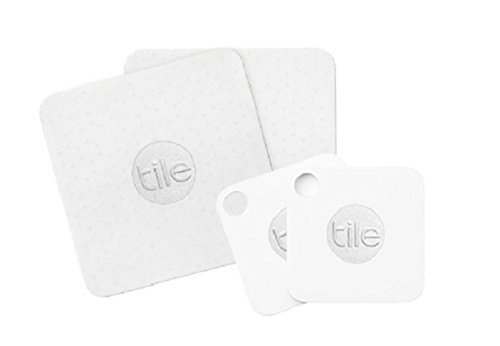 Sometimes it can feel like when you have your phone, you can't find your keys, but when you have your keys, you can't find your phone. Give your grandparents the gift of finding things quicker so they can cut out the half-hour it takes them to get ready to leave. Just download the app for them, and they'll soon figure out to press the screen to find their keys, or to press the physical tile to find their phone.
Price: $49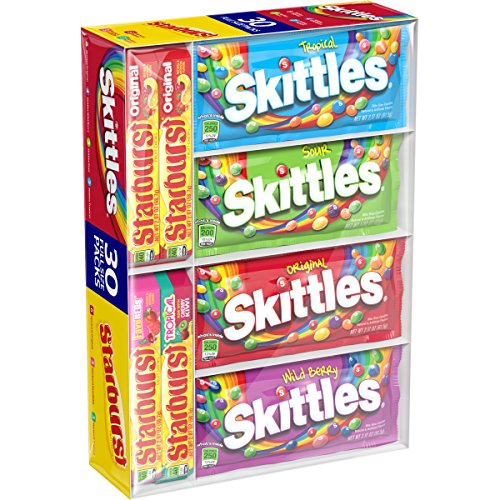 Everyone has that grandparent that tells you they don't want a gift or not to spend money on them, but not getting your grandparent something that shows your love for them just does not compute. The gift can be something simple and cheap but still shows your love and appreciation for them. "For Christmas we usually get him little Debbie Nutty Bars and peanut M&M's," said University of Northern Iowa freshman Katelyn Brockmeyer. Whether you get them something sweet and savory or something that leaves a sour yet satisfying taste, candy can be the perfect present to give.
Price: $27.87
Sometimes the best gifts come from personal thought and not out of your wallet. "I have gotten several wonderful gifts from my grandchildren over the years but the ones that are very memorable to me are the ones they make themselves like homemade piggy banks because they came from their hearts and I will treasure them forever," said Georgia Riley, a grandmother in Spencer, Iowa. Pick up plain white piggy bank or other blank canvas object and paint it to stand out with your grandparents' favorite colors. You'll leave them a long, lasting and colorful reminder of your love on the living room shelf.
Price: $11.08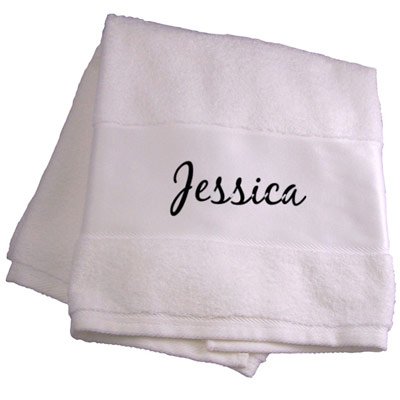 Give your present an extra personalized touch to warm the hearts of your grandparents. What better way to show them you thought specifically of them than buying them a monogrammed gift like towels? "I am planning on getting my grandma a yellow towel with her initials on it. Her favorite color is yellow, and what grandma wouldn't love a specialized towel from her grandchild," said Buena Vista University freshman Allie Cooke.
Price: $26.98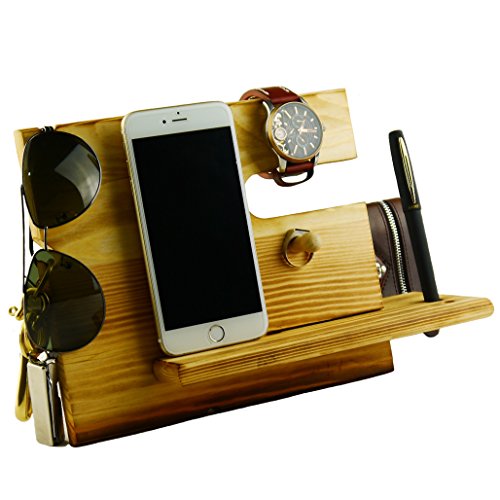 Help grandpa stay organized with a stylish wooden organizer. Big enough to hold all the essentials–phone, keys, watch, rings and any little thing he doesn't want to lose—it'll still manage to fit in the corner of his desk. As a bonus, grandma won't be nagging at him to keep his desk clean.
Price: $20.99
Grandma and grandpa deserve love year round. Here's 10 more gifts for grandparents they'll want to show all their friends.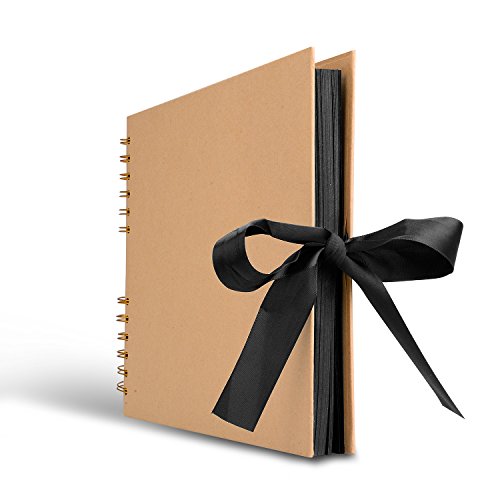 Grandparents love personalized gifts almost as much as they love reliving old memories. A personalized scrapbook with all your favorite pictures of them together will make them smile any time of year. When they open it and look at the pictures inside, it will give them a little capsule of love and happiness to cherish when they miss their grandkids.
Price: $13.38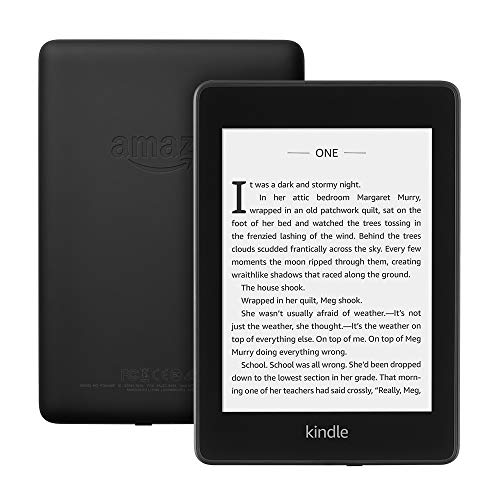 These days, there aren't many novels that come in large print. An Amazon Kindle makes reading the latest Stephen King thriller a breeze for the visually impaired if you will. The Kindle allows you to increase the font size in any novel you read. That way grandpa won't complain about the "tiny words" ever again.
Price: $84.99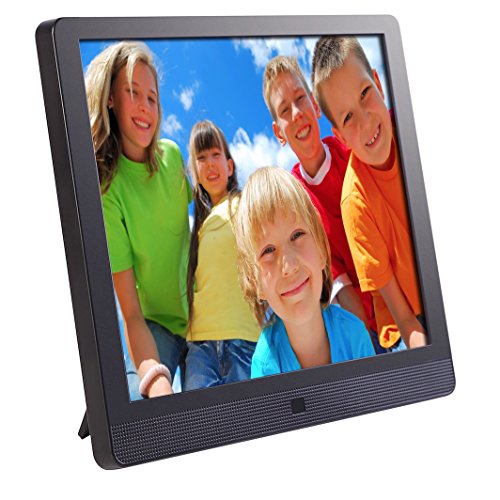 A digitalized picture frame helps grandparents brag about their grandkids to everyone that stops by the house. Grandmother Penny Fink said, "My granddaughter got me one of these last year and I love it because she sends me a new picture every week. I can always look forward to her pictures." You can send pictures straight to the picture frame. It's the gift that keeps on giving.
Price: varies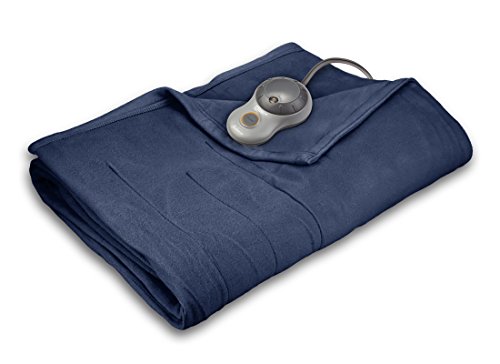 Maybe it's just my grandparents, but they're always complaining about how cold it is inside even though the thermostat is set at 74 degrees. When they turn it on, an electric blanket will feel like a warm hug from their loved one in the dead of winter.
Price: $34.99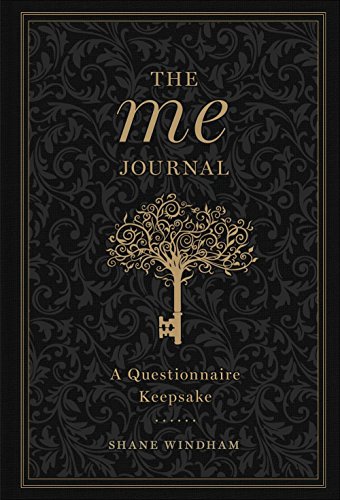 Mary Terrell, a grandmother from Columbus, Georgia said, "My life story and the legacy I leave behind is very important to me. If there was a way I could document it all, that would be a great gift to me." This journal gives prompts for recording their life experiences, relationships and wisdom. After they've filled up the journal, they re-gift it to you so that you can see what they wrote. It could even serve as a family heirloom that gets passed down so the family legacy lasts the generations to come.
Price: $9.53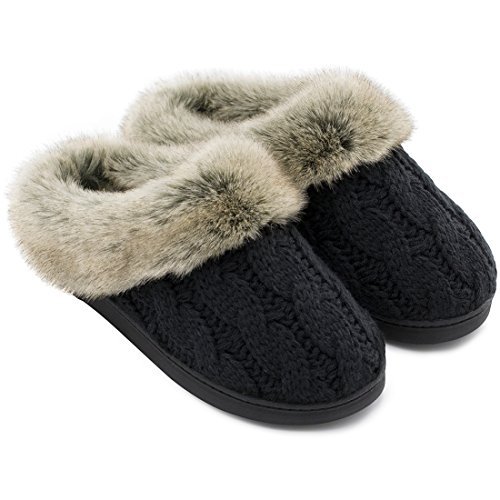 The gift of comfort always makes a great gift and what's more comfortable than a nice pair of fuzzy slippers? Sondra Hudspeth, a grandmother from Tallahassee, Florida said, "I put on my house shoes as soon as I get home, so having a good pair is always useful to me." A gift for the homebodies, this pair of comfy slippers goes great with a cup of coffee and a good book for a lazy day of lounging around the house.
Price: $19.99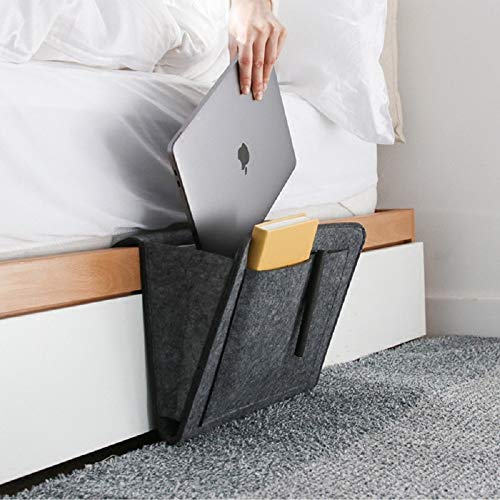 I can't be the only one who remembers something I forgot to grab as soon as I get good and comfortable. This bedside essential pocket comes as the gift they never knew they needed but will be so happy to have. Grandma can stick her knitting needles, the book she's currently reading and her reading glasses all in this pocket that rests on the side of the bed.
Price: $12.59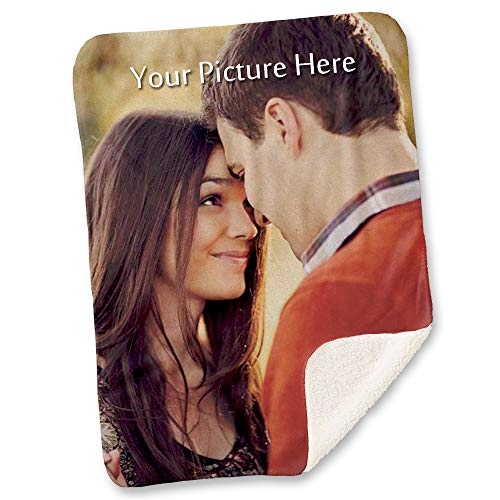 Similar to the quilts your grandma always makes you, a photo blanket would be great to repay the sweet sentiment. You just pick the photos you want and they're printed straight onto the blanket. You can choose photos of you and your grandparents together to make it extra special.
Price: $34.90
24. Long Distance Friendship Lamp
We all get busy. And regretfully, making sure to call your grandparents may fall lower on the to-do list. Let them know you're still thinking about them with a long-distance friendship lamp. When you touch your lamp, the other lamp will glow so you can literally brighten their day. Touch it when it's cold and rainy and all you're thinking about is your grandma's famous chili recipe. Or maybe even when you're sick in bed and thinking of home.
Price: $27.99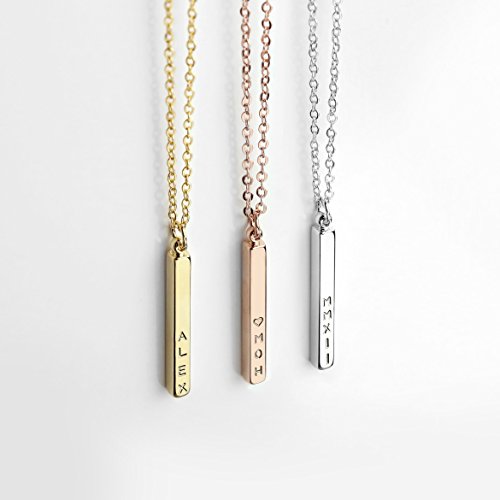 Tonya Belle, a grandparent from Columbus, Georgia, said, "I love accessories so any kind of jewelry would be a great gift to me." Have it engraved with a sweet message like 'I love you' or even their initials. That way every time they look down at it, they always think of you.
Price: $18.50
Get 25 More Thoughtful Gifts for Grandparents to Keep You in the Will
Think about giving back to the most loving family members you know–your grandparents. Your grandparents spend their time flaunting your accomplishments and missing you all points of the day. Take the time to find the perfect gift for your grandparents and continue reading.
What else do elders do other than play golf and tennis during their retirement time? Buy something useful for your grandpa or grandma like a golf polo shirt. Golf shirts serve well for those early mornings at the golf course in the good ole South. When commenting on what Paula O'Boyle's grandchildren could get her husband of over 50 years for Christmas she said, "Pop Pop needs some golf shirts larger size XXL." Pop Pop needs his XXL golf polo for his "jelly belly." After Christmas, grab your golf clubs and go golfing with your grandparents (wearing their new golf shirts).
Comfy. Cozy. Perfect for snuggling up and watching a Hallmark movie. This gift idea exhibits the most perfect present for the cold wintery nights. Weighted blankets come in an assortment of sizes ranging in lighter weights to heavier weights. Find a weighted blanket in your grandparents's favorite color and wrap that big box up.
Time for a new sewing machine for your grandparents? Even if the answer looks like a no, maybe your grandparent needs a surprise. Sewing machines allow your grandparents to pick up on a useful and good hobby. Maybe a new dress rings in your future?
Pressure cookers scream convenience. No need to take hours of your day preparing and cooking dinner when pressure cookers exist. Winter season brings yummy soups, chilis and chicken dinners into your daily meals. Perfect for this holiday season.
Chilly nights call for warm, soothing baths. Fun bath bombs create cool colors and designs as well as smell amazing. Scrub a dub dub, with some bath bombs. Bath bombs moisture your grandparents's skin and relax them during a rough day.
6. A Big Ole Hug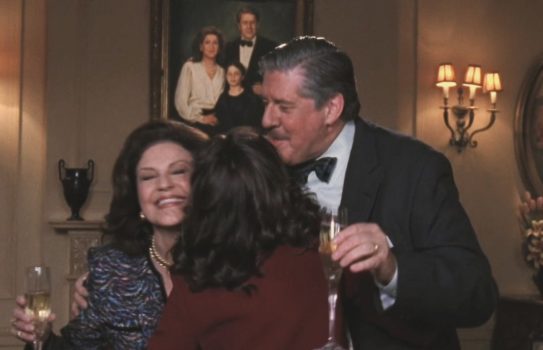 The perfect college kid gift goes to…a hug. Nothing exhibits holiday cheer and love other than affection in the form of a hug. "Most grandparents just want love from their grandchildren. As a college student it does the job," Jessica Schwarz said, a sophomore at the University of Maryland. As a retired elder, all they want lies in spending time with family and a hug displays an added bonus.
Feeling extra generous this holiday season? Update your grandparents' crusty headphones or plug in earbuds. Teach them how to use them in addition to creating a funny bonding moment. Your grandparents flaunt their new AirPods all around the neighborhood because of your generous heart (…or wallet).
Add to the comfort aspect of the holiday season and purchase some cute fuzzy socks for your grandparents. Fuzzy socks create warmth, add a cuteness factor and get worn perfectly with boots and slippers. Picture your grandparents snuggling in their new weighted blanket and fuzzy socks on their feet.
Holiday mugs perfectly complete your grandparents's mug collection. Mugs for hot chocolate and coffee along with holiday decorations on them displays the upcoming holiday season. This set of mugs provide your grandparents with options and multiple uses.
Time for some DIY action. Dig up some old photos with your grandparents and put them in the picture frame. Find pictures displaying good memories, funny moments and much more. This customizable letter board allows you to put the classic "I Love You" message or spice it up with lyrics from a holiday song or a common holiday saying like "Let It Snow."
A holiday sweater with some holiday spunk brightens your grandparents's holiday season. Find some cheesy, fun and cute sweaters for your grandparents's wardrobe. These Disney themed holiday sweaters can be worn for ugly Christmas parties or for any holiday party.
This winter season brings about below freezing weather and loads of snow, so a warm hat completes your grandmother's snow outfit. This hat has cute pom poms attached on either side to bring about cute, fun vibes. In addition, the hat comes in a variety of colors to help match your grandmother's winter coat.
Coming from someone whose grandpa did not understand that streaming services were separate from cable, this holiday gift comes in handy when helping grandparents. This Fire TV Stick offers so many different streaming services including: prime video, HBO, Netflix, Sling, Hulu, ESPN, YouTube and the brand new… Disney+. Also, your grandparents have access to Alexa rather than fumbling with the "clicker" for ages.
Grandparents pride themselves in their grandchildren's accomplishments, so why not give them another opportunity to show you off a bit more? Find some sweatshirts, sweatpants or T-shirts with your college's logo and/or name. Go ___(your college).
Yum, yum, yum. Appeal to your grandparents's sweets side. This Ghirardelli chocolate assortment succeeds at providing almost every flavor of chocolate for this holiday season. Food seems to make an ultimate go-to gift because food equals superiority.
Raise your hand if your grandparents desperately need some new board games because their current board game collection continues deteriorating with time. No need to frit because old, classic board games stay being sold in this day and age. Yahtzee provides a great board game night with the family.
Buy a bestseller book for your grandfather or grandmother, or both. What gives them something better to do in their free time other than indulging themselves into an interesting book with an added bonus of great reviews? Order them a hardcover or if they use technology, purchase them a Kindle or Audiobook version.
Spa day in the future for your grandmother? I think yes. This collection of face masks had a variety of scents to attend to the right mood. Not only does your grandmother's face look glowing, but also calms her in the process. At home spa days seems hard to beat , especially if you join in on the fun.
Your grandparents always on the run? Might as well stay hydrated in the process. This water bottle guarantees their drinks stay cold for an elongated time as well as prevent those pisky spills. Find their favorite color to complete the simplest yet best gift.
20. A Luxurious Vacation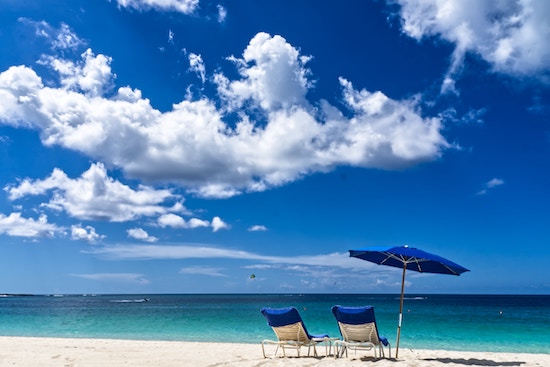 Find out your grandparents' dream vacation and ensure the trip for them. Buy and book them airplane tickets, hotel rooms and any other vacation essentials. No better way to celebrate the holiday season than in your dream location (most likely somewhere warm). Bring out the big bucks and prepare yourself for that huge embrace.
Dust off your grandparents's old record player because this record does not play by itself. Purchase a holiday themed record with all the classic sing-along songs on it. Get ready to dance around the family room with all your family members.
Now this mirror completes your grandmother's makeup collection. Your grandmother now gets the opportunity to do her makeup with tons of mirrors and great lighting to aid her to the epitome of beautification. Your grandmother thanks you in advance.
Talk about convenience. No need to use an assortment of different pots, pans and plates to make a delicious breakfast sandwich — this handy dandy kitchen appliance does it all in one. Picture your holiday breakfast with the use of this breakfast sandwich maker (thank your grandparents in advance for them making you one… or two).
Hey, grandparents need nightlights too. Do not discriminate. Also, this lamp passes as a décor piece in addition to a light late at night. Now your grandpa gets to see his way to the kitchen when he goes to grab a late night snack.
This cute bracelet gives off the love that reminds your grandma the love you have for her, every day. This sweet message in plants forever in her heart, and it adds to a fancy outfit she can wear to a holiday party. Holiday calls for fun, but also showing your love for the people closest to you.
*Updated January 4, 2019 by Alyson Peters to include gifts 16-25.
*Updated November 27, 2019 by Meghan Curtis to include 25 more gifts for 2019!