You pull up to school on move in day and bring all of your boxes and storage bins up to your brand new dorm. Once you start unpacking, a wave of terror sets in suddenly. How will you fit everything? You've tried moving your clothes around and hanging and folding different things, but no luck. You could always just bring less stuff. Let's be real, that's never going to happen.
1. Get yourself some hanging shelves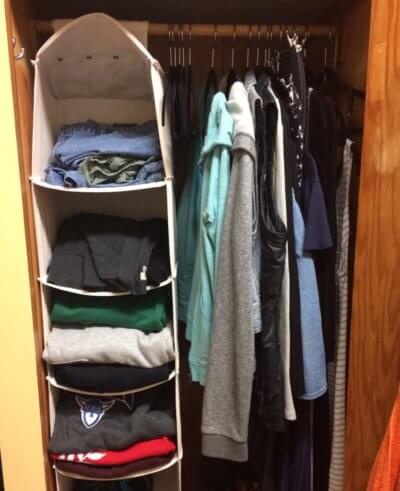 Newsflash: Not everything fits in your dresser. Getting a hanging organizer can help you create more folding space in your closet, alleviating the overstuffing of your drawers. You use it to store anything from sweaters to shoes to jeans. Keep in mind that you'll lose a bit of hanging space, but that's a small price to pay. Just look at how much stuff you can cram into the shelves.
2. Organize your drawers and shelves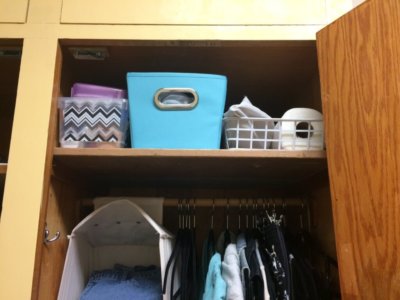 I'm guilty of just throwing something on a shelf and forgetting about it, but when it comes to the little shelf, this drastically changes your storage space. This also works with drawers really well. Buying simple little organizers or finding some old shoeboxes will save tons of space and keep you from searching through stuff to find the one thing you actually need. All of my laundry stuff hides in one, while miscellaneous stuff sits in another. I even use little boxes in my hanging organizers. They hide the clutter without fail.
3. Fold your t-shirts the right way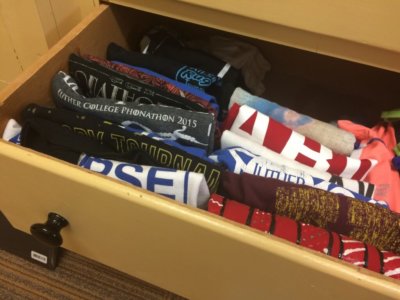 Some people think hanging everything saves space, but hanging t-shirts takes up valuable hanging room. If you fold them the right way and stand them up, you can not only save space, but you can also quickly find the exact shirt you want. Fold them like you would see at a store, with the design on the top. Then fold that in half and stand it up in your drawer so that you can see a little bit of the front of the shirt. It takes a little more effort but it's totally worth it.
4. Use your closet doors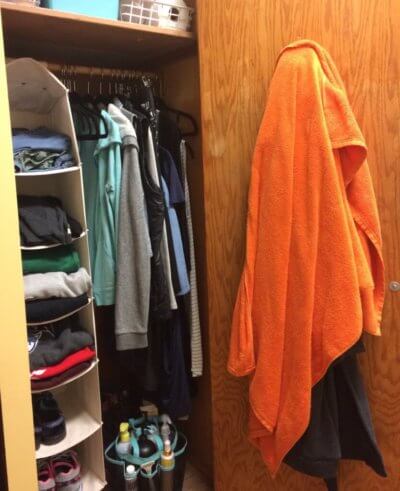 How, you ask? By looking for anything with the word "caddy" in it. Get one for shoes and you can use it for so much more than that. I keep my shoes in the bottom of my closet, but find that I can put cords, snacks, school supplies and more in a hanging shoe caddy. If you don't have doors on your closet, this could potentially also work on your room door. Yep, put that door to use as well. Why not, right?
5. Buy the right hangers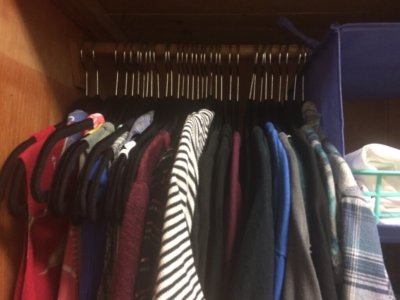 I never expected hangers to matter, and so I never considered anything other than bringing a bunch of hangers from home. If you're like me, then you have those chunky plastic hangers. Those take up a ton of space. Instead, buy wire hangers or the fuzzy ones. They take up way less space and if you get the fuzzy hangers, your shirts won't fall off. Sounds like a win-win.
6. Double hang your clothes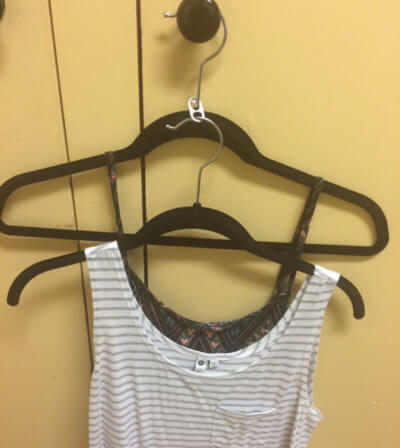 Hanging one shirt on a hanger takes up a lot of space. You can hang hangers off of other hangers though, saving you space to bring more clothes. If you use wire hangers, you can also repurpose your soda tops. Just put one on the hanger and boom, you can now hang two hangers in about half the space. You can also use a chain, hanging hangers on each chain link if you have one just casually laying around. If your closet is tall enough, you can even get a bar to hang more clothes below your clothes.
7. Hang belts and scarves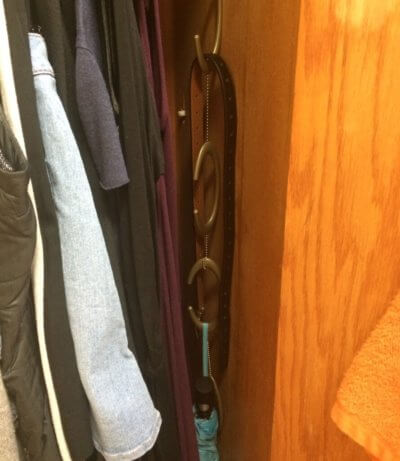 Invest in a scarf or belt hanger to hang up pretty much anything long. It saves a ton of drawer space and it'll let you see everything all at once (not to mention keep it off the floor). I even hang baseball caps, tights and my trusty umbrella in my closet with one of these. They make different kinds and styles of accessory hangers, so get the one that works best for your stuff.
8. Use your floor space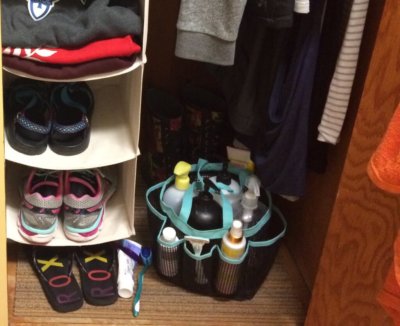 You know you can use the floor as storage in an organized fashion, right? My shower caddy, a set of plastic drawers, some shoes and my laundry hamper all live on the floor of my closet. Even though it might not look like a lot of space, you'd be surprised how much fits in there. If you have a lot of shoes, check out wire shoe racks. A set of drawers to store food and everything else you can't find a spot for might also come in handy, and then you can set things on top of them.
9. Get the right laundry hamper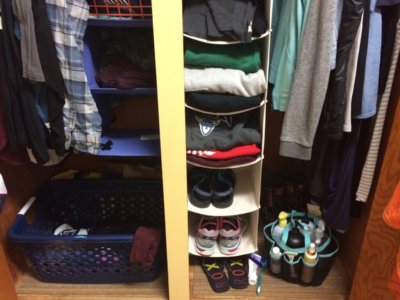 Speaking of using floor space, get the right hamper for your closet. During my freshman year, I used a tall and skinny hamper because my closet was floor to ceiling. This year, a short and wide laundry basket works better because my closet is shorter and my clothes take up most of the length of my closet. You definitely don't want to leave your hamper out on the floor by your bed or something, because you don't exactly have tons of space there either.
10. Make command hooks your new BFF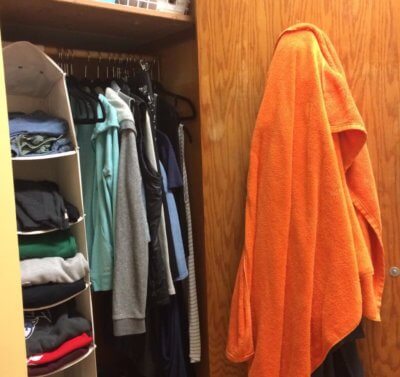 Jackets take up a lot of space, but you'll freeze without them. Find a place to efficiently store them, especially if you go to a school where it gets cold in the winter. Command hooks can hold my big winter jacket and my spring raincoat. Stick them on the inside of your closet door to hide your coat as long as you have doors and enough space to still close the door, or you could use the side of your closet. They also work great for things like towels, hats or necklaces. Command hooks might not solve all of your college problems, but they're certainly a good start.