Ah, studying abroad: the most sought after, and often the most financially impactful experience of our young college student lives (thinking of all the artisanal ice cream/genuine wool sweaters/unique vintage shops, it's rather inevitable).However, don't you want to make more of your study abroad trip than a few photos of yourself sunning on a piazza or plaza? With more and more employers seeking people with ample life experience, an opportunity presents itself for you: gaining resume skills from your time while living in an entirely different culture.
Read on for ten tips and tricks for studying abroad that can increase your passport stamps as well as your employability.
1. Follow Your Goals: Dublin, Ireland (IES)
Estimated Cost: $18,345
When you know you want a certain career or field of interest, pursue the study abroad program that funnels through to your interest. For example: the Summer Irish Writing Program. "I chose this program to improve as a writer, become a more well-rounded and well-read reader and to gain some insight into publishing from people in the field," said University of Iowa junior Amelia Johsnon. "The experience planted some new ideas in my head about how to find inspiration and how to focus on my writing, and the importance of getting your work out there to journals and houses and such." With weekly presenters that either work for publishing houses and/or published writers, you have the opportunity to ask people real questions in a classroom setting. You can apply for this six-week program through the IES website, and something even better? Due to the shorter time frame, you save on spending money and homesickness. Plus, the amount of sheep you see will revive your spirits for weeks. So. Many. Sheep.
2. Open Your Mind: Communications, New Media + Journalism Spanish, Seville, Spain (CIEE)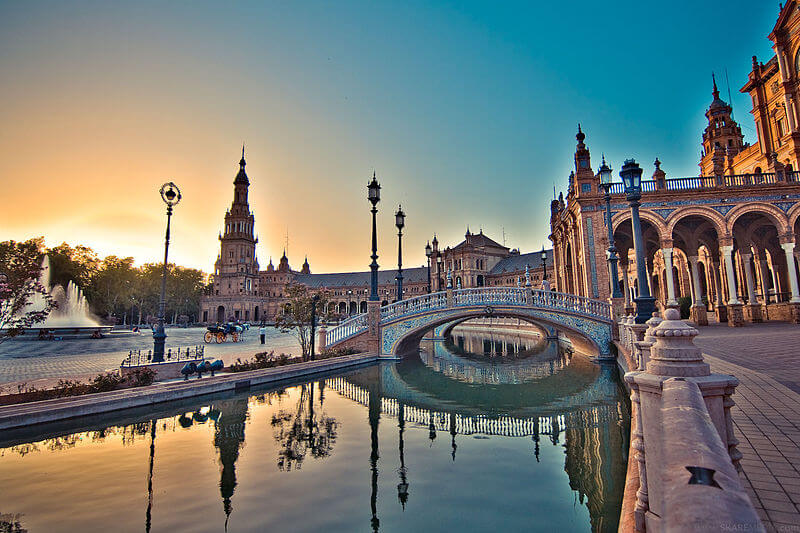 Estimated Cost: $16,450
Viva en Seville, why don't ya?! Something to keep in mind when you go abroad: You want to experience something new, and through that you need to keep an open mind. "I think it helped me to think outside of the box in terms of storytelling and my journalism career by forcing me to not only interact with different sorts of people, but also interact with a different culture all in a different language, My program was also tight knit and was extremely project based," said University of Iowa graduate Joie Probst. Through this program, you have the opportunity to stay with a Spanish-speaking host family while earning credits for communications, social media, journalism or social justice. "I think going abroad in general opens you up to new ideas and ways of thinking which are essential, especially in the ever-changing job landscape. It also just boosts your confidence after having made it through a semester or more of exploring, traveling and living in a place where everything is unfamiliar," said Probst. Once you embark on this program in the historic Seville, Spain, you have the confidence booster as well as the physical (and likely photographic) evidence that you can easily adapt to a new environment.
3. Create A Presence: Fashion Design & Merchandising, Milan, Italy (IES)
Estimated Cost: $18,100
This may strike fear into all you finsta-having folk, but employers check out social media to discover what kind of person they're considering paying for doing the things they need. This comes in especially handy for you smartypants because you'll have a whole arsenal of fun-loving photos as well as evidence that you've made your experience worthwhile. For example, the Fashion Design & Merchandising Program in Milan would follow perfectly for a career assisted by social media presence. Not to mention, Milan's gorgeous streets place you at the top of everyone's Insta envy. You'll likely want to go the extra mile with this, especially if you want to go into something that requires a proficiency with the ever-changing Internet. From that, you can social media build outside the box. Try making those video compilations of "one second per day" documentations, or posting your LinkedIn on your Instagram and vice versa to show employers you mean business, literally.
4. Build Your Own Study Abroad: London, England/ Dublin, Ireland (exchange programs)
Estimated Cost: Varies
You know the saying as well as I do: you want something done, you do it yourself. If your university doesn't offer the program or location you want, go searching on your own or find an exchange program. From that, you can see the world you would have otherwise missed out on. "I'd say that studying abroad gives you a global perspective in a way which you wouldn't get from just traveling. I think employers really like that in someone because it gives you an edge in being able to communicate, and work with all sorts of people in a global economy," said University of Northern Iowa senior Kevin Wiggins. This attitude of making your own program or experience extends to every facet of going abroad, from location to vocation and applies across the board, as well. Got a true obsession with ancient cultures? Seek out a program steeped in history like Rome. If nature feels like more of your thing, explore a climate somewhere across the world from you like Chile or Iceland. Show your future employers that you do not fear change, and your career will soon echo it.
5. Start a Blog: Latin American Societies & Cultures, Buenos Aires, Argentina (IES)
Estimated Cost: $16,200
Why, yes, you can become a trope of a study abroad student: The daily blogger. Like the Latin American Societies & Cultures program in Buenos Aires, it's practically inevitable that you come out of this with at least some advanced life experience. This program especially, due to the way that it offers an optional internship as well as service learning experience. This doesn't even include the 30+ field trips and events IES plans to take with students in the duration of your stay. You'll want to talk about this without boring your loved ones, so a blog comes as an excellent outlet. It also comes in handy when you want a physical documentation of all the neat things you did while you were experiencing an entirely different space, place and mind. Did you discover a new way of living? Did you learn an entirely new skill set? Even better, did you grow and mature as a person? Not only does this showcase your skills as a writer to future employers (I'm talking to you too, STEM majors), but it gives you the opportunity to have an online resume not confined to an irritatingly formatted single-space page. Brag about all your accomplishments and make it look pretty. Win-win.
6. Expand Your Horizons: Liberal Arts, Seville, Spain (CIEE)
Estimated Cost: $16,450
Something lovely about life, whether or not you study abroad, means that you'll experience all kinds of surprises. "Studying abroad had given me a lot of insight of what I want to do after college. Originally, I thought I would be abroad for just four short months but I ended up loving Europe so much that I didn't want to go home quite yet. I ended up in Dublin doing an internship with an American company doing graphic design/sales work," said University of Iowa senior Bridget Sexon. Studying abroad in programs such as this gives you the opportunity to springboard into entirely new, rewarding experiences. You even have the chance to join groups with common interests such as the environment, sports fanatics and foodies. Outside of the courses you enroll in, your free time gives you real leeway to build your resume. This program invites you to make what you can of it, whether that involves volunteering in the city, becoming more fluent in Spanish through the exchange program or taking a service learning or teaching practicum. Try not to go in with an exact plan in mind, or an exact itinerary of what you want to do. You may surprise yourself, as well as your future employers.
7. Seek Advice: University of Cape Town, Cape Town, South Africa (IES)
https://youtu.be/zRk0KrFEieg
Estimated Cost: $17,600
As fun as every photo atop an international landmark may seem, studying abroad can be pretty stressful. And it's understandable; you more or less pack up your life for a significant amount of time in an unfamiliar place, like the Cape Town exchange program listed above. With this particular program, you have the chance to enroll in three to five classes ranging in every interest from anthropology to biology to history. As the oldest university in South Africa, a rich history rides on its back. With any program, however, you want your time to have a purpose. This especially adds the pressure when you want to make it intriguing for future employers. If you feel lost on where you want to go or what you want to do with your time over (or under or above) the pond, you're not alone. So many people exist within your campus for the sole purpose of giving you guidance. Consider the Career Center at your university, the Study Abroad Office and even your personal counselor for any advice. "First of all, it's great that they're even considering doing it. When they're evaluating programs, they should meet with their academic advisor for tips on both practical and experiential components," said Director of Academic Programs and International Services at the University of Iowa Amanda McFadden. If you want a weirder perspective for advice, you can try out the rest of the Internet (but don't blame me if someone advises you to join a penguin cult in Antarctica or something).
8. Research Your Employers: Business + International Relations, Moscow, Russia (CIEE)
Estimated Cost: $19,450
This may seem a little obvious, but I'll point it out now: An employer looking for experience in field work probably won't care if you got drunk in Europe for four months. If you really do want to bulk up your resume, seek out what kind of positions you might want to have. Lo and behold, a website even exists for those looking for jobs. "They survey employers every year for what they look for in students. Many overlap very closely to studying abroad," said McFadden. "You don't just end up in a foreign country." If you need field work, try going for a more field work-based study abroad experience. If your future employers want someone with stellar networking or social media skills, research study abroad programs that shift you in the direction of public relations or marketing. As listed above, the business and international relations program in Moscow goes perfectly for someone looking to go into international relations post-grad (especially in Russia, a place in dire need of relations). Regardless, you want a program that works for both your cover letter as well as your Instagram feed.
9. One Size Does Not Fit All: Tokyo, Language and Culture, Tokyo, Japan (IES)
Estimated Cost: $21,600
Through all of this information I've hurled at you, you want to keep one primary thought in mind. Your passion matters most at the end of the day. Whether or not your friend or counselor thinks that a particular program works best for your future, what you will want most should equate what works best for you. For example, perhaps the Language and Culture program in Tokyo calls to you most. While taking five or six classes with the option of up to twelve language credits, you can stay with a host family or stay in university dorms. Regardless, you have ample opportunity to explore Japanese culture as well as learning at Kanda University of International Studies (KUIS). It helps to do your research and ask advice wherever you deem necessary, but if your gut tells you something, my advice? Go with it. More often than not, university students usually study abroad once (YOSAO, if you will). Make your time worth it. Your heart will thank you for it, and your employers will admire you for it. Nothing says spunk like going on your own path, and you can include that confidently when applying for jobs.
10. Is Study Abroad Right for You?
Estimated Cost: $0
As much as everyone and their mother says that studying abroad *totally changes* you, the potential to study abroad might not be in your larger plan. As you receive advice and wise counseling from anyone that wants the chance to give it, keep in mind what you want for your future. If it's better to apply for an internship in your own state or country, go with it. Some cosmic force won't instantaneously shake their head in disappointment at you. By all means, get that pretty photo of some flowers at your own university. Stop to literally, as well as figuratively, smell those roses. You'll have time to travel when you're rolling in the dough you saved from not paying the various class and university fees. Regardless, the choice is yours.