If you haven't been paying attention, this Saturday is Valentine's Day. Well, duh—we all know this date, but the real holiday happens the day before. Every February 13th, ladies around the world leave their boyfriends and husbands at home to celebrate what's truly important in life: their best gal pals. We're talking about Galentine's Day, and it should be a national holiday. While we wait for Congress to get back to us on that one, let's explain what Galentine's Day is, in case you're a deprived person who's never seen an episode of Parks and Recreation. We'll let the day's founder, Leslie Knope, explain it herself: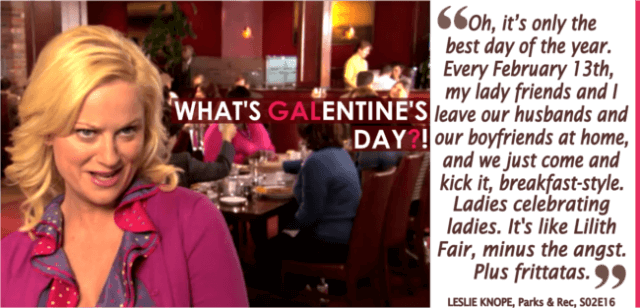 Here are our ten steps to having the best day ever with your gal pals. Spoiler alert: there will be a lot of waffles involved.
1. Pin, Tumble & Netflix Binge
Let's get this straight: Galentine's Day is the best day of the year. That means there are tons of party ideas to be found around blogs, Pinterest and Tumblr. Leslie Knope is the queen of planning, so take a page from her book and get inspired before you start the planning process. Maybe it means re-watching every Parks and Rec episode ever made. We're not here to judge.
2. Think "What Would Leslie Knope Do?"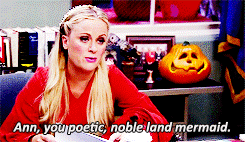 A great Galentine's Day party is all in the details, so go all-out for your lady friends. Give out Galentine's that tell your amazing friends what "beautiful, sophisticated, naïve, newborn babies" they are. Make a Lil' Sebastian piñata. Instead of place settings, make mosaic portraits of each of your friends from the crushed bottles of their favorite diet soda. Shout-out to this girl on Tumblr, who made amazing Galentine's that read "You beautiful tropical fish." The good news is, when you're thinking like Leslie Knope, no idea is too big or too crazy.
3. Get Your Best Gal Pals

Hoes before bros. Ovaries before brovaries. Uteruses before duderuses. This kind of goes without saying, but Galentine's Day is a girls-only holiday. We're sure you have plenty of guys in your life that are major Parks fans too, but there's a strict no boys allowed rule for Galentines Day. Sorry guys, but we'll see you again on Valentine's Day.
4. Grab a Reservation at JJ's Diner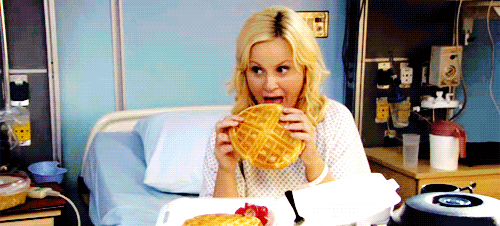 Galentine's Day brunches are typically held in some of the finest establishments Pawnee, Indiana, has to offer. Even if you couldn't get a reservation at JJ's, your celebration can still be a success. Get together at your favorite restaurant (all-day breakfast food is a must) or have a smaller gathering at home. There's really only one rule when it comes to location: it has to be appropriate for lots of girl chat.
5. Bring Out The Glitter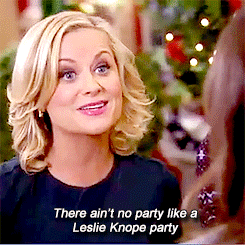 Decorating for Galentine's Day is almost as fun as the holiday itself. Play a game with yourself to see how many Parks references you can throw into one party. Make a "Treat Yo Self" banner. You can hang your favorite quotes from P&R around the room— assuming aren't too many from which to choose. Tara from The Geeky Hostess even put a Ron Swanson corner in her Galentine's Day party, complete with bacon, whiskey and a heavy set of headphones to drown out unwanted noise. Remember: the creativity of Leslie Knope knows no limits.
6. Turn On The Mouse Rat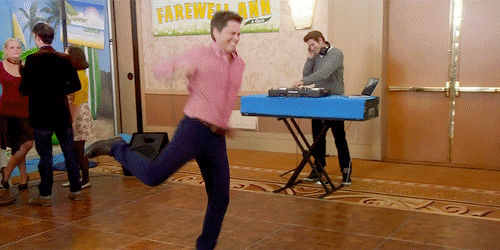 Music seems to be a pretty underrated part of Galentine's Day, but we don't think you should overlook it. Good music can take your celebration over the top. Obviously, you'll want to play the greatest hits of Pawnee's best band: Mouse Rat. If you can't get "Bye, Bye Lil' Sebastian" out of your head for weeks afterwards, you did it right.
7. Get All The Breakfast Food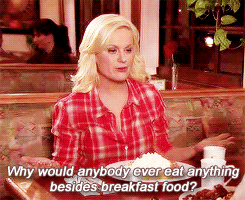 As Ron Swanson would say, "There is no sadness that cannot be cured by breakfast food." Therefore, we suggest a fully stocked waffle bar. You can choose the toppings, but make sure you have enough whipped cream to go around. Seriously, go to your local grocery store and wipe out their whipped cream supply. There could also be an assortment of other breakfast foods, like frittatas, but leave it at that.
8. Get Out The Scrapbook Supplies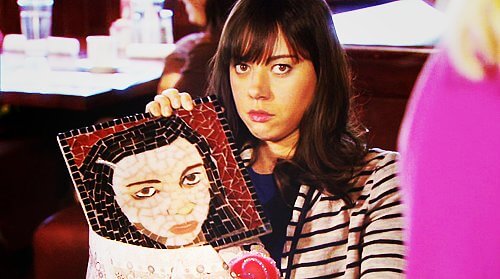 No Leslie Knope holiday would be complete without personalized, well thought-out gifts. We're talking 5,000 word essays on why each of your friends is so awesome. If that's too much effort, try a needlepoint pillow with their face on it and a newspaper headline from the day they were born. OK, so we can't compete with any of those, but even small favors will do. Hand out fun picture frames, or little scrapbooks to showcase photos from the event. Anything scrapbook-related is 100% Leslie-approved.
9. Bring On The Gossip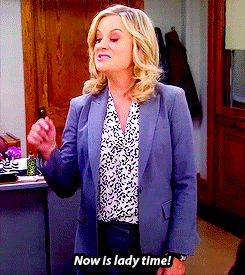 When you're not stuffing your faces with waffles, it's time to bring on the girl talk. The #1 activity for Galentine's Day is lots of gossiping. You could also try fun party games, like TableTopics for something a little different. If you're making a full day out of Galentine's Day, have each friend pick their favorite episode of Parks and watch it as a group. Or go around and tell your favorite love stories that could make The Notebook look like Saw V.
10. Treat Yo Self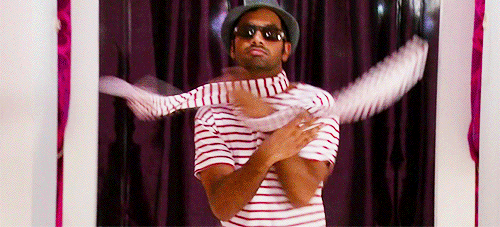 Parks and Rec has taught us many valuable life lessons, but "Treat Yo Self" has to be one of the best. Remember: it's a day to celebrate friends, so treat yo self especially well. If you're serious about going above and beyond, incorporate two Parks and Rec holidays into one: after you get your Galentine's brunch on, head over to the spa, get your nails done, do a little shopping, or whatever you need to do to give yourself an extra treat.
10 More Ways to Rock Galentine's Day and Make Leslie Knope Proud
Written by Breanna Perez.
11. Gift Exchange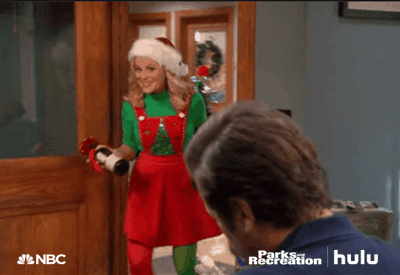 Birthdays, Christmas, anniversaries and Galentine's only come once a year. So, why not give a gift to show your appreciation for your best friends. It doesn't need to cost you an arm or a leg to give the most meaningful gifts to your friends. Forget the roses (but not the chocolate) and get some gifts that might serve more purpose this year. Try to give more like Leslie Knope, the queen of gift giving, with presents such as gag gifts, candy, crafts, wine glasses or flasks. You won't believe the look on your bestie's face when she unwraps a framed copy of her favorite photo of you two with a heartfelt note taped to the back. Just think of Ann's reaction and aim for that.
12. Spa Day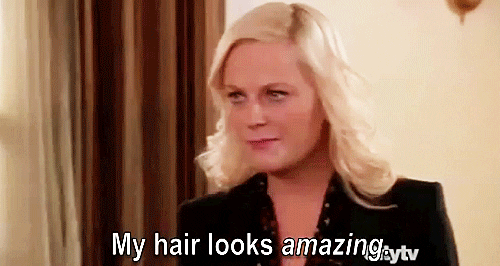 Massages, pedicures, manicures, face masks: you can do it all. If you can't afford to go to your local Hand and Stone, then make your own spa day at a friend's house. "I did Galentine's Day before with my three friends. We went to the movies and then we came home, painted our nails and put on face masks and had a little spa night," said Temple University junior Kaela Davis. Grab your favorite nail polish color and get painting, you beautiful tropical fish.
13. Girls Trip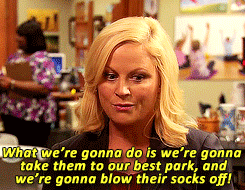 Galentine's day provides the perfect opportunity to get adventurous. Whether you plan a trip into the nearby city center, hop on the road for a road trip or have a beach paradise getaway, you and your gals have so many options. February, the best time to escape reality and travel with your friends, gives you the perfect excuse for a much-needed weekend excursion. But, if that feels too last minute, plan a trip for later in the year. Spring break and summertime will arrive before you know it. You have the ability to plan something amazing for you and your friends, even if you just travel to a nearby town for the day.
14. Wine and Movie Night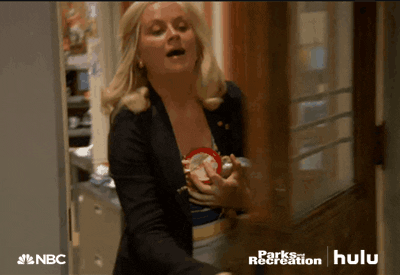 If new movies come out that your friends might want to see, a movie night can always act as a relaxing way to spend Galentine's Day. You and the girls can always make it a wine night as well by buying a box of wine…. or five. "When I celebrated it with my friends, the 10 of us went out to dinner and then we went to the movies to see Fifty Shades of Grey," said Temple University junior Julia Halbhher. This provides a very comfy, laid back and cheap option to spend the day with your gals. We're talking pajamas, gossip, romantic comedies and endless wine for an unforgettable night.
15. Go Out to Dinner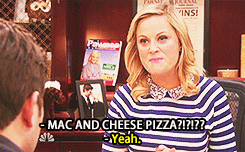 Galentine's Day begins now, so like we said, "Treat Yo Self." Dress up and go out to a nice dinner with your favorite gals. Of course we treat breakfast as an all day event on Galentine's day, but every girl loves to go out to a nice dinner once in a while. "One year, my three friends and I decided we wanted to celebrate Galentine's Day so we got dressed up and went to the Cheesecake Factory. It was really nice to spend time together and treat ourselves in a way we normally wouldn't," said Temple University student Stephanie Savoia. But, let's get real: This day calls for waffles. Go kick back at your favorite local diner and chow down.
16. Shop 'Til You Drop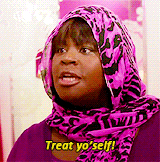 Grab your favorite gal pals and go on an endless shopping spree to your favorite mall. Buy yourself or your friends something you wouldn't normally buy such as expensive clothes, gadgets or any random trinkets that may catch your eye this holiday. We dedicate this day to girl power. Even though Treat Yo Self falls on October 13th, use this Galentine's day to think about yourself and your girls for once. You can never go wrong with treating yourself to chocolates. You can always wait until the day after Valentine's Day for some discounts.
17. A Sex Toy Party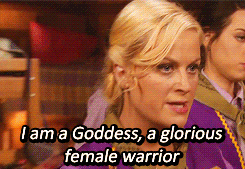 Galentine's Day is a day where you can do whatever you want without the pressure of romantic ties. Your normal Saturday night fling might not consist of a sex toy party, but a lot of girls say that they add a lot of fun for a casual night in. Leslie Knope, an open feminist, would agree that women shouldn't be ashamed of their sexuality. Therefore, kick off the heels and add a flare to your girl's night in with a sex toy party. "Sex Toy parties or sex toy bingo are perfect ways to celebrate Galentine's Day with your girlfriends. You can drink some wine and have fun while also getting the chance to be open and explorative about your sexuality," said recent Temple graduate Summer Meister. "When me and my friends did it, we had a lot of fun. You will most likely never leave empty handed so that's a plus."
18. Clubbing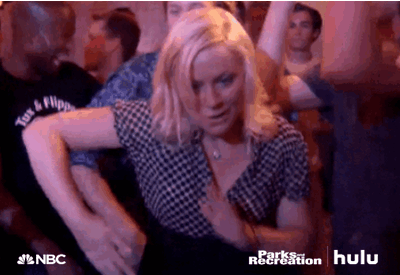 Like Leslie Knope says herself, "There ain't no party like a Leslie Knope party cause a Leslie Knope party is actually 30 parties." So this means brunch is just the beginning. If you start it with such a tasty bang, why not end it with a fun dance party by going to your group's favorite club or bar. You know that if they play Mouse Rat, you will dance the night away. As long as you break out your favorite dance moves with your favorite girls, it doesn't matter where you end up at night.
19. Sleepover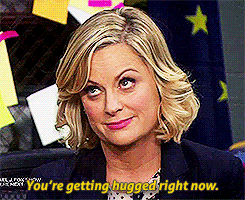 We all know the Leslie Knopes of the world love a nice sleepover. No matter what you do on Galentine's Day, have your girlfriends grab their sleeping bags and end your night snuggling your best friends. Go ahead, turn on your favorite Parks and Rec episodes while you cuddle up. You must watch the Galentine's Day episode before the night ends. This allows you and your girls to have a cheap, easy and fun night.
20. Plan for Next Year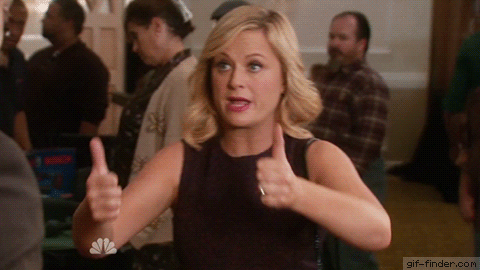 If you want to act as the Leslie Knope of your friend group, you should know that the planning for next year's Galentine's should start ASAP. Find out what your gals like to do and plan the perfect day to commemorate each one of your lady friends in their favorite ways. Just remember, the perfect Galentine's Day needs three things: friends, food and fun activities. If you need motivation to plan the perfect day just remember that Galentine's Day only comes once a year. After spending every other day of the year dealing with men, we deserve a day to celebrate us ladies.
10 More Ways to Have the Perfect Galentine's Day
Written By: Alyson Peters
It's that time of year again. The one day where you can be covered in head to toe pink and red hearts and no one can say anything to you. The one day when you can devour all the chocolate you want and care about the calories later. But what is there to do when you have no significant other to whisper sweet nothings to? Spend it with your girls of course! These 10 ideas will help you celebrate Valentine's Day the right way. With your girls.
21. Have a putlock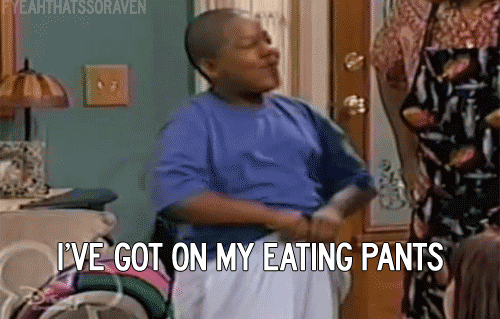 Instead of going out to dinner and braving the PDA filled streets and lovey-dovey couples, stay in for dinner. Make it putlock style where everyone brings one of their favorite dishes and spend it with your favorite gals. A little tip: write down your best recipe on a couple notecards and share it with your friends.
22. Have a bake-off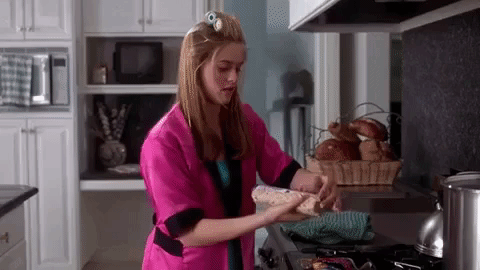 Curb your serious sweet tooth by baking every dessert you can think of. Cakes, cookies and pies, whatever your heart desires. It is Galentine's Day after all. Have a contest with your friends to see who can bake the best desserts. Who knows, one of you may end up on Cake Wars on Food Network.
23. Have a Gossip Girl Marathon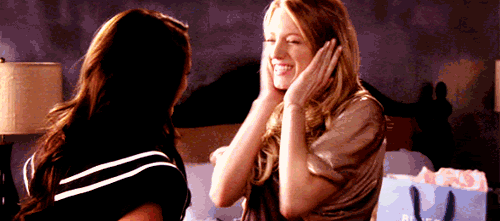 There have been rumors that Gossip Girl may make a comeback with a brand-new season. So, now's the perfect time to catch up on all of you Upper East Side knowledge and have a Gossip Girl marathon. Binge watching tv shows on Netflix is way more fun when you're watching them with your best friends. And be honest. No one can get enough of that Nate Archibald and let's not forget smoke-show Serena van der Woodson.
24. Get mani/pedis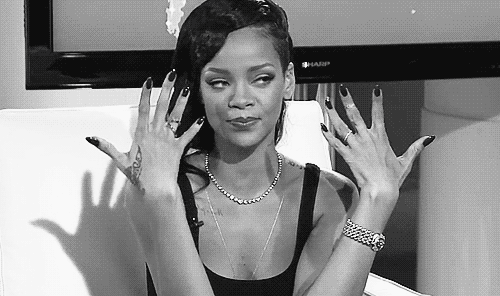 Rather than wallowing in self-pity because of all the cute couples around you, go out and have a treat yourself moment with your friends. Having a fresh manicure and pedicure will make you feel like the boss woman you are. Share a moment with all the other girl bosses in your life. It will get you away from the PDA fest happening all around you.
25. Go on a shopping spree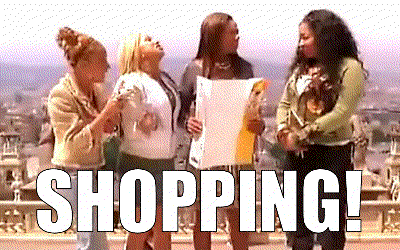 What better way to show love and to treat yourself than with a shopping spree. Take your girls to the mall and finally buy that denim skirt you've been wanting for weeks. If you don't really feel like going out, stay in and have an Amazon shopping spree. Compare your Amazon wishlist with your friends and buy all of the things you've been saving in your cart.
26. Have a sweat pant fashion show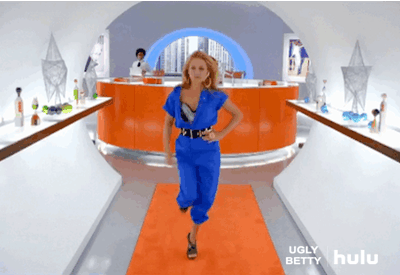 Everyone has their absolute favorite pair of sweatpants that they always wear around the house. They're a part of your routine. As soon as you get home, real pants go off and sweat pants come on. See who in your friend group has the best sweat pant collection by having a little fashion show. In the midst of your boy-hating spree set up a runway in the middle of the living room and strut your stuff in the rattiest, most unflattering sweatpants you can find. It'll be fun to let go and laugh at yourself a little.
27. Give outrageous makeovers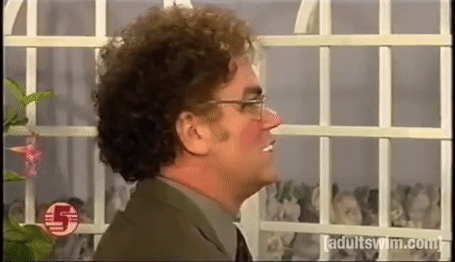 Let's keep the less than flattering appearances going and give yourself and all of your friends outrageous makeovers. Give a makeover so bad it would put Miranda Sings to shame.
28. Go on a Tinder Spree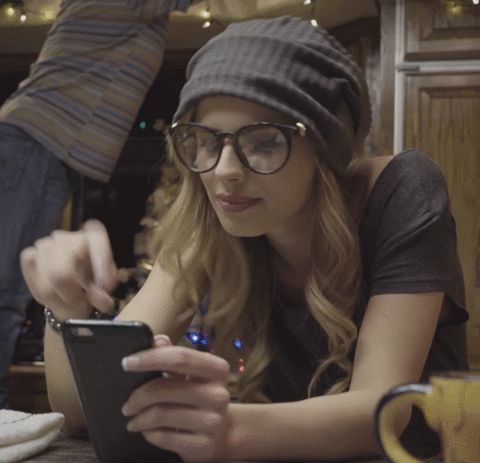 Who wants to go home alone on Valentine's Day? Wrong! It's not Valentine's Day, it's Galentine's Day. That means no boys aloud. But who doesn't love making fun of all the tools on Tinder. Go on a Tinder spree and swipe right on everyone, no matter what, and see who you match with. Start a conversation with them and see who can keep the conversation going the longest.
29. Play the Galentine's Day Drinking Game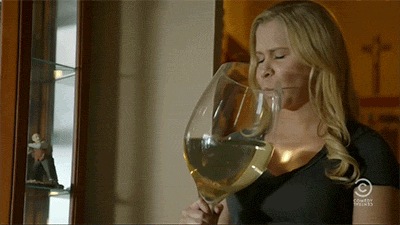 What's a good singles party without a little drinking? This game is guaranteed to have everyone on the floor…. from laughter. It's simple. Take a shot any time someone complains about being single, any time you see someone wearing pink or red or any time someone brings up their ex. If you're still alive by the end, tally up how many shots each person has taken. Whoever takes the most shots loses. Or maybe they win depending on how you want to look at it.
30. Beyoncé Karaoke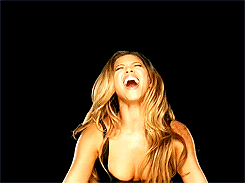 What better way to round out Galentine's day than singing songs by Queen B. Everyone knows Beyoncé is known for her female empowerment songs. So, belt them out at the top of your lungs. Galentine's Day is all about spending time with your friends, being silly and not even caring that your single for yet another Valentine's Day.
10 Gifts to Give Your BFF This Galentine's Day
Written by Breanna Perez
You don't need a boyfriend to give and receive the best gifts for Valentine's Day. The real best gift-giving love holiday happens the day before: Galentine's Day. As Leslie Knope would say, this day celebrates us, women. Your gal pals always have your back and, this year, you want to surprise them with an amazing gift to show them your appreciation. If you remain stumped for what to get your friend, these ideas ensure that you can find the perfect gift while ballin' on a budget. So go out and spoil your girls with these cute and corny gifts. You don't need to spend a fortune to let your BFFs know just how much you love them. The thought behind the gift counts more than the dollar sign.
Valentine's Day: the day of chocolate, chocolate and more chocolate. Even though your friend's S/O couldn't follow through, that doesn't mean you can't surprise her with chocolate hearts or her favorite candy. Candy provides a sweet touch to your gifts (literally and figuratively). Not only does it give her something to munch on, but it shows her you pay attention to her likes and dislikes. Unfortunately, Valentine's Day candy prices skyrocket in the month of February. So, never rule out waiting until the day after Valentine's Day to buy your candy since it will go on sale.
Literally anything personalized—paint a canvas, decorate a cup, bedazzle a glass. Anything that you put time and effort in will surely have your friend shed a tear on this special holiday. DIY gifts offer both sentimental and memorable value for you and your friend while also giving you the chance to summon your inner craftiness. You have so many DIY options to choose from. As long as you include your friend's favorite pun, funniest inside joke or biggest passion, she'll definitely love her gift.
Maybe you can't craft or muster up the mushy feelings, but you can definitely knock out a great pun or two. With these pencils, you can give your friend a little motivation to get through the week. Like Beyoncé (and even Leslie Knope) say, "Girls run the world." So, grab these cute pens for your gal pals to remind them that they run the show and that they rock. Now, every time they use their pens, they not only think of you but also how awesome they are.
You can never go wrong with a wine night for your gal pals. Whether they just experienced a break up, identify as a wino or just want to get that wine buzz sometimes after a long day, a nice bottle of Barefoot or Shutter Home will do the trick. Drop the roses because wine replaces the bouquet this year. Grab her favorite wine and a cute wine glass that speaks highly for what she believes in. If you feel crafty, bedazzle or decorate the wine bottle to make it more special for your girlfriends. "I would definitely get my friends a Galentine's Day card along with a big bottle of wine because I know that some of my friends will need that wine to get through Valentine's Day," said Arcadia University senior Erin Schofield.
Keychains get used more than you probably realize. It may seem corny, but if you find the perfect keychain, it could add to an amazing gift basket for your gift to your BFF. Whether you buy the keychain personalized from Things Remembered or buy a funny one from Amazon, your friend will keep it close to her every day on her wallet, car keys or lanyard.
Everyone loves a nice coffee mug. Not only can you find them easily at a reasonable price, they often have cute and sentimental quotes written on them. More importantly, mugs will remain an every day useful gift long after Galentine's Day. If you have a coffee-loving friend, buying her a mug is the way to go. She will use it every day and you can't go wrong with a gift that keeps on giving (that morning pep-in-your-step).
Check out your local Marshall's, Home Goods or TJ Maxx for trendy picture frames. At these places, you will most likely find reasonably priced, beautiful frames. Fill it with your favorite picture of you and your friends. This simple gift could hold a special place in your friend's heart because she can decorate her room or dorm with the picture you bought for her. Add a sentimental note to let her know how much she means to you. When in doubt, you can also add a card to any gift. A cute letter can go a long way when expressing your appreciation for your BFFs. "I would love to get my girlfriends a little card and maybe go out for an all-girls day—maybe a spa day or lunch. It's a day to bond," said Delaware University senior Mackenzie Downing.
Who doesn't love to do something with their friends to treat themselves? Painting with a Twist can host your girls' night out. To make it better, with Painting with a Twist, you bring your own food and alcohol. Decorate your favorite wine to make the event more festive. Remember, treat yo self. Pick your favorite painting to mock and provide the most delicious dips and treats for your girls. A group outing is a great and unique gift to give back to yourselves. "I would have to say a perfect Galentine's Day gift would be going to Painting with a Twist as a group. We would enjoy being creative (or trying to be) while having a couple bottles of wine. It would be a perfect experience to share with my ladies," said Penn State Abington senior Jessica Horton.
Every girl needs to get pampered once in a while and what a better day to do so than Galentine's Day. Help your bestie relax and rejuvenate with a spa treatment kit. You can't go wrong with facemasks, lotions, body sprays or nail polishes, all of which can get their mind off Valentine's Day and prepare their smiles for a night out with the girls. "Galentine's Day should be spent showing the people closest to you that you love them. Making a pampering kit with bath bombs, facemasks and nail polish can make all the difference in someone's day. It's also a day to love yourself," said Temple University sophomore Sophia Farrell.
This gift speaks to all the Parks and Rec fans in your life. With this gift, you can celebrate the women who started the tradition with one of your favorite Parks and Recreation quotes plastered on a poster or canvas. The quotes last long after Galentine's Day because they can inspire your friend every day of the week, despite the holiday theme. I mean, without Leslie Knope, we wouldn't have this amazing holiday to spend with our girlfriends. If you know avid fans of the show, you can't go wrong with a poster or other show merch.
*Updated on January 9, 2018 to include list items 11–20 by Breanna Perez
**Updated on February 13, 2018 to include "10 Gifts to Give Your BFF This Galentine's Day" by Breanna Perez
***Updated on February 13, 2019 to include "10 More Ways to Have the Perfect Valentine's Day" by Alyson Peters