Football and Pennsylvania State University go together like the Nittany Lion and one-armed push-ups. Whenever people think Penn State, they see the 107,000 fans that scream for the Nittany Lions in Beaver Stadium on Saturdays in the fall. Those 107,000 roaring fans know a thing or two about Penn State football traditions that only true Nittany Lions understand. But here you'll get in on those insider secrets. Get hyped up for the upcoming football season and the rest to come.
Check out 10 Penn State football traditions that'll make you shout with pride.
1. Chicken baskets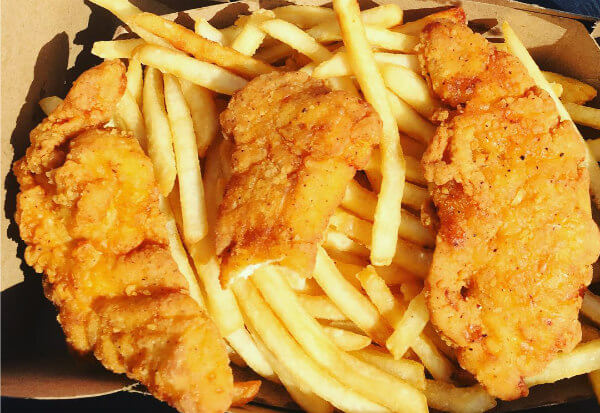 Food at PSU football games beats out the rest of the competition. A staple in Beaver Stadium, no Nittany Lion goes one game without waiting in line for that deliciousness that sits at the end of it. Four pieces of crispy chicken and perfectly fried fries await the lucky student who buys the treat. "I don't know what it is," said Penn State graduate Allie Maniglia. "Every single game, whenever I got the munchies, that was what I went to. It's almost sacrilegious not to get it."
2. Touchdown tossups
Whenever Penn State fans get hyped up on a touchdown, we throw the girls around us up into the air for however many points we scored. For a stranger, it looks weird to see someone get thrown up into the air because of a touchdown. But to Penn State students, that's tradition. "I think it's just different," said Penn State junior Chris Tassillo. "Some people throw their hands up and cheer; we throw girls. It's just been a thing at PSU for a while now and it's a lot of fun."
3. Nittanyville campouts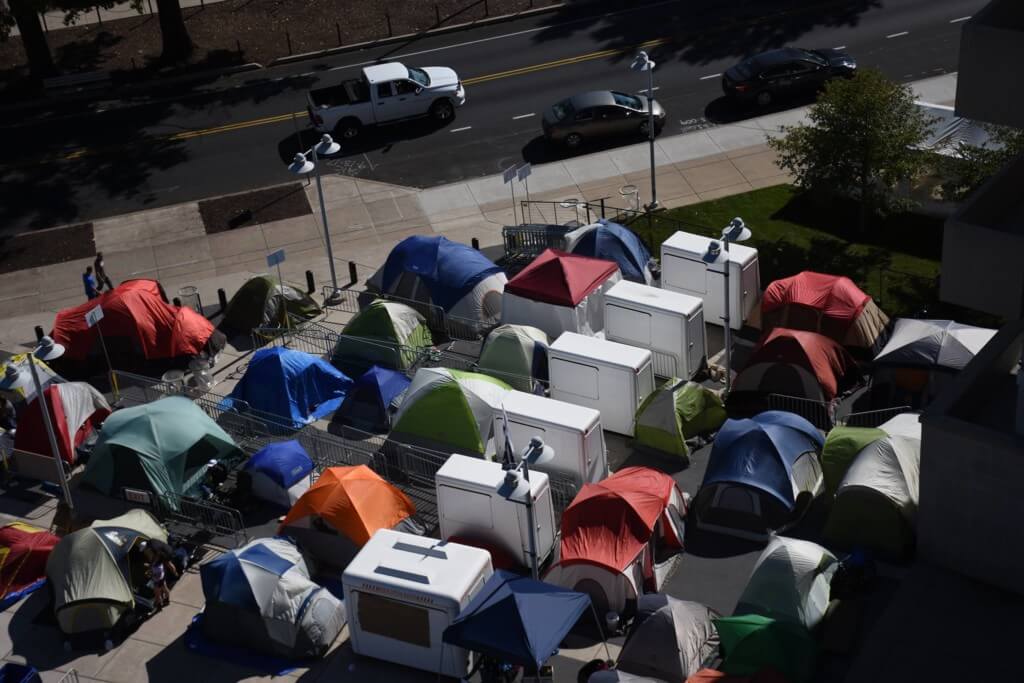 Nittanyville (once named Paternoville) is a student-run organization where excited football fans camp out in front of Beaver Stadium the week leading up to a game. Whether a simple game against an "easy" opponent or a top ranked team, the fans never quit waiting outside the gates until they open. Some years, campers bask in the sunshine. Other years, rain and snow slam down on tents, weeding out the weak back to their dorms. Being surrounded by your fellow Nittany Lions makes the indecisive weather worth it—especially when we win.
4. Drum Major Flips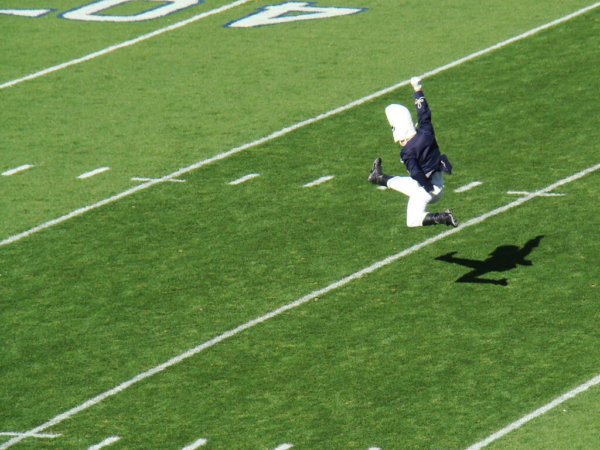 Percussionists slam their drumsticks onto drums. The drum major, on the other hand, slams his body to the ground. During the pre-game show, the drum major runs forward through the Blue Band and does a front facing flip, ending with a split and a salute. This, partnered with a bit of superstition, makes Penn State's Blue Band that much more incorporated into the actual gameplay. Legend says that if the drum major doesn't land the flip, we'll lose the game. If he lands, we'll win. Every single Penn State fan cheers when he comes out. We edge on the drum major to finish the flip successfully, so we can finish the game with a W for the ages.
5. Tailgates on the Intramural Fields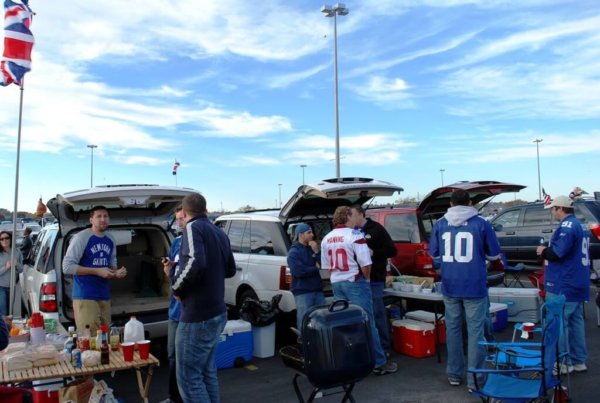 Sweets, singing and a whole lot of sass make up Penn State tailgates. The family-feeling of your fellow fans celebrating the love we cherish for our team beats nothing. Berkey Creamery ice cream sits in our bowls, devoured by excited future Nittany Lions. They wear Death by Chocolate smeared all over their cheeks. Kan-Jam and Cornhole tosses align the green and freshly mowed grass, as everyone begins to sing our Alma Mater or "Piano Man" by Billy Joel. "Even though my hometown was far away, it was nice to do Penn State-y things with my father," said Maniglia. "It was so fun to be able to enjoy that with him." Whether out on the field or in the stadium, the love we adore for our Lions extends throughout the whole campus.
6. Game Day Jams
No one said college football was all about the game. From "Lion Fanfare" to "Hail to the Lion," Penn Staters old and new love dancing and waving their pompoms high in the air for the world to see. "My favorite tradition is dancing with the Blue Band while singing the 'Let's Go PSU' song," said Penn State junior Carly Wolff. The official title of the song is "Rock and Roll Cheer." Wolff said, "It gets the crowd pumped up and countless people have said that the student section looks so coordinated when we do it you would think we rehearsed."
7. "Dear Old State"
We link arms with family, friends and strangers alike when our alma mater begins at the end of the game. Whether we win or lose, one by one we sing "For the glory of old State," swinging back and forth as one Penn State family. The students stomp tired and sore feet against bleachers, as the music begins to swell towards the end of the song. Alumni and current undergrads all sing for our team, the pride of the lions, celebrating Penn State as a whole.
8. Beaver Canyon
Singing, chanting and celebration of all kinds accompany students along a highly used, pothole ridden, one-way road. Welcome to Beaver Canyon. Usually, when we face a tough opponent, PSU students unite on Beaver Avenue, a strip of student apartments and commercial units, to celebrate the win. Whether stuffed into a friend's apartment or chanting on the streets, we sing our alma mater or "Zombie Nation." We won a game, time to party.
9. "Sweet Caroline"
"Sweet Caroline" unites all of Beaver Stadium in one song. Penn Staters and the opposing team alike all join in on singing this classic at every game. Once, a Neil Diamond impersonator came out to sing it with us. From "BAH BAH BAH" to "SO GOOD! SO GOOD! SO GOOD!", Penn Staters always get up and dance to this classic hit, swinging their pompoms up in the air with each beat we sing.
10. White-Out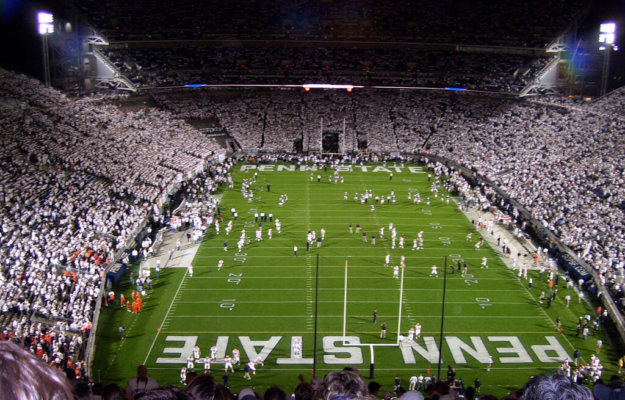 Surrounded by bright white. 110,000 screaming fans in an overpacked stadium. Two top-ranked teams battling for the win. Primetime. Sounds like fun, right? This is White-Out, the best game in college football. The fans gather in the stadium to cheer on those Nittany Lions, the best home-field advantage a team could get. "The whiteout game is my favorite tradition," said Penn State graduate Kelsie Ahern. "Not only is it visually appealing, seeing everyone in the same color, for the same cause creates such a sense of community."