Does the combination of seaweed, rice and raw fish make you salivate? The aesthetic of perfectly shaped rolls laying flat against a bamboo board, accompanied with a splash of wasabi and ribbons of ginger gets your eyes rolling into the back of your head. But why let sushi only satisfy your hunger cravings? Sometimes gifts for sushi lovers are better than downing three rolls in one sitting.
Round up the closest notepad and pen—you'll want to jot down these 10 gifts that offer you sushi satisfaction outside of the Japanese steakhouse.
Can one ever have too many socks? No, the limit does not exist. Sushi doesn't stop at satisfying your tummy. Let your favorite meal satisfy your feet, too. Bonus points if you slip them on with chopsticks.
Price: $12.99
If your trip to the local sushi joint didn't satisfy you because they ran out of raw tuna, go home and lightly sketch in your favorite roll. Relieve your semester stress by coloring in pages and pages of sashimi and nigiri.
Price: $6.99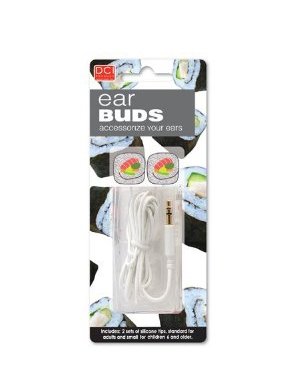 Zone out to your favorite tunes with these delicious looking headphones. Your fellow sushi enthusiasts will certainly envy this accessory.
Price: $10.80
Does your loved one dream of creating homemade sushi? Inspire the seafood lover in your life with this eight-piece dinnerware set. The sushi plates, dipping saucers and chopsticks will be a perfect addition to the kitchen.
Price: $24.99
The perfect dessert to follow sushi is, well, more sushi. Enjoy a sweetened version of the infamous bento box while indulging in candy sushi. The gummy, marshmallows and licorice will satisfy any sweet tooth.
Price: $12.79
Note: These candles don't smell like a spicy tuna roll. Take in the ambiance of a natural beeswax scent that's creatively shaped like a sushi roll. Similar to sushi (and socks), you can never have too many candles.
Price: $12.99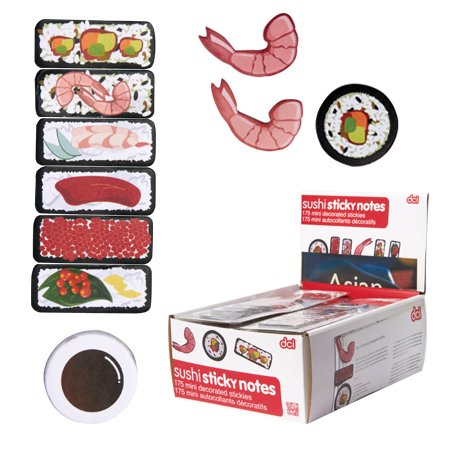 Tired of the plain, yellow sticky notes found on your desk? Jot down your daily tasks on sushi-inspired sticky notes. But don't disrespect the notes by writing down your grocery list…unless the list includes avocado and cucumbers.
Price: $2.99
Don't worry if you were unable to finish your dinner last night. Take your leftovers home and utilize this handy tote for lunch the next day. Plus, the sleeping sushi is too cute not to flaunt.
Price: $13.99
A pricier gift compared to the rest, but so worth it for those who crave homemade sushi. Complete with bamboo mats, chopsticks, soy sauce, sushi rice and more, this gift will have you feeling like the ultimate chef.
Price: $44.95
Top off your bedroom décor with this sushi roll pillow. Dream of salmon, eel and cucumber wrapped in seaweed while resting your head atop this pillow during your afternoon nap.
Price: $9.00