For a small, private, liberal arts school, Smith College's student body is anything but uniform. Throw away the image you have of that stereotypical Smithie—you know, the angry, man-hating feminist—and instead take a look at the clubs (or "orgs" as Smithies call them) offered around campus. The eclectic selection of extracurriculars prove that no matter who you are or what you like, you can find your niche at Smith.
Here are a select few of the quirky, interesting clubs at Smith College.
1. The Wailing Banshees
Think about the winter concert put on at your high school every year: You would have the orchestra, the band, the choir and…the Celtic music ensemble? Maybe not that last one. But at Smith, you can catch the Wailing Banshees performing at the end of every semester. The Wailing Banshees provide Smith with a healthy dose of Celtic culture and aims to make Irish music and culture accessible to students at all stages of their music career. There's not just one typical banshee, either. At rehearsals, you'll find all different types of instruments and musicians, from fiddles and flutes and Finance majors to the hammer dulcimer and harp. "The main trait that unites the group is curiosity. It takes persistence to learn to play music by ear (rather than using sheet music), and everyone always loves learning more about the history and context of the tunes Ellen [the director] chooses for us!" said co-chair Natalie Sandstrom. All you need to join is an interest in Celtic music—and thanks to the Banshees (and), that interest isn't hard to find.
2. ConBust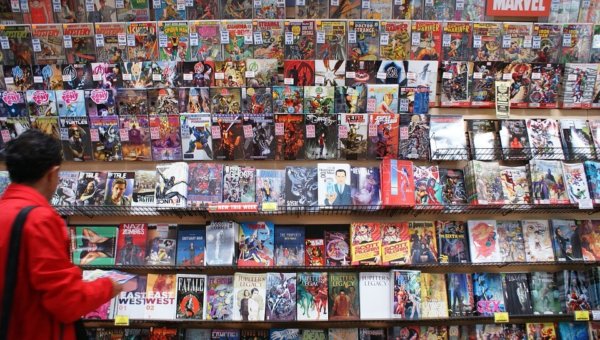 Unsurprisingly, we don't see a lot of big conventions coming through the Pioneer Valley, but ConBust is Northampton's little slice of Comic-Con—a three-day weekend that celebrates women in sci-fi and fantasy through panels, gaming, special guests, cosplay and more. Universities commonly have at least a small handful of clubs that revolve around sci-fi, graphic novels, manga or gaming, but how many small liberal arts schools can you name that organize and host their own convention? The con started ambitiously—add in the fact that it's all about celebrating women in a completely male-dominated space and there's no surprise that you find ConBust at Smith College.
3. Music and Memory
Unsurprisingly, you'll find Smithies using their sacred free time to explore ways to help people in need throughout their community. Music and Memory works with the elderly at a nearby nursing home, using music to provide a better quality of life for patients with Alzheimer's, dementia, mental illness and more. "We normally stay for around an hour or two, and a typical visit is spent visiting with the residents, and learning what music they like, so we can make them playlists on the iPod shuffles when we get back to school," said Emma Crumbley, co-chair of Music and Memory.
Crumbley joined because she has a family member living with dementia and Music and Memory provided her with a way to work in nursing homes and to advocate for better elderly care treatment. "The way we treat the elderly in our country is a huge problem, particularly with the dawn [of] the for-profit nursing home, and I believe that Music and Memory is an organization that is whole-heartedly working towards a solution, through attainable methods," Crumbley said. While passion, drive and focus define the average Smithie, it's pretty remarkable that students are able to channel that energy into such an important cause. Gloria Steinem would be proud.
4. Quidditch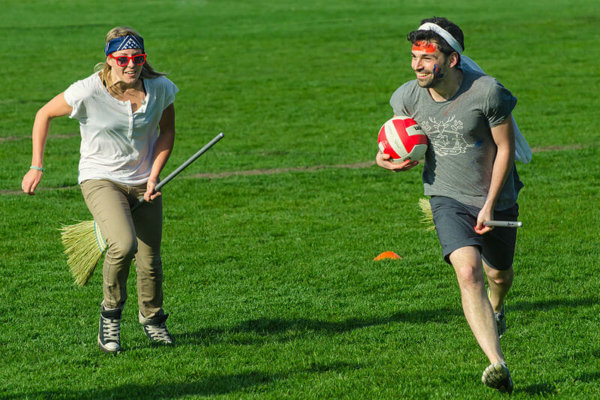 Smith takes sports very seriously for a school that doesn't have any D1 teams. On campus, you can almost always spot someone training or practicing for their team, whether that be softball, basketball, crew or even Quidditch. Yes, that Quidditch. The Harry Potter inspired sport has been on the rise over the past few years as students everywhere play the game with broomsticks between their legs. Quidditch is unique at Smith, however, because it falls right into that sweet spot for students between athlete and bookworm. "As an international student I want to make the most out of my US experience and knowing about the Harry Potter world I thought it [would be] funny and unique to join the Quidditch club," said Smith Quidditch player Lauréanne Kuiters.
Practices consist of the usuals: stretching, drills, strategizing and bonding. "Towards the end of the season we organize some Harry Potter movie nights or organize a small Yule ball (usually consisting of eating pizza and ice cream)," said Kuiters. Looking to escape the competitive, academically rigorous spirit of Smith, but still want to feel active and energized? You don't need a sorting hat to tell you to sign up for Quidditch ASAP.
5. Synchronized Swimming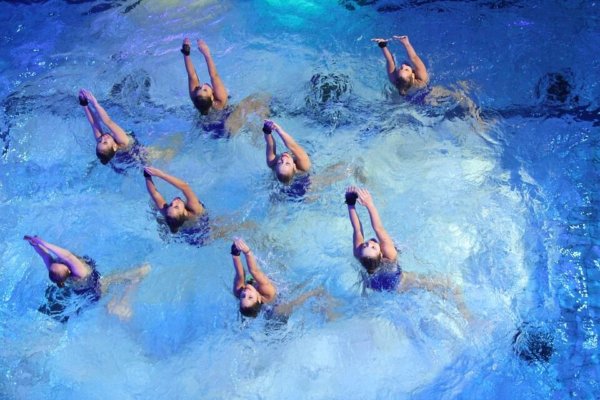 Synchronized swimming is what you get when you add some music, killer dance moves and matching swim caps to a collegiate swim team. Think more Spice Girls than Michael Phelps. You can find the Smith Synchronized Swimming team rehearsing in their color-coordinated swimsuits one to three days a week. Whether they're choreographing their routine on land or jamming out to Lorde in the water, club members focus on the fun. The best part? Smith Synchro is adamantly open to all bodies, genders and skill levels. This is not that eighth-grade pool party party that made you want to crawl out of your skin—all humans who want to have fun in the water are the perfect fit for Smith Synchro.
6. Crapapella
It's usually easy to find an outlet if you love to sing: join a choir, sign up for glee club, find a singing group, take a shower, you name it. But what if you love to sing, but just weren't born with Ariana-Grande-level skill? Smith students who love to perform even though singing isn't really their strong suit can find their home at Crapapella. "Our group is a big jumble of lovely people," said Crapapella member Gav Bell. "Some things we all have in common are a love of singing yet a lack of significant talent in that department, an appreciation of actually-good a capella music… and just generally the ability to laugh at ourselves! And of course, a love for other 'crappies.'" With their alternative sound and whatever-goes attitude, Crapapella finds itself a fan-favorite among Smithies. Their hilarious performances never fail to make a crowd scream with laughter, even if they don't hit all the right notes.
7. A Plethora of A Cappella
For a small women's college, Smith has no shortage of a cappella groups. The Smiffenpoofs, for example, have been taking center-stage long before Pitch Perfect and hold the distinction of being the oldest traditionally-all-female a cappella group in the nation. The Smithereens are close behind as the fourth. But don't think that on-stage rivalries translate to IRL tension. "At the end of the day, what we care most about is each other and we are simply happy to be able to share a love of music and sing with a group of incredibly talented Smithies," said Emily Olmos-Govea, Business Manager of the Smithereens. While each group manages to have their own style, discography, stage presence, interests and even color scheme, club members have nothing but love for every participant.
8. Hell's Belles Fencing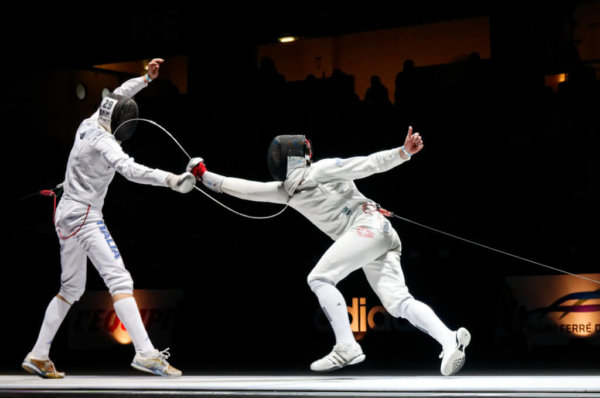 How many college students have you met that handle swords on their average weekday? For Hell's Belles, it's no big deal. Between practicing four days a week (even during J-term) and competing against both club and varsity teams, the Hell's Belles know their stuff and they have a pretty great time doing it, too. Whether you've been fencing since day one or have never touched a sword in your life, the Hell's Belles want you to join. Want to channel all your finals-related stress into a good old-fashioned sword fight? Want to be able to recreate Hallie and Annie's iconic fight from The Parent Trap? Whatever the reason, Hell's Belles could definitely be the quirky club you've been looking for.
9. Republican Club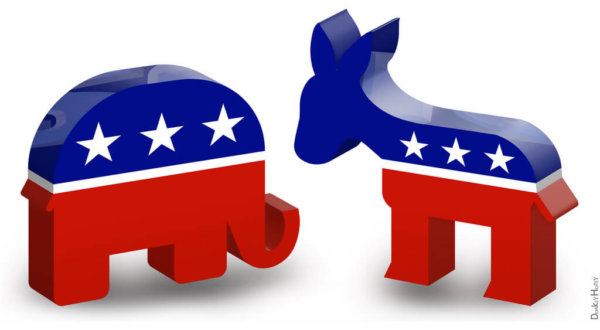 You're probably wondering, "What's so quirky about a Republican club?" Well, nothing, technically. But if you took 15 minutes to walk around Smith's campus and maybe stop a few students for a quick chat, you would understand just how unique this club really is. Even though the typical Smith student is fairly left-leaning, the Republican Club is still a well-established, active org that has a substantial amount of participants. The club hosts lectures, works with Republican campaigns and provides support for those who feel like their political beliefs put them in the minority in the Pioneer Valley. Even though an overwhelmingly large fraction of the Smith student body might not agree with the politics of the U.S. Government, no group of people is totally uniform—and the Republican Club, with the help of the Bipartisan Coalition, does a great job of reminding us of it.
10. Bike Kitchen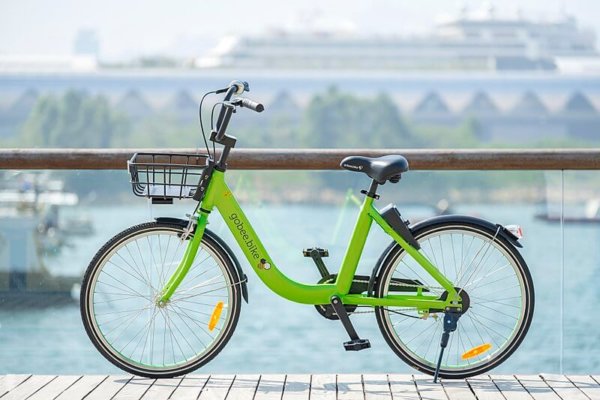 Getting to college and realizing that you have only 10 minutes to get from the Quad to Mendenhall makes for a serious wake-up call. Cue the Bike Kitchen. At some schools, students would have to do days of research to find a reasonably priced bike shop in their vicinity, but not at Smith. The Bike Kitchen does it all. They fix and rent bikes, host get-togethers, hold film screenings and group rides, teach bike repair classes and promote bikes as an eco-friendly mode of transportation. Want a bike for the semester but have no intention of using it after? It's only $20 per semester to rent one. Love getting your hands dirty fixing things? Join the Bike Kitchen and you'll have everything you need at your fingertips. Bike Kitchen will get you 'psyched about bikes.'