Call them teacher's pets, know-it-alls, try-hards or whatever else you'd like. Now get over it. Extroverts bring more to the table than an insatiable desire to meet new people and make more friends than they can realistically keep up with daily. That chatty extrovert in your project group? He networks better than anyone and will likely secure his full-time job through his strong social and communication skills. With small class sizes, strong career service offices and a diverse range of students and activities, these schools help extroverts shine brighter than the sun.
These 10 schools serve as an extrovert's home away from home.
10. Davidson College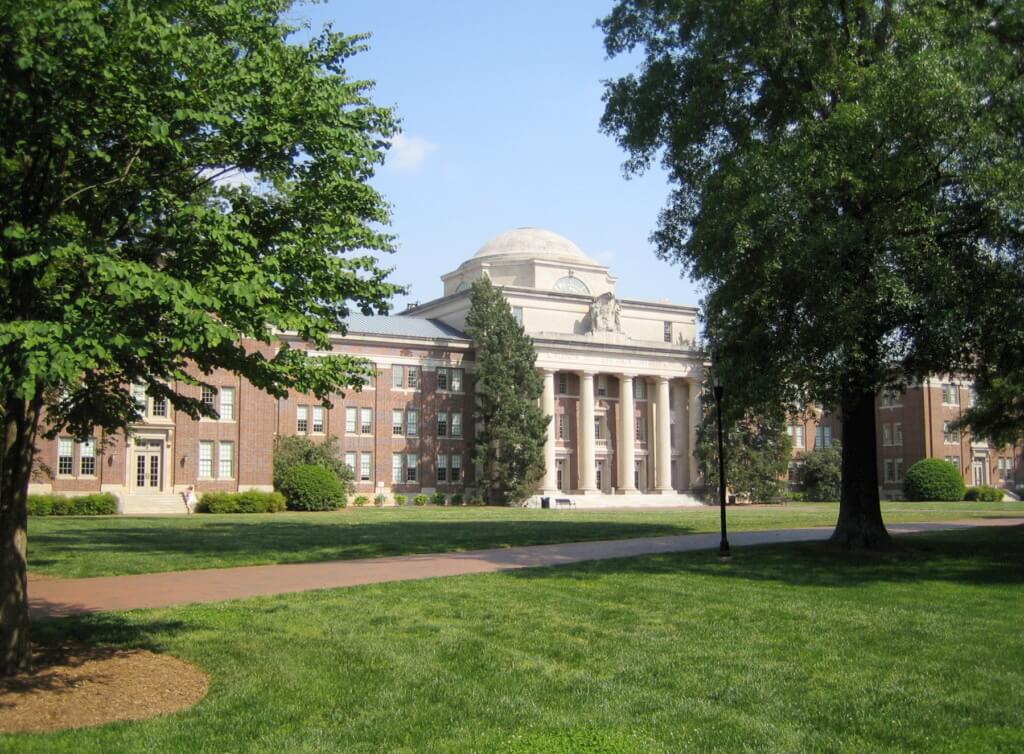 Don't let Davidson's small undergraduate population of less than 2,000 make you run for more populated pastures. "If anything, I think Davidson's small student body cultivates an environment for extroverts. It's easy to feel like you are suffocating, because you have the same routine and see the same people day after day. Branching out and meeting new people can help you feel less in a bubble," junior Fenan Debesai said. Research on extroverts shows they are more likely to succeed in small classrooms where they demonstrate their knowledge through active participation—which Davidson offers through a 10:1 faculty-student ratio. Beyond that, their small population creates a close-knit community that takes great pride in its academic prestige, its Honor Code and off campus programs in 17 locations worldwide, including India and China. Extroverts can travel around the globe, meeting new friends in every country.
9. Florida State University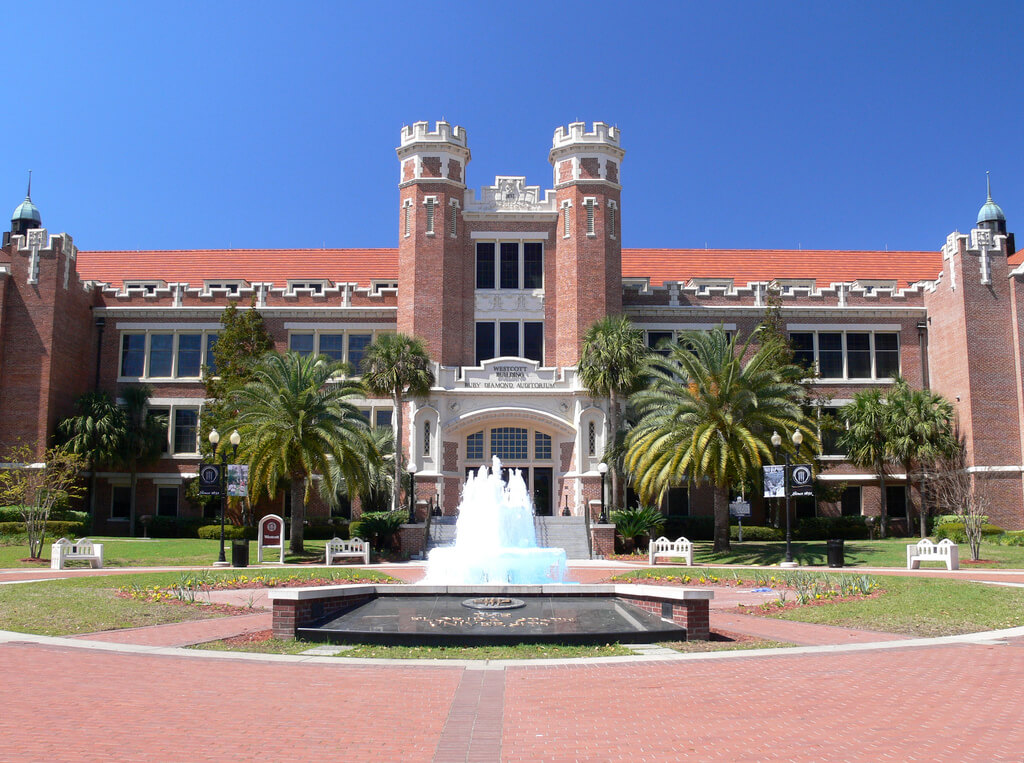 Head down South to Tallahassee, where the sun shines as brightly as those endlessly cheerful extroverts. Extroverts will feel right at home in the middle of 30,000 of their closest undergraduate friends. They'll also have enough energy to take part in all 700 of FSU's clubs, such as the Anhelo Tango Club, in between coffee dates and lunch breaks with their wide circle. Though Seminoles take pride in this big sports university, FSU provides its students the chance to see beyond the shores of Florida and into the rest of the world through 50 study abroad programs worldwide, including Panama and Italy. Closer to home, students gear up in garnet and gold to prove that they are cooler than long-time rival, the University of Florida. This classic Florida rivalry gives FSU extroverts a chance to let their loud, attention-seeking personalities a chance to steal the show.
8. American University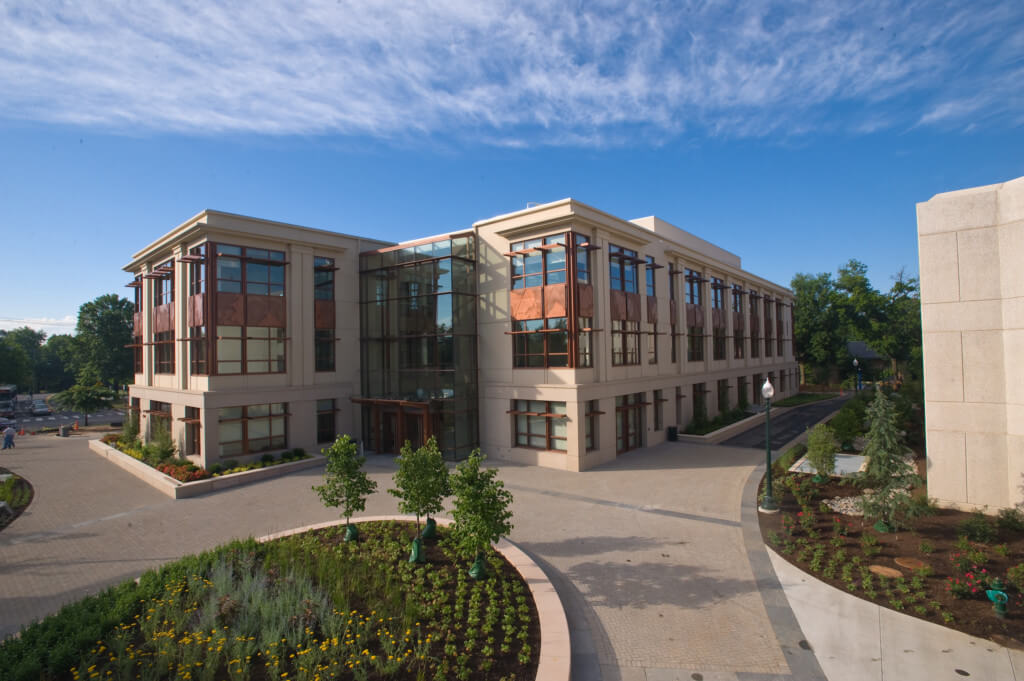 Can you think of anything more exciting than going to school in our nation's capital? American University, located in the heart of Washington D.C., calls all extroverts looking to sprinkle some politics, policy and history into an environment of art, food, shopping and general pride for America. These natural born orators will take advantage of the politically involved atmosphere of AU by voicing their always-correct opinions. This private college also offers eight schools to its undergraduate population of over 7,000 students, giving extroverts many avenues to explore until they find the right fit. Club sports such as ice hockey, Greek life and student government represent three of the most popular student organizations. Obviously, extroverts make great members of student government, as their leadership skills and desire to control things make them impactful AF. Quirky clubs exist at AU as well, such as the Community Garden club and the Gospel Choir club, where never-shy extroverts can take center stage. You can bet they won't turn red, white and blue in the face with stage fright.
7. University of Virginia
UVA has become a hub for aspiring CEOs, engineers, academics, international students and anyone looking to compete for UVA's title of biggest try-hard. Speaking of competition, extroverts love any chance they can get to rise to the top. Due to "the overwhelming sense of community," extroverts thrive at UVA, according to senior Mallory Leidinger. "I've made friends in dining halls, on the Lawn and even in the library." If you could possibly get bored with the 700+ clubs that UVA offers, check out the surrounding Charlottesville breweries, vineyards, concert venues and restaurants. "As a self-described foodie, exploring new places to eat in Charlottesville is my favorite go-to for shaking up my routine!" Leidinger said. Wahoowa.
6. University of Chicago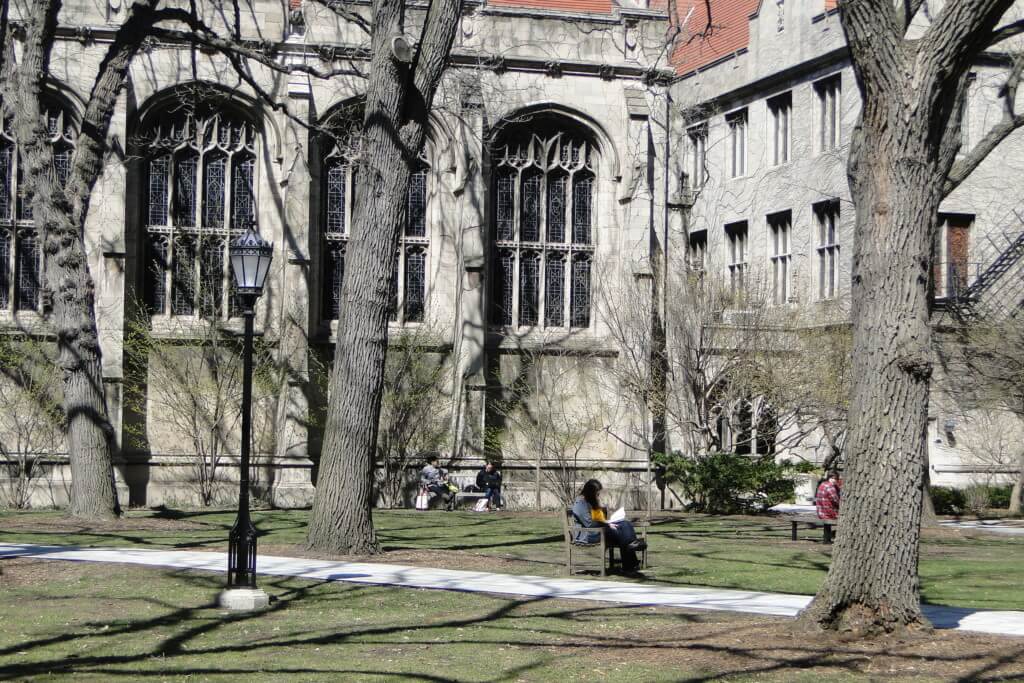 Students at UChicago live like Harry Potter in houses throughout their four years at the school, giving extroverts the perfect opportunity to form close friendships. With a faculty-student ratio of 6:1, they get plenty of chances to make themselves the center of attention in the classroom. Diversity also reigns since 50 percent of undergrads are students of color. The best part about this university? Its proximity to Chicago. "UChicago doesn't really feel like a big city school. It's in Hyde Park, which feels more like a mid-sized city environment. Hyde Park is a solid 30 minutes from downtown Chicago. That's actually pretty great, because you can go downtown whenever you feel like experiencing the big city life, but you can take it a little slower when you're actually on campus," sophomore Ruth Selipsky said. "[Even] though 5,000 undergrads is small compared to many universities, it's still more than any one [person] could realistically get to know. There's always someone new to meet."
5. Arizona State University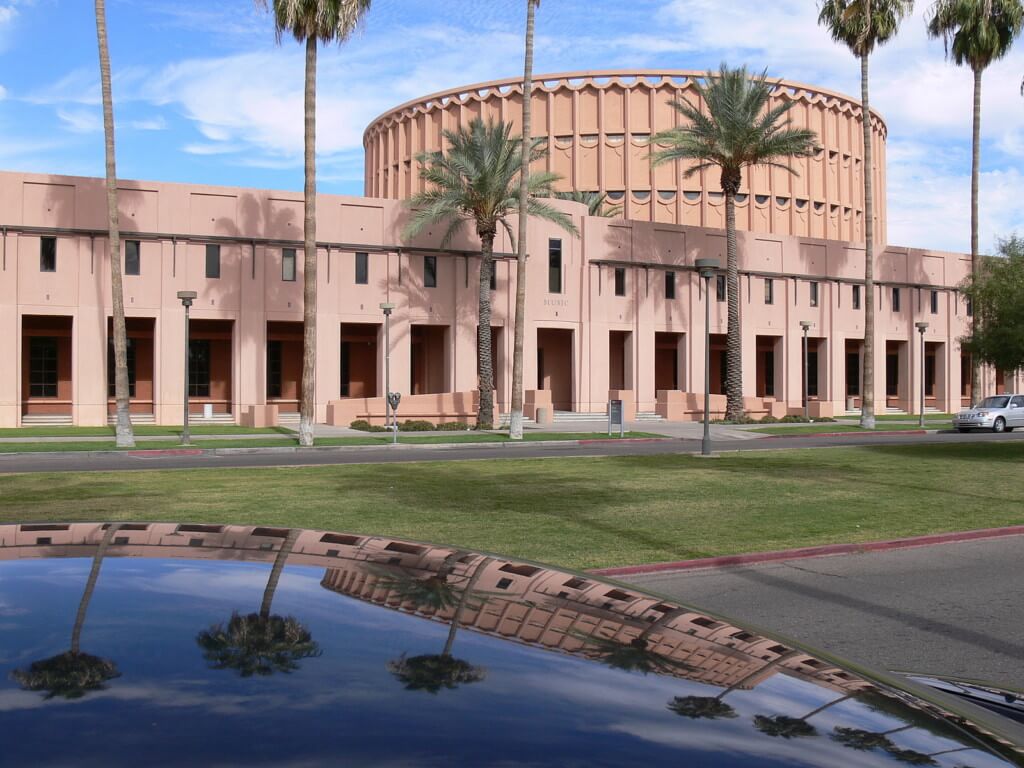 Extroverts down for the challenge of balancing their academic life with their natural inclination to socialize will fit right in at ASU. Think massive school, Tempe beer culture, year-round pool parties and a deep rivalry against the University of Arizona. These partiers don't fall short of success, however. Eighty-seven percent of graduates secure employment within six months of graduation. With over 1,000 clubs and close to 50 percent undergraduates of color, ASU offers a diverse setting for extroverts to expand their already wide circle of friends. "I do believe the climate or overall vibe [of ASU] is really geared toward extroverts. With an assortment of students from all across the world, it motivates us to reach out and meet new people," junior Matt Lucero said. "The school does a great job of holding events that are there to bring people together so that they can break out of their shells and have fun at the same time."
4. University of North Carolina at Chapel Hill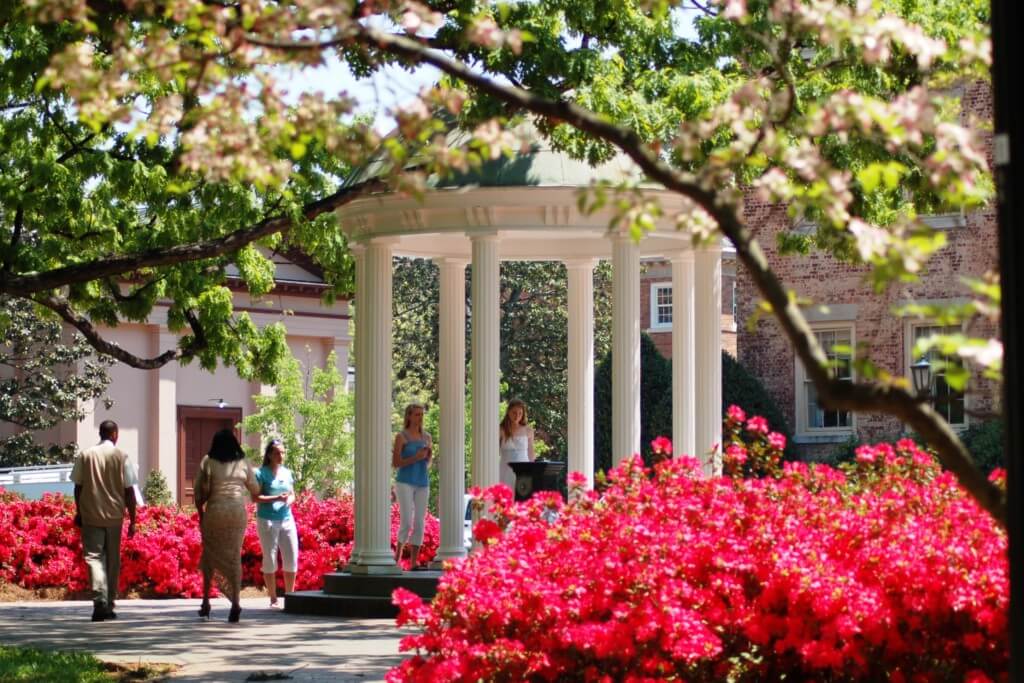 More than just its 2017 national championship basketball title, UNC boasts over 800 clubs, diversity and a lively college town full of bars, restaurants and music. Extroverts succeed here, proven through the 90 percent of graduates with job offers or plans to pursue graduate school after graduation. They excel not only in the classroom, but in their extracurriculars, too. "My favorite club I've joined is Carolina Challenge. It's a start-up competition for aspiring entrepreneurs, and it gives people a space to share their ideas and pursue interests that may not be academically related, which I think is unique," senior Grace Baldridge said. Beyond that, Baldrige explained the undergraduate population of 18,000 as beneficial for extroverts. "You see a new face every day at Carolina—in class, on campus or really anywhere you go. It's nice to always be meeting people and forming new relationships."
3. University of California at Davis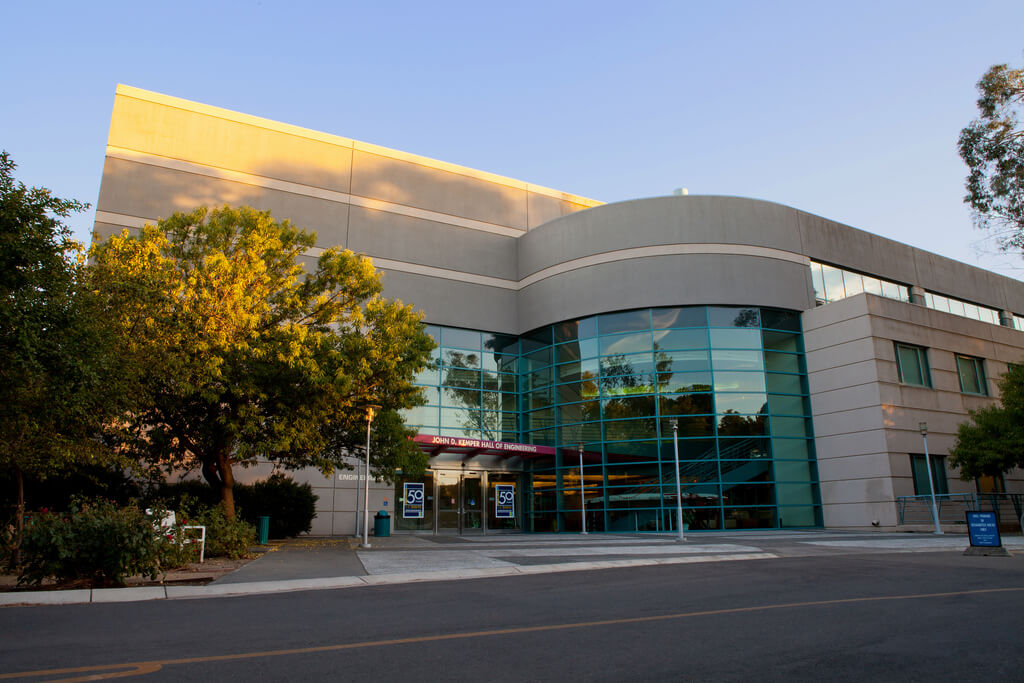 Frequent biking through this scenic campus poses no challenge to extroverts and their limitless energy. "The campus population is big, but Davis is actually a pretty small college town, so you'll run into the same people all the time. There's also a ton of international students here, which is great because it allows you to meet people from so many diverse cultural backgrounds," senior Austin Huynh said. UC Davis's 70 percent diversity rate makes it an ideal school for extroverts. When asked his favorite club, Huynh mentioned Circle K, a community service-oriented club. "They've given me the opportunity to get involved and get to know the community [of Davis] on a personal level. It's a close-knit town, and you can see a lot of older community members and students coming together," said Huynh. The Aggies have it figured out—big school, big time love for their extracurriculars and their community.
2. Columbia University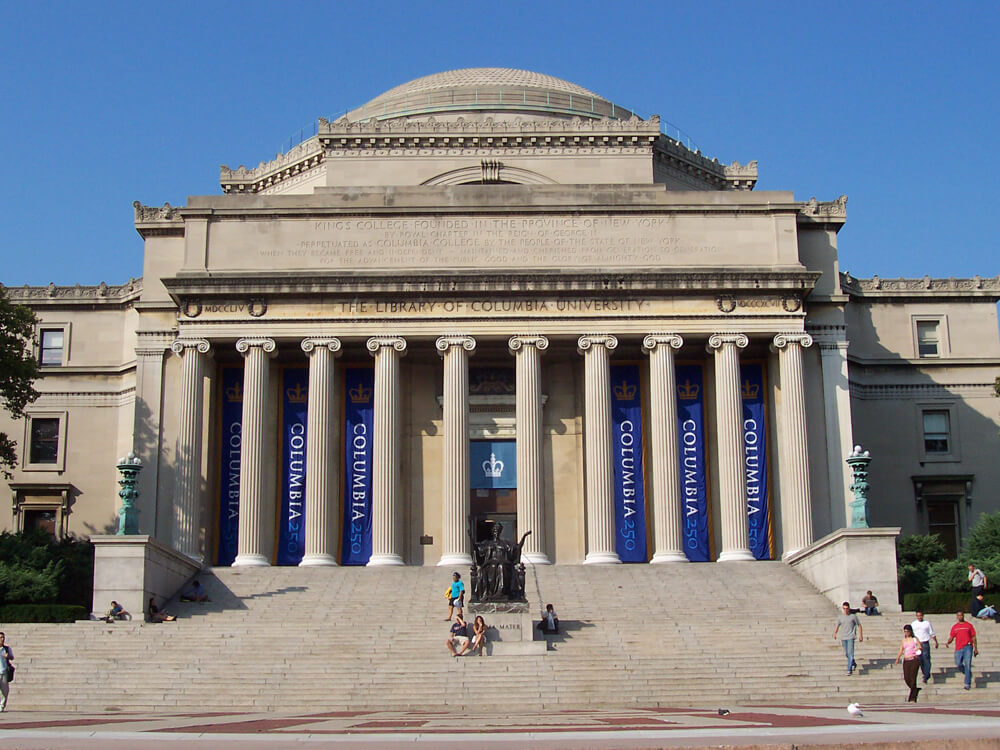 Good thing you'll never find an extrovert in a bad mood or out of energy, because sleep does not exist in New York City. "Columbia gives you a home base in the city. When you walk through the gates on 116th, you're surrounded by a classic college campus. You can hang out inside the border of Columbia all day and completely forget that you're in New York City. Or, you can go out with friends and explore," junior Liv Kiely said. Extroverts interested in fast paced lifestyles will prosper in NYC, between Broadway shows, incredible food, trendy nightlife, art, culture and more. "Extroverts are drawn to each other in the city, I think, because introverts have a millions corners of New York to hide away in and do their thing," Kiely said. Don't worry about finding a job post-grad either, because according to Columbia's Center for Career Education, 98.2 percent of reported undergraduates would recommend Columbia's career services to a friend.
1. Boston University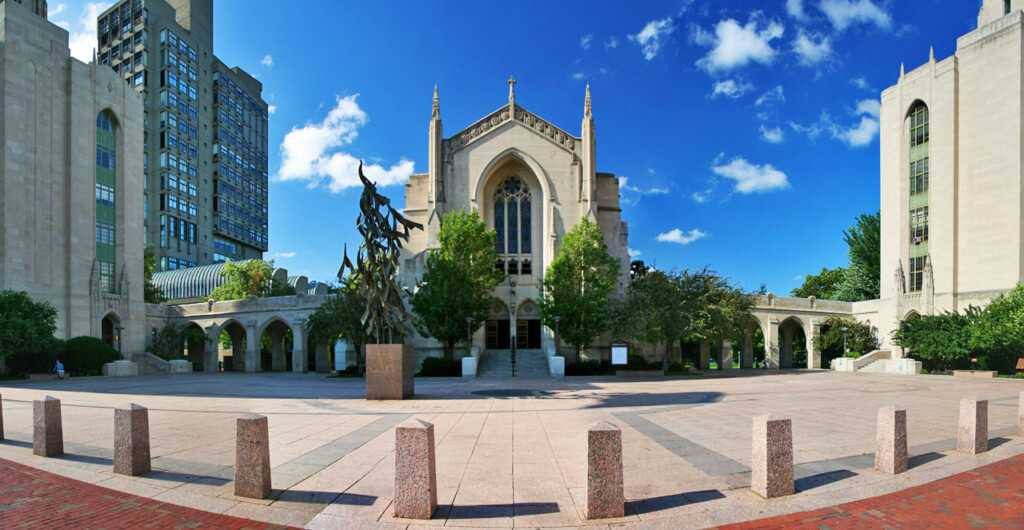 With over 150,000 students at Boston's many institutes of higher learning, a community of education and knowledge surrounds the city. "BU is surrounded by other universities and is located in a busy and evolving city. There is always something going on, whether it's on campus or downtown Boston, which makes it a great place for extroverts," senior Abbey Weis said. This mid-sized university with an undergraduate population close to 18,000 prides itself on its tight faculty-student ratio of 12:1, allowing all students to reap the benefits of building close relationships with professors. What about after graduation? Worry not. BU produces immensely successful graduates, as 94 percent found employment or placement in graduate programs, military service and fellowships within six months of graduation. Paul Revere, the original extrovert, won't be the last to yell through the streets of Boston.