Nothing beats going to a food truck or restaurant to get a meal when you feel the munchies come around. Whether it's been an early morning, a long afternoon or a tiring evening, you want to be able to relax and get some great food. Temple University boasts some of the best spots to fix those cravings. From places offering snackies to full entrees, there's something for everyone. Here's a breakdown of my top ten spots to hit for breakfast, lunch and dinner when you're on campus.
These are my favorite spots to visit when you need to settle that hunger.
Breakfast
Let's say you just got off the train and you got an hour to kill before class. The stomach is growling and you know you've got a long class coming up. For breakfast, you can pick from so many different options. If you don't mind the long lines, you should definitely go to…
Richie's Cafe
Luckily before you head to your first class, you'll more than likely pass two Richie's locations. Richie's Cafe on 1802 N. Warnock St. marks the first spot you'll pass. This is their newest location and this cafe-style restaurant always seems packed. In 2019, Richie's Cafe started in the lobby of an apartment building known as Kardon Atlantic. After 2 years, they decide to move to their own location on Warnock St. The layout of this new location was specifically designed for Temple students to relax and study on campus.
Even when you walk past their first location at The Wall on North 12th St., there's usually a long line. Established in 1969 as a food truck, this place has been serving Temple students at "The Wall" for 3 generations. In 2012, they dropped their deli and pizza options to focus on breakfast and coffee. Ever since then, the establishment took off. For years they've existed as one of the most popular shops and they've even been featured on the Travel Channel. They are usually open from 7 am – 5 pm, but again, you will likely see a line each time you go there. With food that's fast and good, along with a menu that boasts something for everyone, you can't go wrong. From what I've seen, this is definitely the most popular location on campus.
No matter the spot, I will always get the bacon, egg, cheese and hashbrown breakfast wrap with hot sauce inside. I know I'm going to regret it later, but I'm going to enjoy it now. I've wanted to try the Nutella Waffles or their Cinnamon Roll Waffle at the cafe. A waffle smothered in Nutella or made to taste like a cinnamon roll sounds like a wild experience.
E&E Gourmet
The next spot that always gets people lined up is E&E Gourmet, the food truck across from the Fox School of Business on West Montgomery Ave and North 13th St. This makes for the one-stop-shop for great hangover food or munchies because these portions are loaded and taste so good. Sure the gentleman there can come off a bit rude sometimes, but he has so many orders he needs to fulfill and it's just him making it. Once you get your food you can sit down and relax. You'll find yourself more than satisfied. You might even end up with enough for later. My favorite plate? The bacon, egg and cheese omelet with white toast. All you need is some ketchup and you can turn that thing into a sandwich. Don't worry, you can thank me later.
Bagel Hut
Lastly, this place isn't as packed as the first two, but it's not unexpected for the Bagel Hut to boast a line. This place just reopened last year at the end of September. It continues to make an impact as though it never left. Bagel Hut has been up and running for about three decades on Temple's main campus. Long lines and many options to choose from don't stop students from lining up to wait for their breakfast. I recently found out about this place when I first arrived on campus in the Spring semester of 2021. Their bacon, egg & cheese on an everything bagel with a hashbrown in the middle makes for one of the best breakfast meals. You're probably starting to see a theme here with my breakfast options.
Lunch
The first round of classes is over and done with for the day. Now you can finally take a break to enjoy some lunch. I'm not going to lie, Temple boasts a variety of options to choose from when it comes to lunch. These are my personal top three favorite options.
Honey Truck
The Honey Truck, my number one spot to go to when I'm on campus. This place easily cooks the best chicken on campus. I purposely come here every once and a while because I don't want to ruin the satisfaction this food truck brings. At the beginning of the pandemic, Temple University was like a ghost town. You couldn't find anyone on campus, which means no one to serve. Once students came back to campus and there was a demand, this location survived to fulfill it. Honey Truck reopened in September of 2020 and service continued going strong.
This was actually a personal recommendation from a customer when I worked at AT&T. I was working on transferring a customer's information from one device to another and I noticed she was a Temple Alumni. I asked her for her top three favorite places to eat on campus and she couldn't stop talking about how much she loved this shop. It proved the only thing I could remember and that meant I needed to try this place for myself. They make a limited quantity and once they run out, they close shop for the day. Luckily the lines aren't long. So once you finish your order, just pop a squat on the ledge and wait for some of the best food you'll find on campus. Feel lucky that I'm even telling you this because I know once you put people onto a spot, it can take a turn for the worse. I'm lucky enough that I can usually get one before they run out.
My go-to is always the Crispy Chicken Burger with the Pink Lemonade. I prefer no tomatoes, but everything about that sandwich is perfection. The spice? Great. The chicken? Crispy. The portion? Just right. My second option is the Chicken & Waffles. They also offer other options such as cheeseburgers, fried fish and crab sandwiches, along with avocado chicken wraps, but the Chicken Burger is the best thing on the menu.
Sexy Green Truck
Sexy Green Truck, a food truck that serves Mexican food and is located right next to the Student Center. It's hard to miss. It's literally a green truck. This spot used to serve American cuisine, but now they serve Mexican. If hittin' wasn't the right word for the food here, then I don't know what is. They serve everything you could want from a Mexican food truck. Quesabirria, nachos, tortas and more.
For a decent price you get a decent-sized portion. For example, take the nachos. For $9 you can get nachos with any kind of meat in a to-go container and it can feed like 3 people. Sure, if Mexican food doesn't react well to your body, then you might want to say a prayer, but the food here is definitely well worth it. I personally go for the shrimp tacos each time, but really everything here makes for a great lunch. Just don't forget the churro.
Old Nelson Food Company
Now, I've never eaten at this spot before, but it is one of the most recommended restaurants by the students here on campus. Old Nelson Food Company has been in Philadelphia since 2003 and with ten different locations all throughout, this place is definitely unique in its own way. The interesting part about this place? It's also a grocery store.
I believe it's a popular location because students can get something from the deli like Wawa and also grab some quick snackies for the apartment. The prices are decent and the owners are pretty chill. So for a chill night at the crib, this place comes in clutch for providing all of your needs.
Courtney Fallon, an English major, is one person who recommended the Chicken & Dumpling soup with a Garden Salad. I'll be honest, I dont know how a salad satisfies the munchies, but chicken & dumpling soup is god-tier when it comes to soups. They are also sponsored by Boar's Head, which provides some of the best meats on the market. This means their sandwich is anything but underrated. This will definitely be the place to hit when I get the chance.
Dinner
Last, but importantly not least, there's dinner time. Some of these spots are my usuals before I catch the train to head back home, some of these places are even factored into the schedule before I even set foot on the train. Here's what I'm tearin' up before I leave Temple for the day.
Tai's Vietnamese Food
Tai's Vietnamese Food is such a dope spot to catch lunch or even dinner. The people that work there are so nice, (to my knowledge) this is the only Pho shop within walking distance, and their food is always on point! BillyPenn.com even stated it is "one of the best options at the outdoor food locations near 12th St." Even an article from Lily Coltoff mentions some of her favorite restaurants and Tai's Vietnamese is one spot that has some good food that you can find at a food truck.
Every time I swing by, I asked Michael Pickrell, Engineering Junior, about his thoughts on the shop. He comes here at least once a week and says, "everything is really good here. I could just come here for the boba tea every day and be happy. My favorite thing here has to be the Viet Pork Hoagie." That gives me cravings just thinking about it. Looks like I know what I'm trying next time I hit this spot up.
Blaze Pizza
Blaze Pizza is easily one of the best pizza spots on campus. Located all around the U.S. in 41 states and 6 different countries, this franchise makes amazing pizzas. Next to the View, they make handcrafted pizzas fresh on the spot. The ambiance is chill and relaxed, and you get to watch them make your pizza like it's Subway. They are sent into the brick oven and while you wait you can watch that cheesy goodness bubble up.
You can choose one of the styles of the pizzas they could create for you on their menu, but the best thing to do is Create Your Own Pizza. They have all different options of dough from classic to high rise and even cauliflower. I usually get the red sauce, mozzarella cheese, pepperoni and meatballs with olive oil drizzle on top. It's nothing crazy, but simple can be great!
Potbelly
Next to Blaze Pizza, you can also have Potbelly as an option if you're looking for a good sandwich. Potbelly has been around since the late 70s and now they have almost 450 locations throughout the United States. Potbelly's sandwiches are good, but you should also try their handcrafted milkshakes. Their interior is very old-fashion, but that adds to the vibe of this venue. Whether you want to enjoy it there in-store for a quick bit or you want to take it home, Potbelly is the best place at Temple to get some sandwiches and more.
There are plenty of other great options on the menu, especially the soups, but I usually have my go-to's. My personal favorite is the Meatball Sub with the Baked Potato Soup. You can usually get this in their Pick-Your-Pair combo and it's definitely a banger. I know I'm going to sound extra fat when I say this, but I also get two Sugar Cookies cause they understand what they're doing with them softies.
Sunny Halal Food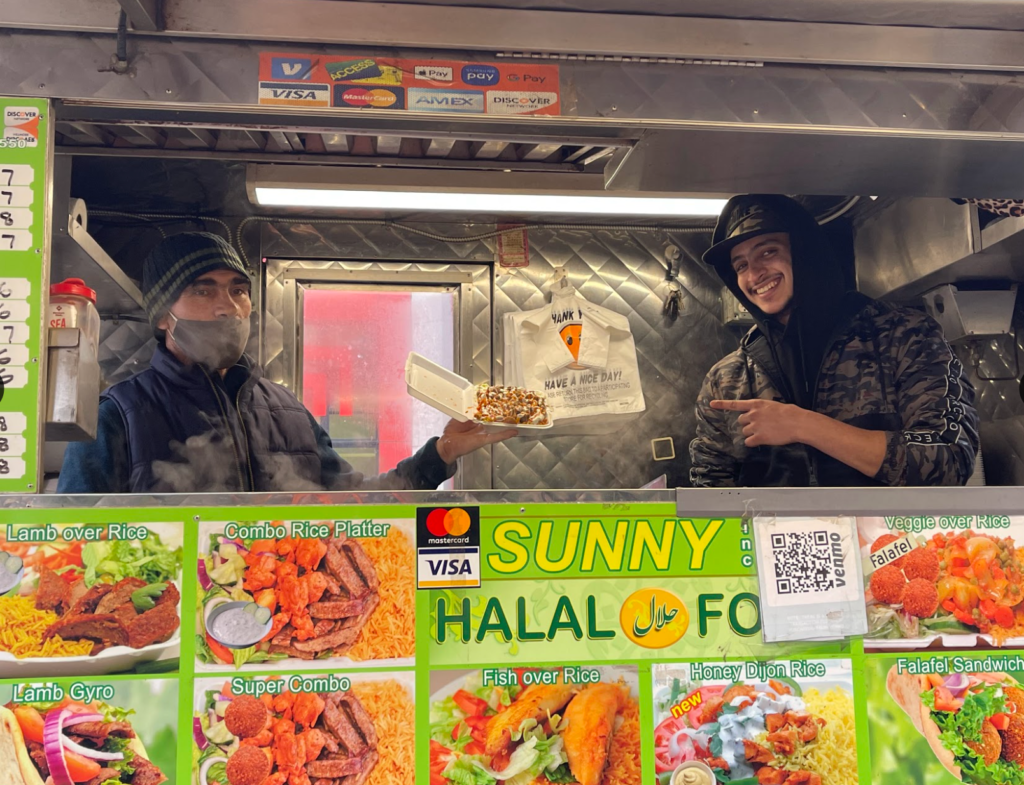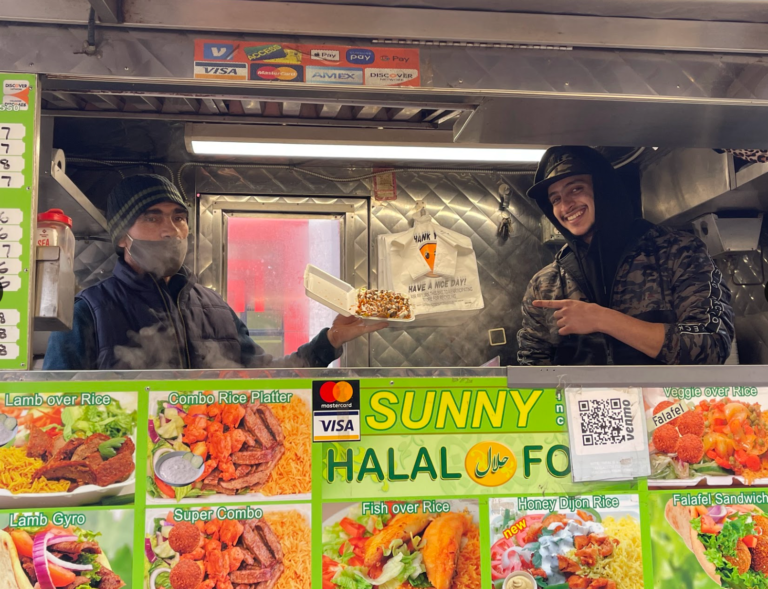 Last but not least is ol' reliable. Sunny's Halal Food is the perfect spot for college students. This is cheap and quick with decent-sized portions and nice people. The Halal food is pretty good here too! You can never go wrong with popping up at the food cart around 10 pm to get some late-night grub. We've all been there and you can't deny it, and you're crazy if you say otherwise. Especially when you live in a city or stay on a campus that has food trucks/carts.
Every time I see the homies there, I gotta get the Super Combo which comes with Lamb, Chicken and Falafel. Top that off with some extra red and white sauce with the bev and you got yourself a good meal for the night. I swear you'll be eating like a king for the night and once you finish, you'll be out like a light.
If you love food, don't worry! You're not a fatty, you're a foodie. I know I may have sounded extra fat with this Top 10 list, but I'm such a foodie and so are you! Never be ashamed of the things that we need to survive. Be happy that there are a plethora of options to choose from and you will find something to satisfy your taste buds. I hope this helps you out when you need somewhere to eat while on Temple University's campus. Just be careful because ever since I started coming here, I swear I gained like 10 pounds. Don't be like me! Eat in moderation and enjoy what you devour.