The town that a university resides in plays a major part in the college decision making process. It only makes sense to do some research on the town you get to call home for the next four years. The perfect college town depends on your personality, interests, studies, and goals. Looking into surrounding towns and cities can serve as a helpful way of narrowing down schools. Some things to consider when moving to a new town include affordability, different activities and services the town offers, the walkability of the town, population and different job opportunities the town provides.
These 10 universities leave students beaming with pride for their university even after stepping foot off campus.
Indiana University- Bloomington
One of the oldest and largest state universities in America, Indiana University gains recognition for their business and music program. Home to the largest medical school in the United States, Indiana University's diverse academic programs alone makes the school worth looking into when choosing which college to attend. When it comes to getting the college experience every freshman longs for, Indiana University offers students endless social opportunities. When not studying, students love to watch the Hoosiers basketball team play. Bloomington keeps students busy with both academic and entertainment related activities.
"The academic opportunities in Indiana are amazing and the support system is even better! The entertainment during sports seasons is off the charts between basketball, football and soccer, you will have something to do every night! There is also a place for everyone to stay! Going to IU was one of my great decisions," Indiana University junior Dylan Jacoby said.
Indiana University lies in an easily walkable city. This makes it perfect for college students to go out and about without the use of a car. Students like taking strolls in downtown Bloomington for a night out with friends. You can spend the whole day at Kirkwood Avenue with the abundance of establishments. Students spend their time at endless bars, restaurants, and shops. Bloomington also offers museums, art galleries, and live music venues. No matter what your idea of a perfect day looks like, the city provides something that everyone will like.
Florida State University- Tallahassee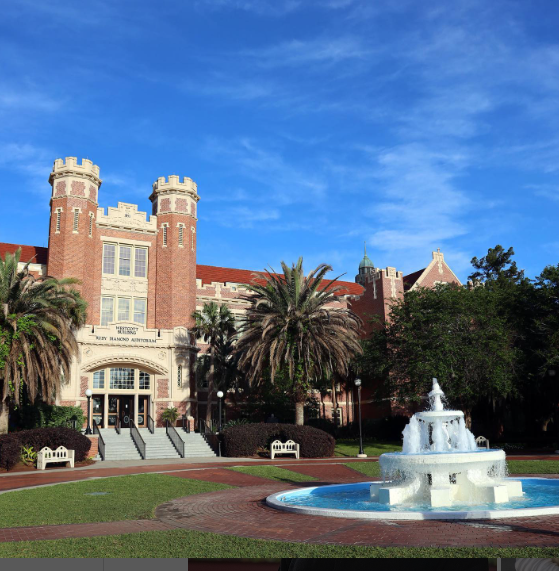 Between its strong presence in Greek Life and devotion to football, you can guarantee Tallahassee is home to one of the top party schools in America. Tallahassee's active nightlife makes Florida State University a great place for a lively college experience. The city's college-centric characteristics attributes to the different activities within the area. Florida State University offers students a unique blend of academic and cultural experiences. Everything lies within close proximity to Florida State University making it easy for students to get around.
"The most popular place to go on game days is college town which is about a 10-to-15-minute walk from the center of campus. There are all sorts of things to do there, including shops, and restaurants that host tailgates on game days. Another local favorite spot that I spend time at is the art district, which hosts a big event with food trucks and live music on the first Friday of every month. There are lots of restaurants, and bars around campus as well that host events like trivia night, live music, line dancing, karaoke, and more! And the best part is most things are only a 15-minute walk from campus, but there are free bus routes available to students as well," Florida State University senior Rylee Brooks said.
Just about every Tallahassee resident looks forward to gameday at FSU. Students show off their school spirit with Seminole pride on full display. The Florida State University Seminoles bring the city together throughout the fall semester. Even those who don't particularly like football find fun in the lively atmosphere the football games provide. If you don't care for football starting out at FSU, you're sure to come out a football fanatic, or a lover of tailgates at the very least by the time you graduate.
Naropa University- Boulder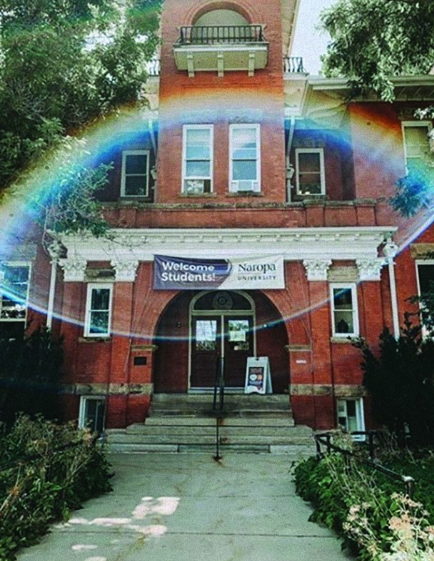 The Buddhist-inspired university truly offers a college experience like no other. Although small in size, the university's setting offers students a wide range of things to do. Students can kill time in between classes by shopping at the Pearl Street Mall. Students can also attend events, lectures, and workshops at Naropa University, which often hosts talks by renowned speakers, mindfulness and meditation workshops, and other educational and spiritual activities. Boulder is home to some of the most breathtaking views of Colorado's flatirons. The university takes pride in the beautiful nature that surrounds the campus.
"Boulder rings with a Rocky Mountain charm which straddles the balance between a city and a small town. Outdoor activities are within accessible reach, and because of a zoning ordinance disallowing to build more than three stories high, you can see the mountain ridge jutting out in front of you. It's home to a tapestry of spiritual communities and compassion enthusiasts, while still allowing the magic of mystical experiences if that's what charges your crystals. Not to mention Boulder Creek, where you can find everyone and their dog dipping into that fresh mountain runoff," Naropa University graduate Moudi Sbeity said.
You can travel just about anywhere in Boulder without worrying about how to get there. The city provides bus transportation and expansive bike paths. If a bicycle didn't make your list of items to bring with you to college, you can easily rent one at the many bike stations the city provides. This makes it easy to get to the various different cultural events, art exhibitions, live music performances, and film festivals Boulder offers. From farmer's markets, to mozzarella stick sandwiches, to triathlons, Boulder meets the expectations of anyone's definition of fun.
University of Virginia- Charlottesville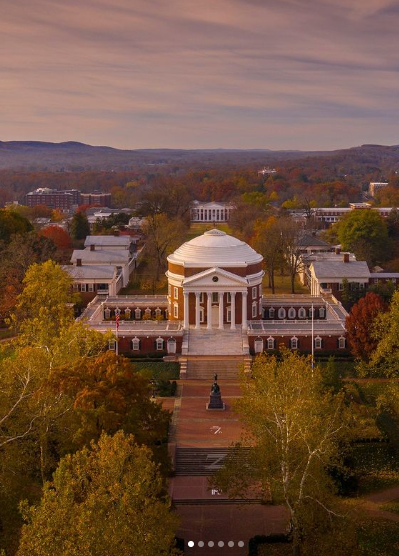 Many people know the University of Virginia for its prestigious academic programs. The university gained "public ivy" status due to their high rankings. This makes the university a great place to receive outstanding college education without the high sticker prices of ivy league schools. The affordability does not stop outside the university. Charlottesville's reasonably priced housing makes University of Virginia a great place for college students to call home.
"My favorite thing about UVA on Grounds, we don't call it campus here, is hanging out on the Lawn with friends. The Lawn is basically our equivalent of a quad, and on sunny days it's full of students reading, having a picnic, or just chatting. I could spend hours under one of the trees reading and enjoying a nice day! What's nice about UVA is that it's really walkable, so even if you don't have a car like me, you can still find a ton of stuff to do off Grounds. The Corner, for example, is a long strip of restaurants and stores that's just a few minutes from central Grounds— I love grabbing lunch or drinks with friends at The Virginian or a coffee at Grit, which is also an awesome study space," University of Virigina senior Ava MacBlane said.
Charlottesville city buses provide free transportation for college students. This makes it extremely convenient for students to get to Downtown Mall, one of the most popular hangout spots for UVA students. Not only known for its convenient transportation and renowned academic programs, UVA prides itself with the rich history of colonial America. Thomas Jefferson founded the university with his architectural influence made evident throughout the campus. The neighborhood consists of an eclectic grouping of restaurants and shops with a historic aesthetic. The busing also makes it easy for students headed to John Paul Jones Arena where students can watch their university basketball games and attend concerts for a night out.
University of Arkansas- Fayetteville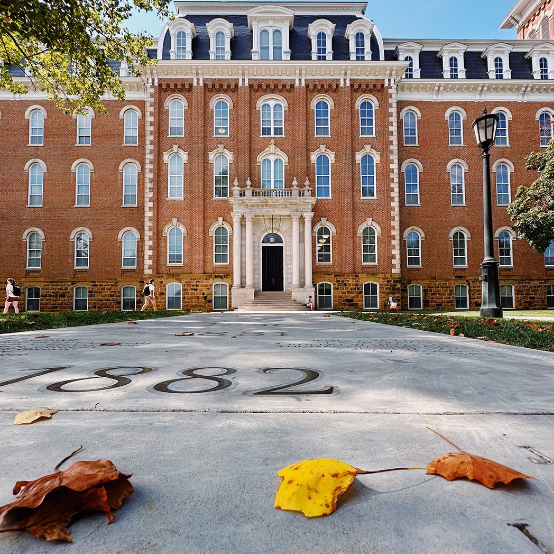 Deep within the Ozark Mountains you will find Fayetteville. The city bleeds the scenic outdoors of Arkansas and home to the state's most renowned university. The Southern hospitality and welcoming environment on campus makes it easier for freshmen to acclimate to their new surroundings. Fayetteville's inexpensive housing and overall affordability makes it a great place for college students to live. Not only do students get excited for football games, but the entire city looks red and white from a mile away on gamedays.
"The decision I made to go to the University of Arkansas was the best decision I have made in a long time. The town of Fayetteville is so naturally beautiful. Sometimes I catch myself gasping at its beauty. The passion that the students and teachers have is amazing. You can feel the motivation radiating through the campus," University of Arkansas freshman Sara Dozier said.
You can find students spending their time at Beaver Lake fishing or partaking in various watersports. You can also hike on one of the 47 trails the city provides. Go see a play at the Walton Arts Center where entertainment runs like clockwork. The establishment hosts Broadway musicals, classical music concerts, dance performances, comedy shows and educational programs for people of all ages. The university holds a significant influence on Fayetteville's culture and community, making students feel like they practically run the city.
St. Edwards University- Austin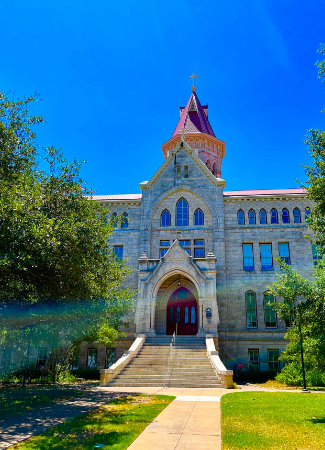 Austin's attractions and activities bring tourists to the city year-round. This makes St. Edward's University home to one of the greatest college towns in the country. Although the university lies within a heavily populated city, the campus itself and student body fall on the smaller side. This makes it great for students who want a close-knit feel to their campus without sacrificing the liveliness outside of it. The live music capital of the world keeps students always doing something outside of class time. The city also provides endless academic and economic possibilities. Austin's thriving technology sector "Silicon Hills" homes major tech companies like Dell, IBM and Apple. The presence of these companies influences the city's complex technological climate, making Austin a hotspot for tech professionals and entrepreneurs. The setting puts students in a great position for internship opportunities and success in their future careers.
University of Iowa- Iowa City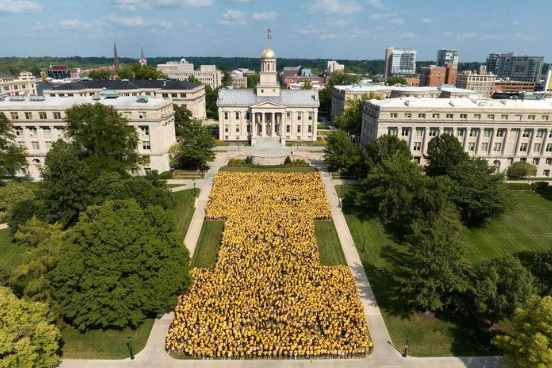 Home to one of the most renowned medical centers in the country and acclaimed studies in writing, the University of Iowa holds high academic standards. The university's vibrant city gives the community a work hard, play hard atmosphere. The Downtown Pedestrian Mall is a popular place amongst students filled with restaurants, bars, and shops. Iowa City offers plenty of activities to keep every weekend for students excited, such as escape rooms, breweries, arcades, and minigolf.
"As a transfer student, I really have seen the impact the University of Iowa and its surrounding town, Iowa City, has on the college experience. No matter what, there is always something going on whether it is through the University of Iowa or just around town. The environment is perfect for a fun weekend, but also provides plenty of options to keep you focused on your academics. Overall, it is just a wonderful place to be and it is full of super welcoming people," University of Iowa junior Katie June said.
The city makes a safe place for students to live compared to an average college town. This improves academic achievement, school morale, and social environment for students to thrive. The wallet-friendliness of the city makes it an affordable place to live and go out on a weekend without leaving much room for regrets in your bank account. The city's low unemployment rate benefits students in their process of finding a job close to campus. Although well known for their football team, other sports such as basketball and wrestling also get a huge following. This makes the Hawkeyes' athletic department unmatched for both athletes and their fans.
University of Michigan- Ann Arbor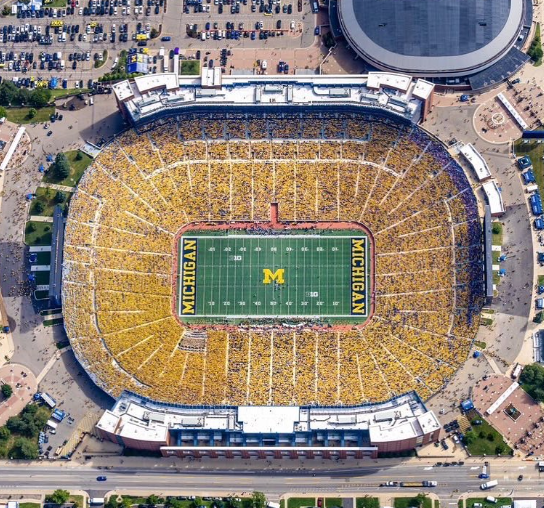 A college with a high-ranked athletic department usually goes hand in hand with a lively college town, and the University of Michigan proves this statement right. Ann Arbor residents beam with excitement and anticipation whenever the college football season rolls around. When the Wolverines play their rival Ohio State Buckeyes, everything else stops and the city's liveliness lies in the hands of a football game. Outside the realm of football, Ann Arbor offers breweries and wineries to visit. You often find students spending their free time downtown at locally owned shops and restaurants. The low crime rate provides students with an extra comfortability aspect both inside and outside of campus. The city itself may seem small in size, but students keep Ann Arbor bustling at any given time. The thriving nightlife makes Ann Arbor a lively college town for University of Michigan students brought together by football, top-notch academics, and endless social opportunities.
Harvard University- Cambridge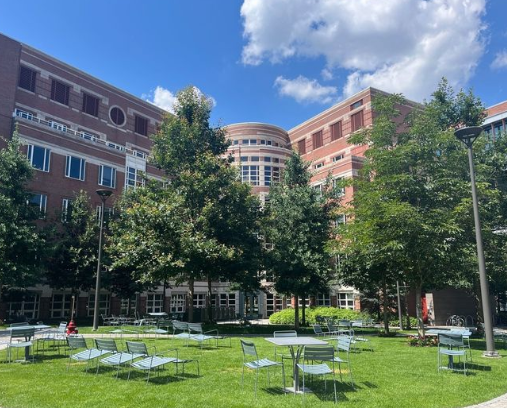 The charming city of Cambridge is home to arguably one of the most elite universities in the world. Harvard's superiority in academics and price usually outweighs any other considerations when it comes to making a college decision. However, the perks of going to this Ivy League school do not stop after stepping foot off campus. Cambridge offers a thriving social environment and provides endless academic and economic opportunities.
"There are tons of things to do around Cambridge. One of my favorite things to do is walk along the Charles River. It's very scenic. People have picnics by there and there's a bunch of boat rental places where you can kayak down it with some friends. It's also super easy to walk around Harvard! Having a car is helpful if you want to take day trips like skiing in Connecticut or apple picking in West Massachusetts. There's also a subway system called "the T" that connects most of the campuses together and downtown areas of Massachusetts," Harvard University senior Kristen Harriott said.
When not focused on academics, students spend much of their time on Harvard Square. The hub offers several different boutiques, bookstores, restaurants, cafes, and bars. It makes the perfect place for students to go on a night out with friends. You can spend a whole day touring the different museums Cambridge provides. See the famous Blaschka Glass Flowers up close at the Harvard Museum of Natural History. Gaze your eyes on the works of German expressionists and European painters at Harvard Art Museums. Expose yourself to full-size Native American totems at Peabody Museum of Archaeology and Ethnology. Despite students' competitive academic performance rooted in Harvard tradition, Cambridge offers a wide range of activities when time allows you to step out of the classroom.
Edgewood College- Madison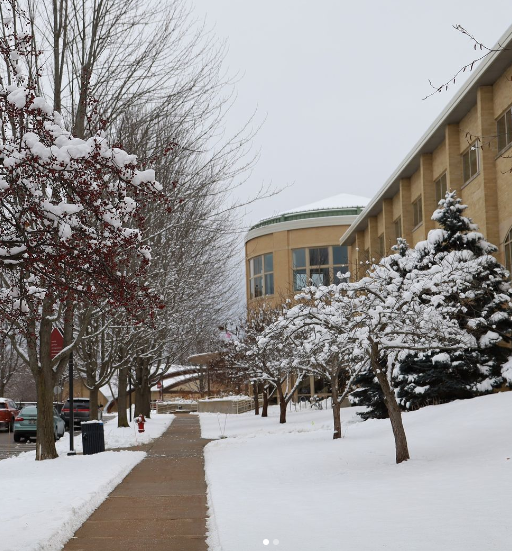 Located near of Lake Wingra in Wisconsin, students at Edgewood College always keep themselves occupied with different activities offered on and nearby campus. The state's capital contains a busy environment with several businesses that make great future career opportunities for students. Many students spend their free time on State Street. The road offers several different cafes, restaurants, and bars. The city takes pride in their eclectic group of local businesses. Madison also provides a strong presence in the arts. The Overture Center for the Arts, the Orpheum Theatre and the Madison Museum of Contemporary Art contain just a few examples of where artsy students may do with their time on a free day. Madison offers parks and trails which makes it great for hikers or students to get a taste of the outdoors after their morning classes. Spend some time at one of the five lakes Madison contains. Tuesdays at Wando's Bar is a city staple. Purchase a can of beer for just a dollar and receive a whole plate of bacon for free! Does it really get any better than that?