Virginia shines with undeniable charm. You'll awe at its natural wonders, feel the history in every region and find endless opportunities in its diverse, youthful cities. Did we mention Virginia houses dozens of spectacular colleges? We ranked the top 10 colleges in Virginia based on the following criteria: average alumni wage (10 years after graduation), student to faculty ratio, the number of student organizations, things to do off campus, study abroad programs and looked at graduation rates with student testimony for tiebreakers.
If you want to study in the State for Lovers, read on to find the perfect school to take your education and state-appreciation to the next level.
10. University of Mary Washington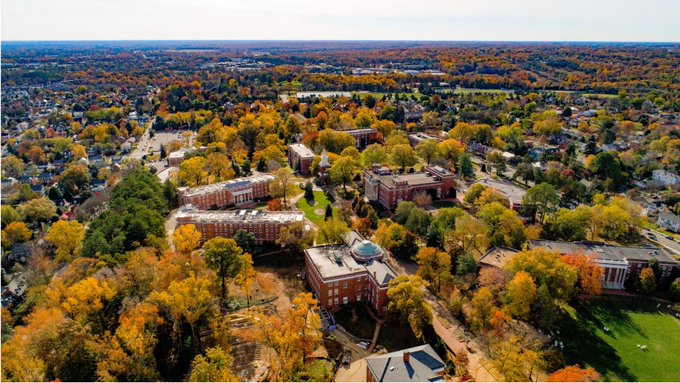 This small liberal-arts college not only shines in its renowned classics program, it shines all around. The gorgeous campus surrounded by history and nature provides an intimate learning experience with a 13:1 student to faculty ratio and around 4,000 undergraduates. The school certainly lives up to its mission statement of providing a rigorous education with a focus on community. Students at UMW gush about the school's strong focus on career development, attention to service learning, the engaging curriculum and the amazing relationships they formed. All this to say, University of Mary Washington remains one of the best small schools in Virginia.
"UMW is special because it's usually no one's first choice (it wasn't mine) but for whatever reason that brings you there, we all share that trait. It's a strange unifying force that I believe eventually brings us all to really love the place," University of Mary Washington graduate Stephen Amoruso said. "Aside from that, Fredericksburg has an incredible downtown and a good city layout, which I appreciate. I love UMW for being small and being a liberal arts college because I had many classes outside my major with professors that I loved and that actually knew me because of the small class sizes. I genuinely believe that I am more well-rounded as an individual because of my experience there."
Despite its small size, UMW still offers 150 clubs and the $56,000 average alumni wage ranks higher than many other liberal-arts colleges. Favorite off-campus spots for nature-lovers include Fredericksburg & Spotsylvania National Military Park along with Cosseey Botanical Park. Fredericksburg also offers a great food and beer scene downtown with spots like Sammy T's, Foode and Red Dragon Brewery. UMW also provides tons of study-abroad opportunities along with scholarships to help students turn travel dreams into reality.
9. Christopher Newport University
Beachgoers rejoice! Don't let all the mountains, valleys and greenery make you forget that beautiful beaches make up Virginia's east coast. Located in Newport News, only 16 miles separate CNU from the beach. Rather go abroad? CNU boasts "virtually endless" opportunities to study abroad. 200 student organizations await to help you meet new people and the 14:1 student to faculty ratio means you won't get overwhelmed by huge classes. Another plus? We all hear horror stories of less-than-luxurious on-campus housing, but many cite CNU's dorms as some of the best in the country. In addition to the beach, CNU's location in an urban area of Newport News creates tons to do. You can visit the Cultural Arts Center, hit up Beervana Taphouse and tour downtown until you inevitably find something awesome. While it holds the lowest average alumni wage on our list of $47,000, the high acceptance rate causes this, so don't let that number scare you off.
8. James Madison University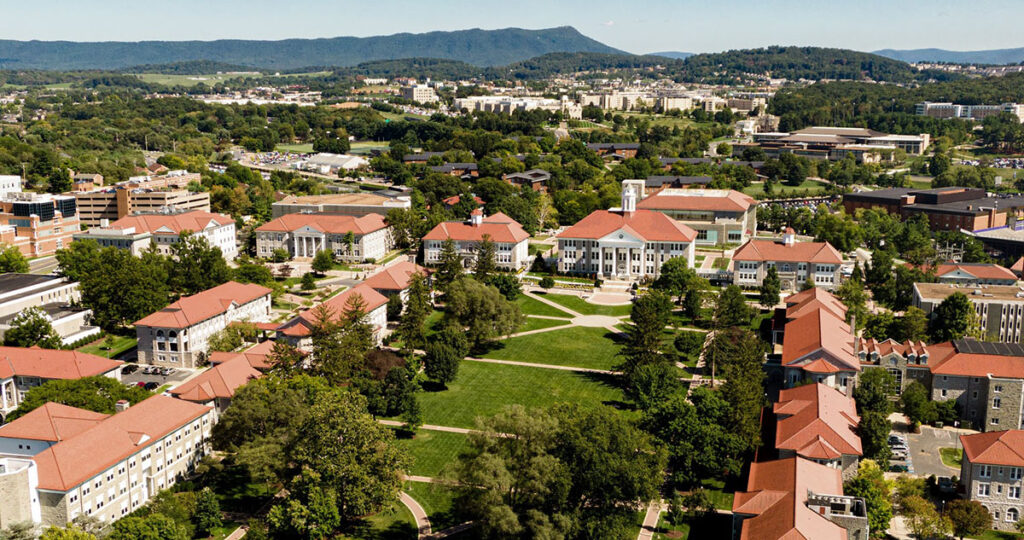 Imagine a picturesque college campus like you see in the movies: luscious greenery, unique architecture, vast courtyards and sports facilities fit for a D1 college. Your picture probably resembles James Madison University. No wonder they claim to be the most "Instagrammed" landmark in all of Virginia. While the campus will amaze you, the suburban city of Harrisburg might not fit everyone's taste. Students who prefer urban environments may be underwhelmed by the town's quiet, lowkey vibes; however, Virginia's gorgeous Shenandoah Valley region will make nature lovers ecstatic with natural gems like the Edith J. Carrier Arboretum; but don't let all this beauty distract from JMU's great academics. The highly regarded education shows itself in JMU's title of the best college for employment in Virginia, evident by a $60,000 average alumni wage. When it comes to studying abroad, JMU offers tons of programs ranging from semester-long to short-term to exchange and virtual programs. The 16:1 student to faculty ratio ranks at the higher end of our list, but still not bad at all. Between the beauty, 450 student organizations, the D1 sports and that career outlook, you can't go wrong at James Madison University.
7. George Mason University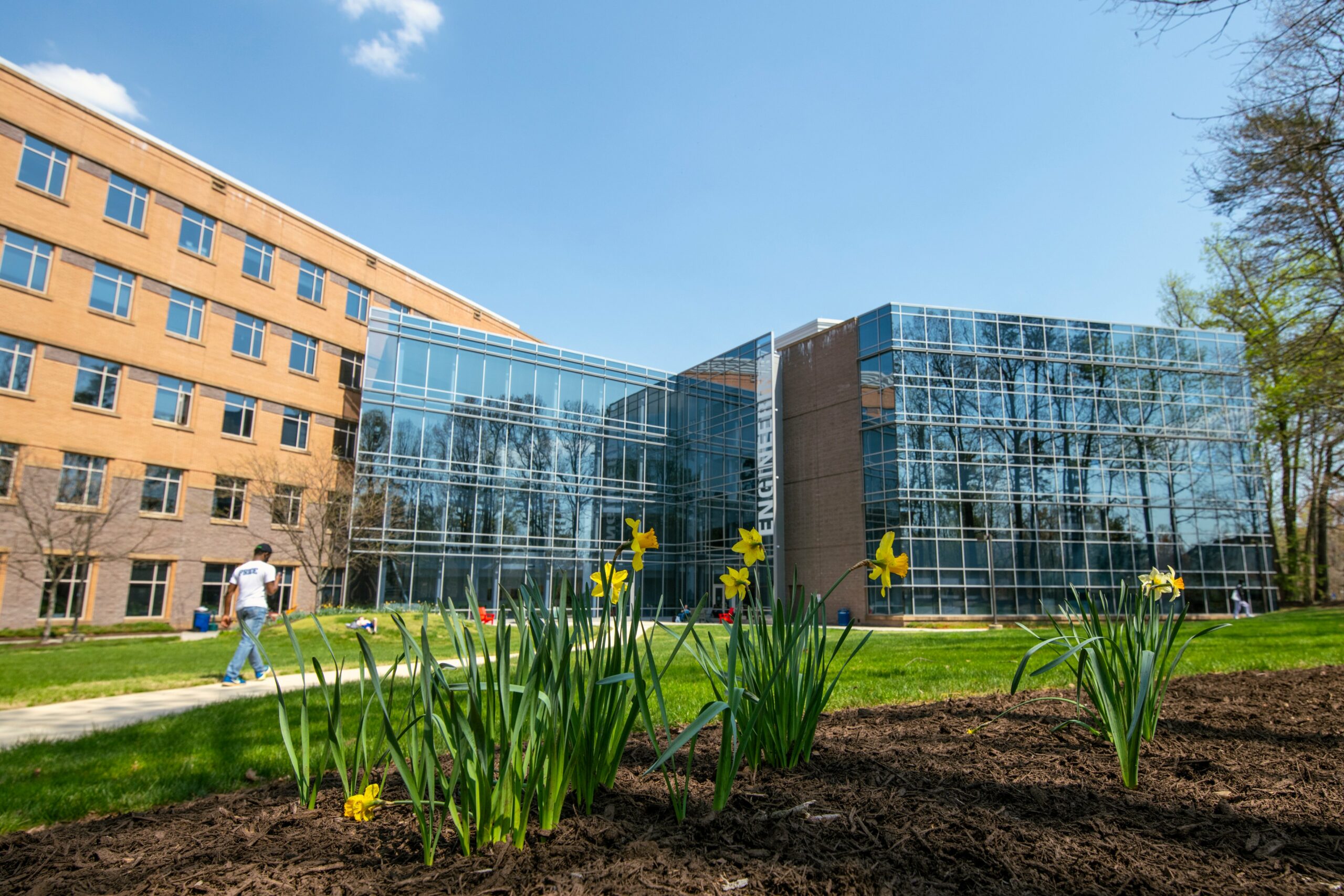 If you want to meet all kinds of people during college, look no further than George Mason: the most diverse college in Virginia. In addition to diversity, GMU ranks in the top half of our list for best average alumni wage, student to faculty ratio and number of clubs—resulting in an all-around great school. The suburban area might turn some off, but you'll find plenty to do on the huge campus. If you own a car, then a 30-minute drive will take you to Reston Town Center, Tyson's Corner, Washington D.C. and Cafein (The best coffee shop/café on the east coast, I'd argue).
"One of the things I actually like about George Mason is the diversity. On a walk to your single class, you will hear at least 5 different conversations in 5 different languages. You will meet all types of life here and you will always find your people. The diversity here is what attracted me to the school in the first place," GMU junior Alfred Arrey said.
GMU ranks second highest for student faculty ratio at 17:1, but still remains lower than the national average of 18:1. 450 student organizations means 450 opportunities to experience some fun and meet new people. George Mason also offers a wide range of study abroad programs ranging from Korea to Australia and everywhere in between. They even include some unique degree programs specifically designed for study abroad. The $62,000 average alumni wage also shows that graduates have no problem securing jobs.
6. Virginia Commonwealth University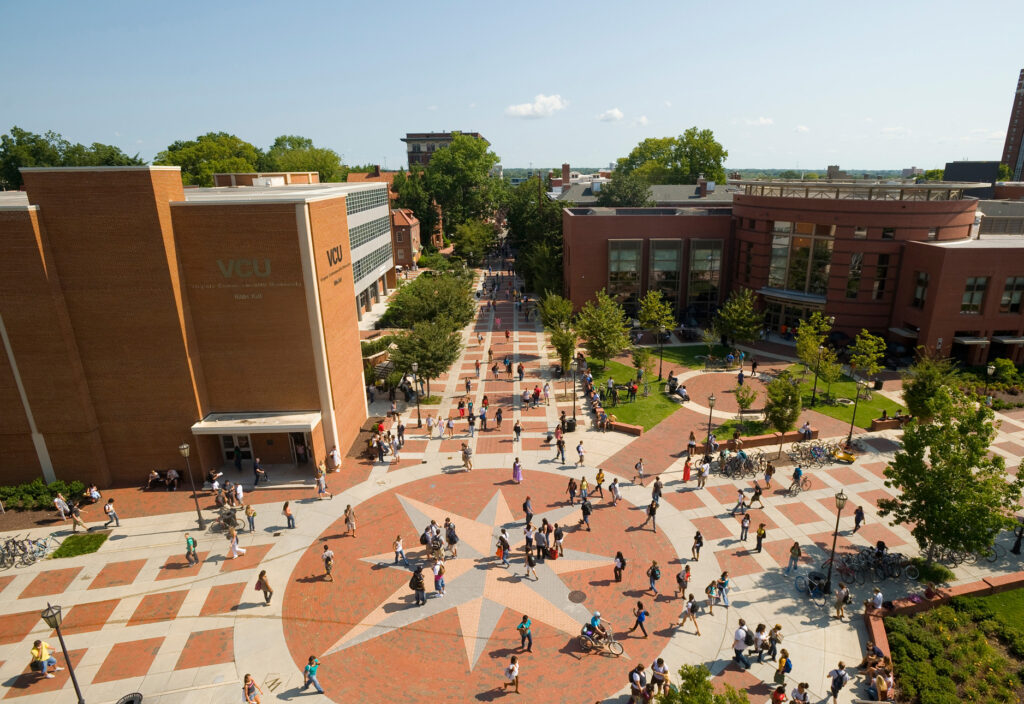 Without a doubt, VCU will capture the hearts of city-lovers more than any other school in Virginia. The campus lies smack in the middle of the state capital, Richmond. One turn off campus, you'll find anything you could want in a city. In addition to popular clubs downtown, the Carytown district boasts plenty of dining options and The Arts District shines with its galleries and museums. Thrifters will find heaven at Rumours Boutique and Alchemy Coffee serves up some S-Tier brews. If you want to get out of the city for the weekend, then the thrills of King Dominion await you just half an hour away.
"I love the artsy vibe both on campus and in Richmond. There's always a show, art exhibition, or other event going on and I'm always running into creative people with diverse interests. I play in a band here and the music/art scene is really talented and supportive of each other. It's also super nice to be so close to all the interesting museums, amazing food and beautiful parks in the city," VCU senior Matt Neal said.
VCU's 500 student organizations rank second highest on our list and provide so much opportunity for engagement. The school even offers a quiz to help match you with the best study abroad program for you, which proves useful since so many options await you. VCU unfortunately carries the lowest student to faculty ratio (18:1), second lowest average alumni wage ($48,000) and a lower graduation rate than other schools on this list. On the other hand, these numbers likely result from the school's 90.6% acceptance rate and large undergraduate population, and you can't fault them for giving opportunities to a greater number of students. VCU remains a Tier 1 University and an excellent place to study.
5.  University of Richmond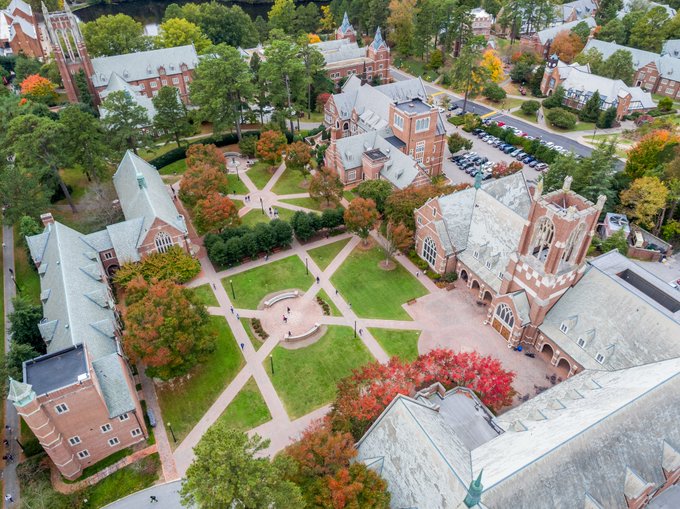 University of Richmond ties Washington & Lee with an impressive 8:1 student faculty ratio, the lowest on our list. It also comes third in average alumni wage at $74,000, proving it to be an academic powerhouse. This private liberal-arts college houses one of the most beautiful campuses in the country, shining through its gothic architecture. The school also boasts top-notch business and law programs and lies just a few miles away from downtown Richmond. Plus, if you want some unique school pride, how about going to the only school in the country with a spider mascot?
"In addition to its natural landscape, engaging curriculum and campus dining options, what sets URichmond apart from other VA colleges is the incredible faculty mentorship here…There's also more opportunity to get involved in student leadership, research and the arts than at larger schools, yet we have the financial support for state-of-the-art facilities, programs, and equipment," University of Richmond junior Megan Maybee said. "I also appreciate the school's…Rethink Waste initiative, recently successful at bringing composting to campus and starting a free take-what-you-need thrift store."
Despite its size of around 4,000 students, the University of Richmond still offers a respectable 200 student organizations. This small size and high-level of engagement creates an intimate community of goal-oriented students who, like Megan, genuinely love their school. The school also provides many opportunities for research funding, internships and student empowerment through a strong relationship with the SGA. Success lies within every student's reach at UR. If you're looking for a small school with a big city just miles away, then look no further than University of Richmond.
4. Virginia Tech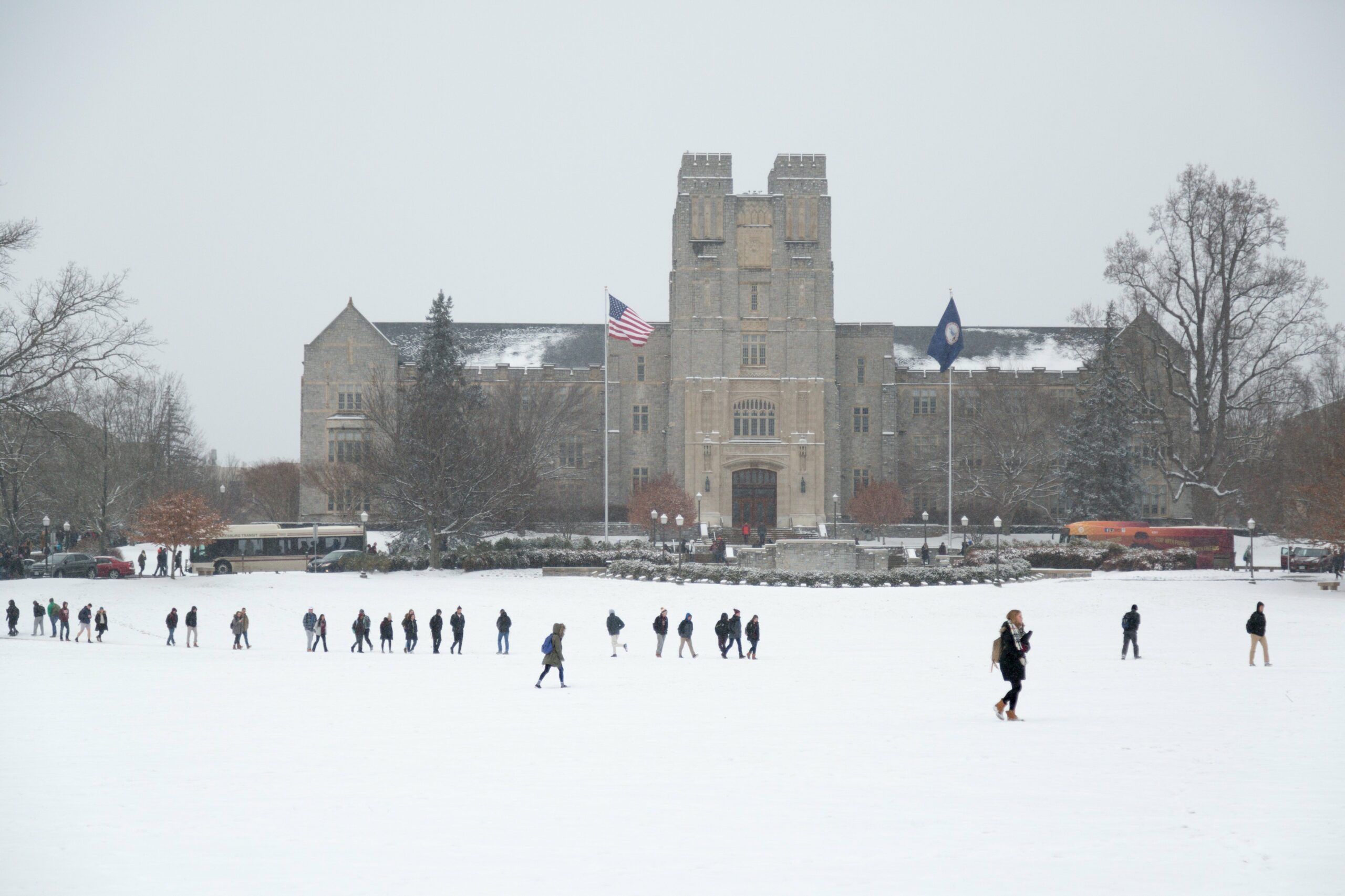 With 37,000 undergraduates, 280 degree programs and a 2,600-acre campus, Virginia Tech impresses as one of the biggest schools on our list. The buildings made from the famous Hokie Stone will wow you. Boredom has no place at Tech because you can always find something to do on campus between the 800 student organizations and D1 sports. Now here's the big selling point: Virginia Tech boasts some of the best food on-campus in the country. Can I transfer right now?
"The atmosphere at athletic events is, in my opinion, unmatched almost anywhere. The feeling of jumping to Enter Sandman with thousands of other students and fans is unrivaled. As for off campus activities, Blacksburg is a small town so there is less to do but being where we are in the mountains, there are beautiful hikes not far from campus and plenty of other places within an hour or two drive," VT sophomore Dilly Key said.
Off campus, Blacksburg offers a great downtown scene and houses popular bars like Tots, Sharkey's and Rivermill. Among Blacksburg's natural beauties, Heritage Community Park and Deerfield stand out. In autumn, the colorful trees spread throughout campus and the town really takes your breath away. Virginia Tech also touts a high average alumni wage of $65,000 and a great student to faculty ratio of 14:1. Between the school pride, size, history and nature, Virginia Tech truly offers one of the best college experiences in Virginia.
3. Washington and Lee University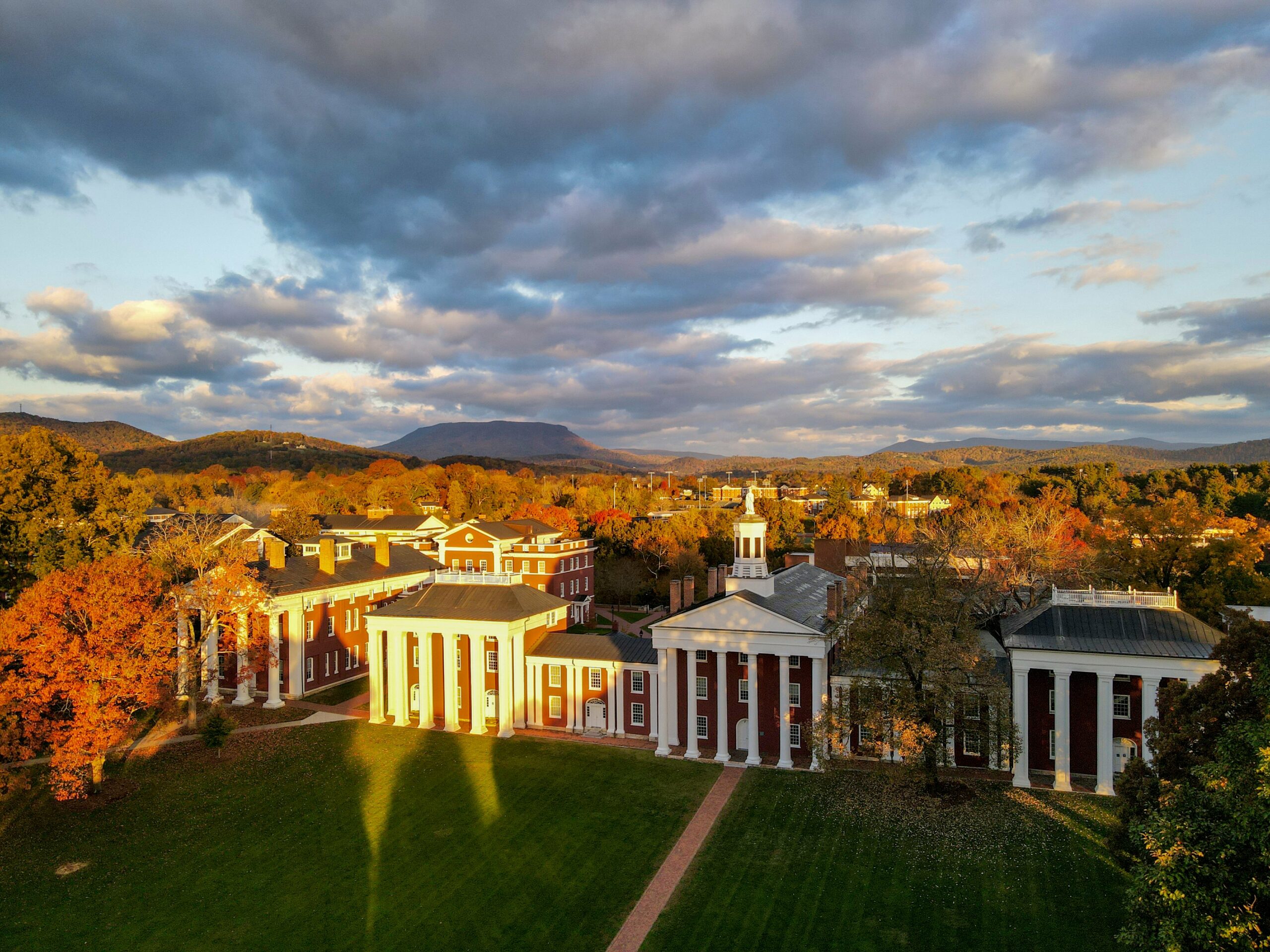 Washington and Lee University defines "small, but mighty." The undergrad population hovers around 2,000, enabling a great chance to know your peers and professors with the fantastic 8:1 student faculty ratio. W&L's astonishing alumni wage of $89,000 ranks highest on our list and helped boost it up to our third spot. The school also offers great study abroad program that over 70% of students use to visit over 65 countries. Furthermore, campus lies just a short walk away from downtown Lexington, so you can get to the fun spots without a car.
"I'm only 2 semesters in at W&L, but I'm already in love with it. The small campus and convenient location of the freshman dorms means the walk to class takes as little as 2 minutes. Every professor I've had is incredibly impassioned with their work — and their attitudes are infectious, especially with the personal touch added by small class size. What truly sets W&L apart, however, is its commitment to fully supporting each and every student in their passions, whether they be in a lab, on stage, in the classroom or on the field — and the focus on liberal arts means each student gets a chance to try each," W&L freshman Chas Chappell said.
On the negative, a lot of controversy surrounds the school's namesake of Robert E. Lee, and this issue manifests itself in the school's lack of diversity. Furthermore, W&L offers the fewest student organizations on our list at around 100. However, if you're interested in Greek Life, then Washington and Lee calls your name. About 75% of all students participate in Greek life. This indicates a strong relationship between the University and its Greek organizations, providing great opportunity for service, fellowship and leadership.
2. William & Mary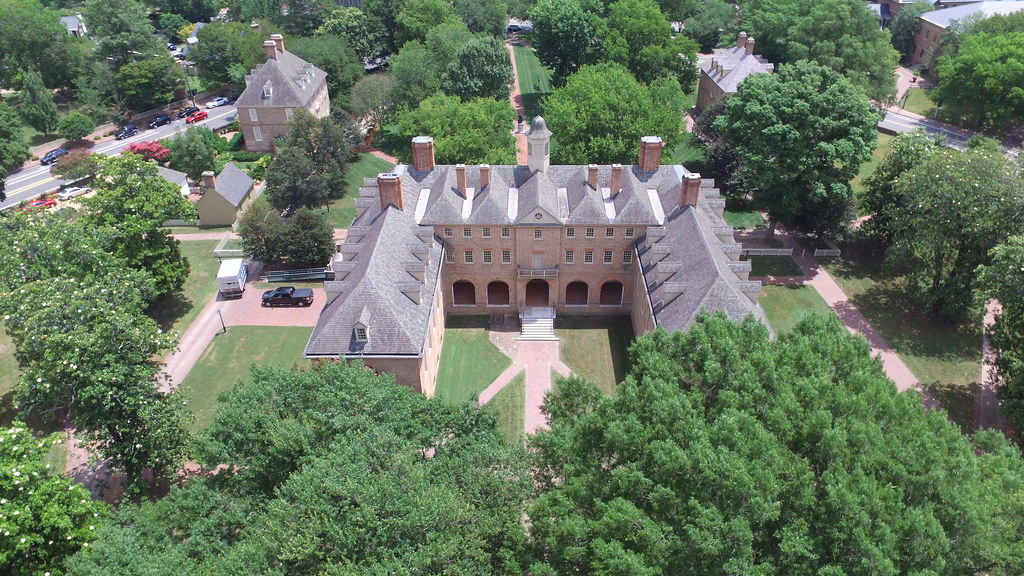 The second oldest college in America also lands our spot as the second best in Virginia. William and Mary commands respect as one of eight Public Ivy League schools in the country and the alma mater of three U.S. presidents. Continuing with the theme of history and nature, Colonial Williamsburg provides fantastic immersion into our country's history and endless beauty including Bassett Trace Nature Trail and Natural Wildflower refuge surround campus. More of a thrill-seeker? Check out Bush Gardens—just 6 miles away.
"I enjoy the student body the most at W&M. It's great that classes are generally small and rigorous, but the people here are very warm and interesting and it makes for a unique college experience that allows you to explore niche interests and unexpected friendships. I was probably most surprised by how socially aware and active the student body tends to be," W&M senior Nafisa Ahmed said. "I didn't study abroad due to Covid, but I went through the process and was accepted twice for the same trip. I did find there were a lot of options through the school as well as support for applying to outside programs. There was a pretty clear application portal and any questions I asked were answered quickly."
William and Mary also fares well on our list statistically. The 12:1 student faculty ratio ranks as one of the lowest on the list while the average alumni wage of $69,000 ranks one of the highest. Plus, 450 student organizations provide opportunities to meet the amazing student body. If that's not enough, the 92.1% graduation proves that William and Mary continues to impress students. As a school chartered by King William III and Queen Mary II in 1693, W&M has adapted and thrived to remain a great school for over three centuries,
1. University of Virginia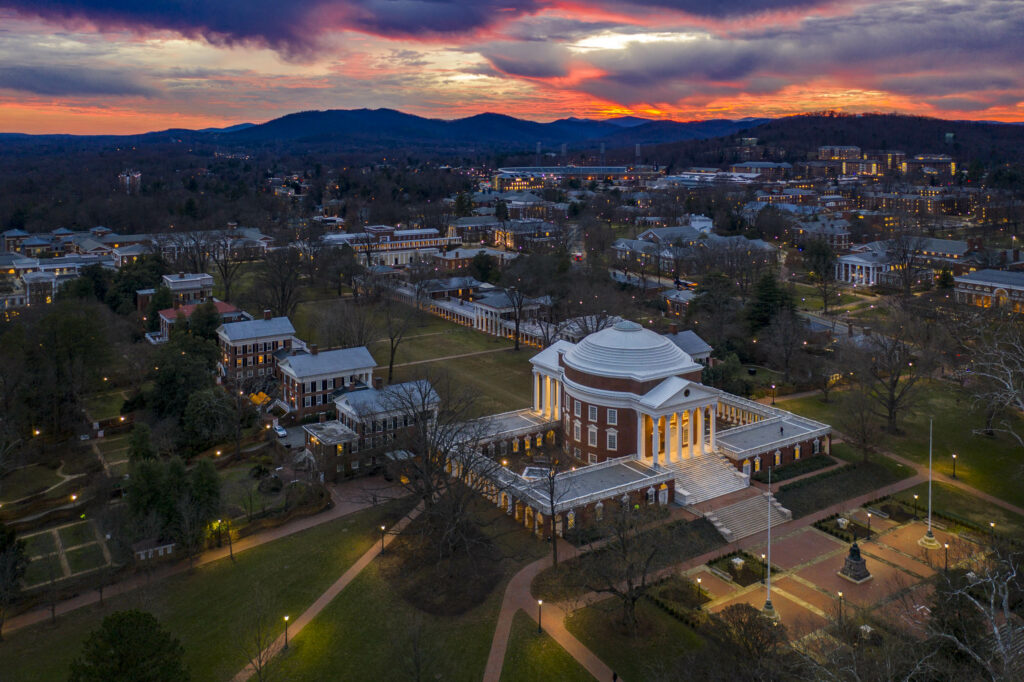 You saw it coming and here it is: The University of Virginia truly deserves its reputation as the best college in the state. To start, UVA graduates earn the second highest average alumni wage on our list: $77,000. This, in tandem with the relatively large undergraduate population make UVA a factory of successful graduates. UVA also offers a staggering 800 clubs to enjoy and a solid 14:1 student to faculty ratio. The campus beams with history and shines through its beautiful architecture (many of the buildings designed by Thomas Jefferson himself). If you like sports, then UVA's sports program (which has won nine NCAA championships since 2012) will excite you through all your years at school. UVA also boasts an astonishingly high 94.6% graduation rate.
"I really enjoyed my time at UVA…I met all kinds of awesome people with a whole range of experiences and interests. I also got really involved with research in my final year and every professor I worked with was very helpful, intelligent and pushed me in positive ways without unrealistic expectations…Something that sets UVA apart is how great Charlottesville is—lots of things to do and see and definitely a town independent of the university, though not a large city. I studied abroad in my first semester, in London. It was a special program for first years, so the process was pretty different, but it was super smooth…there were tons of other study abroad opportunities,"" UVA graduate Matt Yorkilous said.
Regarding Charlottesville, the Downtown Mall and 14th Street both offer endless fun to explore with friends. If you want to check out the Charlottesville nightlife, then The Corner houses classic student bars like Trinity Irish Pub, Boylan Heights and Asado. While Charlottesville remains a college town with a thriving city, UVA still lies close to beautiful nature like Carter's Mountain Trail. From academics to sports to nightlife, UVA has something for everyone. The college experience and career opportunities afforded to students prove time and time again that the University of Virginia embodies the very best that Virginia colleges have to offer.