University of Michigan — Ann Arbor, MI
The Vibe
The Uncommon Education
What it Feels Like to Go Here
The University of Michigan is the place to go to have the traditional college experience of a big campus, the rah-rah atmosphere, the sports games, tons of shops and restaurants and an amazing education that will last a lifetime. Ann Arbor attracts intellectual people, things to do and delicious food. These features plus Ann Arbor's diverse community unfortunately mean you need to make sure to watch your bank account. Before you know it your wallet will be empty on sushi bills, tacos and tikka masala.
People at Michigan take their passions seriously, and not just their passion for bundling up in style. People joke about how everyone has Canada Goose jackets in the winter, but not everyone wears a Goose. Wear whatever you want. No one judges you. People wear so many different kinds of clothes, including plaid pajama bottoms and slippers in public. Lots of students enjoy keeping up with politics and talking about the latest news with friends. You can sit in a University of Michigan Starbucks with a buddy and overhear conversations about things ranging from why stereotypes and labels exist to whether humans are superior to animals to how Earth was created. Bottom line is, UMich kids talk about pretty much anything.
Awesome Alumni
The alumni at Michigan proudly show their allegiance with University of Michigan gear. At Michigan, we say "Wherever you go". This means no matter where you go in the U.S. or abroad, if you are wearing a Michigan hat, shirt, or sweats, alums and fans will say "Go Blue!" Some of our alumni make headlines and headliners, including the 38th President of the U.S. Gerald Ford. Michigan dominates in the business world as well with prestigious alum Stephen M. Ross. For anyone who knows sports and follows NFL, New England Patriots player Tom Brady is a Michigan alumnus. He used to dine at Angelo's, a notorious brunch restaurant in Ann Arbo. Ever seen the Lion King? Lo and behold, the voice of Mufasa is none other than Michigan alumnus James Earl Jones. Remember who you are, Simba.
Where We Hang
Believe it or not, there is so much more to Ann Arbor than the Shapiro Undergraduate Library (otherwise known as the UGLi.) In terms of the nightlife, students flock to Scorekeepers Bar and Grille or Rick's American Cafe. You won't see Humphrey Bogart at this Rick's unlike in Casablanca but you will find a sea of University of Michigan students blowing off steam. On top of the party scene, students love to go to sports games. Lucky for us, Detroit isn't a far drive away. Michigan students often drive to Little Caesars Arena to watch the Red Wings and go to cool concerts. Besides the events, college students have food on their minds (who doesn't?) Zingerman's attracts large, hungry crowds for their famous sandwiches. If you want dessert after your Zingerman's, students go crazy for the legendary colliders (froyo with candy) at Rod's Diner. Lastly, University of Michigan students never miss a chance to go to Big House. If you don't know what the "Big House" refers to, I'm afraid to tell you that you are at the bottom of the Michigan Fandom Meter. Here, our tradition, our pride and our fans gather for home football games. It is the largest stadium in the U.S. Graduation ceremonies also take place here, as well as an occasional outdoor ice hockey game.
Q&A
1. How much are students partying?
"Students do go out every so often to spend time with friends and enjoy life. At the same time, people take school very seriously as well. It's about balance and prioritizing," junior Chloe Noto said.
2. What will you get in trouble for at your school?
"You can get in trouble for drinking in the dorms at U of M or for stealing food from the dining hall," senior Jocelyn Aptowitz said.
3. How much sex are students having?
"It depends on the person. Some people are virgins, some are in relationships where they have it a lot, some are into casual sex with many people, and some go weeks, months and years without sex," a student from UMich said.
4. What would you tell incoming freshmen about your school?
"Definitely get involved in something you enjoy. Join a club, sorority or fraternity, or anything you are interested in. It's a great way to make friends, too," senior Hunter Sonn said.
5. If a freshman could join one club only, what club should it be?
"WSN means a lot to me because I have met so many genuine people through this organization that I otherwise would not have met. De-stigmatizing mental health is a cause close to my heart," junior Alex Baum said.
Student Reviews
"'The Michigan Experience' is what you make of it. It's been fun at times and hard at others, but overall I wouldn't trade it for anything." – Maya Salinas, Class of 2020
"When I first got to U of M I was surprised at how much of everything there is: people to meet, academic opportunities to explore, career options to consider, places to visit, etc. As a freshman, I was more worried about what I wouldn't be able to do, but now that I'm an upperclassman, I'm more content with picking what I really enjoy." – Howard Wu, Class of 2019
"Michigan definitely challenges me with the academics, but that inspires me to work hard and put in the time to do well. The academics taught me that hard work truly does pay off as cheesy as that sounds." – Chris Marsh, Class of 2019
"It's amazing how I met my friends here. I roomed with one of them and then the rest of them were met because we were both in the wrong place at the wrong time. I guess you could say it's fate." – Chloe Noto, Class of 2019
"Looking back on my time at Michigan, I would say that a lot of learning takes place both inside and outside of the classroom. You grow tremendously a person throughout your undergrad years." – Hunter Sonn, Class of 2018
"The University of Michigan has been eye opening. I've built a tightly-knitted friend group that I'm sure is meant to last a lifetime or two. At the same time, being a Detroiter usually surrounded by people who look like me, I've experienced what it truly feels like to be the odd-one-out."
— Lamontre Jackson, Sports Management major, Class of 2017
"It was certainly an adjustment being a small town girl. Michigan is such a huge university it's easy to lose yourself in the crowd. But, the longer I've been here, the better my experiences have gotten."
–Emily Batdorf, Program in Environment major, Class of 2016
"The university certainly has its ups and downs. We can work on being more inclusive of other people. I feel that overall it's been tough, but definitely fun and worthwhile. There's a balance about it that I've come to love."
— Deashia Johnson, Psychology major, Class of 2018
"My experience at Michigan has literally been like rocky road ice-cream. There's been some hard times, and when you think you got the hang of it, you're whacked in the face with something else. Rocky road all over again. But I love to hate it here."
— Purabi Devi, Sociology major, Class of 2016
"Being here has been an enlightening experience for me. It's a wonderful school. There are great resources to take advantage of and amazing professors. On the other hand, I also can't help but acknowledge the systems of privilege and oppression that are in place, and it's such a big problem. We are a liberal school, but it's surprising that we still have people who can roam around completely unaware or uncaring of those systems that keep us segregated."
— Tierra Christian, Undeclared, Class of 2018
Top 6 Things The University of Michigan is known for:
1. Insane football games
The Wolverines have more wins than any other college football team. Combined with the largest stadium in the country, the sheer mass of screaming fans will astound you.
2. Cheesy bread
Every Thursday night after the bar, you can't beat Pizza House's cheesy bread. The ridiculous amount of cheese and dipping sauces take the "drunchies" to the next level.
3. Harsh winters
Michigan winters seem to be getting worse and worse, though there's probably only been one snow day since 1972. As I'm writing, it's 6 below zero.
4. Downtown
Ann Arbor offers college students one of the best downtown scenes out there. There are incredible restaurants and fun bars to go to almost every night. Whether you're in the mood to dance to salsa music while sipping Margaritas, or relax at a musky whiskey bar, Ann Arbor has it all. I'm a senior, and I'm still not even close to trying every place.
5. Hash Bash
The first day in April, smoking weed is legal. Not really, but police just choose to ignore the hippies who flock to campus from all over for Hash Bash. You can even find street vendors selling various marijuana products.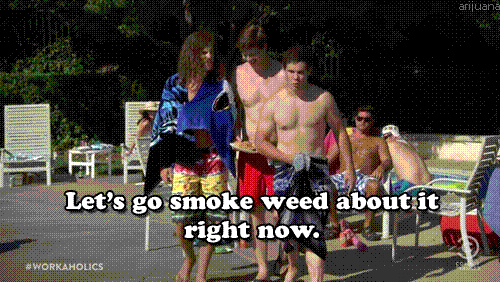 6. Gerald Ford
The 38th President of the United States was a student and football player. And now there is even the Ford School of Public Policy.

Never Have I Ever…
1. How much are students partying?
Nearly every weekend you can find a gang of students going out to Rick's, Skeeps or Charlies — aka the holy trinity. Upperclassmen who think they've upgraded to a classier partying status head to bars on Main Street, like Rush and the Raven. Moral of the wolverine story: work hard, play hard.
2. What will you get in trouble for at your school?
Plagiarism. The university may be liberal on a lot of fronts, but academic dishonesty won't even be remotely tolerated. Oh, you're studying feminism in South Asia in one of your classes? But you've already written a paper on feminism in India that you got an A last semester. I know what you're thinking, I can just change the date and course title and turn this in again. Negative.
3. How much sex are students having?
On average, students may be doing the horizontal tango probably 2-3 times a week. Well, at least that's about the amount of times a week I hear my neighbor's bed creaking in the middle of the night, followed by sounds that usually scare me half to death.
Top 5 Quirks
1. Football is life, and you'll feel the same even if you don't like football. You don't have a choice.
2. Art Fair taking over the campus during the summer for about a week, but it actually feels like four weeks.
3. Political activism and movements: #BBUM, Die-In and candle light vigils.
4. Zingerman's: every wolverine must go. Again, you don't get a choice.
5. Spring Music Fest: see Common and 2Chainz without breaking the bank.
Top 3 Majors:
1. Business Administration and Management
2. Psychology
3. Economics
Top 3 Most Popular Student Organizations:
1. MUSIC Matters
Music Matters unites campus with music while giving back to the greater Detroit community. "We put on concerts and open mic nights throughout the year leading up to our annual Springfest day festival and night benefit concert. Our proceeds have gone to amazing causes such as a donation to Mott's Children's hospital, a community partnership with Books for a Benefit, and a camp aimed at introducing Detroit students to University of Michigan and the college application process," sophomore Jessica Miller said. "Giving back to my community has always been super important to me, and I never thought I would be able to find a club that would combine my passion for philanthropy and music, all while uniting the school with incredible events about art and music." Music Matters proves it's quite possible to bring together 28,983 undergrads.
2. Wolverine Support Network
Michigan's various organizations actively work to get rid of the stigmas surrounding mental illness. A push for better mental health outlets has emerged and clubs cater to students' desires to talk about how they feel. Wolverine Support Network puts students in groups with other students on campus to talk about what's on their minds and realize they are not alone. "Wolverine Support Network is an organization on campus dedicated to promoting and addressing mental health and well-being through peer facilitated groups meetings once a week and bi-weekly kickback events," junior Alex Baum said. The kickback events include FREE FOOD (sign me up) such as a Thanksgiving-themed dinner. The events help students get closer with their groups, develop trust and make more friends.
3. Glee Club
Unlike the show, Michigan has a Men's and a Women's Glee Club. And no, we don't sing "Don't Stop Believing." Get your sing on and bond with your brothers and sisters in song. You also don't need to be a music major to join. "Women's Glee Club is a choir filled with a variety of majors, most of them non-music majors. It gives women, like me, the opportunity to keep music in their lives through college. Beyond singing, there truly is a bond of sisterhood that develops with these women! We really become sisters in song," Women's Glee Club President Mary Lund said.
Getting In
"The University of Michigan wants to see that you are passionate about something and dedicate time outside of activities to that something. Of course, you still have to have good grades and AP classes, but you also have to be involved. The application essays are important for Michigan to get to know who you are and whether you would be a fit for the school, too," junior Chris Marsh said. Love animals? Go volunteer at a pet shelter. Enjoy tennis? Join a tennis team. Finding a club that fits your interests is easy peasy lemon squeezy, just like loving life at University of Michigan. Keep up with your academics, utilize free tutoring options and make sure to take plenty of ACT and SAT practice exams to make your stats looks just as impressive as your involvement. Next time you get offered to take a college level social studies class, challenge yourself to take it. Alright, French Revolution in AP European History: Let's go.
Stats:
Location: Ann Arbor, MI
Tuition & Fees: In-state: $14,826 Out-of-state: $47,476
Total Cost on Campus: In-state: $29,526 Out-of-state: $62,176
Undergrads Enrolled: 28,983
Grads Enrolled: 15,735
Total Enrolled: 44,718
Acceptance percentage: 26.3%
Percent Admitted who Enroll: 39%
Percentage of Male Students: 50.2%
Percentage of Female Students: 49.8%
Percentage Receiving Financial Aid: 35%
Percentage Receiving Federal Grants: 51% of undergraduates
Percentage Receiving Federal Loans: 44%
Contributions from Chris Ransburg and Nathan Brickman