UCLA welcomes you to the city of Hollywood stars, where your dreams can come true, in the city of overpriced coffee: Los Angeles. More specifically, UCLA sits in a tucked-in neighborhood called Westwood. During your time there, and at the #1 public university in the country, you will find yourself excitedly awaiting the many events and career opportunities offered here. Although UCLA's campus proves the smallest of all UCs, the many new people you'll meet and new adventures you'll begin makes it seem like the biggest.
To ease your worries and make your time here amazing, check out these top 10 things to do before graduating from UCLA.
1. Attend Homecoming at UCLA to show your Bruin Pride
Whether a first-year student or a transfer, homecoming features an essential weeklong experience in the middle of the fall quarter. Every day, different activities occur leading up to the massive football game on Saturday. During the fall quarter of 2022, the homecoming committee at UCLA put together blood drives, created "Bruin Blankets" for people experiencing homelessness in Los Angeles and hosted trivia nights with Alumni! Last year, Bruins went around Westwood to paint the walls of nearby businesses (with permission) and decorated them to motivate our football team! All of these enjoyable projects lead to the football game on Saturday, which takes place at the Rose Bowl in Pasadena. Grab your friends, wear your blue and gold outfits and put your hands together for the 8-Clap to cheer on UCLA's team.
2. Try all of the on-campus dining halls/food locations!
You probably already know you also attend the university ranked with the #1 college food in the nation. The dining halls on the hill will never prove anything less than phenomenal, and you can encounter multiple options to choose from every day. The variety of cuisines will always leave you energized and full. My personal favorite? Epicuria, with a diverse menu every day. The Mediterranean restaurant on campus features options for entrees, meze and various desserts. If you want something quick and easy to grab, try The Study, which offers sandwiches and pizza. If none of this sounds appetizing to you, or if you feel too tired to leave your dorm room, you can order food that will be brought to you by a little robot.
"Order food with the help of a robot. Send ASUCLA's Starship Technologies robots rolling with lunch or get a freshly blended smoothie from ASUCLA's newest addition of Jamba by Blendid," said Christina Manuel, communications specialist of ASUCLA.
The options of lunch at dinner at UCLA will never leave you hungry. If you end up forgetting your Bruin card in your room, you will unfortunately find yourself starving. Try out De Neve for ice cream, and also make sure to stop by the many dining options in Ackerman Union. UCLA's campus has many places to fulfill your cravings at any time of the day.
3. Go to Westwood's Farmers Market on Thursdays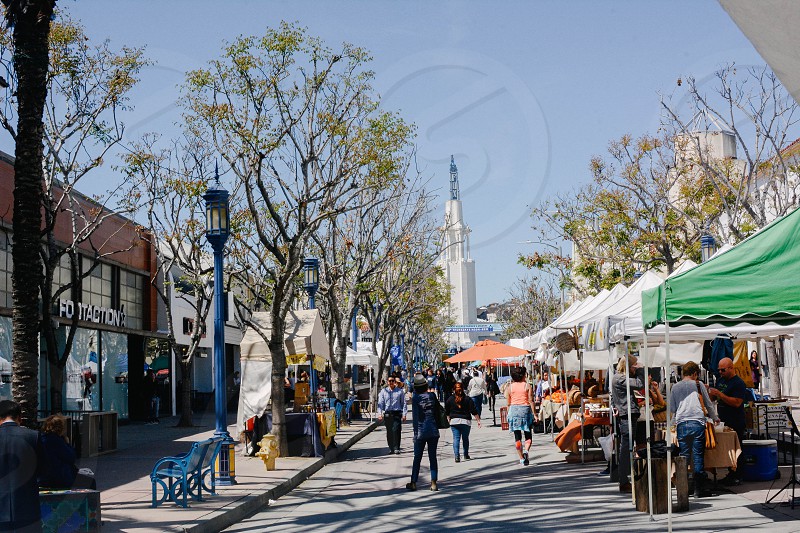 Tired of the on-campus food? Spend some time at the farmer's market in Westwood every Thursday. If your get a dorm equipped with a micro-fridge you need to spend your money here. Located right in the heart of Westwood Village, near the In-n-Out, the Farmers Market opens every Thursday from 12 p.m. to 5 p.m. Grab your fresh fruits, honey, nuts, homemade food and more while supporting family farmers. All in all, you receive high-quality food and meet amazing people from around the area.
"I love going to the farmers market mainly because of the workers. They're all so sweet and go above and beyond to make sure you're satisfied with everything you're purchasing because they care. Going to the farmers market is a better experience than going to stores because you can personally vouch for the people who produce everything." said Cherise Ramirez, a sophomore at UCLA.
Farmer's Markets develop a crowd in Los Angeles. While helping the local farmers, it ensures fresh and safe fruits and vegetables. If you want to meet new students, make sure to put the Farmers Market in your calendar. Definitely make sure to stop by before 5 p.m. if you want the first pick at your favorite items! The Farmers Market in Westwood proves that opting in for organic food gives amazing outcomes.
4. Rub the Bruin Bear's paw for good luck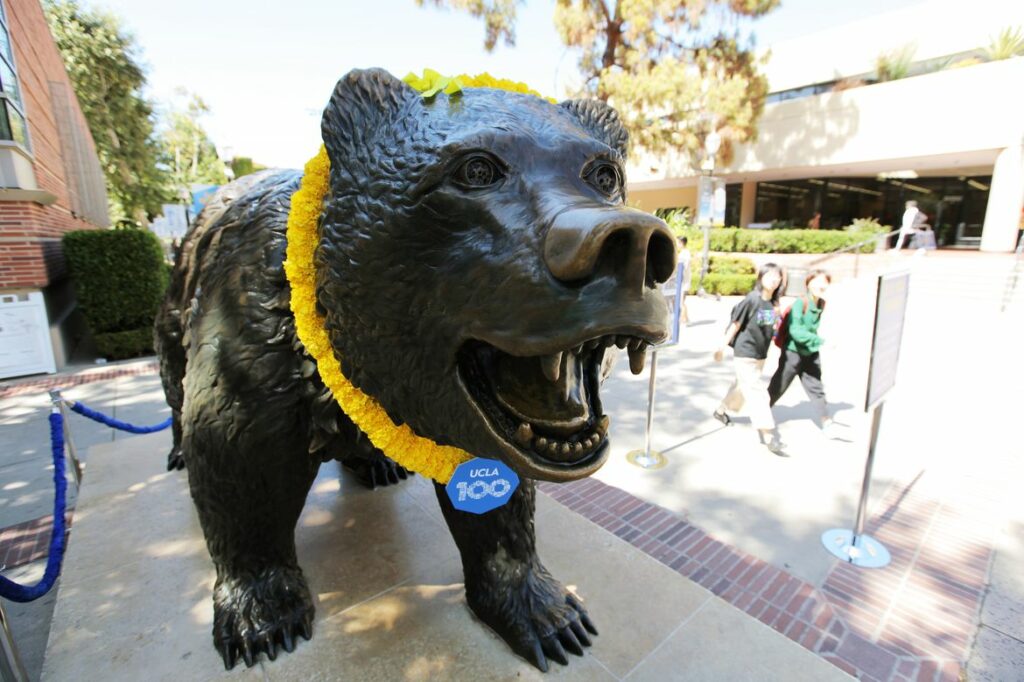 As a new student at UCLA, midterms came quicker than I ever imagined. While getting used to the class load, the note-taking that worked for me and understanding the assignment schedule passed quickly. Midterms appeared right in front of me before I knew it. If you find yourself feeling the same way I did a week ago, you absolutely need to rub the Bruin bear's paw. Right in front of the UCLA store on Bruin Walk, the bear sits there 24 hours a day. Students around campus do not dare to forget to rub the Bruin bear's paw before an important event.
5. Explore the events UCLA's Campus Event's Commission puts together
Are you looking for free AND fun things to do on campus? Attend any of the multiple events UCLA's CEC does throughout the year. Any bruin knows Bruin Bash as the most important event to attend at the beginning of a new year at UCLA. Bruin Bash serves as a huge welcome-back event co-hosted by USAC Cultural Affairs Commission and Campus Events Commission. This year, the lineup included DJ Olea, Saya Mosaic, Ravyn Lenae and PinkPantheress. Besides Bruin Bash, CEC still does many more events that can spare you the trouble of finding something to do on the weekend.
"I think a lot of students focus on their career building endeavors in their free time and don't always get to experience the cool events and entertainment that UCLA provides. For example, the Campus Events Commission puts on tons of free events, but Bruin Bash marks the only one that most students go to. Before you graduate, definitely try to attend a film screening, a speakers' event, and another concert besides Bruin Bash, because they're always happening!" said Garrett Ferguson, Public Relations Director of CEC.
The CEC provides a great student resource. Take a break during your midterm studying session, and find a local event put together by their team. The CEC holds events all year, since 1965. With various speakers, films, and concerts all year long, take advantage of this hidden campus gem. Try and attend an event hosted by CEC other than Bruin Bash—you won't regret it. Make sure to keep up with them on Instagram to find awesome events all around campus!
6. Diverge in Los Angeles
You now live in one of the most vibrant cities in the nation. Los Angeles, a beautiful city in many aspects, where the list of different things to do off-campus seems incredibly long. Westwood also resides near Santa Monica, which makes host to the amazing boardwalk and infamous beach. Host a beach day with your friends or sit by Blue Plate Tacos if you don't want to get sand in your shoes. The best outdoor mall near Westwood features a completely outdoor look. 10 minutes away from Westwood lies the Century City Mall. If you need a last-minute outfit, stop by here. Don't forget to visit the Getty and Hammer Museum—a great day trip for my history lovers. UCLA's BruinBus will help you get around all of these locations.
"Before you graduate, you need to get lost somewhere in Los Angeles on a bus! I learned so much about this city and I think not enough UCLA students take the time to get off campus." said Kerry Sempelsz, sophomore at UCLA.
The options of things to do in Los Angeles create a huge list. The food, movies, shows, and more happen all around us every night. Overlook Los Angeles on Mulholland drive and discover the city from the sky. Grab Insomnia Cookies for a late-night sweet craving. You will never find yourself bored in LA; if you are, read this list again.
7. Appreciate the grass fields next to Janss Steps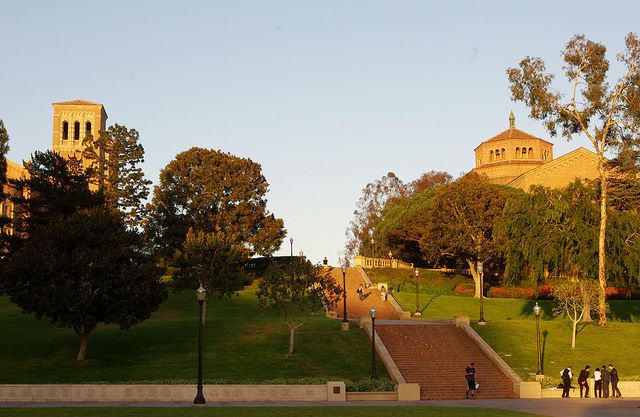 The fields near Janss steps prove a relaxing and fun location for UCLA students. Over the summer, students also create water slides all the way down the field to defeat SoCal's heat waves. Renting a hammock proves a common site near Janss steps. Students bring their own hammocks, rent the ones UCLA provides or simply bring a blanket to take a midafternoon nap. The trees on the field provide excellent shade, unless the steps turn out too crowded. Take a book, take your laptop and get some fresh air for the day.
8. Attend a UCLA-USC Rivalry game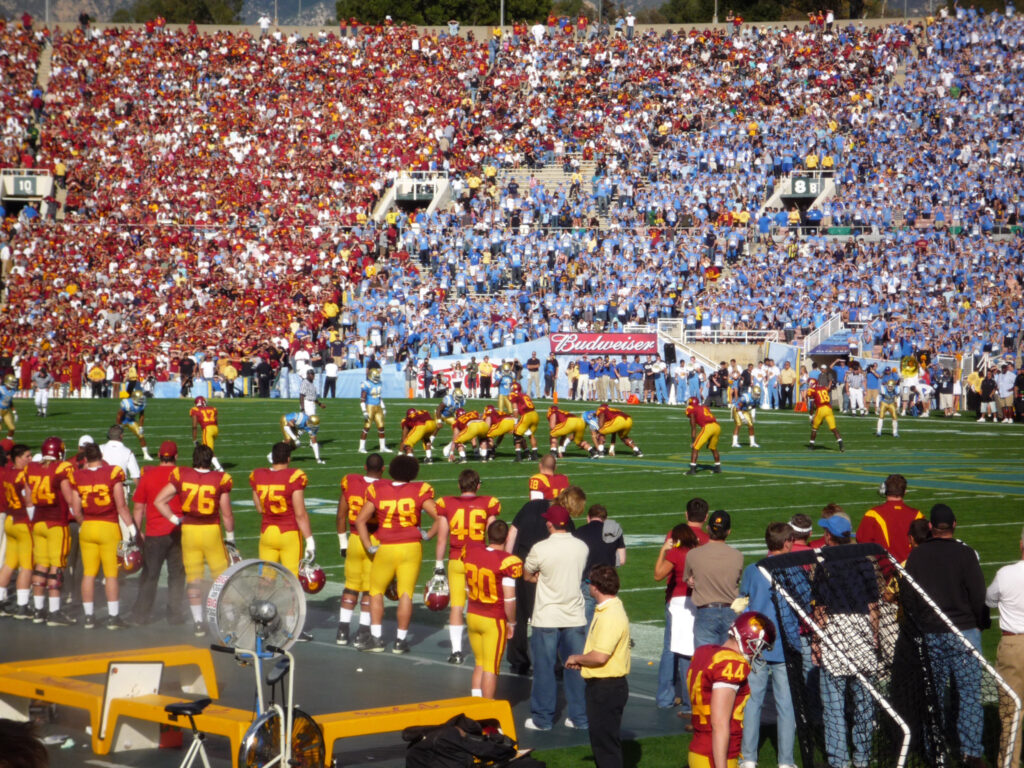 The rivalry between UCLA and USC began all the way back in 1941 when USC students stole the Victory Bell. Although mostly friendly competition, attending a rivalry game to honor UCLA has been an ongoing tradition. Bruins vs Trojans, only 11 miles apart in Los Angeles, the feuding lasts all year long. Wear your blue and gold, put blue and gold in your hair, and wear it on your face. When you attend a rivalry game, prepare to get fired up while repping UCLA. The competition between both schools occurs fiercly.
9. Go to UCLA's oldest coffeehouse on campus before class
Was The Study's wait too long this morning? On the second floor of Kerckhoff Hall sits Kerckoff coffee house, the oldest coffee shop on campus. Open since 1975, generations of students come here to grab a quick coffee or sit down and study before finals. The coffee house features many outlets and places to sit. With its prime location on Bruin Walk, bring headphones with you if you plan to study. This popular spot can get noisy quickly. Grab your coffee, grab your pastry and enjoy your day in the first coffee house on UCLA's campus.
10. Take your graduation pictures in front of Royce Hall and attend graduation ceremonies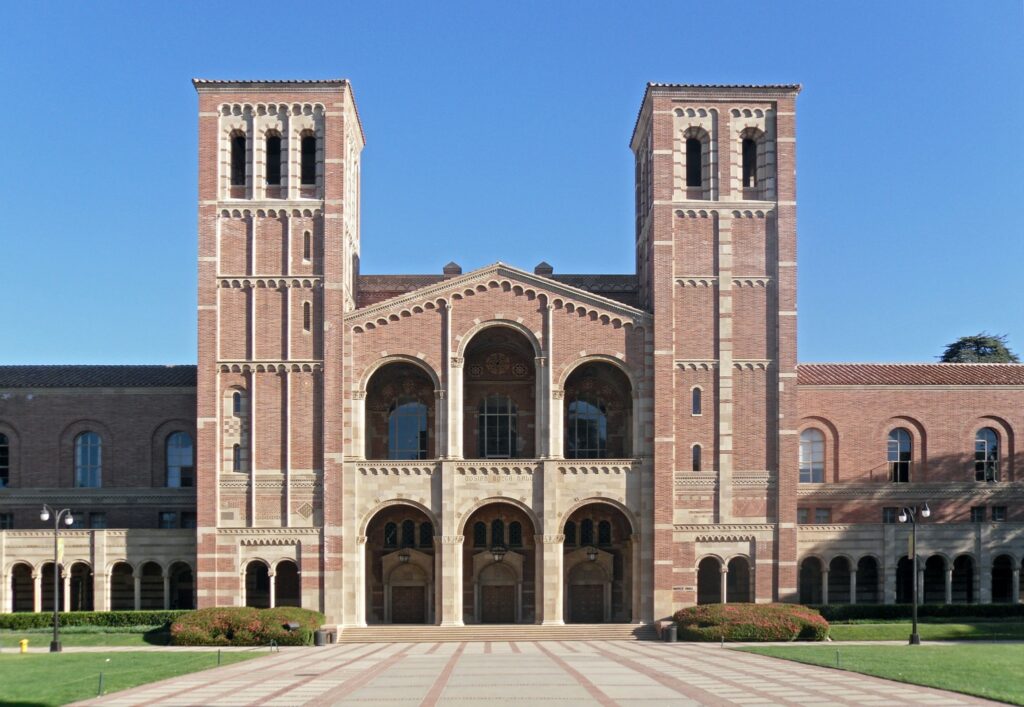 When your time at UCLA ends, don't forget the last mandatory tradition: taking your graduation pictures in front of the beautiful Royce Hall. At the end of the year, you will find many students in their caps and gowns, taking their last moments as a student at UCLA. Remember to take a close-up for your LinkedIn profile for future endeavors. Celebrate your time at UCLA by attending your graduation ceremony, dedicated to your accomplishments over the years. Hosted by ASUCLA, this student-led organization creates the strongest, longest-lasting memories for every member of the UCLA community—including graduation.
"Graduation ceremonies! ASUCLA celebrates the academic accomplishments of all UCLA students and encourages all to attend their class graduations that will be filled with moments that students, their friends and families can treasure for the rest of their lives," said Christina Manuel, Communications Specialist at ASUCLA.
To finish off strong and show off your Bruin pride, make sure to attend your ceremony. The hard work you put in to finish strong at UCLA deserves a celebration. Now, you will discover new adventures beyond UCLA. Your life will change for the better. Say goodbye to The Hill and say hello to the Alumni Center. Gather your cap and gown and show yourself what it means to live as a Bruin for a last time.