Also written by Celina Daniel.
Do you crave creamery spoonfuls of homemade ice cream at all hours of the day? We all know that sometimes you just gotta treat yourself to ice cream after the craziness of never-ending chem midterms and psych papers. Look for a college that fits all your ice cream needs. Plenty of schools offer ice cream in their dining halls, but these 10 schools go beyond serving basic soft serve. From on-campus creameries to in-house flavors you could never get anywhere else, these schools know just how to make us all scream for ice cream.
Check out these 10 universities that offer a sweet ice cream escape from college life.
10. Colby College – North Street Dairy Cone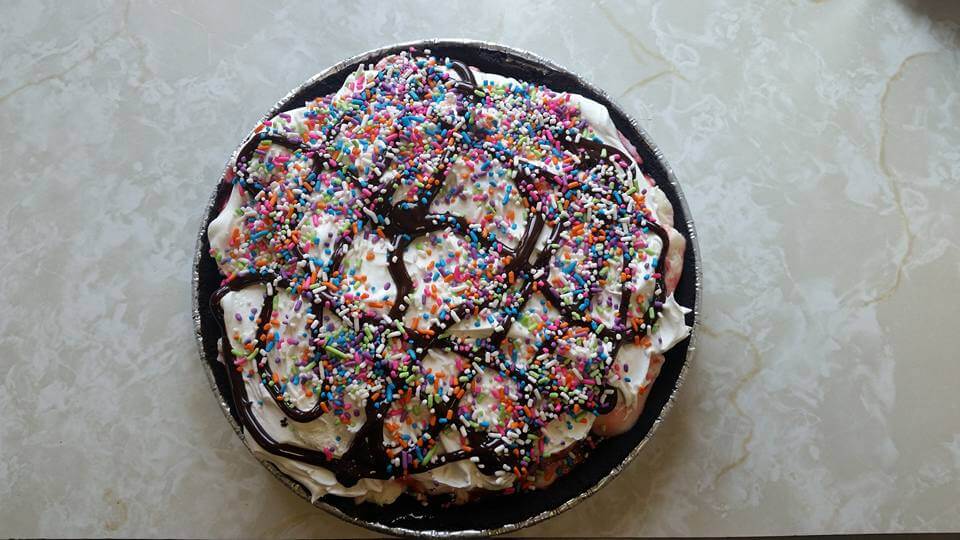 Could there be anything better than ice cream within walking distance of campus? Less than a mile away from Colby College, you can find local celebrity North Street Dairy Cone. This ice cream shop gives you that small town, every-knows-your-name feel. Their menu, although simple, sends you back in time to the "good ol' days" with old-fashioned French Vanilla ice cream or a Hot Fudge Sundae. Don't forget to ask for "jimmies" instead of sprinkles. With its location so close to campus and reasonable prices for college customers, you'll definitely make weekly trips for your ice cream fix. You could get your ice cream at the dining hall, but sometimes you need to travel outside campus to satisfy your cravings.
9. Sacred Heart University Connecticut – The Peak Creamery & Coffee Shop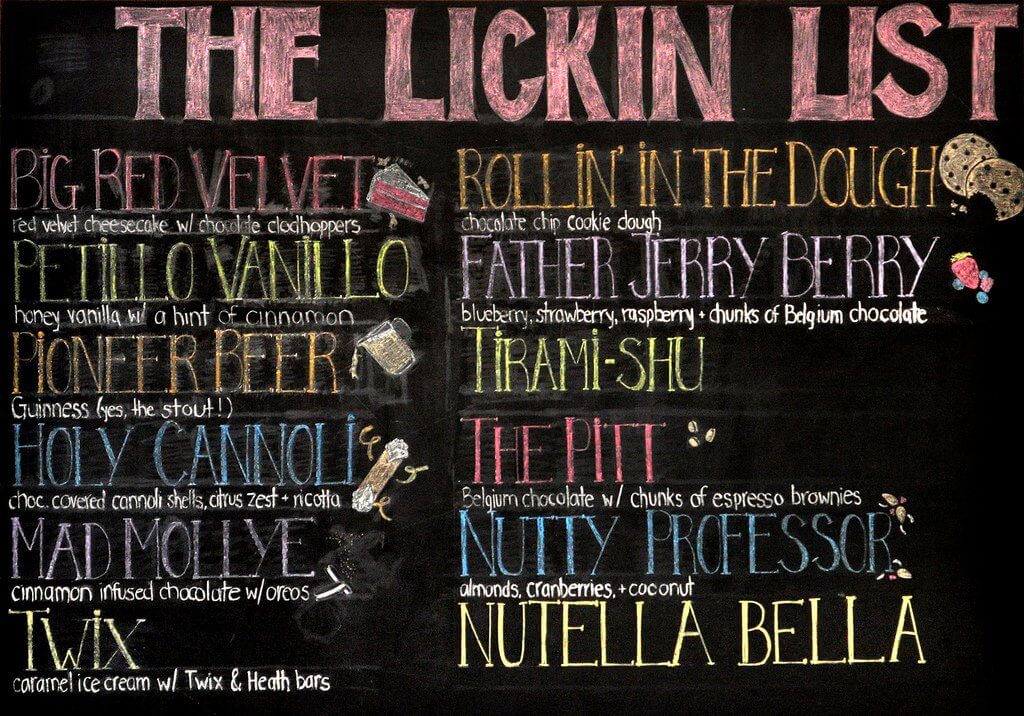 Sacred Heart University Connecticut knows that ice cream pairs perfectly with long nights of studying and cramming for midterms. That's why they keep The Peak Creamery & Coffee Shop open until 10 p.m. on the weekdays. On the night before a big exam you can find hordes of students sitting and chatting or standing in line for a scoop. This student-run business, founded in January 2013, highlights itself as the first business completely run by students in the Welch College of Business. Talk about supporting student entrepreneurship. Check it out on the first floor of Roncalli Hall, one of the residential halls, right next to the gym for just a hint of irony. Their flavors, all gourmet supplied by Walnut Beach Creamery, add flare to the creamery. Whether you crave Banana's Foster, Muddy Cheesecake or Cupcake ice cream, The Peak won't disappoint.
8. University of Vermont – Ben & Jerry's
Do you crave Ben & Jerry's all day, every day? University of Vermont students live less than less than 30 minutes away from Ben & Jerry's Factory. You can take tours of the headquarters on random Saturday afternoons (not to mention free samples whenever your heart desires). When friends or family visit campus on the weekends, whisk them away to this factory for the ultimate vacation. And if you don't feel like leaving campus for the Ben & Jerry's Factory, just head to any shop that'll sell Ben & Jerry's 60+ flavors. Maybe nab some before a much deserved Netflix binge session on a Friday night. Students also head down to the Dudley H. Davis Center for some Ben & Jerry's at the Scoop Shop, which takes your meal-plan money. Watch out or before you know it your money might disappear and your jeans might feel tighter, too.
7. University of Maryland, College Park – Maryland Dairy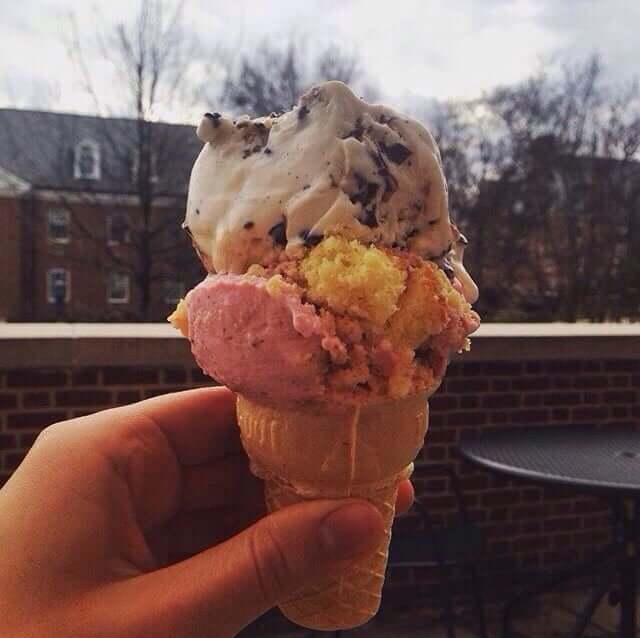 Maryland Dairy has served up both traditional and handcrafted flavors since 1924. You'll find the shop right in UMD's Adele H. Stamp Student Union. On those unbearably humid August or May months, Maryland Dairy saves you from your impending heat stroke. Satisfy your classic cravings with Cherry Vanilla or Butter Pecan, or venture outside of the carton and try the Sapienza, with creamy, rich Vanilla Bean with chocolate chips and chunks of chocolate fudge brownie, a smooth chocolate swirl and crème de cacao. Many of the flavors they offer follow use fun UMD-themed names. Try Fear the Turtle, a flavor named after their mascot featuring delicious vanilla ice cream with a white chocolate truffle ribbon, salted pecans, a caramel swirl and triple sec (which gives the concoction a hint of orange flavor).
6. Boston College – White Mountain Creamery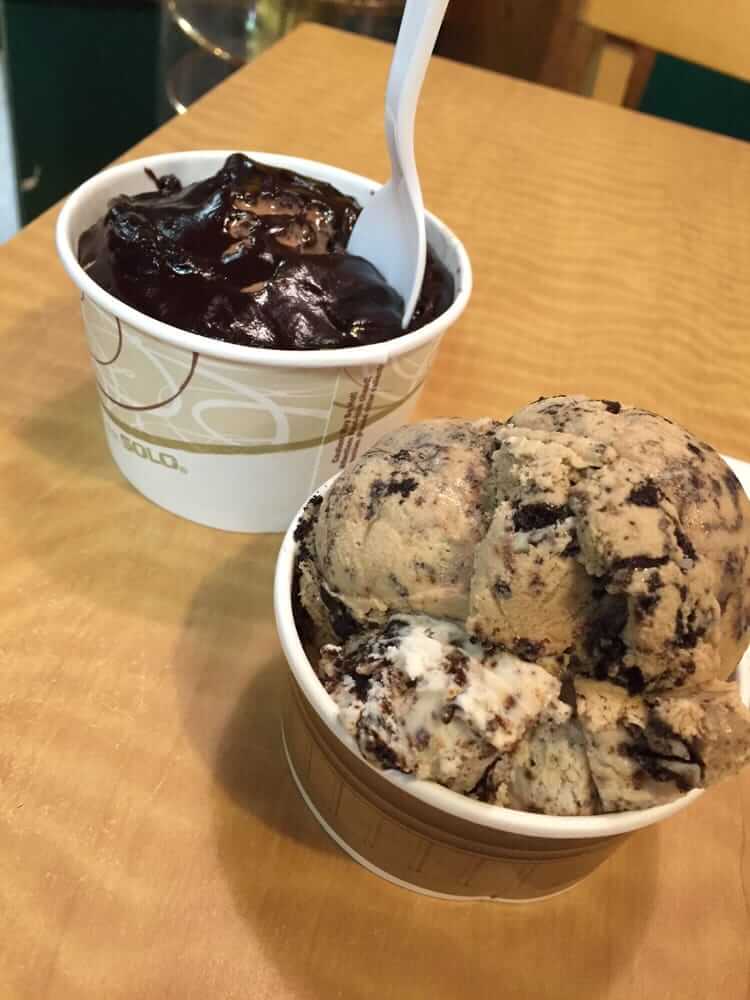 Wishing you could taste creamy, homemade ice cream without getting in your car? Across the street from campus, you'll find the answer to your ice cream dreams in White Mountain Creamery. "Students really love Cookie Monster with vanilla ice cream, cookie dough, cookie crunch and Oreo cookies. They also love…Death by Chocolate with chocolate chips, a chocolate base, white chocolate chips and cookie pieces," said Boston College sophomore Ignacio Fletcher, who started working at White Mountain this summer. "The coffee ice cream is also really great because it has lots of flavor with coffee ice cream, coffee yogurt, coffee Oreo and more coffee yogurt." Some ice cream choices include mint chocolate chip, pumpkin and black raspberry chip. Students who want an ice-cream option on campus use their dining money to nab ice cream and milkshakes at The Loft @ Addies.
5. Arizona State University – Slickables Ice Cream Sandwiches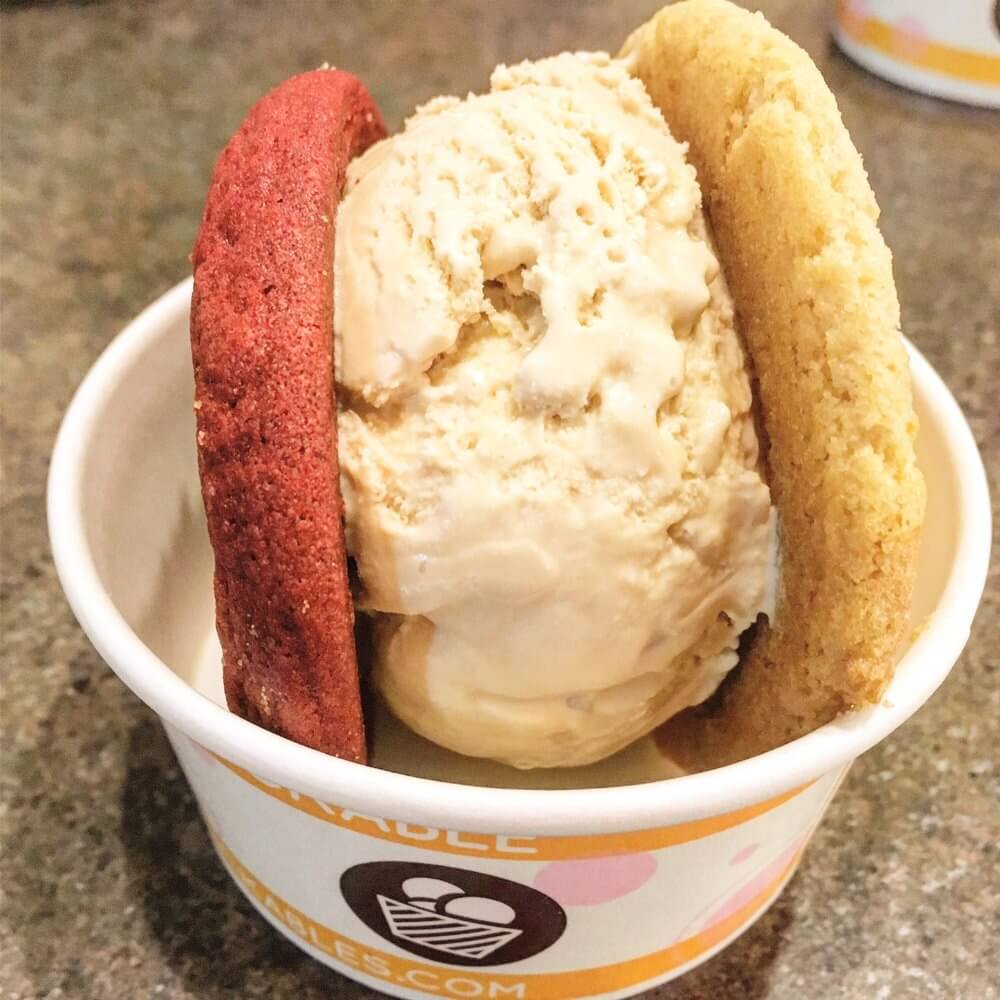 Slickables Ice Cream Sandwiches, just outside ASU's Tempe campus, won't break the bank. For those who don't consider themselves basic ice cream lovers, spend $2 to customize your ice cream sandwich by picking the two cookies and ice cream flavors. Feel free to try out any combination, like Cookies & Cream between a chocolate chip cookie and a red velvet cookie. Also, you'll find some yummy seasonal treats, like pumpkin gingersnaps, to add your pumpkin obsession. With that hot Arizona weather you'll need all the relief possible. The temperature easily climbs to 115 degrees in July, so ASU students have to snag all the ice cream they can get. On campus, you'll find plenty of dining hall options for ice cream, but those in the Barrett Honors College get the sweeter end of the stick with a gelato bar any day of the week.
4. Colgate University – Gilligan's Island & Byrne Dairy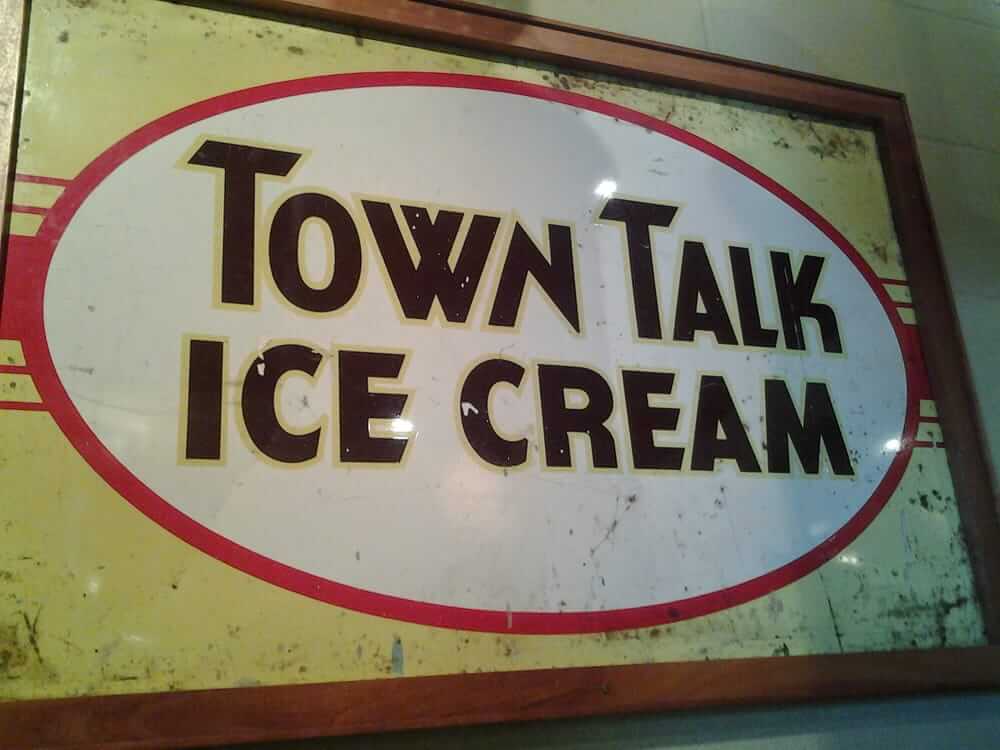 Feeling up for an outing with friends for burgers and ice cream? Just 15 minutes away from campus, you'll find Gilligan's Island in Sherburne, New York. Make this small-town burger joint a date night destination with a milkshake and two straws. Students also get a taste of Gilligan's on campus. "Gilligan's sometimes brings ice cream to athletic and entertainment events and their signature ice cream is named after our mascot–Raider Passion. It's cake batter ice cream, red velvet cake chunks and Oreos," Colgate University senior Hannah Post said. Fun fact: Ben Cohen, one of the founders of Ben & Jerry's, once walked the halls of Colgate. For all you prospective students out there, at the end of each tour, you get a delicious cookie ice-cream sandwich from the local Byrne Dairy. Students lovingly remember this Chipwich tradition long after they've toured the school. "It was awesome—the classic chipwich is vanilla ice cream in between two chocolate chip cookies. They sell them and other flavors and combinations at the Byrne Dairy downtown, which is inside a convenience store," Post said.
3. University of Wisconsin-Madison – Babcock Hall Dairy Store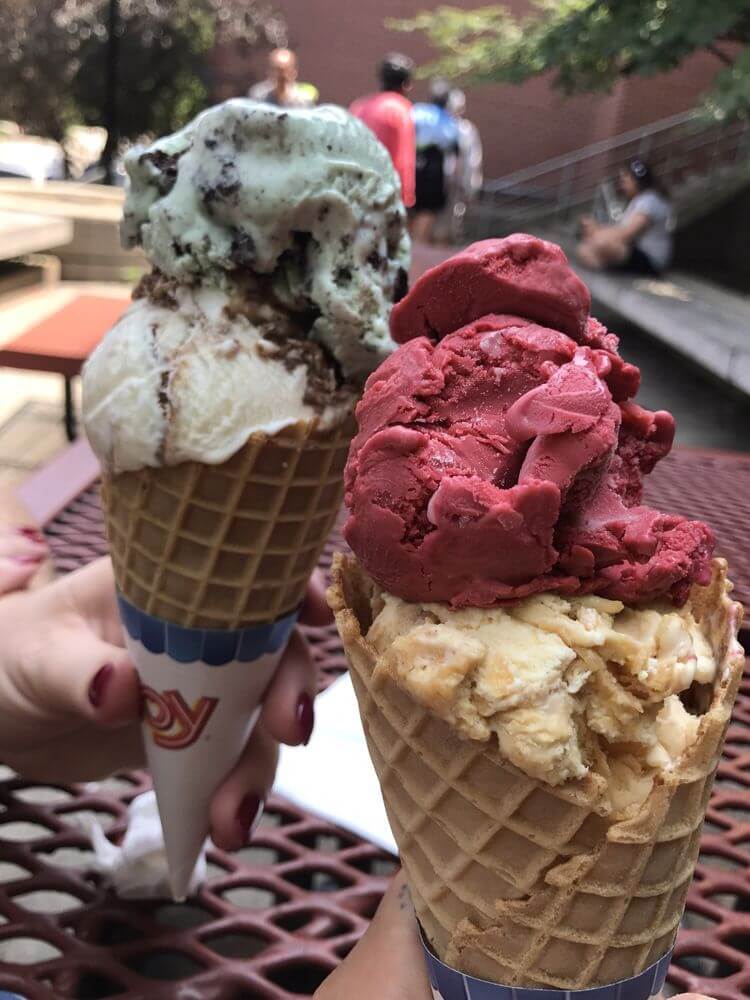 You need some sort of relief from an all-day finals study session. You could grab some ice cream from the dining hall, but instead use your meal plan money at Babcock Hall Dairy Store. "My go-to is usually Chocolate Peanut Butter or Cookies N Cream," UW-Madison senior Courtney Wong said. They even offer lactose-free options to accommodate all their beloved customers. If you need a great gift for friends back home, ship them some ice cream and cheeses (you'll find 10 kinds of cheddar and Monterey Jack cheeses combined). "Babcock ice cream is sold in a bunch of different locations on campus. Students can find it at pretty much all of the dining halls and both student unions," Wong said. Students looking to study the art of producing the perfect ice cream can also study at UW-Madison's College of Agricultural and Life Sciences or the Department of Food Science.
2. Penn State University – The Penn State Berkey Creamery
Want to be a true Nittany Lion? Make sure you're in the know when it comes to the coolest place on campus. The Penn State Berkey Creamery, featured on the Food Network, Martha Stewart, Spoon University and The Washington Post, doubles as a prime student hotspot. "I found that the best time to go is late at night during the school year. Usually during the day it is crowded with students doing homework," recent Penn State graduate Shane McCartney said. "Then the Creamery is usually packed all throughout football weekends with alumni and students taking their parents there." They have not one but three categories for their ice cream: Classics, Creamery Exclusives and Hall of Fame. Feel free to get your pun on by ordering their Peachy Paterno flavor that honors the beloved Penn State head football coach who earned more W's than any other major-college football coach. "This would also be the flavor that I would recommend to first timers at the Creamery," McCartney said. "Mainly because if you know Penn State you know the name Paterno."
1. Clemson University – '55 Exchange
'55 Exchange, a student-run business that began in 1955 with a gift from the Clemson Class of 1955, still runs strong today. "I am part of a family that has produced four generations of Clemson graduates. I graduated in 1982 and worked making Clemson Ice Cream when I was a student," said Clemson Professor John McGregor, who returned to Clemson in 2000 and now heads '55 Exchange. They offer scoops, sundaes and shakes to satisfy all your dessert cravings when you're trying to get over the mid-day hump. McGregor also recommended Coffee Chillers. "They are a blend of Specialty Selected coffees and Clemson Ice Cream developed as part of a student intern project," McGregor said. Feeling more adventurous? Create your own with the Tiger Slab, where you get to pick your favorite Clemson Ice Cream and choose your mix-ins. According to McGregor, the top flavor is currently the Class of 1955's 60th anniversary flavor, the Golden Tiger. "Golden Tiger is a caramel flavored ice cream with ribbons of chocolate fudge and salted caramel. Elements in the flavor represent various aspects that are embossed on Clemson's Class Ring," said McGregor.
Don't stop there—showcase for love for all things ice cream loud and proud.