If Greek letters, formals and the mysterious world of hazing aren't really for you, finding a place to fit in on campus can be a challenge, especially for college students on a campus where nearly 1 in 5 students are affiliated with Greek life. For Indiana University, there are a ton of perks and opportunities for going Greek. A place to party, meet friends, network and live all wrapped into one big house. But if traditions of hazing and sporting Greek letters aren't exactly what you had in mind for the next four years, you're not alone.
Let's face it. Greek life is not for everyone.
Several student involvement fairs, dozens of call-out meetings and 100 flyers later, and you still just haven't found the right fit. How do you get involved on campus? Where will you meet your friends? What extracurriculars will look good on your resume? It's all overwhelming. With so many options it may seem hard to find something you love. Don't give up yet. Indiana University has 750 plus student organizations to be a part of.
Here are 10 student organizations that Hoosiers love the most.
1. Outdoor Adventures
IU Outdoor Adventures is a one-stop-shop for all wilderness lovers. More than just a club, IUOA provides students the opportunity to go on backpacking, white-river rafting, canoeing and more outdoor adventures. Aside from trips, IUOA offers classes including workshops and other events so students may experience and learn about the outdoors during their time in college. Try out their bouldering wall or train to become a trip leader yourself. "My most rewarding experience would have to be connecting with my participants in the outdoor rock-climbing class and then seeing them at the climbing gym and hearing how much fun they had. As well as their motivation to keep climbing," IU junior Matt Lloyd said. Whether you live and breathe the outdoors, or just want to try it out, IUOA has something for everyone.
2. Feminist Student Association
Do you consider yourself an activist or advocate for change? The Feminist Student Association (FSA) is an on-campus group at IU dedicated to intersectional activism. Whether it be racism, sexism, classism, ableism or xenophobia the FSA brings together students passionate about addressing the many levels of oppression. The FSA brings awareness to marginalized groups that face such challenges. If you're looking for a network of individuals who value personal growth and civic engagement, you'll want to sign up as soon as possible.
3. WIUX Student Radio
If you've ever felt proud of an original Spotify playlist or if you're constantly crafting new ones and finding new music, why not be a DJ in college? Hosting your very own radio show is easier than ever at WIUX. "WIUX provided a space where I could flourish my creativity and goof around with friends, all while sharing my passion for jam bands and music festivals with the Bloomington community and beyond," junior Nate Branson said. "My radio show, 'The Jam Incident' more than anything lets me play and have fun while the rest of campus is business as usual."From sports to podcasts to all genres of music, WIUX gives students the freedom to play on the radio what they want to hear and talk about the things they love.
4. CEW&T
The Center of Excellence for Women and Technology is a place on campus where women are empowered in the field of technology whether it be graphic design, coding or game design. CEW&T is an interdisciplinary organization that brings Hoosier women from different backgrounds together to celebrate and empower women in technology. Students involved are able to develop both personally and professionally, all while networking with other women in the field. CEW&T helped senior Natalia Johnson, 21 a major in Informatics, connect with other women in technology and find career and academic goal-oriented opportunities. "Last semester, I was one of six interns selected to represent CEW&T at Grace Hopper Celebration in Orlando, FL, which is the largest gathering in the world for women in computing," said Johnson.
5. Collins Living-Learning Center
While an LLC isn't what you'd typically imagine when thinking of what groups to join, Collins at IU is one of IU's largest communities. On the corner of Tenth and Woodlawn, Collins is a student-governed living experience that offers other student groups, classes and opportunities for growth and exploration. At its core values are the arts, self-government and sustainability. Otherwise known as a hotspot for environmentalist and super involved or creative and artsy students. And the best part? Collins is home to The Cheshire Cafe, a student-operated coffee shop that's open 8 pm to midnight. Quick tip: it is cash only.
6. Singing Hoosiers
If while you were in high school you shined in show choir, or starred in the yearly musical, the Singing Hoosiers may hit the right note for you. Partnered with IU Jacobs School of Music, this ensemble performs contemporary vocal music and choreography in programs all year, often hitting the road or taking the floor at a Big 10 athletic event. See them at IU's Annual Chimes of Christmas in December at the IU auditorium or their spring concert in April. Put it in your planner — auditions happen at the start of every Fall semester.
7. GameDev@IU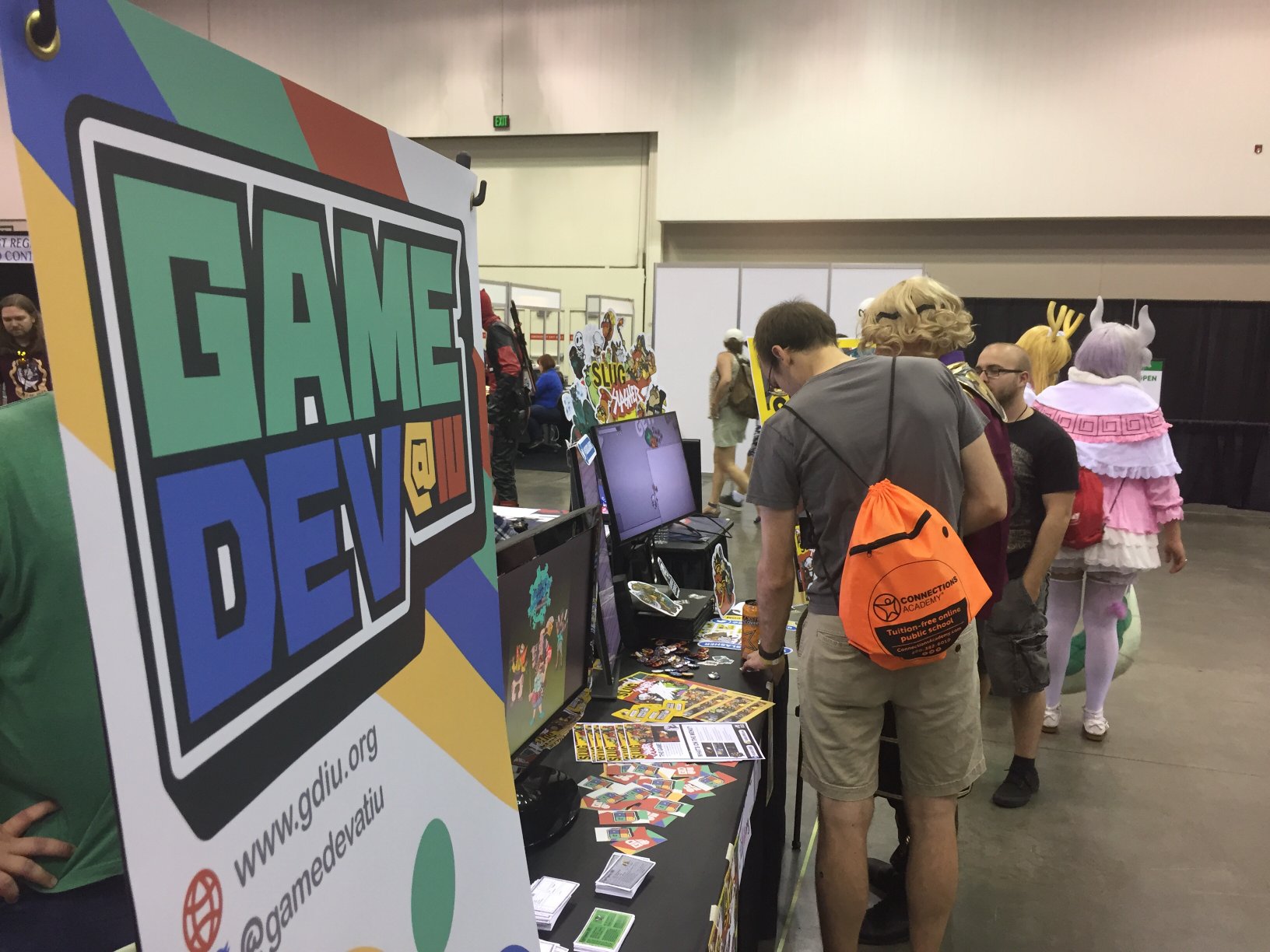 GameDev@IU is a student-run organization for all students interested in game development. If you're a student majoring in game design, or just love video games, consider expanding your knowledge of game creation and growing your game development skills at GameDev@IU. "At GameDev@IU we host talks with industry professionals, talk about the game design program, and most importantly, we make games," said senior Jake Sturgill, a game design and computer science major. "Personally, I have made puzzle, tower defense, stealth, mini-golf, arcade shooters, and currently working on a strategy simulation and town-building game," Sturgill said.
8. Hip Hop ConnXion at IU
Hip Hop ConnXion at IU is a branch of the larger dance organization, Hip Hop ConnXion. Originally based in Chicago, the dance company spans across three states. IU students learn and perform hip hop through various workshops, rehearsals and even put on performances throughout the year, including a spring showcase at Bloomington's Buskirk Chumley Theatre. "Being on HipHop ConnXion Indiana has been incredible because it's allowed me to grow my dance skills, despite my rudimentary knowledge of hip-hop dance, to the point that I feel notably more confident in myself as a performer and as a person," IU senior Mark D'Costa said. Whether you've naturally got rhythm or two left feet, break out of your comfort zone and audition.
9. Culture of Care
If you're really looking to get into the heart of IU, get involved with one of the campus's largest student lead initiatives. Culture of Care fosters a community where Hoosiers take care of each other and create a space where everyone is cared for and respected. Through by-stander prevention awareness, Hoosiers in Culture of Care advocate for positive change in four core areas: sexual well-being, mental health, alcohol & drug awareness and mutual respect. Culture of Care holds monthly town hall meetings and they also host events all over campus.
10. IUDM
Want to dance like there's no tomorrow for 36 hours straight and all for a good cause? Indiana University Dance Marathon is the second-largest student philanthropy in the world. Members fundraise almost year-round for Riley Hospital for Children in Indianapolis, Indiana. Hoosiers dance for 12, 24 or 36 hours straight in an epic dance marathon that all leads to a multi-million-dollar donation all 'for the kids' at Riley Hospital. Dance the day (and night) away for a good cause and be a part of one of IU's biggest families.
It may take some time to find the perfect fit, but an organization, student group or club you love is out there. Still don't see anything you like? Why not make it yourself? IU makes it easy for students to start groups and take initiative in creating the things they love around campus. Can't find what you're looking for? Make it happen. Whether it's a preexisting group or not, IU has so many different communities and clubs to be a part of.