Whether you already have a full-blown Twitch stream or only dabble in games on the weekends, you've probably heard of the recent explosion of esports and the world of professional competitive gaming. Following its popularity on college campuses, esports has become a main event in the tech world. Which means, the number of related careers in the industry including audio production is on the rise. At The 2020 NAMM Show, top innovators at the forefront of esports are sharing their industry knowledge on everything from making your college esport teams to getting jobs in the field to the future of this exciting new sport.
Get your tickets to The 2020 NAMM Show asap and then brush up on your esports knowledge.
With insider advice from Arabian Prince, a founding member of N.W.A. and now game producer, here are the tools to becoming an esports expert.
What is eSports exactly?
Esports is gaming, played on a professional scale. While the gamers sit at the center of an esports competition, the audience, production team and media coverage are all integral parts of this sport. In the past few years, the esports industry has expanded at breakneck speed, with countless tech companies getting involved and new start-ups and projects emerging. These days, the popularity of esports as a spectator sport is skyrocketing, with 380 million people viewing esports just this year.
Esports has garnered attention from major players in programming, tech and game production, but its roots are in the young adult demographic. Arabian Prince— futurist, game producer, and former musician— describes younger people as the foundation of the esports industry. "This next generation of upcoming young adults and kids, the Z generation, or even the college students are in the stakes already. They may not be in it professionally, but they play the games, they grew up with this. They know it. Those are the people you have to get for your team." In other words, the age of demeaning gaming as a waste of time has come to a close. The next time you want to make fun of your cousin for holing himself up in the basement with his game console for three hours, keep in mind that professional esports players can make up to $3 million a year.
Exploring the Role of Music in Esports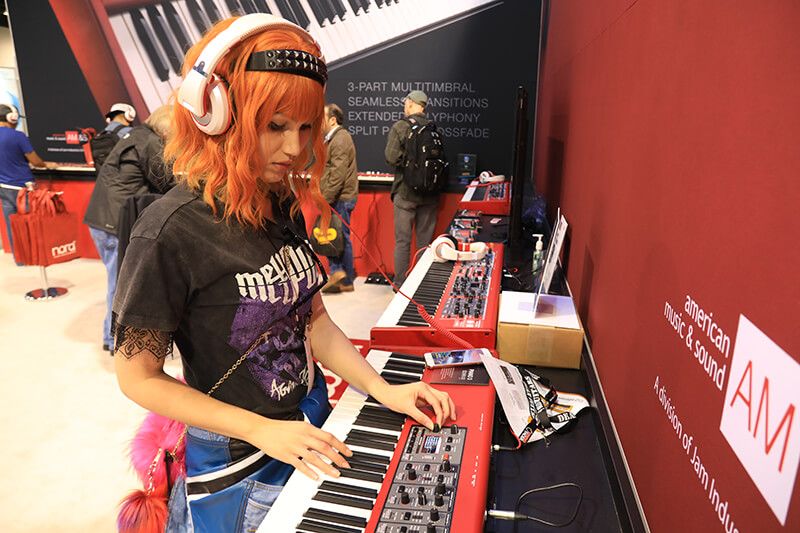 The 2020 NAMM Show is about translating musical talent and enjoyment into practical applications for technology and audio production. Music plays a major role in the esports experience, so it's no surprise that countless innovators and producers in esports will be attending. Entering the esports world with a background as a wildly successful musician and DJ, Arabian Prince understands the confluence of music with game production and design. "It's a shame that it hasn't been associated earlier, but a lot of musicians, a lot of recording artists are now doing music for games, sound effects for games to make them everything that they are," he said. "Even if you go to an esports competition in a big arena, there are people performing, so it goes hand in hand.
In both college and professional esports teams, choosing music to accompany the competition is an essential aspect of the show. Take it from Dr. Chris Haskell, an associate clinical professor and the founder and head coach of the varsity eSports program at Boise State University. "The reason we're engaged in esports is because of the storytelling. And what amplifies the story more than anything? It's music," Haskell said. "We very carefully select the music that we use at different times during the broadcast. We use music to set the emotion and to manipulate the audience." As with every other mode of visual entertainment, music is the factor that brings an esports show to life. "Music is what drives and builds a game," Stanfield said. "Without music, esports would just be a bunch of pictures."
What is the Role of Esports on College Campuses?
Young adults have always been at the forefront of the gaming world, so it makes sense that countless college campuses across the country have their own student-driven clubs and organizations for game enthusiasts. However, in only the past couple of years, gaming has risen to a whole new level with the formation of competitive collegiate esports teams. Following the first formation of an official college esports team at UC Irvine in 2016, there are now over 175 colleges and universities with varsity esports teams that belong to the National Association of College Esports (NACE).
Although BSU already had an esports club, Dr. Chris Haskell decided to create a separate team three years ago. "We researched the world of collegiate eSports and came to understand what was happening as something that was going to become very big," he said. "We decided to organize the varsity side of it. I was researching the topic for a keynote and as I started to interview people who were already engaged in this process, it became clear to me that this is about to get huge, and we better do something about it."
Haskell said the response from the student body was overwhelmingly positive. "Students were aware of the size and scope of esports, and the possibility of having it at their home university was a huge point of excitement. The first meeting we had, 100 showed up."
In recent years, esports has become more than just a fun extracurricular—they could provide a ticket to a sports scholarship. According to an investigation by Wired, 200 colleges offered about $15 million in scholarships to esports team recruits last year.
Jeffrey Stansfield is the founder of Esports Circus, an organization that travels the country, running esports competitions between over 400 different collegiate esports teams. To Stansfield, college students are the essential fuel of the esports industry. "[College students] are important because they are the esports industry," he said. "Even the pro players are not much older than college. These college kids are building their careers in esports. These young adults are growing into what they want to become and find their foothold in this industry."
How to Take an eSports Hobby to the Next Level
Whether you regularly compete in Fortnite competitions with your college's team or you've just got a longstanding knack for Call of Duty, it is entirely possible to make an esports talent into a post-graduation career. But before you go hankering after Faker's glamorous League of Legends-fueled lifestyle, remember that moving from college to professional league in gaming is just as competitive as for any traditional athletic sport.
"There's a very small percentage of people that actually make it to the pros," Arabian Prince said. "Less than 1% of the world is ever going to be a professional esports gamer. What I tell college students is you'll know if you're in the 1% quickly because people will come to find you." Gamers, don't let this discourage you — take it as a challenge.
The good news is that pro gamers are only a minute part of a vibrant industry that is constantly expanding and changing, and that includes careers. "There are over 100 jobs in the esports industry that no one has ever heard of. And there are colleges and universities that are teaching this. They're starting to. It's going to be years before we understand what these jobs are because it's always evolving," Stansfield said.
An esports tournament is a highly viewed live event that needs a full support team. In the production corner, there's broadcasting, videography, audio and communication systems. According to Stansfield, "There's also a lot of office stuff in the background—there's social media… accounting and bookkeeping, HR and PR, and getting the press to build the company."
There's also the media side that deals with publicizing competitions, interviewing players and providing comprehensive coverage to occasional viewers and hardcore fans alike. Don't forget the shout caster, who reports live developments in the game. According to Arabian Prince, it's still just as important for the production team to be familiar with the game that is being played. "If you were a film student in college, or you decided you wanted to be a cinematographer or a DP [Director of Photography], and then you would say, 'I would love to do that for esports.' Well, you gotta learn skills for that. Most of the cameras facing the players on stage are controlled inside the game itself that pick up different parts of the action. You may be a professional camera person. You may even learn how to control cameras inside the game. But if you don't know the game, how can you film it? You need to be able to know what you're looking at."
If you're already on a team and want to get seen, Stansfield encourages interested students to pitch their college's team to participate in a tournament. New collegiate teams are open to contact Esports Circus and apply to participate. For those serious about an esports music career or other industry opportunities, the company is also offering a new internship program.