This post is sponsored by The NAMM Foundation.
Mr. Shue from Glee isn't the only cool music professor around anymore. Hard-working professors all over the country inspire college students to pursue their musical dreams. These professors have gone above and beyond in forging personal relationships with their students. They also lead by example with impressive accomplishments to their name. Each professor has a unique story to tell and a breadth of diverse experiences to his name. Who do you want to emulate in your career?
If you're a music major and you're looking to ignite your career, register for GenNext and get connected with industry experts at The 2017 NAMM Show January 19-22nd in Anaheim, Ca.
1. Indiana State – Dr. Ted Piechocinski*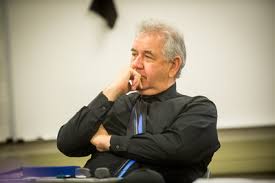 Dr. Theodore Piechocinski directs the Music Business program at ISU and has degrees in law, saxophone performance and music education all from different schools. Talk about a triple threat. He worked as a music/copyright attorney for Cherry Lane Music Co. in the Big Apple. Ever heard of the Dave Matthews Band, Metallica or Van Halen? Yup, he negotiated those deals. He got back into the world of academia through his position on the Board of Directors for the Music Publisher's Association of the United States and his role as a visiting professor at the Shenyang Conservatory of Music in China, where he taught music business to Chinese students. So don't believe people when they tell you that you have to choose between the workplace and academia. Dr. Piechocinski reminds music students everywhere that you don't have to study just one thing to express your love of music to the world.
2. Western Illinois University – Courtney Blankenship*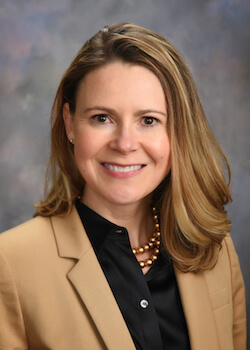 Courtney Blankenship is the cool mom of inspirational music professors. She served as head of music merchandising at the Lotus World Music Festival for many years and has training in ballet in addition to degrees in marketing, piano performance and arts management. "This is a woman that would go out of her way to make you dinner if you were hungry, comfort you if you are feeling down, and reach out to as many people she knows, to get you a job. She is my mother away from home. She is a single mother, raising two amazing and talented children, yet still comes to work bright and early looking as fabulous as one could," said senior music business major Arianna Hayden. If you want to study all of your interests and make music accessible to the real world, follow Blankenship's example.
3. Curtis Institute – Dr. Jeanne M. McGinn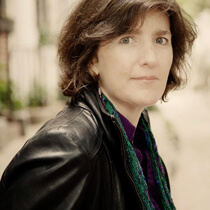 If your mind overloads on creative energy, then Professor McGinn shows you how to release all of that into the world. She has won numerous poetry awards including the University of Galway Poetry Competition and has inspired other composers to set six of her poems to music for violin, orchestra and chorus. "Dr. McGinn is an extremely inspirational teacher here because she is an incredibly energetic teacher and still holds us music students up to the highest standard in our writing/liberal arts classes," said harp major Helen Gerhold. While she might not teach music in a traditional way, her teaching inspires students to create music in new and exciting ways. I can't think of anything better to deserve a standing ovation.
4. Juilliard – Timothy Eddy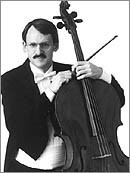 Timothy Eddy has served on the faculty of Juilliard since 2001 and works individually with gifted cello students to help them define their performance. "One particular buzzword or phrase that I love hearing Mr. Eddy say is 'never aim for trying to execute an idea, but rather go for the experience you are after!' While it took me quite a while to realize what this meant… I have come to realize in essence it means to allow oneself to free their mind, will, and intent… We often get in the way of this in other forms of our life every day, even when we don't realize it," said third year cello major Khari Joyner. As the prizewinner of the 1975 Gaspar Cassado competition and founding member of the Orion String Quartet,, Professor Eddy has an incredible list of accomplishments to his name. From his own experiences he teaches students to work hard for their entire lives to do the one thing they love.
5. USC Thornton School of Music – Scott Tennant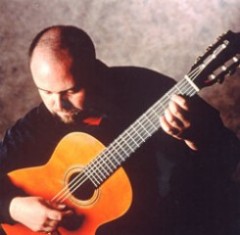 If your eyes are on the prize, who better to look up to than Grammy Award-winning Scott Tennant? Known as one of the world's top classical guitarists, Tennant helped found the Los Angeles String Quartet, a group that now has many Grammy Awards under its belt. "His professionalism is on a whole different level. The hard work he does always inspires me. Despite how great of a performer he is, he practices like a student. One could always use his practice methods as an example," junior classical guitar major Saro Babikian. Tennant attended Thornton himself, and makes teaching a priority even as touring artist. With Tennant as their professor, students can directly envision how they can succeed post graduation.
6. UCLA – Ian Krouse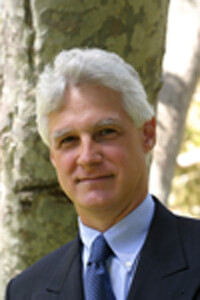 You may have heard of private piano or guitar lessons, but how about private composition lessons? Professor Ian Krouse has taught students at UCLA on an individual basis for more than 25 years. "Recently Ian had a huge commission: to compose the first Armenian Requiem to be premiered on the 100 year anniversary of the Armenian genocide. People all around me in the audience were crying because of how moving it was. Ian, who is not Armenian, felt so honored to have this opportunity. Because of how thoughtful, compassionate, and dedicated he is, Ian of course poured his heart and soul into learning and embracing Armenian history, culture, and unique music traditions," said Crystal Frost, visual media composition major. Professor Krouse's guitar compositions have gained worldwide attention and have made him beloved by the world just as much as his students.
7. Berklee College of Music – Greg Glancey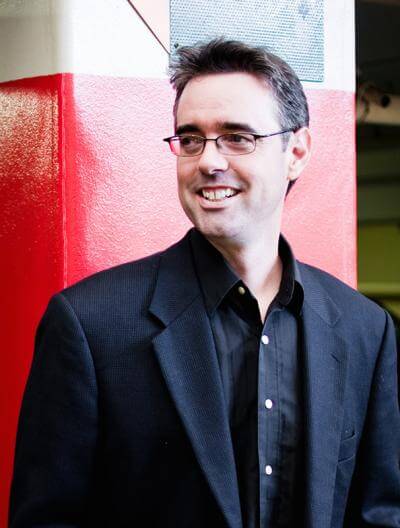 For Professor Glancey, music life consists of three things: composition, composition and composition. He earned his bachelor's at UW-Madison in composition following with his master's and Ph.D at Stony Brook University in, you guessed it, composition. "Greg Glancey is an amazing teacher. He is incredibly patient and encourages students to ask absolutely any questions. He has a passion towards his students and their success. He teaches tonal harmony but he sometimes uses more contemporary examples so everyone can connect and understand theory better," said Cristy Amador, fourth semester music business and songwriting major. Professor Glancey also has experience directing the Vanguard University Guitar Ensemble, so don't think he's always locked away creating compositions on his own.
8. NYU – Jeremy Aye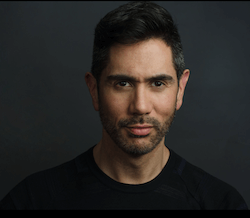 Have you ever wondered if one of your teachers was a secret superhero or celebrity at night? Well, Professor Aye performs as a chorus member of the Metropolitan Opera when he's not teaching students how to sing in the vocal performance program at NYU. He also has unmatched compassion for his students and their struggles in college. "I was experiencing several personal issues involving finances and family. During one of my voice lessons, instead of actually having the voice lesson, he saw I was visibly distressed and offered instead to be a shoulder to basically cry on. He was there as not just a professor but a person who truly cares about seeing me and making sure I was ok. Knowing that I have a professor who truly cares about me personally is more than I could ever ask for from a professor, but I think Jeremy goes above and beyond," said junior Geddy Warner, a vocal performance major with an opera concentration. In addition, Professor Aye even teaches business skills for classical singers, so you'll know how to actually book your own gigs and manage your career after graduation.
9. Northwestern Bienen School of Music – Shawn Vondran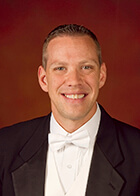 Directing and teaching… can't that win you, like, an Oscar and a Grammy? Professor Vondran directs the symphonic band through the Bienen School of Music. He also teaches teaching and conducting techniques. "I look up to him because he really knows how to balance sticking to his lesson plan with going off on tangents that students bring up that are actually informational and really interesting to us. He also is very charismatic and kind, and you can tell he truly cares about his students. He always brings a positive attitude to class," said flute major Ayla Goktan. Vondran has appeared in the National Band Association Journal and often contributes to the Teaching Music Through Performance in Band Series published by GIA. "At the end of Basic Conducting last spring, he took our whole class outside Regenstein and asked someone to take a picture of us, and then posted it to Facebook and said how proud he was of all of us…I think he strikes a really good balance between a professional and more personal relationship with his students," said Goktan.
10. Crane Institute at SUNY Potsdam – Kickie Britt*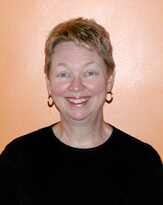 Don't you sometimes wish your professors could give you job advice, or your advisers could teach your classes? Having one go-to person for all of your questions about college would make life so much easier. Executive Director and Professor Kickie Britt delivers on both fronts for many students in the music business program. "Kickie is my role model; there's no question about it. She made a name for herself in the music industry, starting out as a music educator. Kickie is an inspiration and a loyal friend and colleague and I couldn't imagine where I'd be today without her. Kickie is always encouraging and helping students find their niche in the music industry, while using all of the connections she has to help us along the way. To describe Kickie in one word, I would say Kickie is incredibly selfless," senior music business major Samantha Sheats said. Britt serves as academic advisor and oversees internship experiences. She has taught music education to students at every grade level in New York public schools. She even created her own music business course for Adirondack Community College.
If you're a college music major, you cannot miss GenNext programming at The 2017 NAMM Show in Anaheim, California, January 19-22! Make it a road trip. Before you know it you'll be among your inspirational professors and walking among thousands of music industry leaders. It's your life. It's your music. It's your NAMM Show.
*Attending The 2017 NAMM Show!
This post is sponsored by The NAMM Foundation.