2020 has not been kind to anyone. However, 2020 proved itself especially ruthless to Marvel fans with the loss of Chadwick Boseman who played the notorious king of Wakanda, the Black Panther. Along with long-awaited movies and television shows such as Black Widow and WandaVision being continuously pushed back to later release dates (just put it on Disney+ already) coinciding with the inability to begin filming upcoming shows and movies, this pandemic proves more painful than Thanos' first snap in Infinity War. While fighting alongside the Avengers or wreaking havoc with Deadpool sounds like an awesome gift, it also proves slightly impossible – in this universe at least. If someone you love (more than 3000) happens to exude less than positive vibes due to the lack of Marvel content this year, cheer them up with some marvel-ous merch.
Read on for the top ten gifts that MCU fans will Loki go crazy for.
Disney+ Subscription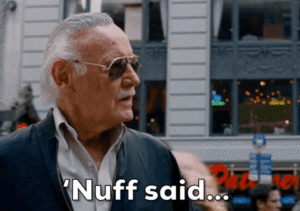 With all 23 movies, numerous cartoons and exclusive content coming in 2021, Marvel fans who don't already have a Disney+ subscription would jump at the chance to spend the night binge-watching favorite movies than saving the world. "I think a Disney+ subscription as a gift would be great for a Marvel fan because they would be able to access their favorite films anywhere they wanted," St. John's University junior Sam Haynia said. "Buying the DVDs might be a little cheaper in the long run since it is not a recurring payment, but could add up to hundreds of dollars if bought at once." With the Disney+ subscription, the Marvel fanatic in your life gains the ability to watch any and all of the movies, without the snap of their fingers.
Marvel Studios 23-Movie Collection

Marvel Cinematic Universe Phase 1-3 Complete Collection [Blu-ray]
While some fans might prefer to watch movies through the portable Disney+ subscription, others desire to gaze upon the stunning physical copies of each movie on their entertainment centers. "It's that nostalgic feeling of DVDs. The act of taking out and hearing the good old sound of the case cracking," St. John's University junior Reese Dominique Dalisay said. "Plus, it's aesthetically pleasing to look at the whole collection." With stunning disc art, cover case art on top of other enviable bonus goodies that come with the complete 23-movie collection,
Funkos

Funko Pop! Avengers Endgame: I Am Iron Man Glow-in-The-Dark Deluxe Vinyl Figure, Multicolored
The Pop Vinyl figurines, more commonly known as Funko Pops, are modern takes on bobbleheads and other character specific collectables that send collectors into a craze. "Pops are really versatile and there's a wide range of characters that you could find," St. John's University senior NancyRose Willis. With over 400 Marvel Funko Pops to collect, you're sure to find the perfect Funko (or four) for your Marvel fan to add to their ever-growing collection.
Legos
LEGO Marvel Avengers: Avengers Ultimate Quinjet 76126 Building Kit (838 Pieces)
Meant for everyone ages 8 to 80, Legos find themselves on the Christmas lists of multiple Marvel fans. Depending on the set you choose, your loved one could recreate the fight scene between Team Cap and Team Iron Man in Civil War, or recreate Tony's infamous "I am Iron Man" scene before he uses the Infinity Gauntlet to snap Thanos. Regardless of which Lego set you pick, fans will enjoy building the scenes, appreciate the adorable little figures and details that are unique to the specific set.
Coffee Mugs

Silver Buffalo Marvel Comics Grid Jumbo, 20-ounces Ceramic Mug, Multicolor
Does your Marvel fan also enjoy a good cup of Joe? Gifting a Marvel theme mug to a friend or family member will certainly be useful and spark instant joy within the user. "As a Marvel and coffee lover, the best Christmas gift for someone like me would be a cute mug," College of Staten Island junior Angelina Salvador said. "I've seen so many with comic characters on it or shaped as a character." Along with the amazing designs and styles to choose from, putting other Marvel goodies inside as a surprise will surely bring a smile to the receiver's face.
Costume Replicas

Marvel Legends Series Infinity Gauntlet Articulated Electronic Fist
When asked what they would really like to find under the tree on Christmas morning, many fans claimed that they would love to have costume replicas of their favorite characters. From Captain America's vibranium shield to Thor's hammer, gifting that special Marvel fan in your life a replica of their favorite character will surely spark some holiday joy. "The Infinity Gauntlet is an awesome weapon in the MCU, and Iron Man is my favorite character," College of Staten Island senior Gerald Cain said. "Combining both of them is nothing short of awesome." Being able to snap 2020 out of existence with their very own Infinity Gauntlet sounds like a gift Marvel fans can share with everybody.
Video Games
Marvel's Spider-Man: Miles Morales Ultimate Launch Edition – PlayStation 5
Does your Marvel fan also spend countless hours playing video games when they're not rewatching Marvel movies to prove their theories correct? With recent releases such as Marvel's Avengers and Marvel's Spider-Man: Miles Morales, your Marvel loving gamer will find hours playing as their favorite characters. Playing these games will give your loved ones a safe haven from the lack of content to theorize about this year.
The Marvel Encyclopedia
This isn't your boring worn-out encyclopedia stored on the bottom shelf; The Marvel Encyclopedia contains information on Marvel's most notorious heroes and villains, along with important history within the multiple universes. "You find out the history and important information for more than 1,200 Marvel characters," St. John's University graduate Matthew Johansen said. "The new edition also includes an introduction by Stan Lee." Whether they're a new fan or a die-hard fan, the Marvel Encyclopedia will undoubtedly take away the breath of any Marvel nerd.
Superhero Appropriate Apparel
Gurbanton Spiderman Into The Spider Verse Hoodie Miles Morales Costume Sweatshirt for Halloween Holiday (L)
Suit up! With so many clothing options to choose from, you can find the perfect outfit for that special hero (or villain) in your life. With multiple stores to choose from such as Hot Topic, BoxLunch and the Disney Store among the notable few options, each provides shoppers with distinctly unique and exclusive items to choose from. The perfect suit for your defender of the universe is out there, whether it's a pair of comfy pajamas or a totally awesome jacket!
Marvel Accessories
Loungefly Captain Marvel Faux Leather Crossbody Bag Standard
From wallets to keychains and backpacks, there are plenty of accessories to buy for your superhero nerd that expresses them perfectly. With brands like Coach collaborating with Marvel, there are multiple different options and styles to pick from. Brands like Loungefly prove a cheaper but no less stylish option – their pieces can be found in stores such as Hot Topic, BoxLunch and the Disney Store as well. With simple character designs to startlingly colorful caricatures of beloved Marvel characters, fans will love showing off their accessories!