From sugary cookies to rich cakes, Los Angeles provides a vibrant dessert culture—and Loyola Marymount University sits right in the heart of it. Quite literally. The city brimming with all kinds of food provides its fair share of delicious and flavorful desserts. From vanilla ice cream to red velvet cakes, the city sells everything and anything you need to bring on the sugar rush. Best of all, these sweet treats are quite close to campus. At the end of a crazy study session, these places will surely hit your sweet spot.
Read on for the best dessert places to grab a sweet treat near LMU!
10. Ginger's Divine Ice Cream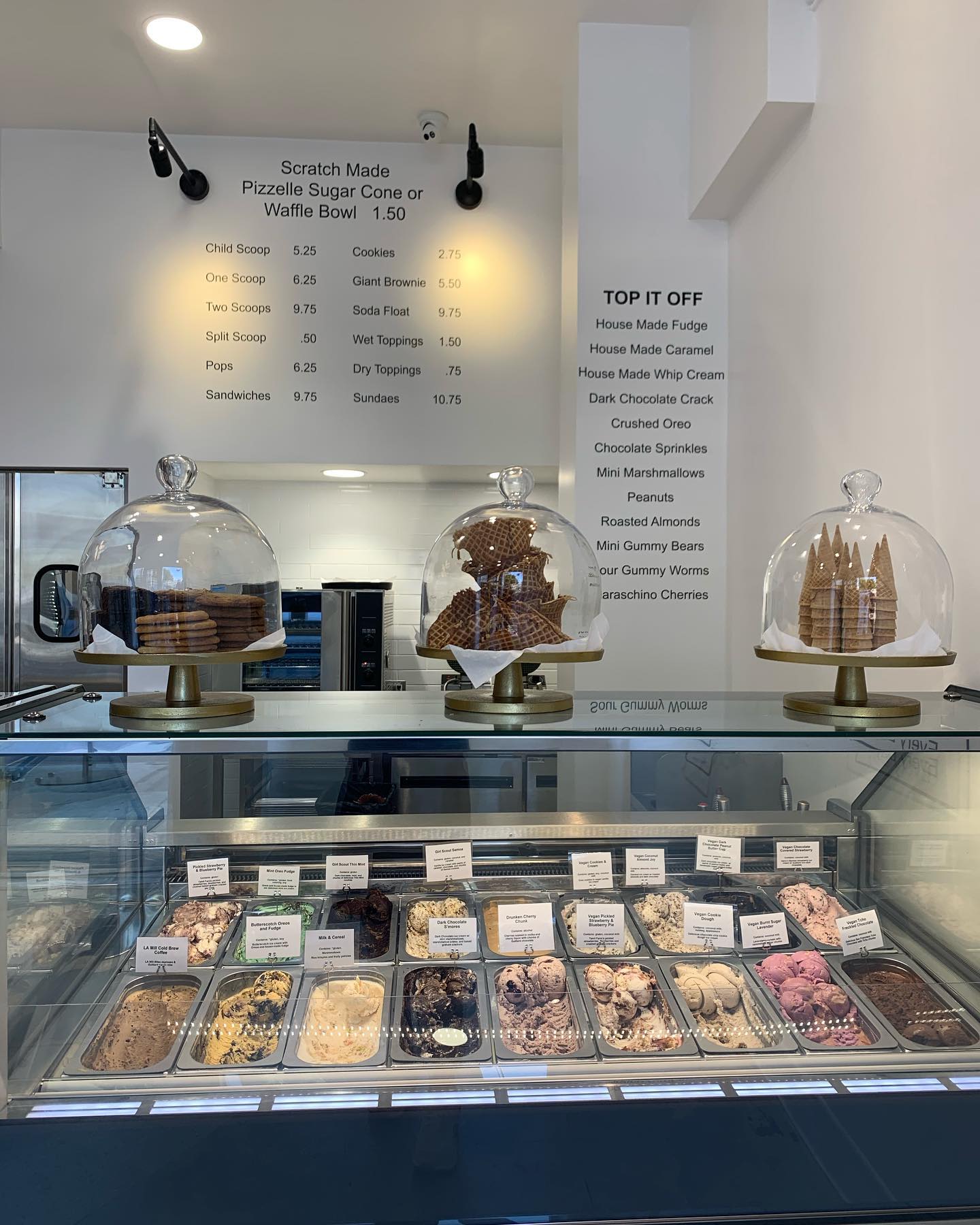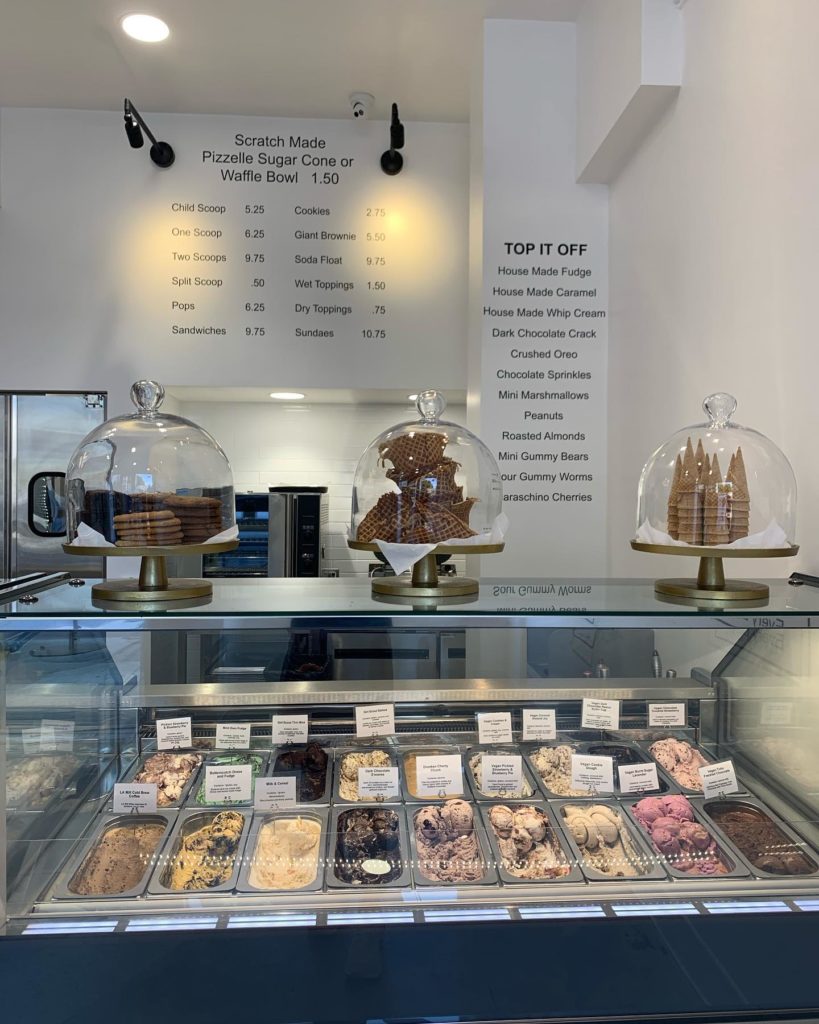 Located in Culver City, Ginger's Divine Ice Cream takes two subjects and meshes them together: dessert and art. While the store offers regular ice cream flavors—alongside seasonal and vegan options—they also sell artistic Divine Pops. Essentially, two ice cream flavors blend together to make a unique taste, then mold into the shape of a regular ice cream pop. Each one's designed in an intricate and unique way, making the Divine Pops look like art.
"Most of the time when I go, it is on a random weeknight around 8 or 9 pm with friends as an escape from homework or studying," Loyola Marymount University junior Isabella McGinness said. "There's nothing like some ice cream and good company with friends after a long day of school work."
And true to form, it tastes very delicious. In fact, it's practically divine.
9. The Pie Hole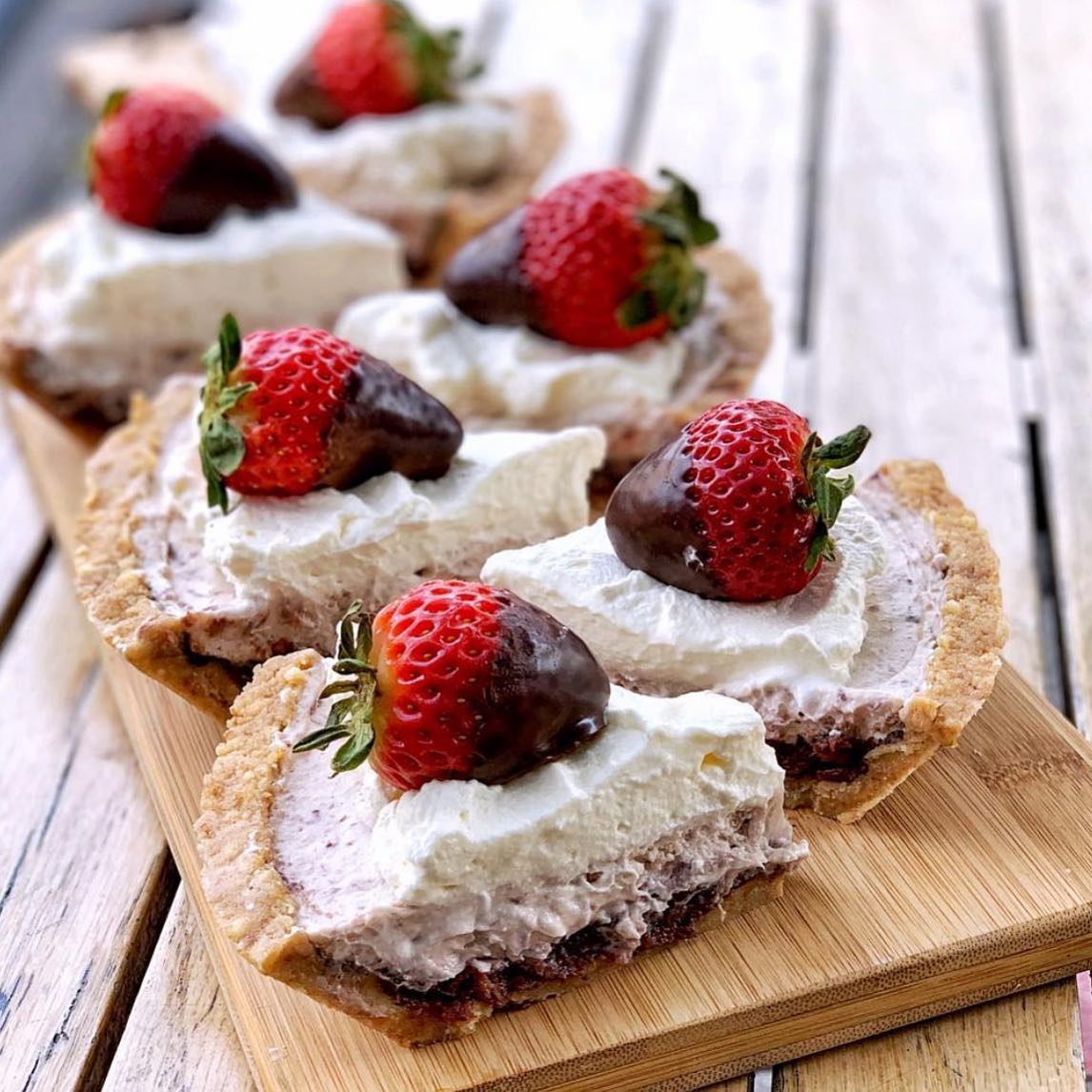 The Pie Hole provides slices of pies, cakes, cookies—you name it. This said, it does mainly specialize in pies, as per their name. They provide fresh and flaky pies, perfect to divide amongst friends on a late-night outing. However, the Pie Hole also provides smaller pies, like the "pint pies," which condenses pies into a small jar. In any case, it's the perfect midnight snack.
"I've been meaning to get out to the Pie Hole," Loyola Marymount University junior Tobias Egold said. "I saw it in a YouTube video a year ago and it has not left my mind since."
As it's a franchise, many Pie Hole stores crop up around Southern California, but the one closest to campus is in Santa Monica; it's only 10 minutes away. You'll find your pie there, warm and appetizing—no matter which way you slice it.
8. Sinners & Saints Desserts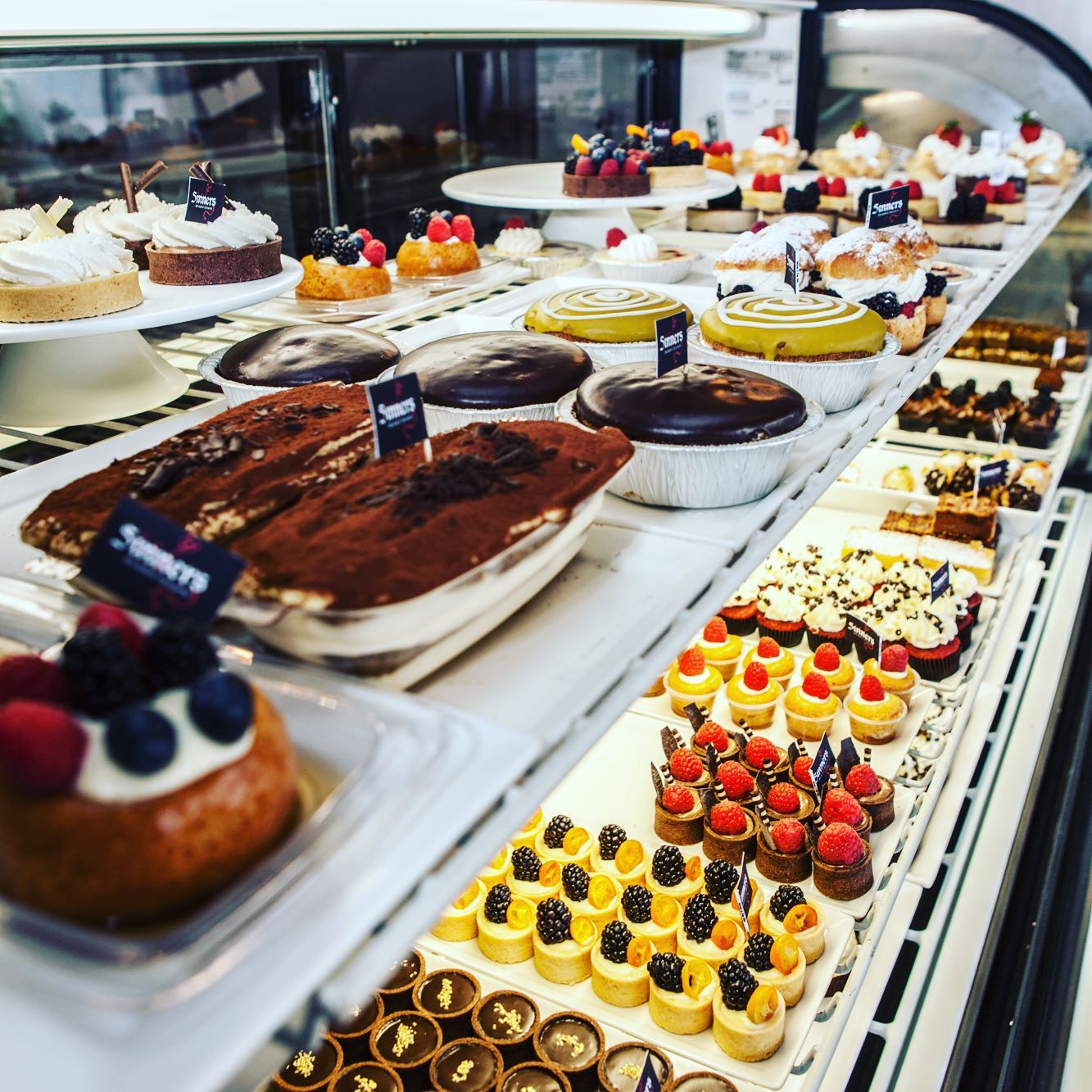 If you crave some devilishly delicious cakes, then head on over to Sinners & Saints. This bakery offers deep, rich cakes and sweet, gluten-free cakes. From creamy red velvet cake to sprinkled, gluten-free vanilla cinnamon cake, Sinners & Saints will surely satisfy whatever kind of sweetness you desire.
While whole cakes lean towards the more expensive side, Sinners & Saints also sells cheaper cupcakes and "mini" treats, which range from dark chocolate Oreo brownies to gluten-free vanilla macarons. Don't worry, though. Even if you choose a sinner's cake, all of their desserts taste absolutely heavenly.
7. Turn Dough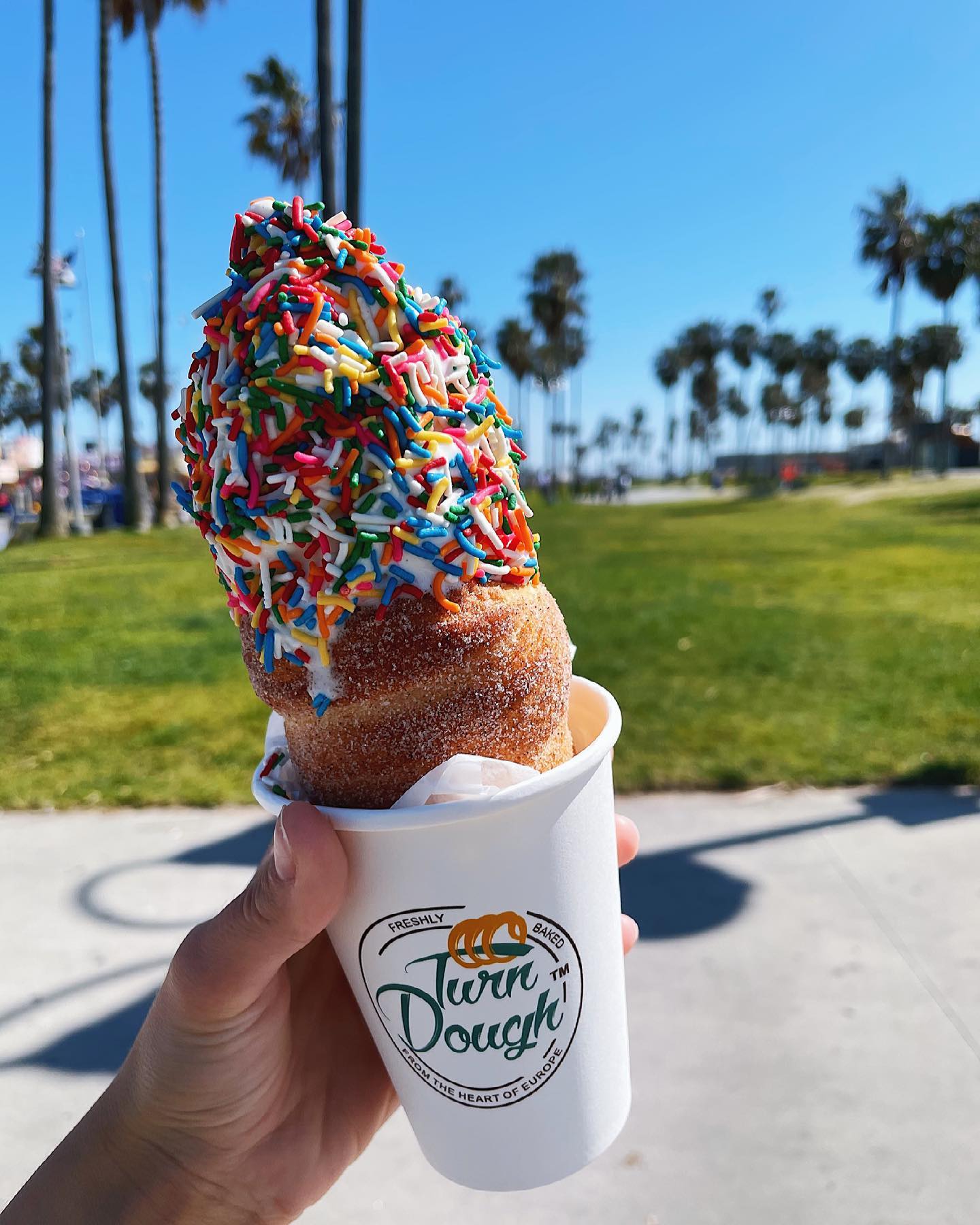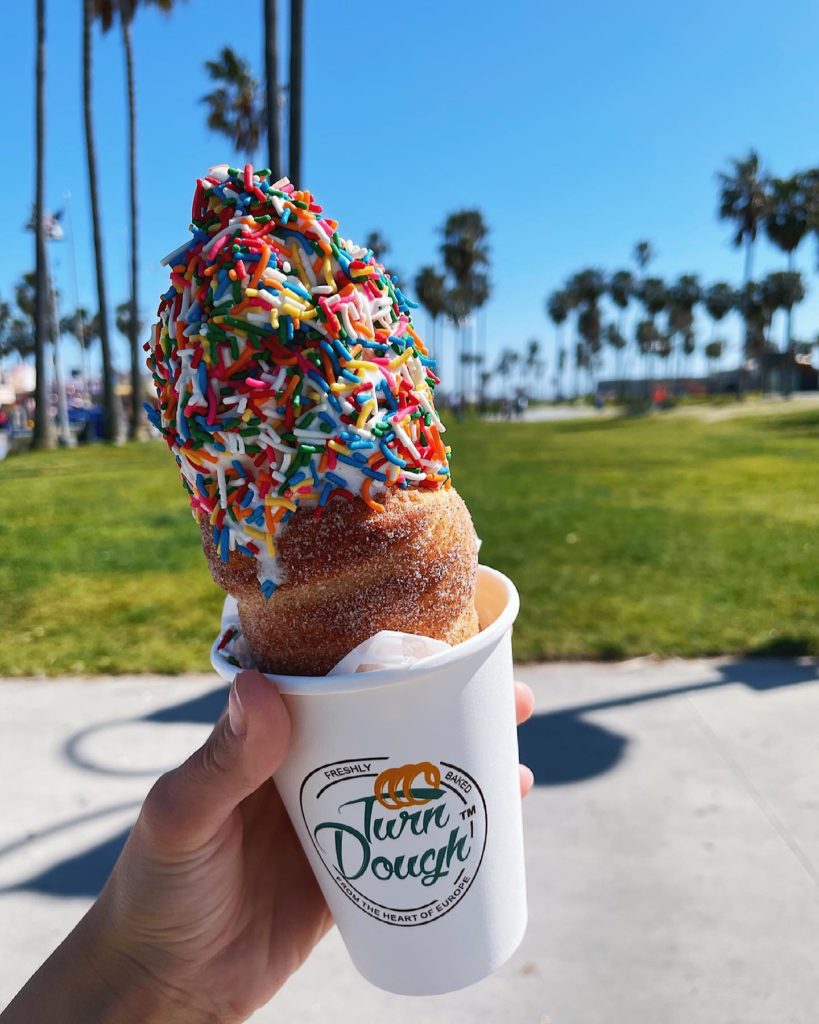 Turn Dough takes its name from chimney cakes, a sweet treat originating from Europe. It's a rather simple yet flavorful treat, comprised of two main ingredients: a caramelized cone mixed with cinnamon and sugar, then filled with soft serve ice cream. This recipe has existed for several years now, but remained in Europe for some time.
When Turn Dough opened its doors in Venice Beach, it brought over these sugary chimney cakes. Now, it's a must-have treat. Turn Dough also offers many wonderful flavors, including gummies and s'mores. It's also only 10 minutes away from campus, making the trip short and sweet. Don't worry—it's not very hard to find it. Unlike the dough, you won't get turned around trying to find it.
6. B Sweet Dessert Bar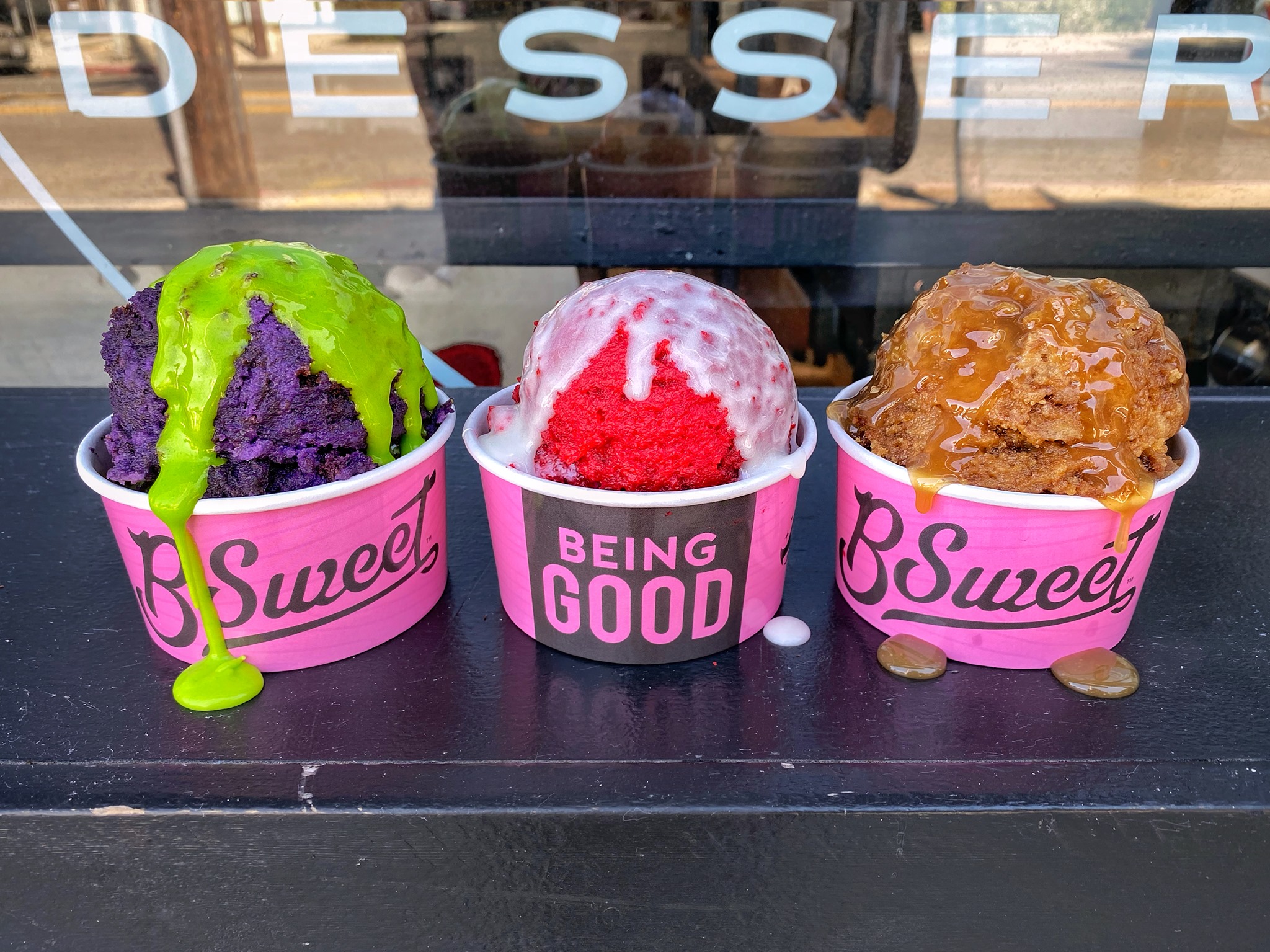 In Sawtelle, B Sweet Dessert Bar dedicates itself to living up to its name. They serve a wide variety of brownies and cakes, with truly iconic names such as the Sluttiest Brownie and the Fruity Pebbles Tres Leches cake. Each week, the menu changes; this is because, according to their website, "We love serving classic desserts, but since we have so many favorites, Chef Barb adjusts the menu every week."
However, one classic dessert always remains available: the hot bread pudding. This particular dessert boasts over 50 flavors, such as banana chocolate or glazed donut. If you're short on time, then that's no problem; simply take it home and reheat it. It'll still taste just as good. Currently, the restaurant only operates during the weekends, but it's only about 10 minutes away from campus. After a long week of classes, who wouldn't want to kick their feet up and enjoy some nice bread pudding?
5. Manhattan Beach Creamery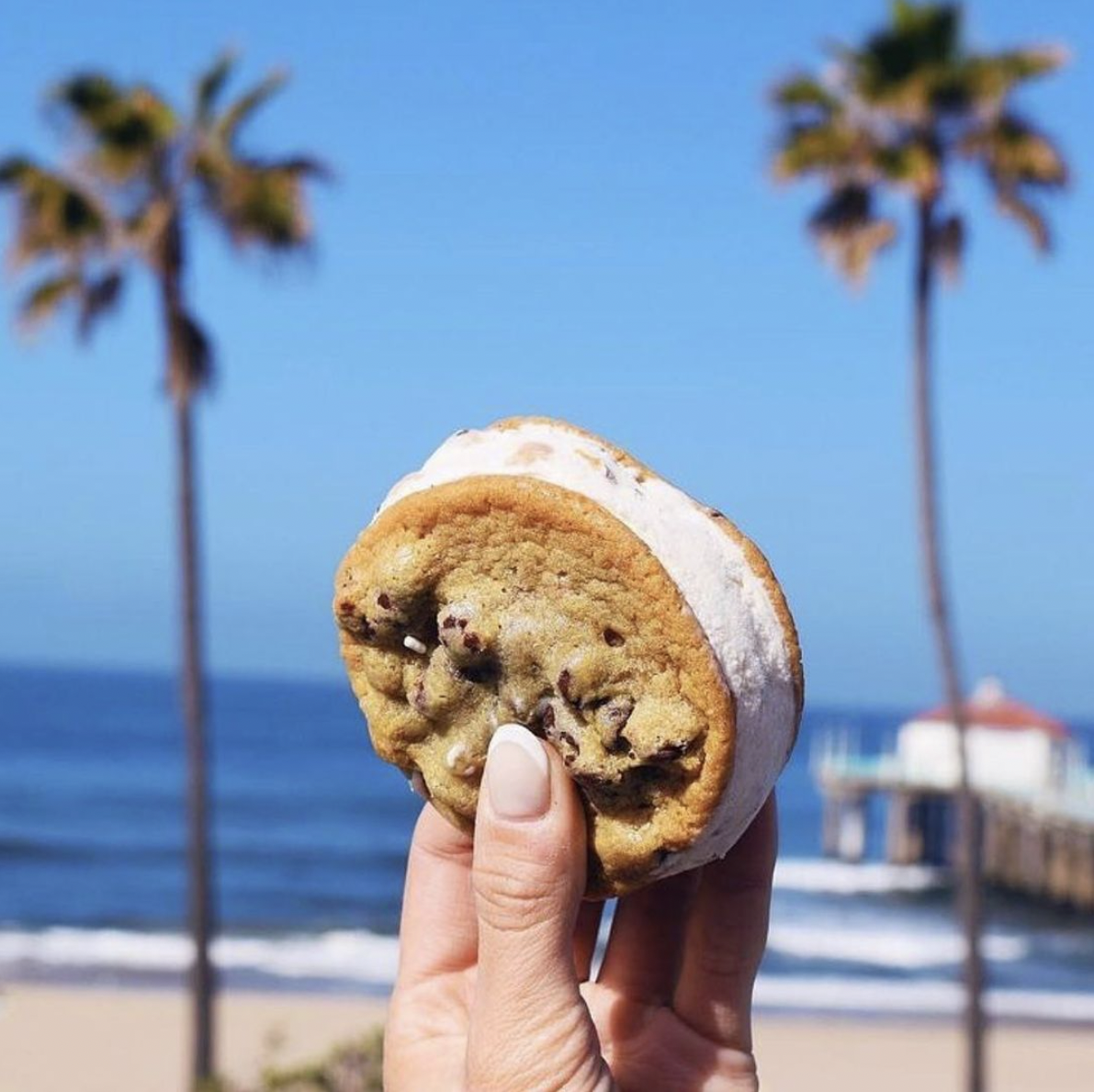 Positioned right near the Manhattan Beach Pier, Manhattan Beach Creamery provides several different ways to eat your ice cream. While you could choose the chocolate waffle cone, or perhaps place it in a cup, a unique option also exists—put it in a cream'wich.
"We started by introducing baked goods, pastries, and other sweet treats from our bakery in Los Alamitos, Katella Bakery. In 2012 we created our signature item—the Cream'wich," managing partner Jessica Jordan said. "It's a combination of cookies from our family bakery, Katella Bakery, and ice cream from the Creamery. Cream'wich can now be found in over 4000 stores and 28 states. The Creamery offers make-your-own-Cream'wiches with five different cookies and 28 flavors of ice cream to choose from. They are amazing!"
The recipe is simple: two homemade cookies squish against the ice cream, thus creating a round and delicious ice cream sandwich. The oceanside view really enhances its sweetness, too. So on a free, sunny afternoon, head down to Manhattan Beach Creamery and enjoy your cream'wich under the sun. After all, no better sandwich exists than an ice cream one.
4. Wanderlust Creamery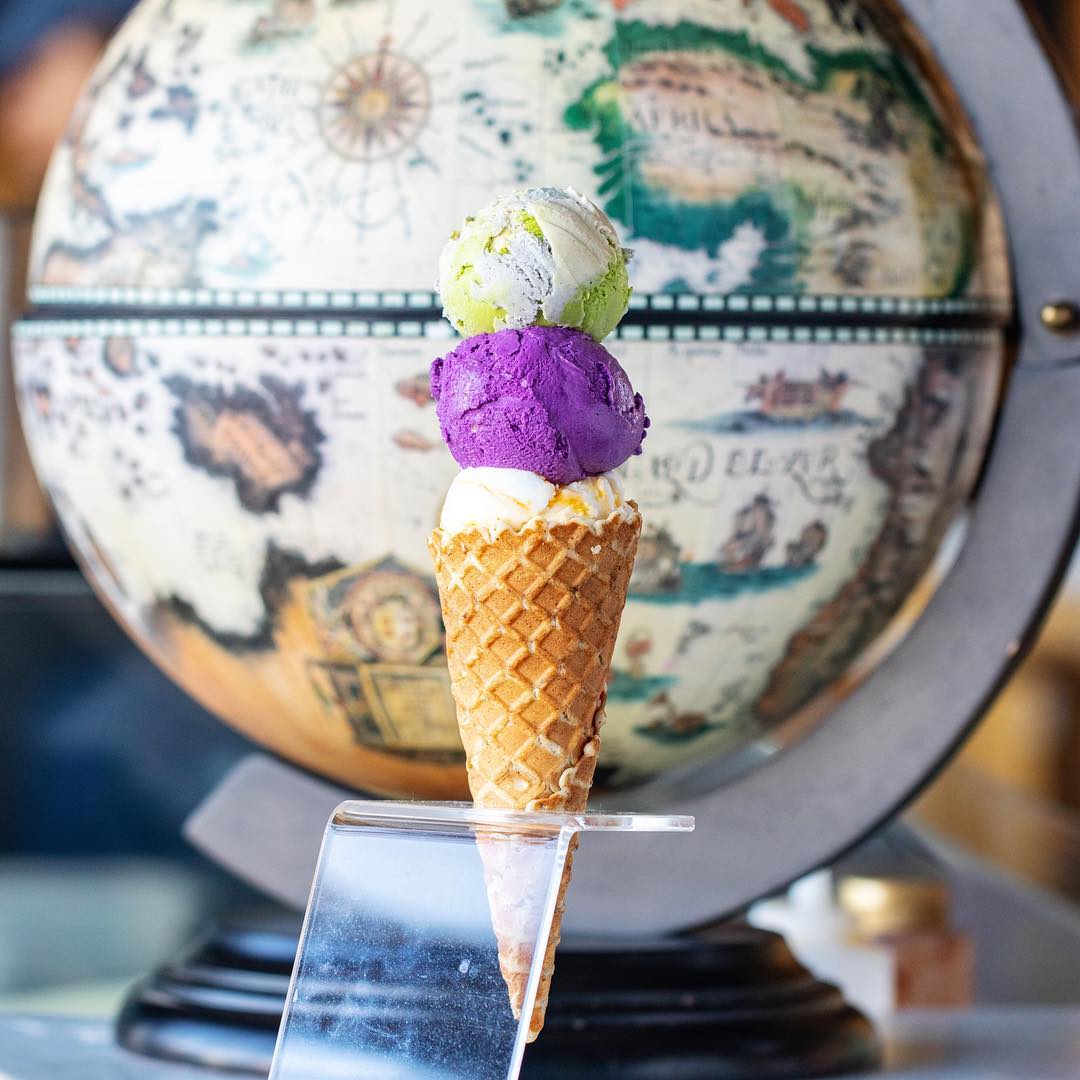 There's no need to travel far for ice cream when the Wanderlust Creamery resides a mere 10 minutes away from campus in Venice Beach. The store's entire theme revolves around travelling—even in the ice cream itself. Try flavors based off desserts in Japan or Thailand, or even indulge in a treat that originated in England.
"I cannot get enough of their unique flavors that really take me back home," Egold said. "They managed to cook up some pretty great tasting takes on traditional dishes I would not have expected."
While some flavors vary by the season, Wanderlust Creamery also provides "signature" flavors, available all-year round. Pick a spot on the map and dig right in. The ice cream's delectable flavor will make it feel like you're halfway across the world.
3. Project M Matcha Café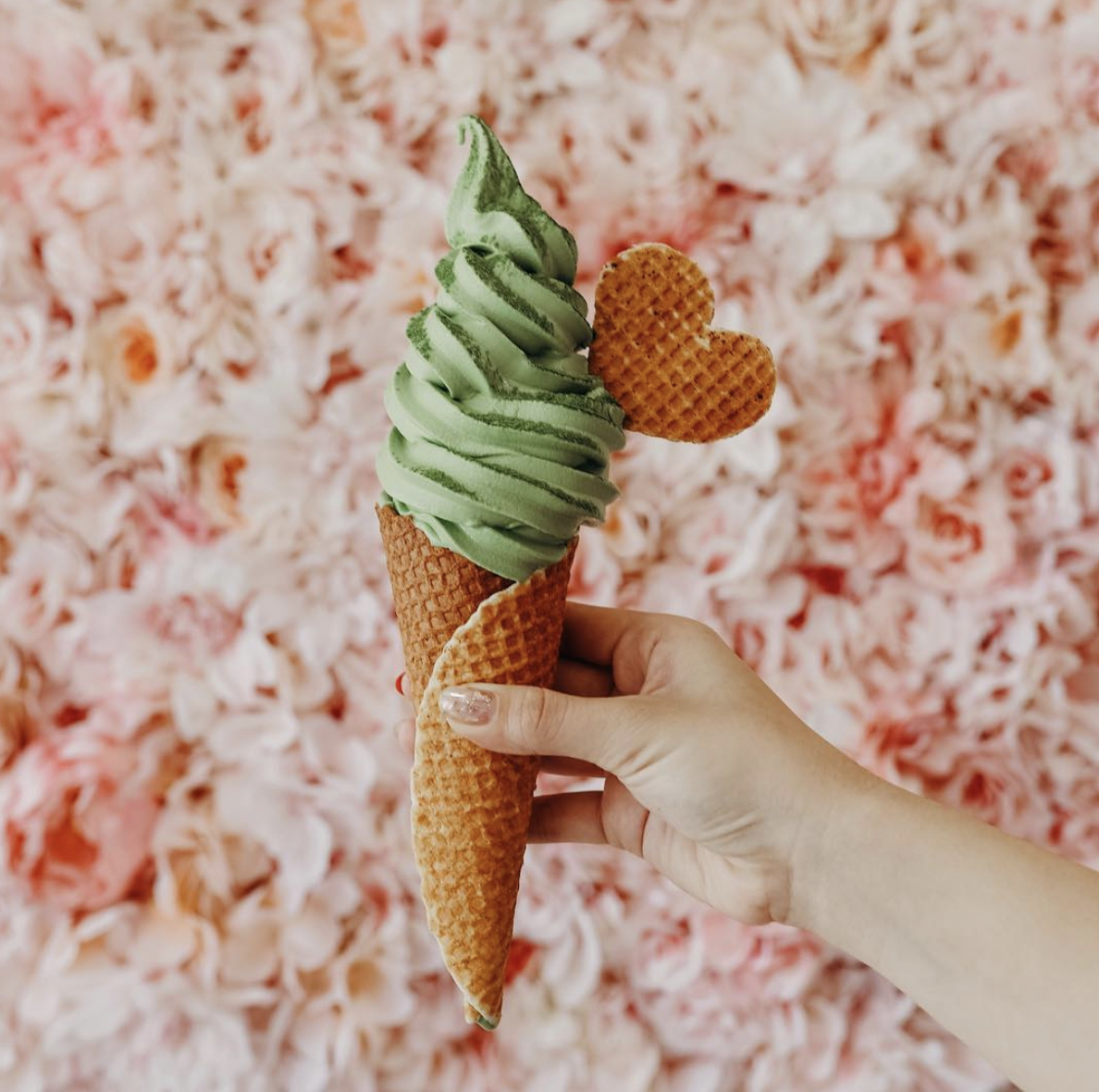 As the name suggests, Project M Matcha Café specializes greatly in matcha-themed desserts. Primarily, it provides flavorful matcha ice cream, served in a cup or in a deep waffle float. It also provides other ice cream flavors, such as strawberry and brown rice. The café also sells matcha-flavored drinks, ranging from lattes to teas.
"My favorite dessert place in Los Angeles at the moment is Project M," Loyola Marymount University freshman Aian Dataling said. "It has really good matcha ice cream. [But] I live far from Sawtelle, so I rarely get to go."
Luckily, Project M Matcha Cafe is only 10 minutes away from Loyola Marymount University's campus, making the trip short and sweet.
2. N'ice Cream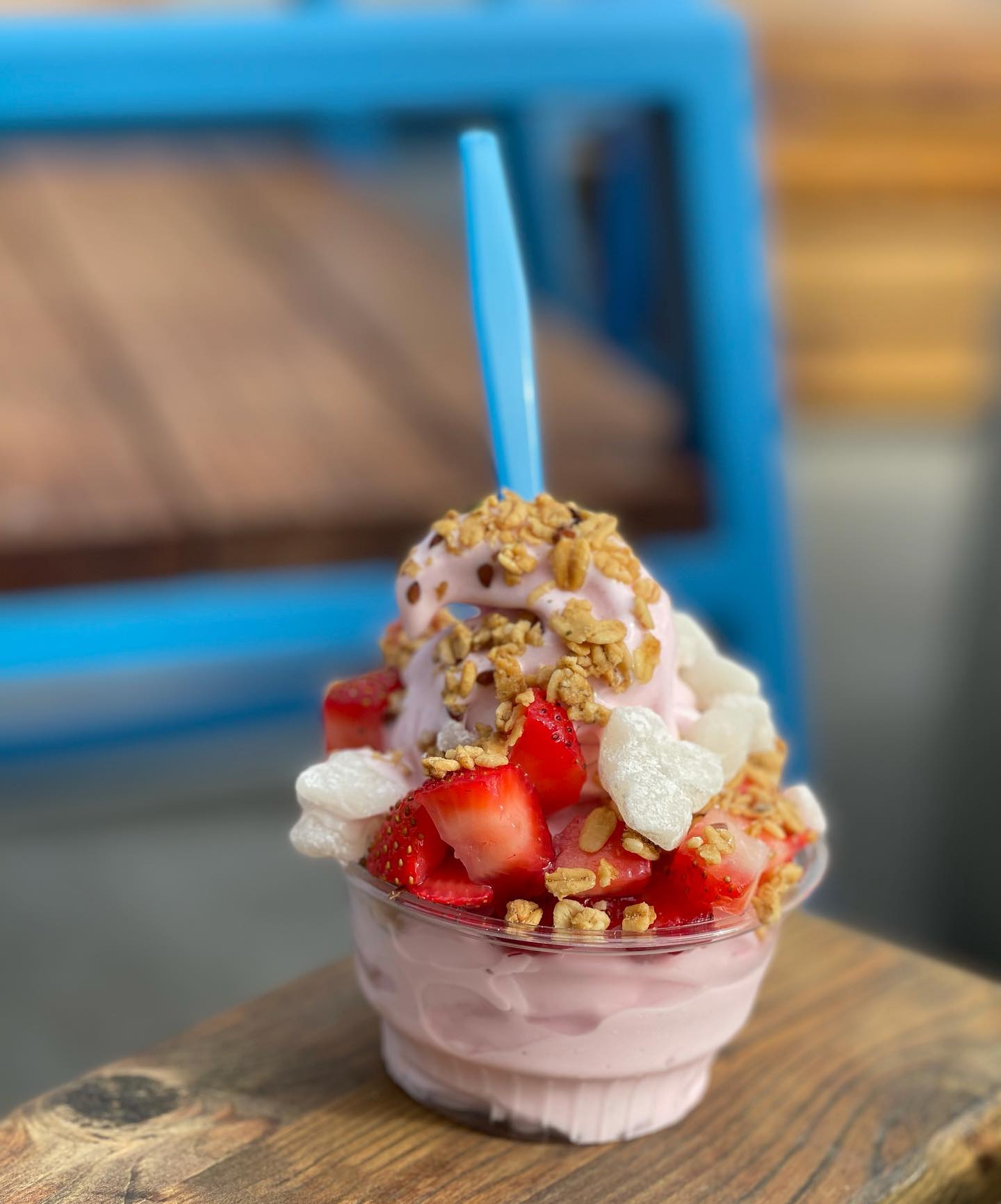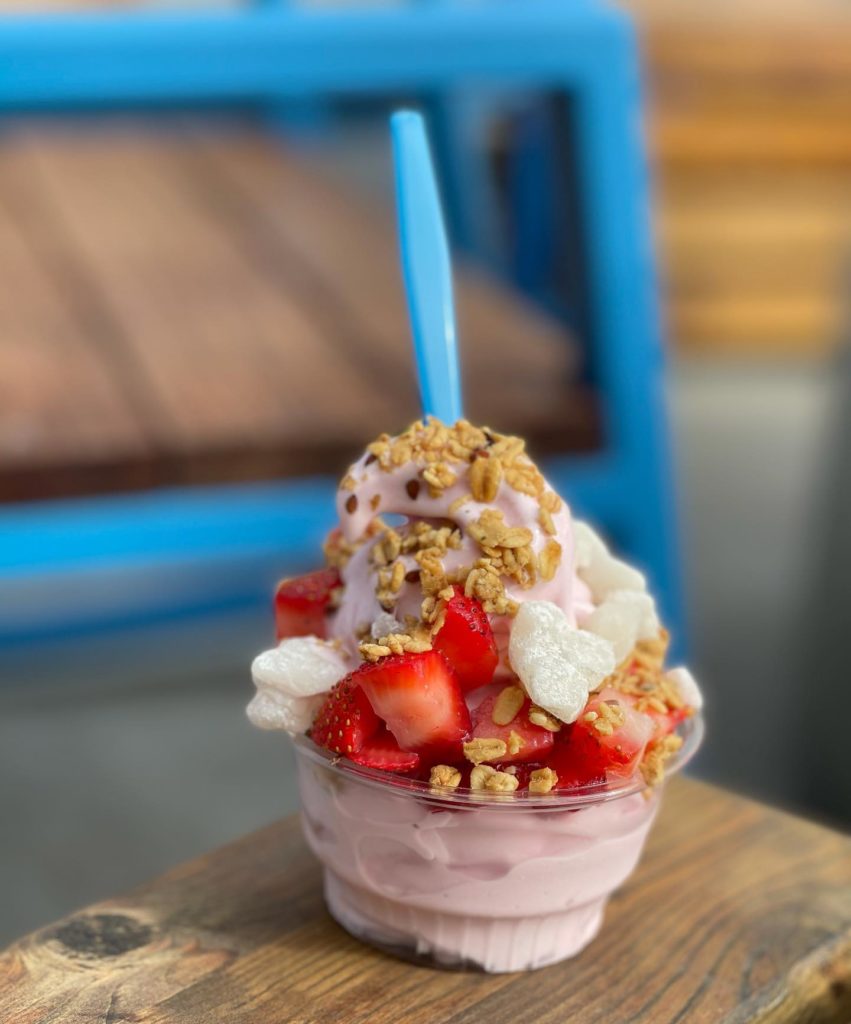 If you ever want a nice, simple treat, N'ice Cream will fulfill that need. Nestled in Playa Vista, this ice cream shop offers a wide variety of ice cream and frozen yogurt. The flavors change every week, so it's interesting to come back and try out the newest addition to their menu. They also offer vegan and dairy-free products, leaving the choices practically limitless.
"N'ice Cream was purchased by us in 2017, we decided to take a concept that wasn't working and change the design," business owner Omid Torkain said. "[We made] it into a family friendly place during the day and then turn it more into a hangout spot at night where you would go after a movie or a dinner date. The concept behind the rebrand was the best tasting ice cream, yogurt, gelato without it being too sweet. We aspire to have something for everyone."
Best of all, LMU's shuttle bus stops at Playa Vista, making it easy to get a ride to N'ice Cream. As it's only five minutes away from campus, this ice cream shop is the perfect place to grab a snack—before or after class.
1. Somisomi Soft Serve & Taiyaki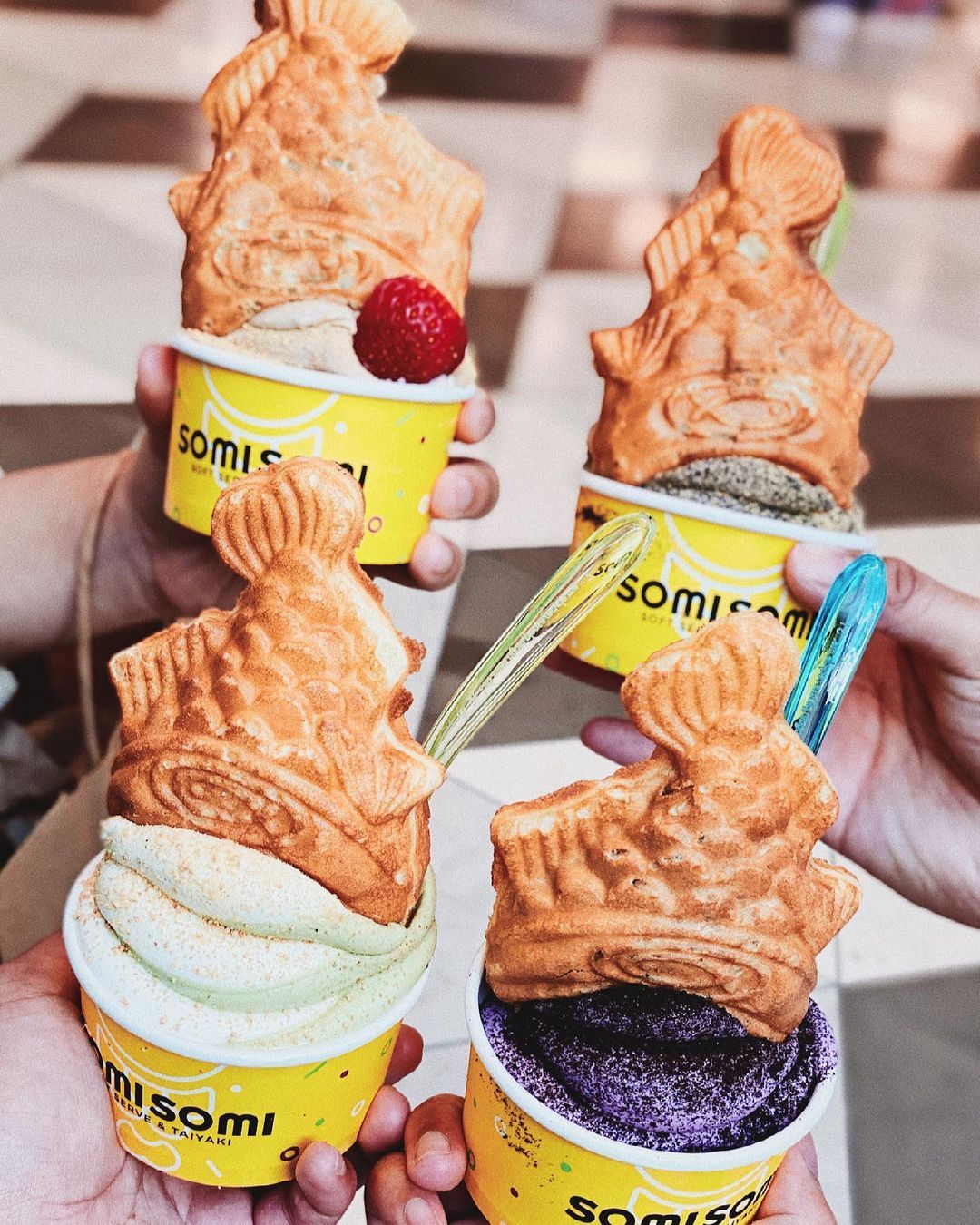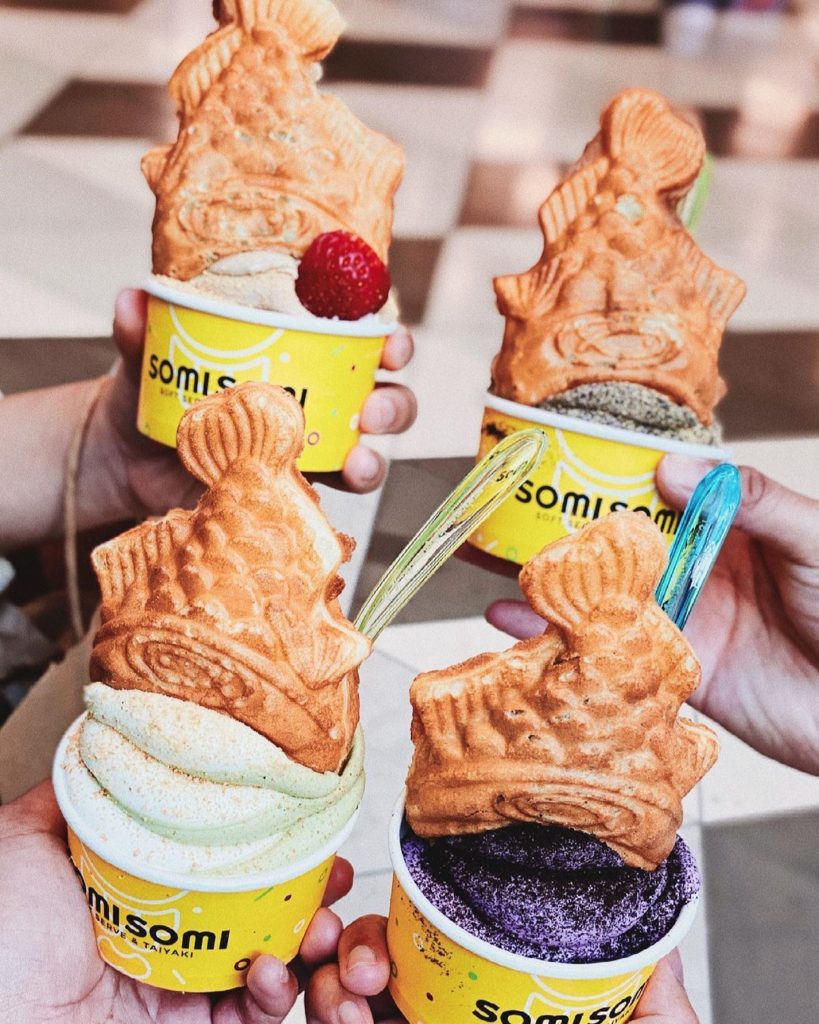 As Somisomi resides in Koreatown, it's considerably far from campus, but the 20-minute drive is worth it. As this is the original store, you really feel its authenticity and originality. Somisomi sells soft serve ice cream, but its main treat is its fish-shaped waffles. According to its own website, Somisomi "serves a special Korean dessert known as "Ah-Boong," a fish-shaped waffle cone filled with your choice of filling and soft serve."
The ice cream shop provides a wide variety of flavors, such as milk and sesame, which go wonderfully well with iconic fish cone. The store also offers taiyaki, a fish-shaped waffle with filling of your choice. The choices are hard, but not to worry, all of it is quite sweet. There are plenty of fish in this kind of sea, after all.