The City of Brotherly Love is the ultimate playground for college students. Rich American history, lively nightlife and delicious Philly cheesesteaks, to name a few, convince thousands of applicants every year to apply to colleges in Philadelphia. Philly has an Ivy League, University of Pennsylvania. For the religious, Philly has a Roman Catholic college, Chestnut Hill College. The Eagles claimed Super Bowl victory, now college students will find out which college in Philadelphia swoops in at the #1 spot. Grab your Phillies jersey, a cup of Italian ice and your love for American history. College Magazine ranked the best colleges in Philadelphia based on academics, student life, notable alumni and of course, city hotspots near campus.
Check out the top 10 colleges in Philadelphia.
10. Chestnut Hill College
You'll feel like a wizard at Chesnut Hill College. This small, hidden gem came straight out of Harry Potter. Seriously, the college and surrounding area host the Brotherly Love Quidditch Tournament every year. Tons of students attend and the school decks out the campus in HP décor. Besides the magical aura, Chestnut Hill takes pride in their phenomenal education program. This program helps future teachers gain knowledge and aspects for their career paths, which definitely sets CHC apart from other schools. Don't worry though, Chestnut Hill offers over 35 majors to choose from, like psychology and biology. Plus, the campus security makes you feel very safe with one of the best safety departments in the state, including a website just for safety and helpful security 24/7. Besides the security, students enjoy the close-knit community. "Chestnut Hill is awesome … everyone is friends because of the smaller size. No Greek life means no one is 'better' than one another," Chestnut Hill College freshman Mel Santiago said. Students also hang out off-campus and take trains downtown to go to eat at all various restaurants and dance the night away at the Trilogy nightclub.
9. Pennsylvania Academy of Fine Arts
Lover of all things art and culture? Study at the oldest art school in the United States. Realistic painter Thomas Eakins, filmmaker and painter David Lynch and impressionist Mary Cassatt studied hereso many years go. The small class sizes let students develop close relationships with the professors that bless art students with a traditional art education. PAFA, known in the art world for sculpture, offers programs for locals as well. PAFA sits right on the streets of Center City, which makes it a perfect location to explore the city's historical buildings and landmarks, like the Liberty Bell or Rocky Steps. Plus, students get access to some awesome pieces of artwork on display, Portrait of Dr. Samuel D. Gross, like in nearby museums or galleries to get their creative juices flowing. Talk about an art student's dream. PAFA and art really go together—almost too well. You can take extra classes in art in addition to your regular schedule, if you want (of course you want!). They offer classes for the general public too. You can also walk through Old City to visit the National Constitutional Center or find cute spots for photoshoots, or see Chinatown, where you can get delicious soup dumplings at Dim Sum Garden.
8. Thomas Jefferson University and Philadelphia University
Two great schools wrapped in one sounds like a total package. Thomas Jefferson and Philadelphia University have you covered. The two separate campuses offer students the best of both worlds. Their merge helps students reimagine education and launch themselves into their passions in a bold way. First, Thomas Jefferson owns the ultimate location for city lovers. Right in the Center City, the new and modern architecture create the perfect space for science majors. The school provides very science-oriented programs and many of its students study STEM. TJU even provides its own hospital to med, bio or nursing students. Philadelphia University, known as PhilU to their students, offers a more of a suburban feel with lots of trees to the center city of Philadelphia. Offering over 60 majors, students have a lot to choose from when attending this school. If you like careers in Design, PhilU notably offers awesome programs for those with a knack for colors. The program utilizes the awesome architecture of the city and the dozens of art museums in the city. Fashion and Apparel Merchandising, going along with design, is the top major at the school.
7. Saint Joseph's University
Northeastern kids head to Saint Joseph's University for fantastic academics and big city fun. The Haub School of Business offers great programs for undergraduate risk management and insurance studies, accountant and marketing. The food marketing program at SJU will make you hungry for more. Don't fret if you don't like that career path—SJU offers 54 majors in almost everything from Spanish to biology. When students don't study, they stay active in the community. "Everyone is encouraged to give back to the community in any way possible. I think the saying 'The Hawk Will Never Die' embodies what Saint Joe's stands forbecause everyone who has ever been a Hawk will always carry what SJU has taught them throughout the rest of their lives," Saint Joseph's University freshman Megan Divittorio said. With successful D1 sports and club sports, SJU students hold a lot of self-pride. You'll always see students walking around with SJU gear on—the school spirit will truly never die here.
Drexel and Philadelphia go together like peas in a pod. Dragons looking to make groundbreaking discoveries take part in research; the university receives over $37.8 billion annually in federal funding in support of academic research. That major funding goes to cancer and psychology research and more. This private university prides itself in challenging students while giving good opportunities to students through co-ops for almost every major. "You really can't beat the location, it's an awesome place to be a young adult. Drexel has given me so many unique opportunities to further my education, as well as a sorority that I love and friends I'll have for a lifetime," Drexel University sophomore Lyla Damiano said. Drexel students work on trimesters, not semesters. So you take more classes in a year than other students. Naturally, Drexel students take the opportunity to go explore museums like the Philadelphia Museum of Art or check out the nightlife Center City, like tons of bars, late night eateries and even arcades.
Want a campus as diverse as the city of Philadelphia itself? Temple University, also nicknamed the "diversity university" always turns people's heads. Faculty and students celebrate this diversity at Owl Around the World, a celebration of cultures. From lounging at Beury Beach on sunny days to exploring its famed Temple Fest during Welcome Week, students can make connections on the daily. Students even connect with the ghosts of alumni past in the student org Hoot Paranormal. The school offers various nationally-known programs like their business, nursing and journalism majors. If those majors don't feast your fancy, this university offers 140 majors and hundreds of other minors, programs and certificates. Temple, known for their awesome academics at a pretty nice price (their out-of-state tuition acts as a great gift for parents—seriously!), the fun-factor happens at a full 10. "Temple has a really fun environment going on. They've always got clubs out doing and giving away random things like coffee or donuts. Classes are always going be hard no matter where you go but at Temple, the professors are happy to help if you need it," Temple University freshman Tori Estrada said.
4. Haverford College
Selectivity should be Haverford College's middle name. Making it into this university will not be easy for graduating high school seniors. The school's acceptance rate, 21 percent, fills this school with hardworking and dedicated students. If you love science and want to pursue biology or see yourself as a potential doctor, Haverford College's programs will give you a heads up for medical school. With an eight-to-one student-teacher ratio, students can contact their professors and do well in their classes. This intimacy in the college experience also translates to the social life here. Everyone is very close and hangs out around campus at the food places, like The Coop, or student lounges in the dorms. The community aspect of Haverford College embeds itself in what students call the Haverbubble. This bubble leaves students in a trance with the impressive reputation of the school and the beauty that goes along with the colonial beauty of the campus.
Everyone loves gems, especially hidden ones. Swarthmore is a gem and so much more. This Hidden Ivy, just 11 miles southwest of the City of Brotherly Love, gives students the suburban yet urban feel in the rigorous small school setting. Its reputation of one of the most "intensely intellectual" colleges in America. The college actually prides being known for being a top producer in the nation of students with Ph.Ds. at a rate of 22 percent of all Ph.D. students, especially in engineering. As for the social aspect, make sure to check out the ultimate Frisbee team. If you don't want to do ultimate Frisbee, the 80+ clubs will get you involved and keep you busy. And the campus? A huge arboretum to call home… over 4,000 kinds of plants surrounding its buildings and hangout spots.
2. Villanova University
Got your head in the college game? Become a wildcat. Villanova has more than a #winning men's basketball team. Their nursing and business schools top the country and the awesome average salary 10 years out of college at a whopping $85,000. "[Villanova] offers a fantastic education wrapped in values that stem from the Augustinian/Catholic community that the university offers," Villanova University freshman Will Riva said. The old architecture and white overlay makes the campus picture perfect. The cathedral acts as a campus landmark as well as the Oreo statue, a statue shaped like an Oreo in the middle of campus. Right outside of the university, you experience a college-town with cute restaurants and shops, like Nova Mediterranean and its awesome gyros. Then, only 45 minutes away, the heart of Philadelphia offers a completely different atmosphere to explore. Most importantly all Wildcats hold onto their Nova roots forever. The Alumni Center helps students connect with alumni to teach them how to prepare for the real world or graduate school. Plus, the school pride really makes the school – even the alumni still go hard at sporting events. If you don't like sports, you can sign up to help out at the Special Olympics or join one of the 160+ clubs, like the Girl Child Network World Wide or VU PRIDE!
Who really knows what UPenn is… oh wait, everyone. One of the most underrated schools in the Ivy League means UPenn will give you your money's worth in terms of education, campus beauty, opportunities and social life. Tons of students join fraternity or sororities, kick back at parties and clubs downtown, or get involved in various clubs, like the Quidditch team. The UPenn students love volunteer clubs and actively participate on campus. And the Wharton School teaches some of the brightest business minds in the U.S. and beyond including alumni Elon Musk and Warren Buffet. As for social lives, these hard-working students let it out with some rad parties and prevalent Greek life. The "work hard, play hard" motto lives strong throughout this campus. The 89 majors offer students a chance to explore the world around them along with the 450+ student run clubs on campus. Plus, the school shares their fair share of weird traditions. During home games for football, its tradition to throw toast on to the field. Here's a toast to dear old Penn.
Top 10 Excellent Colleges in L.A.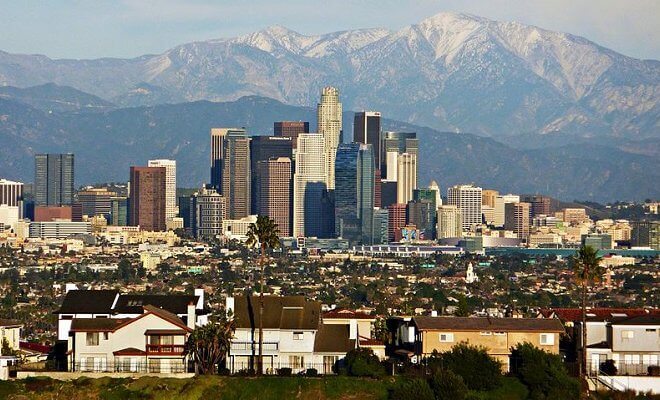 Top 10 Schools in San Francisco and California's Bay Area