Gourmet food, Tempur-Pedic mattresses, breath-taking views, world-class gyms: We're not talking five-star hotels, country clubs or your rich friend's mansion. We're talking colleges. Forget cinderblock tombs for rooms and tasteless turkey sandwiches for lunch. When it comes to college experiences, some colleges take the Gatsby approach, showering students with glamorous amenities, top-notch food, spectacular dorms, a gorgeous campus, state-of-the-art recreational centers and endless opportunities. Sharpay Evans (and her spoiled chihuahua) would undoubtedly dub every luxurious college on our ranking fabulous.
Check out the 10 best, most luxurious college campuses in the country.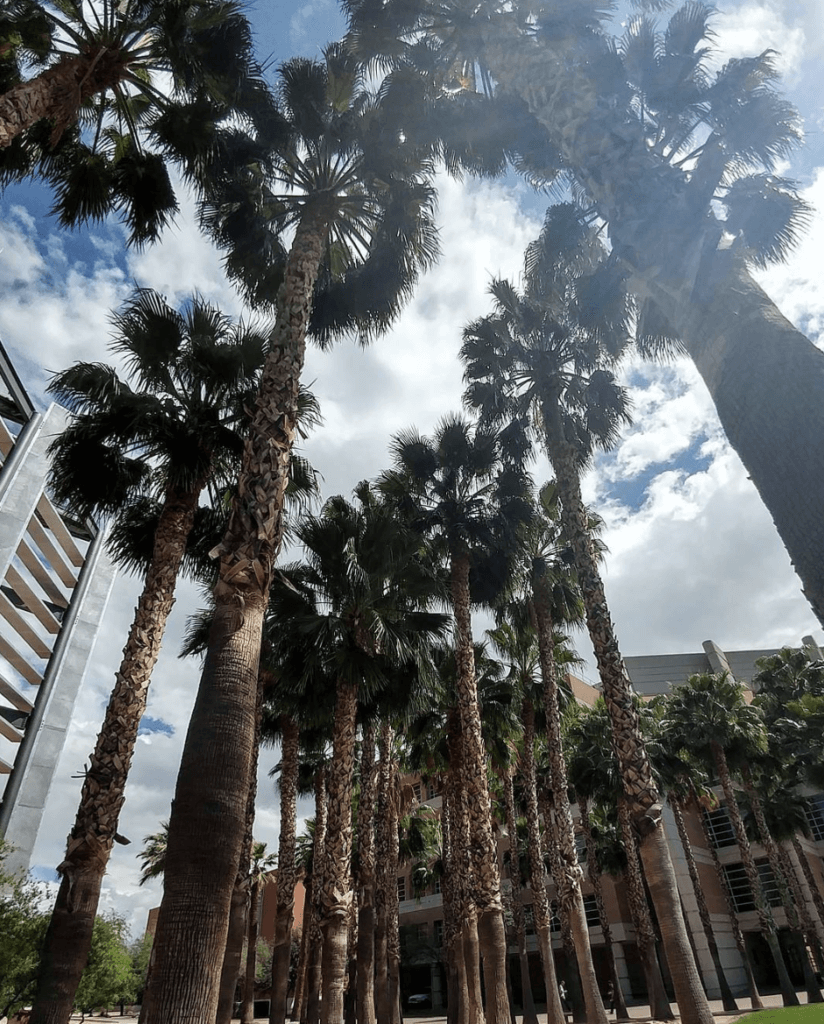 If we know Arizona for its desert landscape, we should certainly acknowledge the University of Arizona as its luxurious oasis. "Being on campus and the surrounding Tucson area feels like living at a resort or country club year round. The well kept and clean university has some of the most high-end facilities in the nation," University of Arizona sophomore Oliver Shackley said. "The food is incredible to say the least." From fast food to on-campus health-oriented restaurants, students choose from a wide range of dining options. Popular among sophomores and upper-classmen, the Hub is an off-campus apartment building with an indoor gym, rooftop infinity pool and hot tub, game rooms and study rooms. "Luna y Sol and Urbane are the other off-campus apartments right next to campus that are very popular and have similar amenities as well," Shackley said. You too should check out (then check into) this hotel-like university.
Foodies flock to the cafeterias, coffee shops, cafes, smoothie joints and fast food restaurants around the UT's campus. "Students never need to travel far no matter the type of food they are in the mood for," UT junior Seth Applebaum said. The college boasts a 500,000 square-foot indoor and 40-acre outdoor recreation facilities to work off those calories. "The most luxurious part about [the rec] is probably the seven or so basketball courts. The university also just built a huge, very nice intramural sports center (all outdoor) 10 minutes from campus," Applebaum said. In the mood to play a less rigorous sport? Grab some friends then hit the on-campus bowling alley. While many students never live on campus, those that do may live in the Calloway House, a college dorm with a rooftop pool. Applebaum added, "A couple of dorms are nicer than others with movie rooms and pool tables in the lobby. Some of the apartments are so nice they have theater or media rooms." With seven museums and 17 libraries on campus, UT has over nine million books, making the school heavenly for the book-obsessed. UT also provides the luxury of safety. "We have 'safe rides' on campus where basically if you're out late and want a safe trip home, two students can pick you up anywhere on campus in a cart… Matthew McConaughey has even been known to make an appearance doing this before," UT sophomore Evan Chang said. Imagine running into McConaughey dazed and confused after a long night partying with friends.
8. Rollins College
If you see a fox statue resting on Mills Lawn, you probably won't spot anyone else. On Fox Day, Rollins' President cancels classes for the day, encouraging students to sunbathe at local beaches or enjoy rides at amusement parks. Only a small crowd gets to enjoy this and the many other Rollins perks, so you can feel like a VIP every other day too. "The best part about our school is how small the student population is; the classes are small," Rollins sophomore Jacob Green said. On every other day of the year, students mill around the gorgeous green lakeside campus. "[Rollins has] tons of state of the art amenities… [It's] in the heart of Winter Park, has large gym, and the property [is] always up-kept," Rollins recent MBA graduate Jean-Paul A. Moore said. Students even nicknamed this college "Rollins Country Club." Foodies can eat the mouthwatering food at Dave's Boathouse and Bookmark Café. Students with wanderlust can take advantage of Rollins' exceptional study abroad opportunities in places like Argentina and Australia. When it comes to living, students choose from traditional dorms, Greek housing and residential arrangements like Pinehurst Cottage.
Plus, who can deny the luxury of attending school at one of 2018's most beautiful campuses?
7. Bowdoin College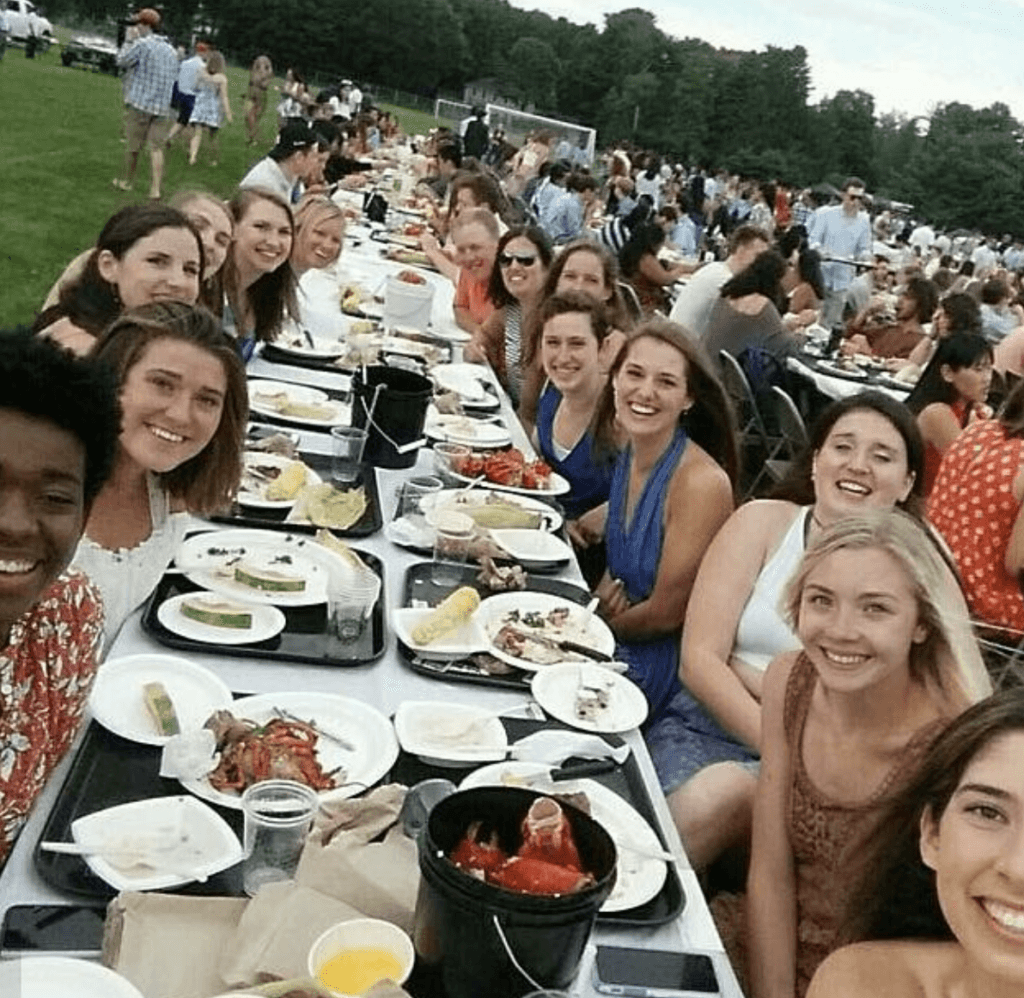 "Bowdoin is a five-star college when it comes to food. [On] the last day of summer before the first day of school, Bowdoin Dining organizes a school-wide Downeast Lobster Bake," said senior Beto Wetter. Hungry students feast on dishes like Hungarian mushroom soup, London Broil and salmon. On Wednesday and Thursday nights, catch a glimpse of sweet-toothed students digging spoons into heaping hot fudge sundaes from the ice cream sundae bar. Beto recommended trying Brunch on Saturday or Sunday at Thorne Hall. "From having a self-made Belgian Waffle with the Bowdoin Crest emblazoned in the middle to having a self-made omelet, there are many options besides pancakes, [like] French toast, bacon, ham steaks, pork sausage, muffins, scones, salad and fruit salad." And the luxury at Bowdoin extends beyond the dining halls. Bowdoin's eight College Houses host special study breaks and meals for their first-years. Plus, the school's Wellness Center offers yoga, Tai Chi/Qigong, and meditation classes for students to find their center.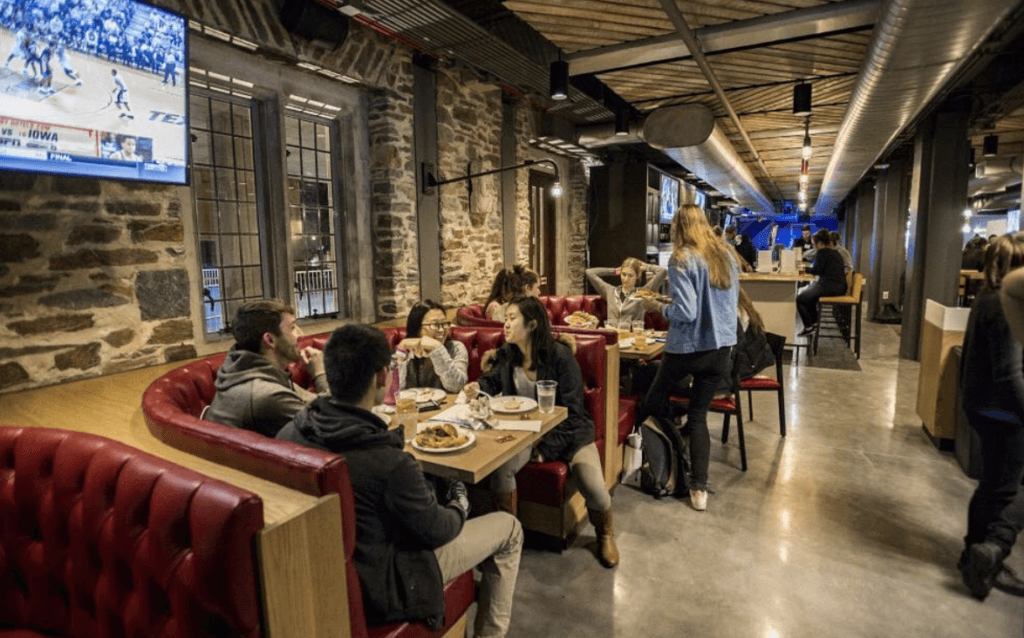 Incoming Duke students get four glorious years to enjoy the brand new Brodhead Center, Student Wellness Center and Rubenstein Buildings. In Duke's dining halls, you won't find cardboard pizza and soggy sandwiches. "Dining at Duke goes far above and beyond the conception of college eating," Duke junior Josh Engel said. "There are options for most all types of ethnic foods, from Indian to sushi… You can also use the meal plan to go to one of the two nicer restaurants on campus, either The Commons or the dining room at the Washington Duke Inn." Students vie to live at the new 300 Swift Apartment Complex off campus. Its residents enjoy the fitness center, swimming pool and parking garage. The student recreation center also boasts top-notch amenities. "The gyms are large enough that they never get to a point where they are too crowded like a planet fitness," said Engel. Swipe free art supplies from the Arts Annex and head to Duke Gardens to paint all the beautiful flowers around campus.
5. Elon University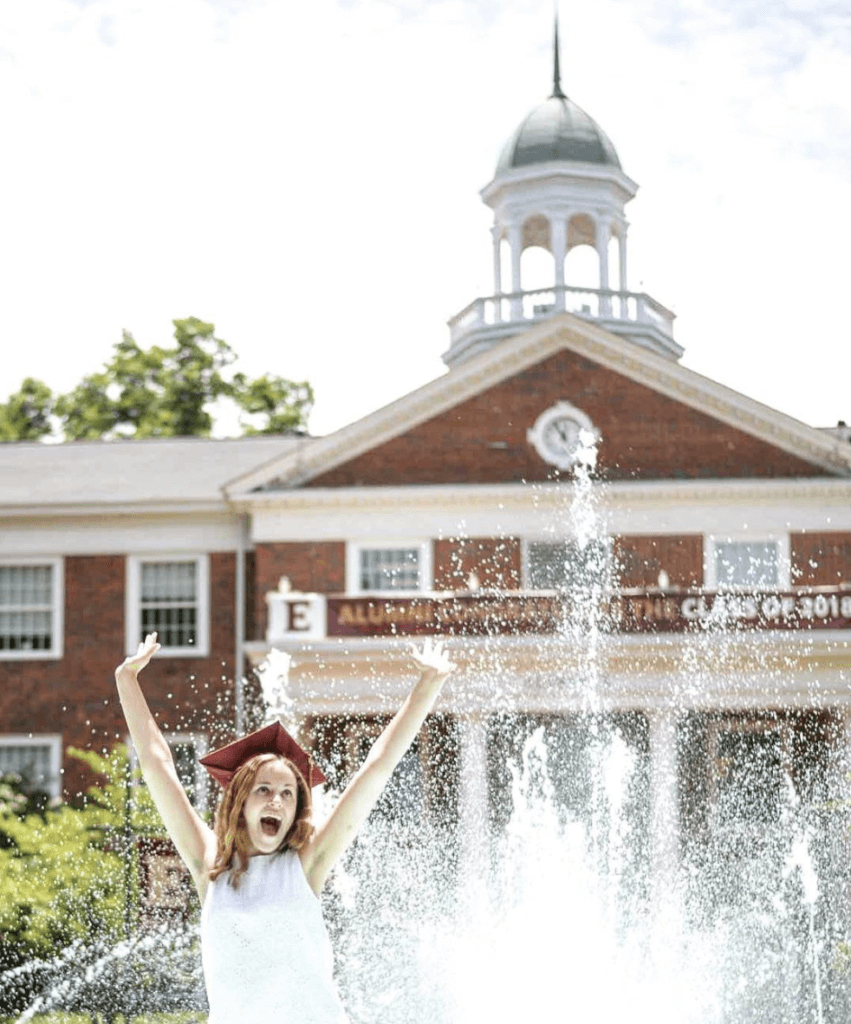 Country clubs wish their grounds looked as fresh as Elon's. Within "the Elon bubble," red brick buildings with bright white columns sit between perfectly manicured lawns. "We have three lakes walking distance with ducks, turtles, a swan, beautiful oak trees and perfect grass and flowers," Elon junior Grace Briskman said. The luxury at Elon extends beyond the eye. "The school is very good at working with you in achieving your goal," continued Briskman. "Almost every single graduate has a plan or a job lined up for beyond college, more than any other college in the state." Additional educational luxuries at Elon include a Winter Term and extensive study abroad program. Elon's extensive recreational facilities include gyms, a driving range and The Lodge Property, which contains a picnic shelter and fire circle. You won't go hungry at Elon either. The dining options scattered throughout campus include the Acorn Coffee Shop, Boar's Head Deli and Salads, Einstein Bros. Bagels, the Lakeside Dining Hall and the Winter Garden Café.
WashU pampers its students year-round. "It's extremely luxurious, to the point where you never forget it," WashU recent graduate Judah Silver said. "We have… a fantastic kosher station and an on-campus five-star restaurant that takes meal points. The dorms look like castles and are very spacious." Oh, and those dorms include air conditioning and Tempur-Pedic mattresses. Head to the Campus Center to melt into comfy sofas, munch on a buttery snack from the popcorn machine and challenge your friends to video games. The student rec has everything imaginable, making it the perfect place for student athletes and casual gym-goers alike. "The rec center rivals any Equinox. It has free massage chairs and a Zen Room Center," said Silver. Rumor has it that WashU has a $10 million "tulip budget." Although we can't confirm this rumor, we can show you how well groomed the campus's grass and flowers look year-round.
Luxury equals lifestyle at UCLA, located in Westwood and flanked by posh neighborhoods like Beverly Hills, Bel Air and Brentwood. UCLA senior Omar Habib said, "Royce Hall is one of the most luxurious spots for how many special events it holds." Kicking off every year with the Bruin Bash, UCLA hosts artists like Madeon, Matoma and Ty Dolla $ign in Pauley Pavilion, the school's indoor basketball arena. You'll also find a near limitless supply of exercise equipment at the John Wooden Center. "I love the IM field because I love to play soccer and it's so big, with a great scenic background," said Habib. Guy Montag from Fahrenheit 451 would instantly light up inside UCLA's libraries (pun intended), which contain the most holdings in the country after the Library of Congress. And the dining hall food will make your room water all year long. "[UCLA dining] offers on-the-go options… in case students are in a rush or want a quick bite. This includes… build your own personal pizzas, lasagna plates, paninis at Cafe 1919, huge and tasty sandwiches, smoothies and a coffee bean at Bruin Cafe, or take-out Asian or Mexican at Rendezvous," said Habib. Sounds delicious.
2. Pomona College
Pomona students fill their bellies with delicious food at Consortium's dining events like steak night, sushi night and make your own pizza night. "Sometimes when my parents visit, they insist on eating on campus rather than eating out because they crave the food so much," a junior at Pomona said. Before dinner, find your Zen within the Health Services Center's secret relaxation room, practically overflowing with massage chairs. Want to enjoy art while finding your internal peace? During dawn and dusk head to the Skyspace "Dividing the Light." Bask in the brilliant colors and experience an altered perception of the sky's colors. The dorms are so fabulous that only two to three percent of students choose to live off-campus at this liberal arts college. "There are lots of singles and you can almost certainly have one if you want. But it's common to want a suite, which have private bathrooms, common rooms and sometimes kitchens," a junior at Pomona said. Some residence halls even have rooftop gardens with movie screens. On Pomona's Ski-Beach Day, students stuff ski gear and bathing suits into suitcases before hitting the slopes and sand all in one glorious day. Oh and let's not forget to mention the gourmet food trucks and s'mores.
1. High Point University
High Point University students get an education and campus as luxurious as the Four Seasons or St. Regis resorts. Students frequent the plush on-campus movie theater, game at the arcade, enjoy weekly massage sessions and cool down in one of the school's several pools (or heat up in the hot-tub!). "All the perks that High Point offers allow students to live in an upscale and fancy environment, making it easier to thrive and excel. High Point is truly dedicated to excellence, which is a luxury in it's own," High Point recent graduate Zachery Hattani said. You'll never miss an episode of The Bachelor at High Point; each dorm room comes equipped with a flat-screen plasma TV. "The dorms are certainly ritzy, from the touch screens on the wall to the ability to live in an actual house purchased by the University," said Hattani. Students spend dining dollars at an on-campus swanky steakhouse and slurp ice cream from the school's ice-cream trucks on hot North Carolina days.