Regular people check the news to see what's happening in the world. Did their favorite team win in extra innings? Or maybe they want to know how bad their commute looks today. When broadcast majors read the news, they imagine writing it instead of watching it. And they know landing a prime-time spot won't come easily. Students who aspire to deliver the news need to attend a school that has it all: Great student media groups, professional faculty, state of the art equipment and hands-on courses. You'll need to learn how to write, edit and produce.
Get the latest ranking of The 10 Best Broadcast Journalism Schools 2019 here.
[woobox offer='tuafxp']
Think you have what it takes to anchor the national news? Check out the 10 best colleges for broadcast journalism.
10. Northwestern University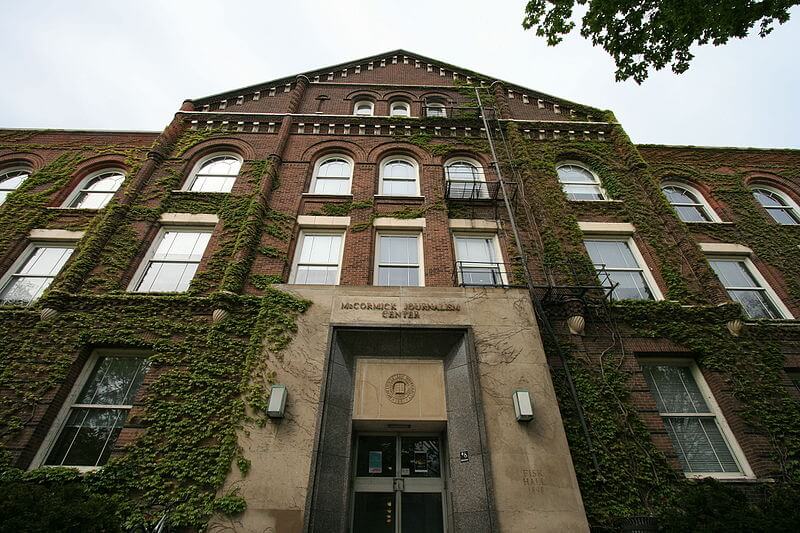 It's hard not to win an award on and off the screen at Northwestern. Professor Beth Bennett produced the documentary "Kindred" in 2011, which aired on WTTW and won a Chicago/Midwest Emmy. The impressive faculty at The Medill School of Journalism, Media, Integrated Marketing Communications offer hands-on training in creating, editing and producing media content. Student-produced work created from this program regularly wins national and international awards. In 2015, a Medill student won in three different college student production categories at the Chicago/Midwest chapter of the National Academy of the Television Arts and Sciences Emmy awards. Individual reporters Jesse Kirsch and Adam Mintzer won the Crystal Pillar award in the News for General Assignment and Sports categories, respectively. If you follow in the footsteps of Medill faculty and alumni, you'll see your cue on the teleprompter in no time.
9. University of Maryland College Park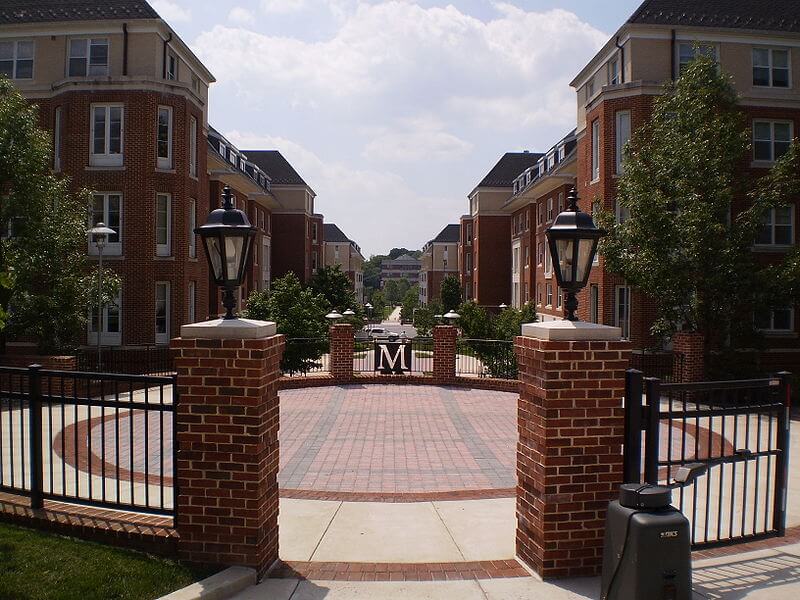 Practice makes perfect—and you can master the latest audiovisual equipment and multimedia support before graduation day at UMD. Students gain hands on experience from professional faculty and have access to media services from trained staff. Troubleshooting and becoming familiar with the equipment allows students to go off on their own to create. Beyond that, UMD's strong faculty gives students great insight into their future workplaces. Cassandra Clayton, a former NBC correspondent, teaches intensive courses in broadcast news writing. Other courses include Broadcast Field and Studio Production, News Writing and Reporting, and Media Research. These incredible resources produce alumni that make it big, including Mara Schiavocampo, an ABC News correspondent, and Debbie DiMaio, an Emmy award-winning producer and writer who created and produced of the Oprah Winfrey Show.
8. American University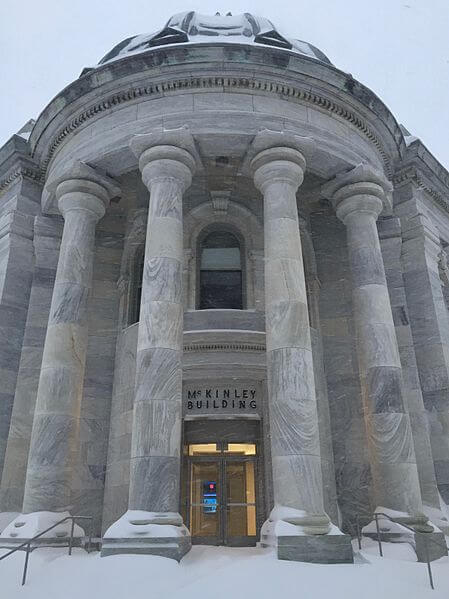 AU broadcast journalism students master everything from TV and radio production writing. That way, they can figure out whether they prefer writing, anchoring, directing, editing or producing. Students write stories and create multimedia classes in reporting classes, and they get to work with zoom audio records and Canon video equipment in Digital Skills, Reporting and Digital Audio Production. Students get even more hands-on practice working on AU's student-run TV and radio stations. ATV produces seven shows ranging from sports to satire to news. "Being involved with ATV has been so important to me because it gives you confidence and experience with some of the equipment you'll encounter in an actual internship. It's a lot of fun to work on shows with people who share the same interests as you," said AU junior Jessica Cipriano. You might see your co-anchor on the news one day, too. Alisyn Lane Camerota, co-anchor of CNN's New Day graduated from AU's broadcast program.
7. Quinnipiac University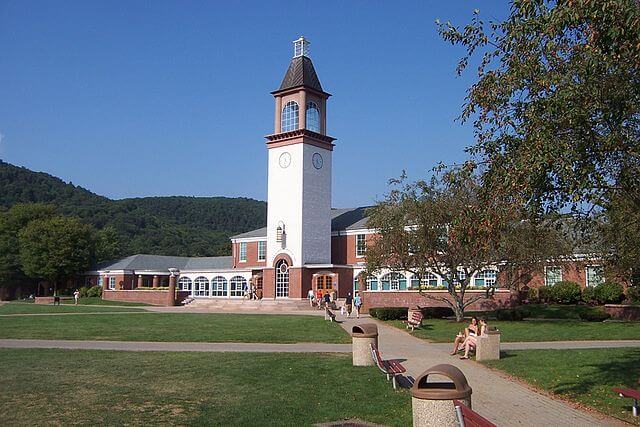 Want to feel like you're in a real newsroom? The Ed McMahon Mass Communications Center, QU's media production facility, is designed like a real newsroom and production facility. Students can access to cameras, teleprompters and a control room—so when they go to post-grad interviews, they know they have the experience employers want. Interested in becoming a sports writer? QU students get to travel with the teams to cover school athletics through writing and social media. Plus, the school's faculty includes Emmy and other award-winning professionals from writers, producers, editors and directors. Professors Rebecca Abbott and Tim Malloy produced an Emmy-winning documentary called Aeromedical about medical evacuation missions that take place in the skies of Europe.
6. Temple University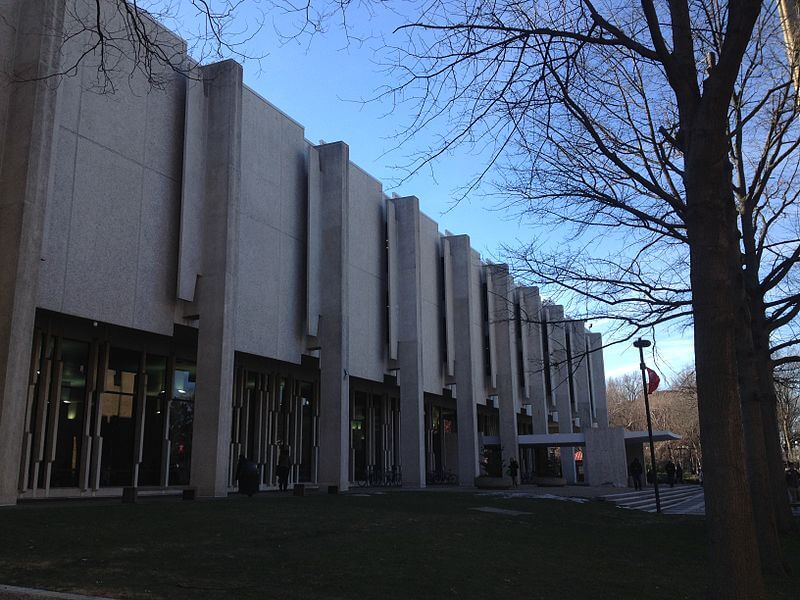 Temple's School of Media and Communication has a media group for everything from gardening and cooking to news and sports segments. Temple TV produces 20 shows and their radio station has eight different departments. Students have access to the most updated equipment in the production facilities used for class instruction and student media. Film production students use professional 1080p and 4k formats, and film in 16mm, Super-16 and 35mm. Using the equipment, Temple students have created projects that received grand prizes at major international festivals including Sundance. The documentary The Bad Kids about three at-risk teens was directed by alumni Lou Pepe and Keith Fulton and selected as a world premiere film of the 2016 Sundance Film Festival.
5. Ithaca College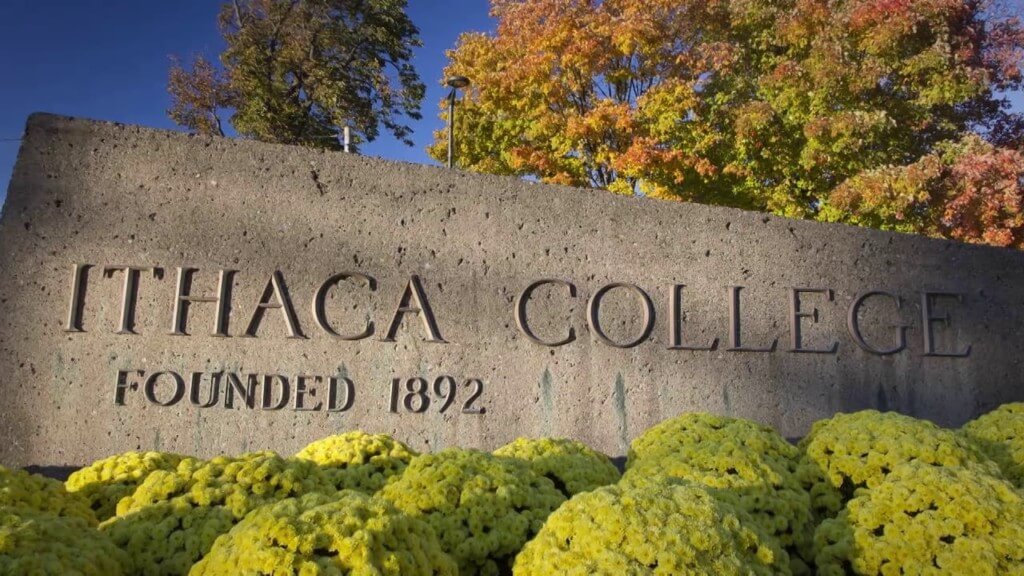 Interested in making a short film or documentary? The Studio at Ithaca provides all the resources you need to make it happen. Student executives run The Studio's operations with the guidance of professional staff and a network of alumni. And if you hope to become an Emmy-winning news anchor or producer, then you can hone those skills at ICTV, Ithaca's student-run TV station. "ICTV has been beneficial to me because I think it has prepared me for when I graduate. The administration lets us run a real station, and every person on ICTV treats it like it is," said senior and ICTV's rising station manager Garrett Weinberg. The student executives provide mentorship to other students and any support they need throughout their projects. Alumni and current staff help build connections with Ithaca's aspiring broadcasters. On top of that, Ithaca broadcast students get to pick an area of study that focuses on their specific goals and interests. Students can tailor their focus to news, entertainment, health and more. Through working with an academic adviser or the Television-Radio Program Director, each student develops their area of study to market to employers.
4. State University of New York at Oswego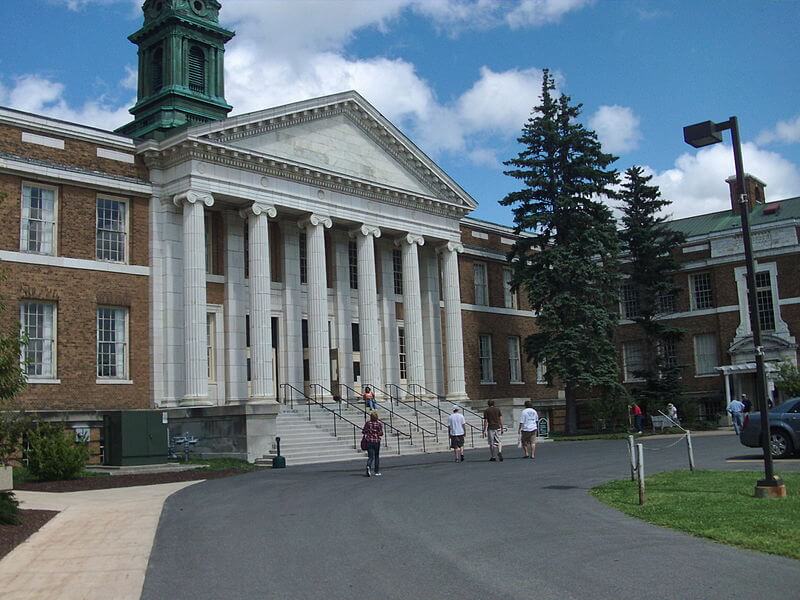 "When I was transferring, many people…told me Oswego is the place to go for broadcasting," said Oswego senior Andrew Luces. The broadcast and mass media program at Oswego have three fully equipped state-of-the-art digital TV studios plus audio/radio production labs and recording studios. Students work hands-on in class and student-run groups including the campus newspaper, and radio and WTOP, Oswego's student-run TV station. "The people who I work with are very dedicated to the station and the product that is put on the air," said Luces. With new technology developing daily, Oswego's program stays on top of it. The broadcast program recently introduced a new curriculum, including courses in new media including media design, social media, video games and more. Oswego's graphic design courses allow students to explore multimedia design through photography, motion graphics and animations—all skills you need for a broadcast journalism career.
3. Bryant University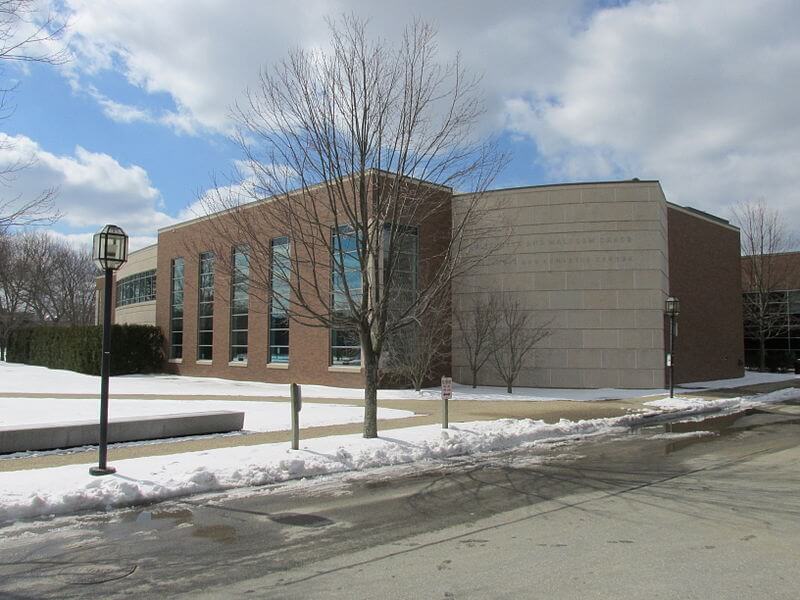 Don't judge a school by its size. The Communication's Complex at Bryant houses state-of-the-art production facilities including an HD television studio, control room and editing stations. Bryant's radio station, WJMF (88.7 FM), produces over 40 shows with more than 100 DJs. Within the classroom and student-media groups, Bryant students work hands-on with audio and video equipment from freshman year to graduation. And when you add experienced faculty into the mix, you know you'll graduate ready to dominate the newsroom. Professor Susan Baran worked as a producer, writer, and anchor in TV and radio for 16 years before teaching. Students need a professor who can talk theory and apply it in practice—and they get those at Bryant.
2. Boston University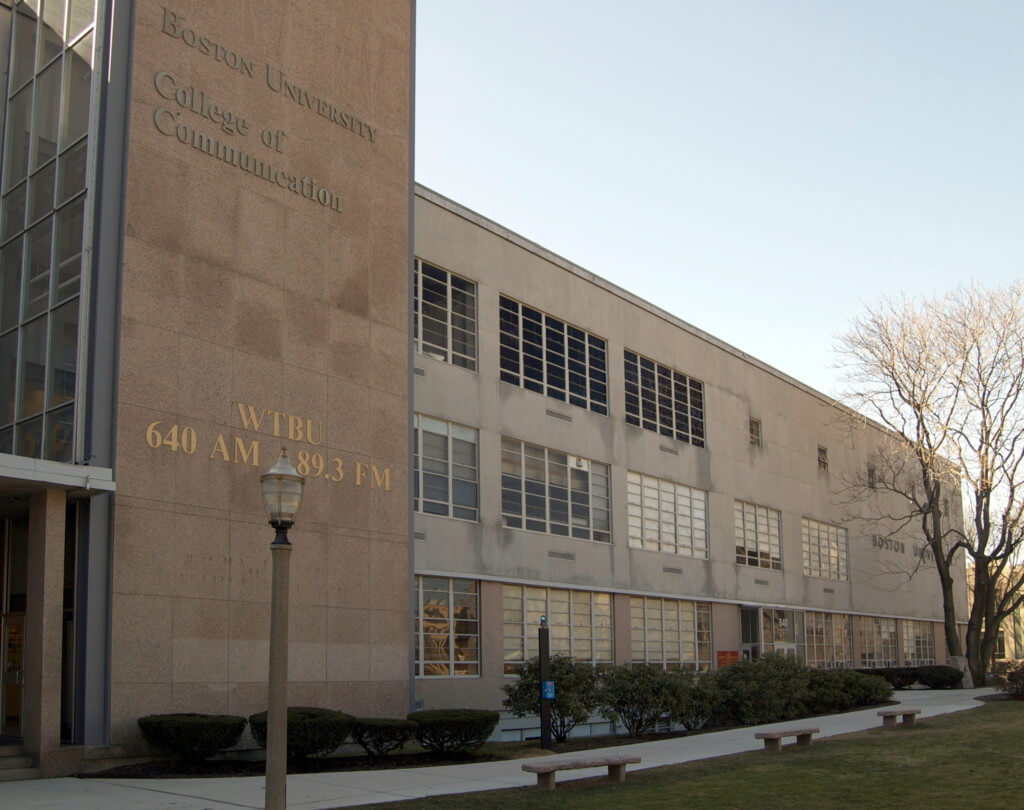 Want to learn from actual broadcast journalists? Then go to BU. "I'm being taught by people who know what's going on and know how to use the latest technology," said junior Juliet Beauchamp. Professors here include accomplished, practicing journalists, bestselling authors and producers like Susan Walker, a documentary filmmaker and an award-winning journalist who's worked at CBS, NBC and ABC. Plus, Walker produced the Emmy Award winning series Project Radon. "Aside from on-campus orgs, there's a huge focus to get an internship. Professors really help with connections, so I've gotten real-world broadcast experience," said Beauchamp. BU's radio and TV stations also provide great resources for students. "At WTBU, I got to really dive in to the news process. I was researching, writing, producing and using new equipment. Then I joined the morning talk show and completely fell in love. Now my dream job is to host a talk show," said Beauchamp. Through classes and campus organizations, BU students gain experience in all aspects of broadcasting.
1. Emerson College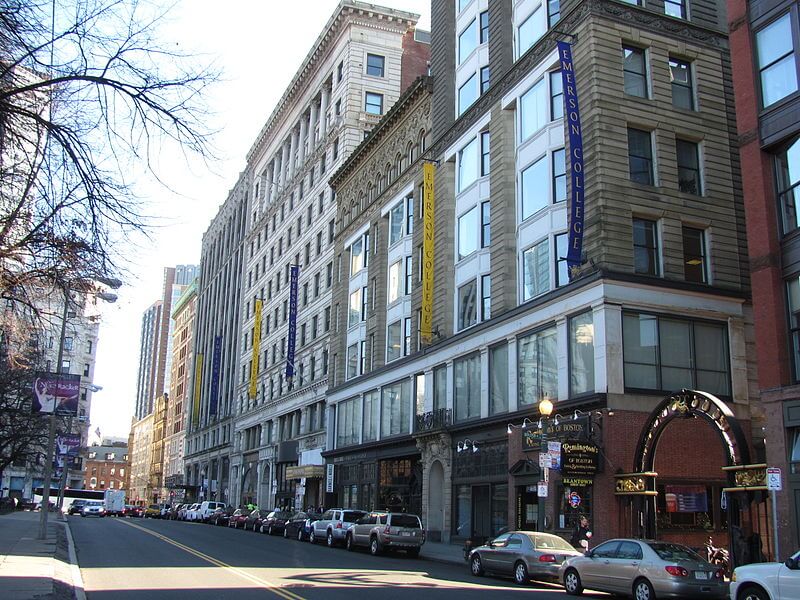 The ultimate student media experience awaits you at Emerson College. WERS-FM won Best College Radio Station at the 2014 Associated Press Student Journalism Awards along with WEBN-TV as Best College TV Station. WERS produces more live performances than any other station in the region, including the annual collegiate a cappella competition called All A Capella Live. The nationally recognized shows come together in The Journalism Production Center. This facility holds all the necessary equipment for students to develop technical skills and have a hand in every aspect of production. With the experience they gain working with student media groups, Emerson students will be fully ready to conquer real world production environments. "Emerson College is relatively small compared to our competitors, there is so much enthusiasm for covering the news that we have the critical mass of interest to support three clubs that produce video newscasts, two radio stations and dozens of publications," said Journalism Professor Paul Niwa. "Students love what they learn in class and want to continue to practice within their co-curricular student organizations that cover the news."
What happens once you've declared your broadcast journalism major and graduated?
Written by Allison Ingrum.
So you either have or want the degree, but what do you do after that? How do you answer those questions from relatives asking what you actually want to do when you "grow up"? Worry not—the possibilities are endless when it comes to being in that news room.
Get to know some of the jobs you may experience along the way as a broadcast journalism major.
1. News Anchor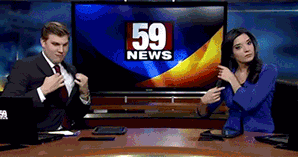 Imagine a broadcast journalist. Maybe that means seeing Steve Carrell in Anchorman. Either way, you see someone talking in front of a camera, telling you everything you need to know. These are the news anchors, or the faces of the company, and the ones you most easily recognize and imagine. News anchors report and introduce stories from in the studio, and correspond with the reporters who are on the scene. It basically serves as the prime job for anyone who loves standing in front of a camera.
2. Reporter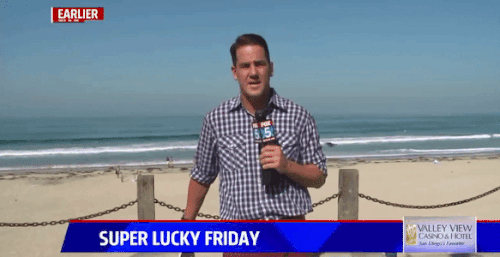 AKA the real "man on the street" job, reporters work on the local level and are seen almost as often as the News Anchors but they do not usually work in the studio. Instead, they go into the field in the heat of the action, interviewing sources on camera. Jenna Babyak, sophomore and reporter for CitrusTV at Syracuse University said, "It's definitely a lot of work, but super rewarding and well worth it when I get to talk to people and hear their stories and then watch my work!" On the national network level, this position is referred to as a correspondent. Why? Well, on the national level, the correspondent never stays in one, small area. They always move and stay on the road, corresponding from different regions.
3. News Director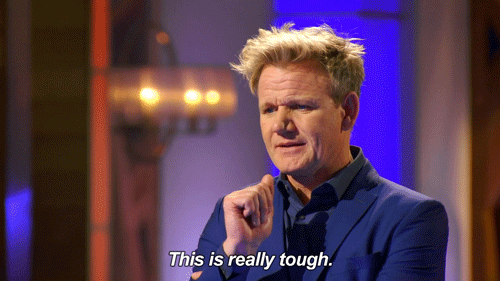 On the managerial side of the business, news directors manage the content and the staff. They make large decisions all around such as hiring and firing as well as those regarding which stories air, directly influencing what the viewers see. If you want to get involved in broadcast journalism but consider yourself a camera-shy and bossy person, look into this influential career option.
4. Executive Producer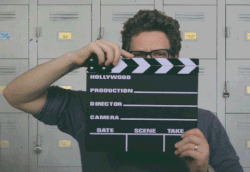 Meet the person in charge who makes everything happen. Executive producers are the behind-the-scenes decision makers, controlling the content, timing and slotting. In other words, EPs deal with the financial and business side of things. They have the final say to everything you see through your TV screen. "As an executive producer, your job is to oversee all aspects of production including managing your crew; picking, writing and editing stories; making quick decisions throughout the live show; and more," said Isha Battu, sophomore and Executive Producer for Citrus TV at Syracuse University. "I get to see my ideas come to life and it's an honor to know other people appreciate my work enough to put their faces on it as well, whether it's my hosts or my studio crew."
5. Production Assistant or Associate Producer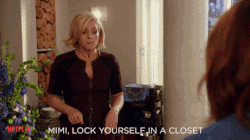 The executive producer's right arm is the Associate Producer. Mainly in larger markets, they work under the EP, helping with anything they may need by taking on some of their responsibilities. In the smaller markets, the EP typically takes over this job. "As an AP for Juice and Java I write stories for the show, edit video and assist the EP's in anything they might need, such as creating graphics, fixing mistakes in the rundown etc.," said Ebba Eriksson sophomore and AP for Citrus TV at Syracuse University.
6. News Writers and Editors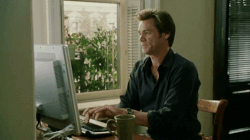 Someone needs to write what the anchors read aloud and writers are the ones to do so. They write scripts for on-air broadcasts as well as what gets posted online. Usually gone unseen, they literally create a lot of the content, though you may never hear their voice. They work with everyone on the team and need to be able to quickly write, edit, research and interview. "Now that more and more stations have dedicated web teams, who are writing just for the web instead of just for the news cast, we have got writers who are over there too," said Simon Perez, Associate Professor of Broadcast and Digital Journalism at Syracuse University. "The jobs as writers continue to be there but mostly in the larger markets because in the smaller markets with fewer people, you would have the reporter write his or her own story."
7. Videographer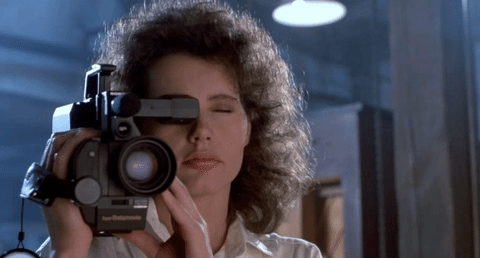 How can you have television without something to look at? Camera operators create the visual content by literally holding the camera both in and out of the studio. "If you have two anchors, you can get by with one. If the news director doesn't show up for the day, we can still get by in the news cast," said Perez. "If a reporter doesn't show up but we still have video, we can still tell the story without the reporter. If the producer doesn't show up, maybe the assistant producer can take over for that one day. But if there is no video, there is no TV so videographer is the essential person." Sometimes the best job is behind the camera.
8. Broadcast Technician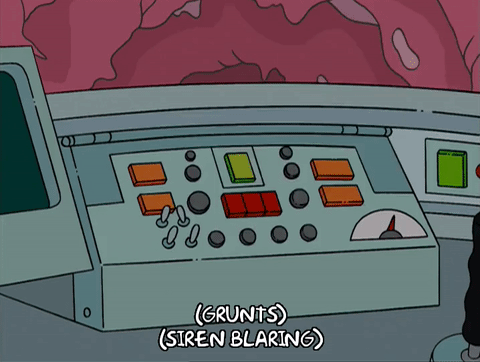 With so many people running around, someone needs to put it all together for the viewers. The broadcast technician works in the studio to make sure the broadcast runs just as it is should. Sitting in front of a large number of buttons, they take on the responsibility of regulating things such as the sound quality to make sure it comes across well on the other side.
9. Segment Producer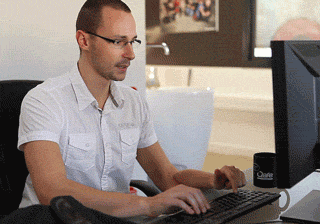 In broadcast, a segment is a specific news story or section of the news. A segment producer would therefore be in charge of any given segment, executed from beginning to end. In larger markets, the segment producer may consult with video editors but in smaller markets, the segment producer may work the entire show from shooting to editing to producing the segment.
10. Network Feed Service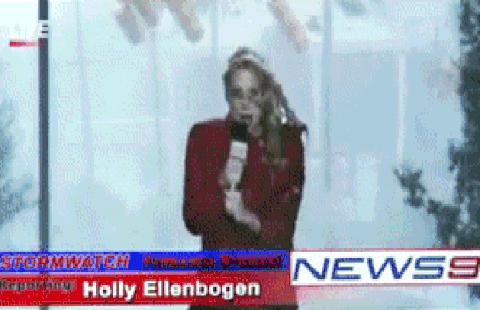 Like many correspondents within television stations, reporters at network feed services report on site. They are stationed internationally and serve the networks before they can get their crew to a site. Say a station in Los Angeles cannot get to Florida, or it may not be worth it to do so, they would use someone at their network feed service in Florida to report for them. Many times these reporters are the next ones to be hired into the larger market networks.
5 Items Every Aspiring Broadcast Journalist Needs
Your company should provide you with the larger tools you will need such as cameras, microphones and software, but that doesn't mean you shouldn't come with some of your own. Make sure you have these essential items to be successful in the broadcast journalism industry.

Rain or shine, events happen, and you will cover them. Always make sure to have an umbrella in your bag or in your car when on the job to carry on and protect both you and the equipment. You'll be happy you have this one day. When that day comes, your coworkers will praise you as an umbrella-wielding hero.
2. Headphones


Mic check. Things can sound much different on the scene than what the camera actually picks up—maybe the mic isn't on or sits too far away from the subject. Always make sure you get the best possible audio by actually plugging your headphones into the camera to listen to what the camera is hearing.

Just like the others, you can never be too safe. You won't have a broadcast without footage, and you won't have footage if the battery dies. Keep that spare battery in your back pocket in case of an emergency. You never know when the battery may die during filming. Pro tip: Batteries do not last as long in cold weather.

If we searched you, we'd find your phone in your back pocket. This shouldn't change when you get into the real world. As a broadcast journalist, your phone can and will become your best friend. Answer emails on the fly, get in contact with sources or your boss on the job, map your way to the big event, voice record your source when your audio recorder dies or catch that big event as it happens when you are not on the job.

This intangible item might double as the most essential thing you could get as a journalist. We've all been in that situation trying to remember that "great idea" you had earlier. Why not write it down? Carry around this journal to ensure those creative juices never get left behind. "Not everyone has the curiosity to continue to find out and be aware and wonder why things are as you go along. That's what journalism is and where stories come from," said Perez. As Dustin from Stranger Things would say, never keep your curiosity doors closed.
[woobox offer='tor6do']
Want more rankings? Check out:
CM's Top 10 Journalism Schools 2016
Top 10 Colleges For Political Activists
CM's 10 Best Schools for Public Relations
Updated on November 1, 2017 by Allison Ingrum to include "10 Jobs for Broadcast Journalism Majors" and "5 Items Every Aspiring Broadcast Journalist Needs."