You wake up on a Monday morning after an all-nighter, dreading that 8 a.m exam. Chucking your backpack over your shoulder, you walk outside and your mood instantly changes. The sun reflects off the waves as the ocean breeze washes over you. Paints a pretty picture, doesn't it? Imagine living on a breathtaking beachside campus where you can study marine life and enjoy sailing, surfing and rowing right on campus. Would you turn down an acceptance letter to one of these beach schools?
10. Palm Beach Atlantic
Surrounded by palm trees, the campus screams "tropical beach school" like no other. Temperatures rarely drop below 70 degrees in West Palm Beach, perfect for sporting a year-round South Floridian tan. "An average day would be waking up and longboarding to class with my books in one hand, spilling coffee in the other," recent grad Sandy Quirk said.  During a Sailfish's free time, students rent out equipment meant for the ocean less than a mile from campus. The university offers kayaks, snorkel gear and paddle boards to satisfy student cravings for salt water and sandy grounds. "The beach is about a mile away. It's not uncommon for kids to skip classes to surf if there's some good waves or a nice tropical storm to bring in a swell," Quirk added. Shred on.
9. Pepperdine University
Remember watching Laguna Beach? The homes had larger than life windows and Olympic-sized pools overlooking the Pacific Ocean from the cliffs. "People come to class with their bathing suits under their clothes…there are usually wet suits hanging [on trees] for them to dry," junior Tay Centineo said. Welcome to Pepperdine. This university in Malibu, California offers Surf Convo, a weekly event where the school provides free surfboards, paddle boards, wetsuits and anything beach-related your heart desires. "[This] is a small group church service on the beach early in the morning, and then when its done, everyone goes surfing…we even have a surf class. Its amazing," Centineo added. "Honestly there's just a brighter, lighter feel on our campus because it's blue skies and sunny almost 100 percent of the time. It's just a really neat atmosphere." So basically, we're transferring. Who's with us?
8. University of Hawaii at Manoa
You're already on an island—what more do you need? For those who choose to live on the wild side, this university conducts a program within The Center for the Study of Active Volcanoes, allowing geology students the opportunity to conduct research on said volcanoes. If you get too warm near the hot lava, take a dip in the ocean just two miles away. Manoa's Marine Option Program encourages students to give back to the ocean, providing experiential opportunities like whale watching, beach cleanups, snorkeling and coast-line hikes. Whether you strive to become a teacher or a realtor, this program lends itself to anyone with a specific interest in the ocean. At the end of the program, the university presents you a certificate for your transcript.
7. Monmouth University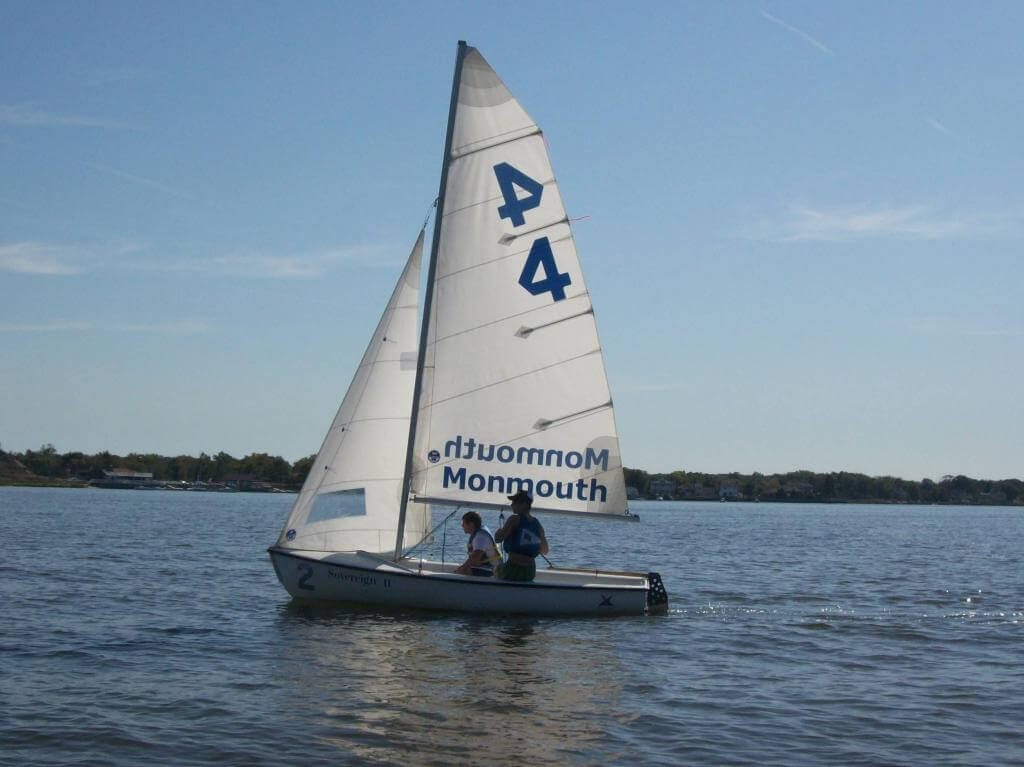 Only a mile from the Jersey Shore, Monmouth University nestles itself in West Long Branch, New Jersey. Monmouth's coed sailing club dominates the water, often placing in the single-digits among other university sailing clubs. You'll find these bad boys in the water practicing for their Oceanport regattas, about five to eight per semester. Talk about an extra-curricular activity. Aside from the recreation within the water, studies take place in the water as well. The Marine and Environmental Biology and Policy program offers students the chance to take their studies to tropical sights such as the Bahamas in order to conduct research. Sign us up!
6. University of California, San Diego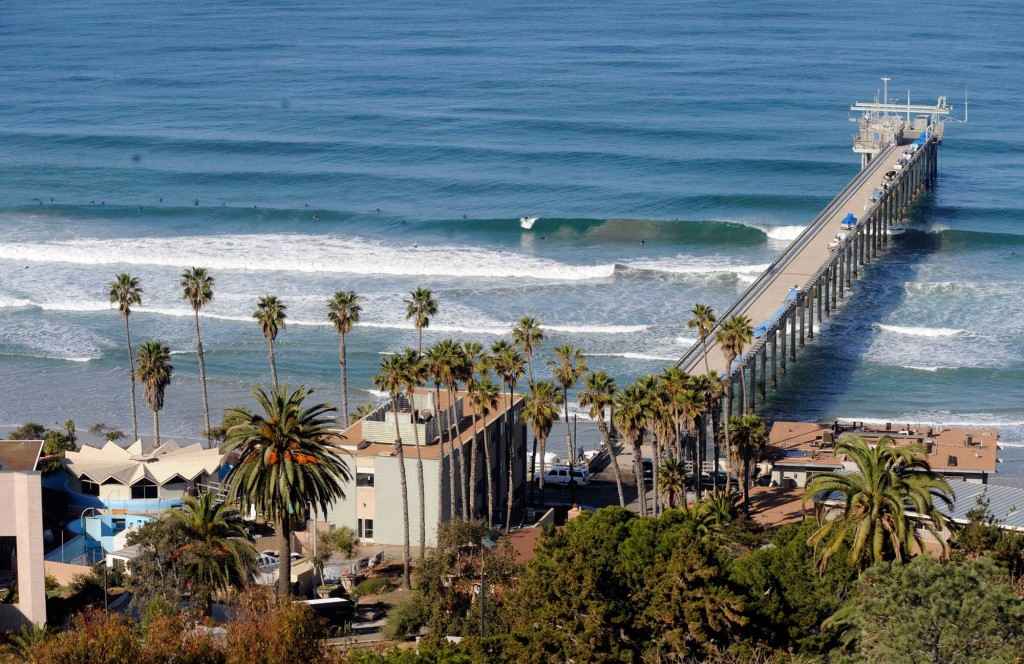 Your alter-ego surfer wishes you went to UCSD. King Triton students wake up every morning, look out their window and gaze upon a dazzling view of the ocean stretched out for miles of blue. Looking to hit the waves? UCSD offers surfing classes for beginners and experts alike, along with aqua fitness, scuba and swim conditioning classes. From their very own Institution of Oceanography, offering a chance to climb aboard the Scripps Fleet boat to conduct oceanic research, to the Mission Bay Aquatic Center with wind-surfing, wakeboarding, paddle-boarding and more, enrich yourselves in all aspects of ocean education and water talents at UCSD.
5. Point Loma Nazarene University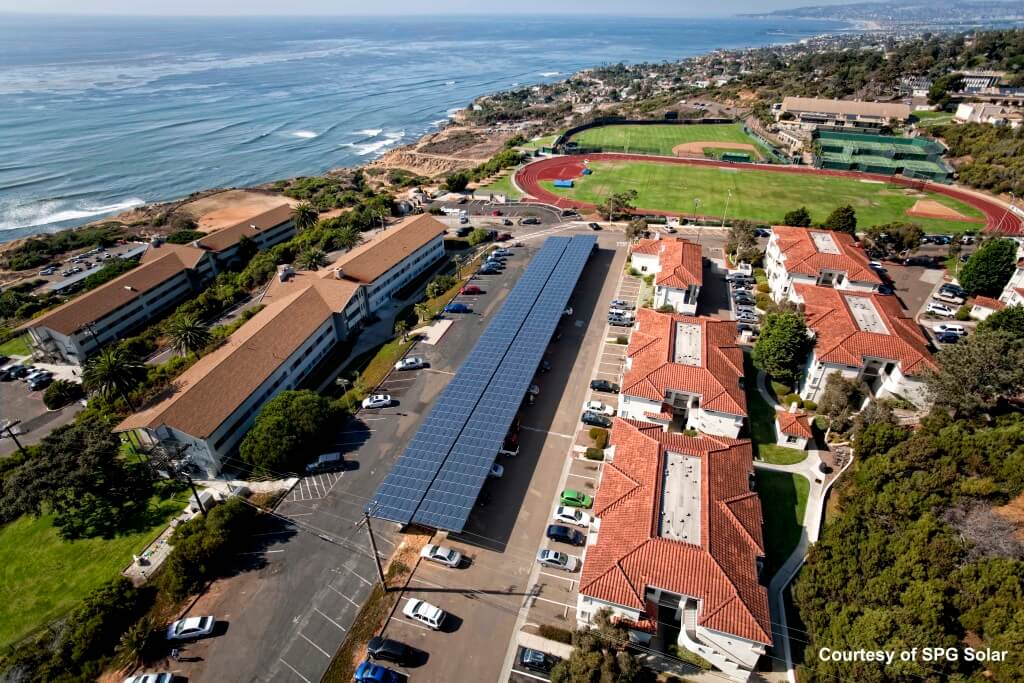 Don't judge a book by its cover or a school by its name. This San Diego university makes me want season tickets to their baseball games ASAP. Breathe in the sea salt and crunch on a box of cracker jacks while the pitcher winds up to throw a slider, the immense ocean rippling behind him. Fly balls beyond the player's reach dive into the ocean and float away. Pack your running shorts; the view of the ocean waves will motivate you to get your body bikini ready since the running track neighbors the field, letting students run a mile while the sun rises. PLMU offers students tons of rentals from double kayaks and snorkel sets to wet suits and beach chairs. Focusing on liberal arts, this university also has degrees to help you save the ocean, including an environmental science major and an environmental biology minor.
4. Flagler College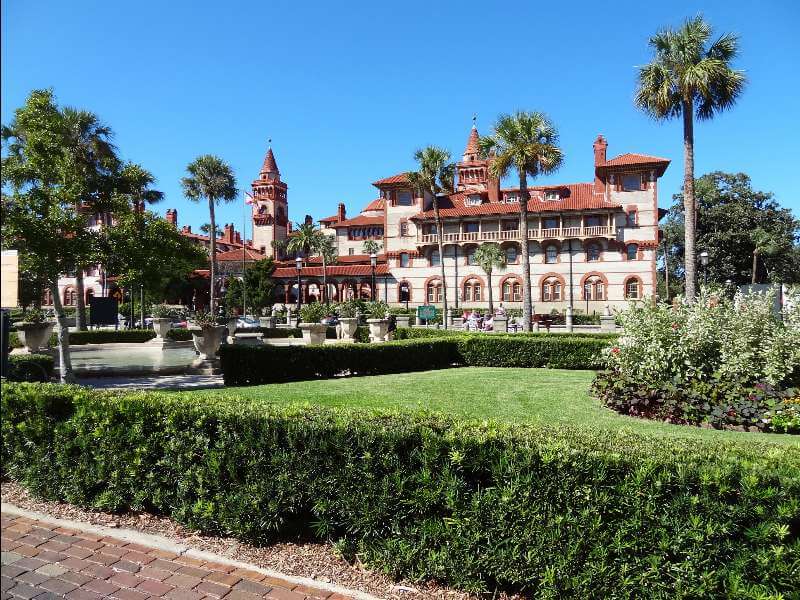 Located in St. Augustine, Florida, Flagler College emulates all things historical within this monumental town. "[Flagler] is very laid back and informal which is nice—not in an unprofessional sense, but in a welcoming one," Flagler student Meghan Durrance said.  Bordering its own beach, this school also borders Jacksonville Beach and Daytona Beach—a beach for each day of the weekend. A typical Saturday might feature surfing at the "The Poles," a great wave spot in Jacksonville, and then on Sunday you could go speeding on a go-kart on Daytona Beach's boardwalk and pier. Aside from recreational activities, Flagler's Coastal Environmental Science program allows students to travel to Bermuda to conduct research on all things oceanography. You can't get more hands on then that. "I love studying at the beach or even the fort," Durrance continued. Fort San Marcos isn't far from campus and offers students a relaxing get-away from their studies.
3. College of the Atlantic

Stretching all the way up to the best cold-water lobsters, this college resides within the quaint city of Bar Harbor, Maine. A small, private school ripe with rich greenery also reaps the benefits of the wide ocean next door, living up to its name: The College of the Atlantic Ocean. If you want to learn about saving the whales, sign up for Marine Biology along with the field studies component so you can put your skills to the test. Students interested in fun or research can rent the college's boats, from row boats to to sail boats to motored boats. Hop aboard the R/V Borealis to help collect information that helps save the whales with the Allied Whale project. We'd definitely want to be stuck on a boat with these students.
2. Coastal Carolina University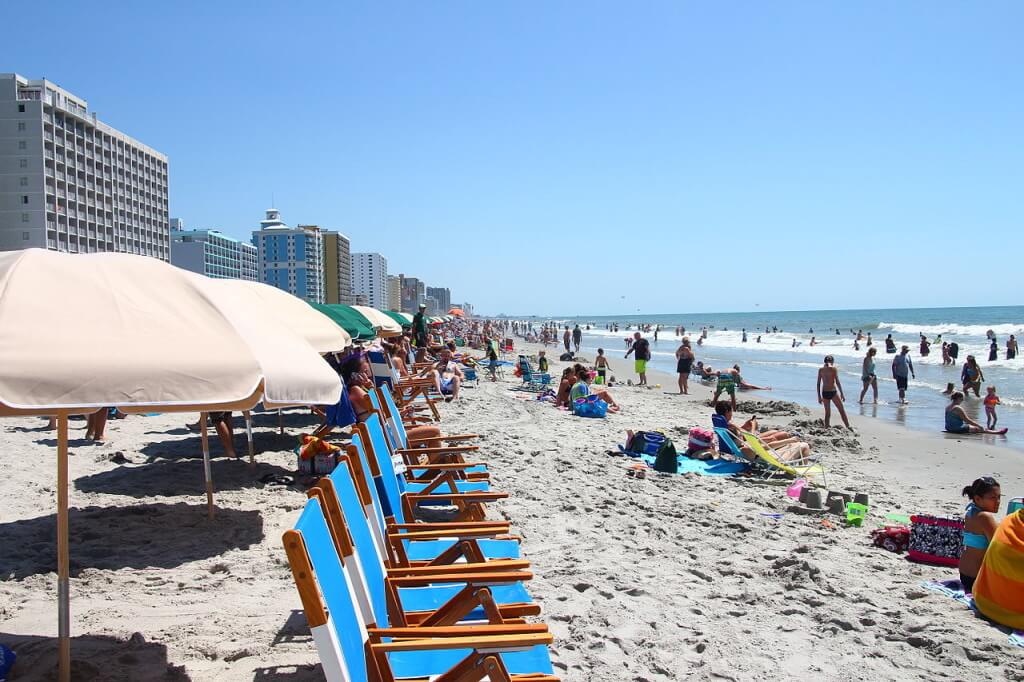 Just 20 minutes away from campus, the Conway, South Carolina Chanticleers enjoy a long stretch of sand down South Carolina's coast, Myrtle Beach. Feel free to take a break from studying and relish on the beachfront boardwalk or hop onto one of the country's tallest Ferris wheels, Skywheel, and get lost in the beachfront scenery. For a quick escape from the books, Coastal allows students to rent kayaks for a two-hour spree. According to Coastal Carolina student Jake Helberg, the school takes advantage of its beach location coupled with its tourist appeal by offering outstanding Marine Science and Professional Golf Management Programs. Hedberg participates in Coastal's PGM program. "Whether you're going to Myrtle Beach, golfing at one of the hundreds of golf courses or playing beach volleyball, you are never bored."
1. Texas A&M, Corpus Christi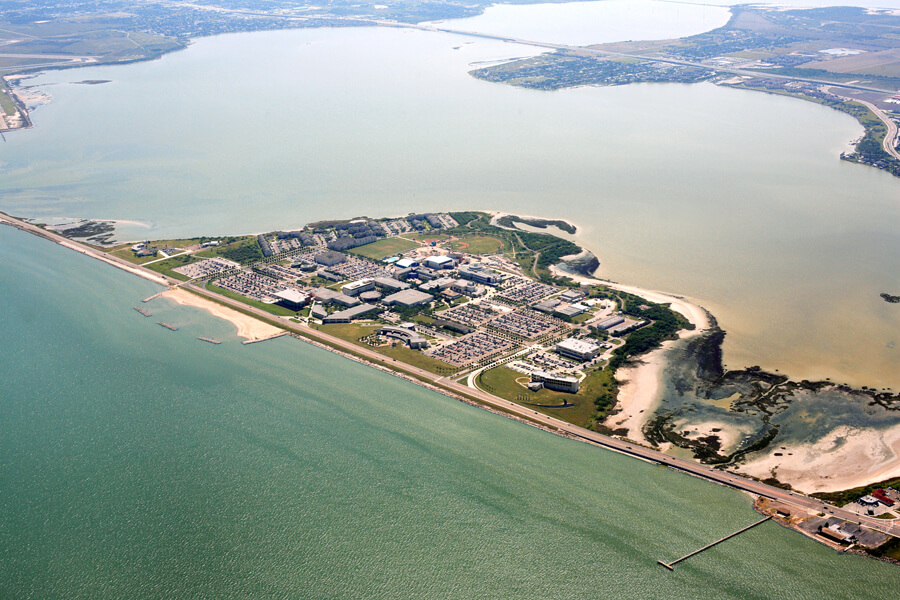 Take a moment out of your day and Google this school. Slide your mouse over to "Images" and envelope yourself in the piercing blue water surrounding the campus. At an aerial view, this campus' isolation shows itself through the stark contrast between water and land. Every morning, the students walk outside of their dorms and feel the salty air on their skin. "Because we are on our own island, a walk to class is 10 minutes at the absolute maximum which makes no rush for students on campus," TAMUCC student Morgan Carlson said. "A positive aspect about the school and education is that it is fairly small so each class size is non-threatening and gives you a great opportunity to get to know the professors." The school offers kayak, ice chest and surfboard rentals. Can you imagine taking a mental break during finals week to kayak around your university's island? Or maybe you want an even more intense water adventure. McGloin Ranch Paddle boarding offers students a chance to paddle up river and enjoy campfires along the way. At Texas A&M Corpus Christi you'll live the exotic beach life you always imagined.
Wondering what you should take to the beach?

Trends not only surround people's clothing and Instagrams. Bring your trendiness to the beach with this round towelThe circular shape offers more lounging room than any ordinary towel. Don't get caught out in the sand without this aesthetically pleasing beach necessity.

If towels or beach chairs don't tickle your fancy, purchase an inflatable beach lounger. The easily inflated lounger creates your own cloud on Earth while you soak up the sun. Available in a variety of colors, you'll be the brightest (and comfiest) beach-goer.

For those of you who haven't jumped on the Yeti train, well, better late than never. The wizardry that's encapsulated within this stainless steel apparatus manages to keep your drink icy cold. Withstand the beach heat with a forever cold beverage inside your Yeti Tumbler

Leave a musical trail behind you with the Elivebuy outdoor speaker. Fret not about water or sand, this speaker was built for the beach. The handheld speaker adds a loud boom to your weekend beach trip.

Enjoy the beach without the sticky, salty layer that will inevitably find its way onto your skin. Without quick access to a shower, spritz yourself with Evian facial spray for a refreshing rinse-off.
*Updated July 10 with Amazon links to trendy beach items.