Also written by Alia Hakki.
Attending sporting events, aggressively handing out flyers on Bruin Walk or dancing for 26 hours in Pauley Pavilion make up what it means to be a Bruin. It's hard to get bored with over 1,100 student organizations (and counting!) to choose from. Beyond UCLA's hundreds of cultural, social, academic and pre-professional clubs like Acoustic Guitar Club, Yoga for Flexible Futures and Bio-Business, a very special subset of student groups reach out to the student body to mobilize, affect policy and create tangible change within their communities. That's right. We're talking social justice orgs. Whether they fight to alleviate the effects of climate change, spread awareness of feminist issues or protect the rights of undocumented students, UCLA social justice groups make student voices heard.
These 10 student organizations at UCLA give us all a say in our college experience and our experience in the world as a whole.
10. Milk and Bookies

Milk and Bookies represents more than its cutesy name. Milk and Bookies, a UCLA on-campus extension of the L.A.-based nonprofit, promotes literacy in the greater Los Angeles area by holding fundraisers like "Leaders and Readers" events. There, volunteers organize book drives to benefit Los Angeles-based schools. They also present Author Champions program, in which authors and illustrators of children's books visit schools to promote a love of reading. "I started the UCLA chapter of Milk and Bookies with help from the established nonprofit… This cause is important because literacy is the basis for success in life and every child should have an opportunity to learn to read," said founder and president of the UCLA chapter Katie Oakes. Milk and Bookies has expanded across the country since 2004 to include over 170,000 philanthropists whose efforts have donated over 450,000 books.
9. Undergraduate Students Association Council (USAC)

Meet your modern day James Madisons and Thomas Jeffersons. The student body elects 14 new student officers to the council every year. Members of the administration, alumni and the faculty also serve on USAC in addition to the ASUCLA Executive Director and a student Finance Committee Chairperson. The 14 UCLA students alone vote on the Council's proposed solutions, but the USAC president appoints over 70 undergrads to administrative committees. USAC's programs include free screenings of new movies, free concerts and access to speakers like Louis the Child hosted by the Campus Event Commission. In addition, the Community Service Commission hosts more than 20 voluntary outreach programs around Los Angeles. The Student Welfare Commission also hold AIDS and Substance Abuse Awareness events, Blood Drives and CPR/First Aid Training. Now you get to participate in the decisions that impact your daily life (other than which dining halls to hit.)
8. She's the First (STF)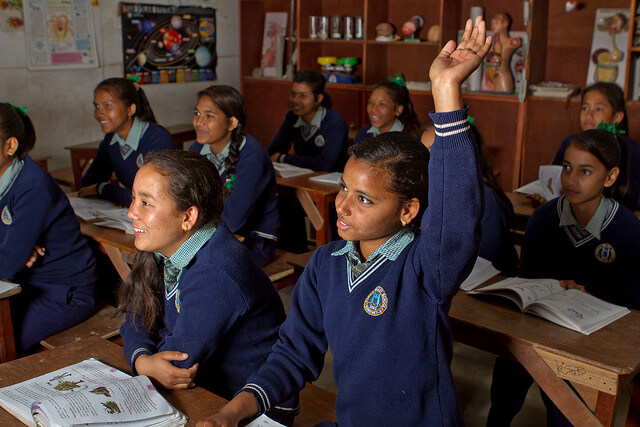 Jeanette Rankin, Edith Wharton, Amelia Earhart: all badass ladies who succeeded first in their field. She's the First promotes female education by holding fundraisers to promote a knowledge-sharing network of women. "She's the First hopes to increase access to education all throughout the globe, in order to empower girls everywhere to fulfill their dreams and reach their full desired potential," said UCLA STF president Rachael Denny. "Our goal as a chapter is to assist in providing girls in 11 developing nations with scholarships to be the first in their family to receive an education and graduate." This quarter, STF at UCLA began selling buttons and t-shirts designed by its own members. One hundred percent of the funds will go toward providing scholarships, mentorships, boarding, clothing and health services to girls around the world. Denny said, "We link our own empowerment and cultivated leadership development as college students in the U.S. to the success of other young people across the globe."
7. Improving Dreams, Equality, Access and Success (IDEAS)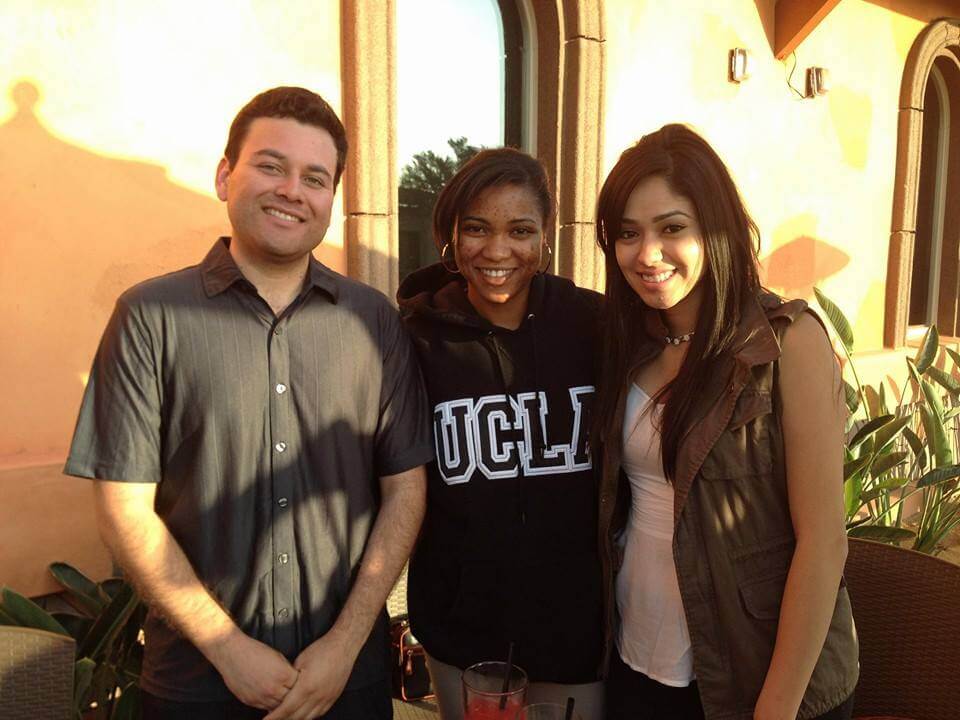 IDEAS is a support network for undocumented and immigrant students at UCLA and within the greater national community. The organization facilitates peer support by providing a space where undocumented and immigrant students can meet and share their experiences, struggles and successes. With over two million undocumented immigrants in California alone, this outlet has proved both therapeutic and inspiring to those involved. The org also offers its members financial relief through fundraising efforts, which helps alleviate some of the financial challenges that accompany being a low-income or undocumented student in the university system. IDEAS created the AB540 Project in 2005 to inform and educate undocumented high school and community college students about AB-540 and other resources available in their pursuit of higher education. AB-450 imposes several new legal requirements on California employers during immigration worksite enforcement actions. This program includes a mentoring component to build a solid relationship between current AB-540 UCLA students and potential incoming AB-540 students. IDEAS also works to impact policy by advocating for the rights of undocumented and immigrant students at the university, state and federal levels.
6. Bruin Consent Coalition (BCC)

While #metoo and #timesup brought awareness to this issue in waves, BCC represents a consistent outlet for students affected by sexual violence. UCLA's Bruin Consent Coalition provides resources and support to survivors of sexual assault. They direct survivors to resources on- and off-campus, including Campus Assault Resources and Education, the Title IX office, UC Police Department, Student Legal Services and the Santa Monica Rape Treatment Center. BCC also educates students and the community on the necessity of consent in any and all sexual acts. They encourage students to be effective bystanders and know their rights when dealing with instances of sexual assault through their media campaigns. These photo campaigns include #relationshipgoals which celebrated healthy relationships and #noshamenovember, a photo series recounting the stories of survivors/allies who have struggled with self-image pertaining to sex positivity and sexual violence. Even cooler? Recently, BCC has held a variety of talks and panels around the subject of sexual assault as well as introducing trauma-informed yoga and art as a form of healing. The voices behind BCC fight for you, your body and your right to dictate what happens to both.
5. Active Minds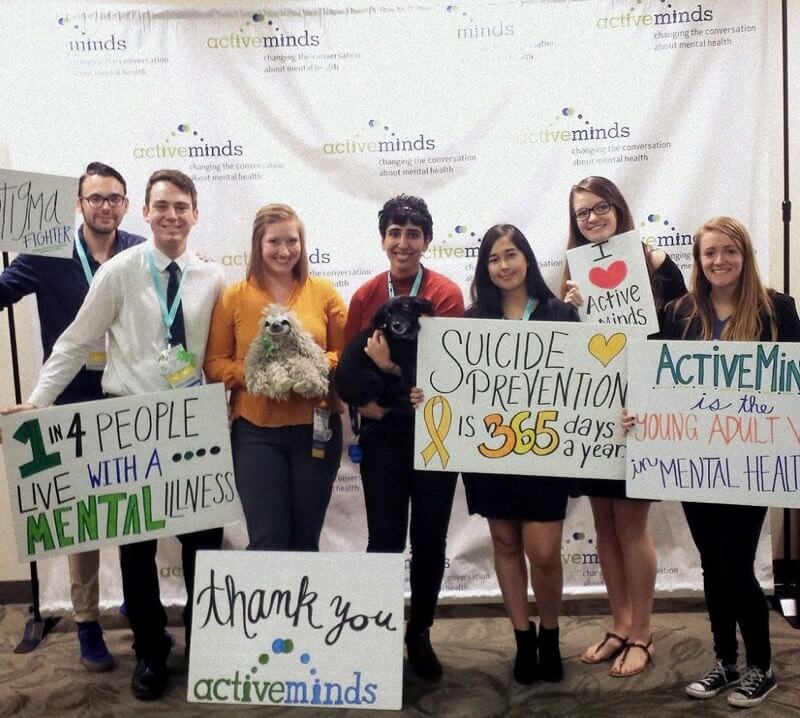 If midterms, tight confines and impending adulthood don't stress you out enough, try experiencing homesickness, financial difficulty, mental illness or any number of other stressors for the first time. UCLA's Active Minds guide and support these students through the difficulty of college and young adult life. This national mental health advocacy group increases student access to mental health resources and reducing the stigma surrounding mental illness by hosting noteworthy speakers on the topic and creating programs like Send Silence Packing, an exhibition of donated backpacks representing teens lost to suicide. Active Minds also helps with the issue of not being able to find these resources. The group is currently developing a campus mapping project designed to direct students to university resources—anywhere from the UCLA food closet to the location of gender neutral bathrooms—based on a survey that will evaluate the student's needs. The minds of Active Minds remind students to prioritize their mental health in the midst of the chaotic college lifestyle.
4. USAC External Vice President (EVP)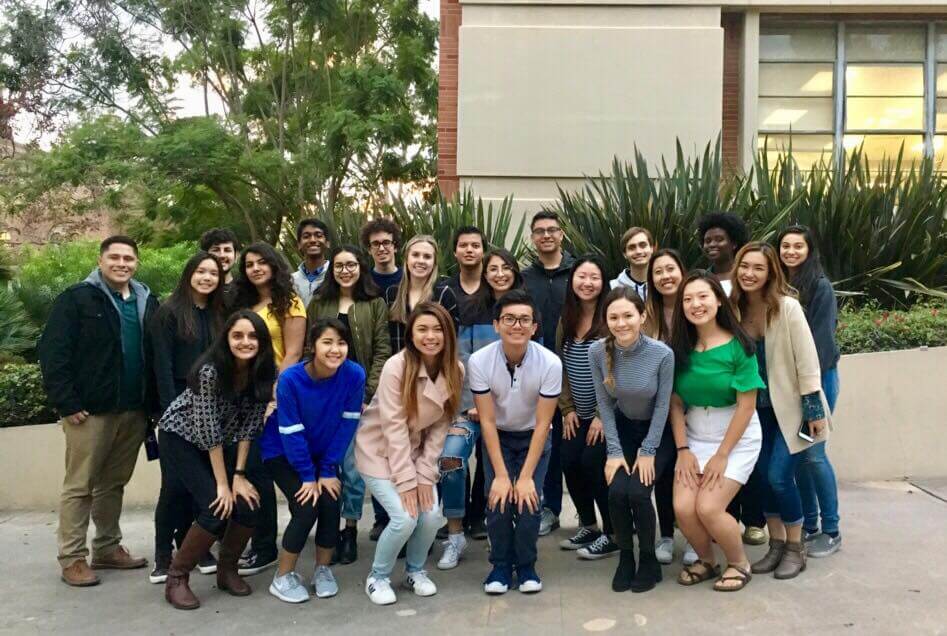 UCLA's undergraduate student government's EVP office advocates to leaders at the university, city, state and federal level in order to address the needs and concerns of its student body through policy change. Currently headed by student Rafael Sands, the EVP office works mainly on issues of college affordability, including the costs of student tuition and housing. "We organize direct advocacy, such as lobby visits, organized actions, such as our SB 54 rally at the capital in March, and voter registration and engagement," said Sands. For example, the EVP office has lobbied for grant programs for campus mental health facilities. He additionally collaborated with regional officials to address gun and campus safety protocols on state campuses and helped to register over 10,000 Bruins to vote in the 2016 election. According to Sands, "I'd say what is unique about us is that we represent the school on the Board of the UC Student Association, which collectively advocates for over 240,000 UC students. Our strength comes in our numbers. Social justice organizations have long been a part of UCLA's history, and I don't think we'd be the school we are without them."
3. California Public Interest Research Group (CALPIRG)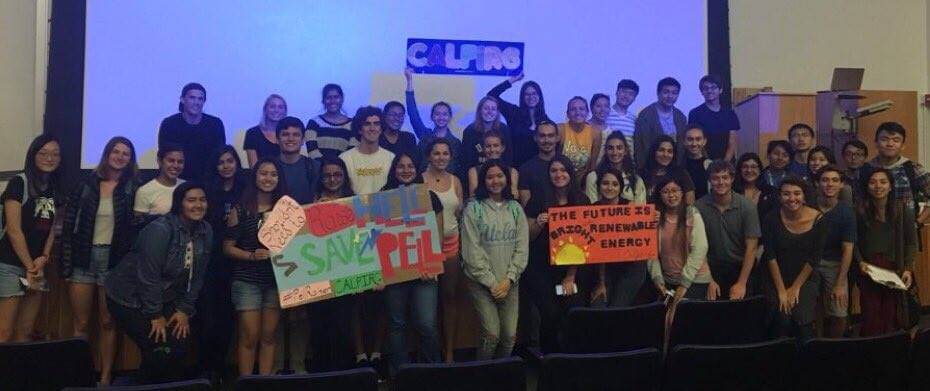 CALIPIRG represents a statewide organization that connects passionate UC student leaders with experienced advocates and organizers in order to affect state policy. "Our mission is to make changes on public interest issues: policies that affect everybody and that most people agree with, but aren't happening because of a special interest group," said CALPIRG executive board member Jamie Kennerk. "Currently, we are doing this by promoting the use of open source textbooks, fighting for the UCs to get 100 percent of our energy from renewable sources, and encouraging publicly funded elections in cities near our chapters." Some of the UCLA chapter's recent achievements include helping ban use of plastic bags in California, registering 60,000 students to vote in the 2012 and 2016 elections, and convincing Congress to increase college financial aid by $36 billion. "We use a vast array of tactics, ranging from lobbying, organizing press conferences, gathering petitions, getting campaign sign-ons from campus and community organizations, and partnering with other nonprofits," said Kennerk.
2. MEChA de UCLA–Movimiento Estudiantil Chicana/o de Aztlan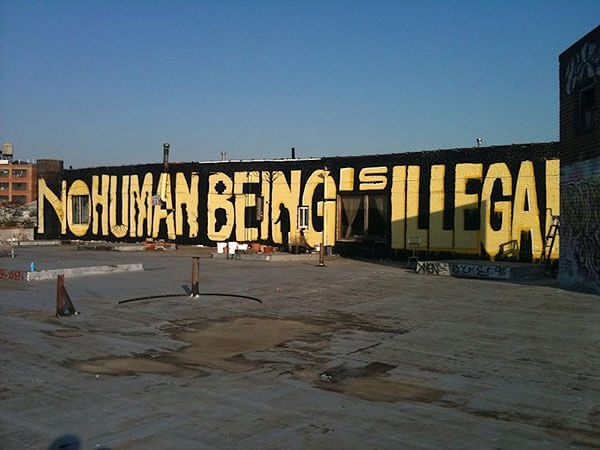 La lucha sigue! MEChA works to promote the culture, history and liberation of Chicana/o students on campus and within the larger community through workshops and a mentorship program. United Mexican American Students formed in April of 1969 with the belief that real social change can only occur through the efforts of people united in a common struggle. MEChA initially sought to address prejudicial conditions on UCLA campus, including a lack of diversity among students and academic programs, unfair funding allocations, lack of access to counselors and other resources and low graduation rates for students of color. Working together with students from UCLA's Afrikan Student Union, MEChA helped create the Higher Potential program, which allowed disadvantaged or nontraditional students to attend classes at UCLA. The program exists today despite an FBI infiltration in the 70s. With a 14-day hunger strike MEChA also convinced the university to establish the Chicana/o Studies department at UCLA.
1. Afrikan Student Union (ASU)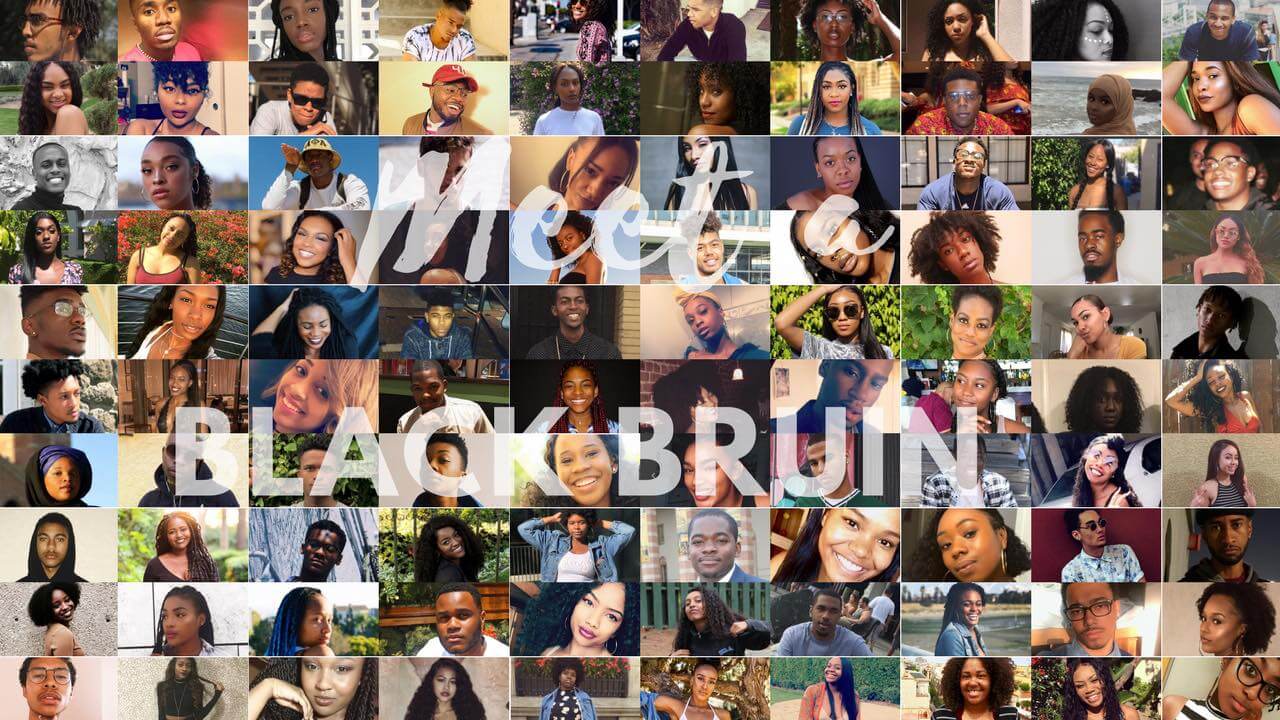 ASU was originally founded in 1966 to protect and serve the interests of students of Afrikan descent at UCLA. The Black Panther and Civil Rights movements as well as the rebellions that took place throughout Los Angeles in the 1960s prompted the creation of ASU. ASU collaborated with MEChA to establish UCLA's Higher Potential program. They also advocated for the creation of the Academic Advancement Program, providing tutoring for underrepresented, low-income and first-generation college students. The ASU proved instrumental in the creation of UCLA's Freshman Summer Program, which allows underrepresented admitted students to study and live at UCLA for six weeks the summer before their freshman year to become accustomed to college life. ASU also worked to establish the Center for African American Studies at UCLA, which offers culturally relevant material important to the university's students of color. Today, the org provides outreach, networking and political opportunities for students of Afrikan descent in order to combat low admissions rates of Afrikan students at UCLA and to further advance the rights and quality of life for the campus community at large.