By this point you might've watched The Interview already (and if you haven't, it's streaming for six bucks on Youtube). Despite the chaotic circumstances surrounding its original release, the movie did end up seeing the light of day — though the political controversies set in motion by the related Sony hacks have yet to peter out. From the collapse of Sony's servers to the government's middling public response, we've put together a timeline of all the drama behind James Franco and Seth Rogen's newest buddy film.
We've Pissed Off North Korea… Again
Surprising absolutely no one, North Korean dictator Kim Jong-un was unenthused by the film's premise when Sony Pictures first announced the comedy last summer. A North Korean government spokesperson described the assassination plot of The Interview as "undisguised terrorism and a war action," warning the potential for a "strong and merciless countermeasure." As serious as that sounds, Kim Jong-un's threats were likely as empty as his father's a decade ago, when Team America: World Police portrayed him as a very sad and lonely puppet.
Then again, Kim Jong Un has a reputation for peculiar behavior and unpredictable aggression, so worsening our already tense relations probably isn't in our best interest.
Sony Goes Dark
One morning in late November, an image of a "sneering red skeleton" flashed across the computers of Sony employees around the country. The message contained a list of threats signed "#GOP," or "Guardians of Peace," a hacker group who the U.S. government insists has nefarious ties to North Korea. Sony's whole network collapsed, locking employees out of the system while the hackers siphoned and subsequently leaked over 10 terabytes of sensitive data, including movies, financial records and employees' personal information. Following further threats, Sony cancelled the Christmas release of the film entirely.
Kim Jong-un: "It Wasn't Me"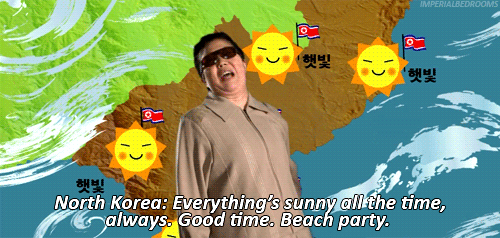 Again surprising no one, Kim Jong-un denied all responsibility for the hacks, even expressing offense that North Korea was the target of accusation. Pyongyang officials then offered a joint investigation with the White House — though in typical Jong-unian fashion, also threatened "serious consequences" if the United States rejected assistance and continued their "groundless slander."
Obama Puffs His Chest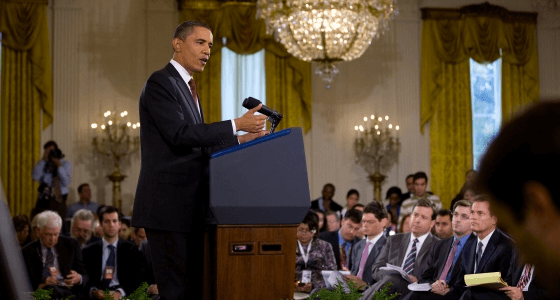 Experts quibbled for a while on whether North Korea was actually the culprit, and to be fair it's still a matter of debate. But the government's decision became clear when Obama asserted that North Korea's "cyber-vandalism" would not go unpunished.
In late December, North Korea suffered several massive internet blackouts. Naturally, the White House declined to comment, but Jong-un lashed out at Obama anyway, comparing him to a "monkey in a tropical forest." Obama finally levied a series of sanctions against various North Korean government agencies and officials, and the two have been squabbling ever since.
Latest Updates
Last week the FBI redoubled its confidence in its original accusation of North Korea, claiming that the hackers "sent messages that could be traced to IP addresses used exclusively by the North Korean government." Many remain dubious of the FBI's assertion, and with good reason.
Sony Pictures has leaped out of the frying pan and into the fire — now the target of multiple lawsuits pursued by its own former employees. Disgruntled staff have filed four class-action negligence suits against Sony Pictures due to the security breach (which, by the way, was not Sony's first).
But Sony's misfortune doesn't end there. Leaked emails from the film studio's executives reveal, among other things, that they believe Will Smith's kids are best avoided, and that Bradley Cooper and Emma Stone's newest film is a disaster-in-progress. With a double-whammy of the film's cancellation and scandalous leaks, Sony's become the target for celebrity jabs all over social media.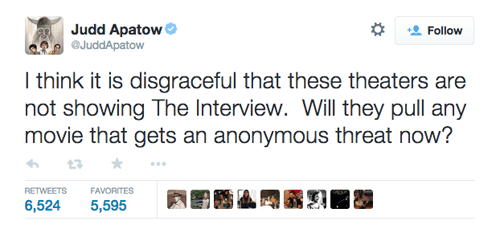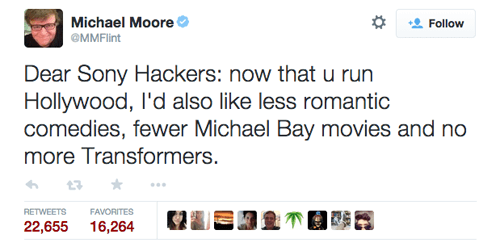 Meanwhile…
Sony Pictures quietly released The Interview over a handful of online platforms, including YouTube and Google Play. Ironically, it's unlikely Sony's gross revenue will break even with production and distribution costs, but The Interview remains the highest-grossing film online for the company.
For the most part, critics thought it was just okay.