The Midwest is more than full of cornfields and barns. In one moment you can hike up a mountain, then climb down and head to the beach (a beach on a lake, that is). College students in the Midwest don't need to choose between city and rural life because they get both. And the most beautiful campuses in the Midwest have outstanding architecture, a great location and an inviting environment.
Get ready to bask in the beauty of the 10 most beautiful campuses in the Midwest.
10. Ohio State University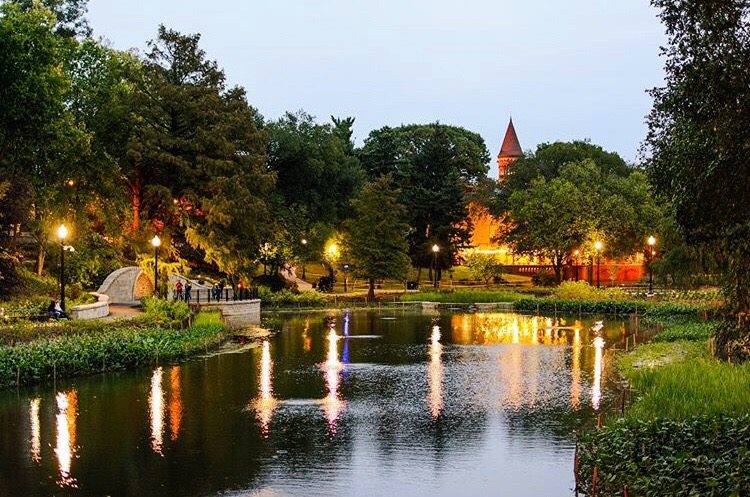 Imagine walking along a calming trail, dirt crumbling under your shoes, all while an extraordinary view of your campus surrounds you on the way downtown. Look no further than Ohio State University for this incredible privilege. Find a running buddy and tackle this trail or train for Columbus's many marathons, like the Capital City Half Marathon. Find other ways to take in the beauty of other landmarks sprinkled across campus like Antrim Park and Whetstone Park. Here, your outdoor adventures come to life with endless possibilities: biking, fishing, running or even finding a dreamy spot for a picnic. Want those million dollar views without getting out of your PJs? Head to to Knowlton Hall's rooftop. There, you'll find a rooftop garden area filled with the smells of newly bloomed flowers, fresh air and the sunshine. Just wait until spring for this space to transform into a complete oasis.
9. Northwestern University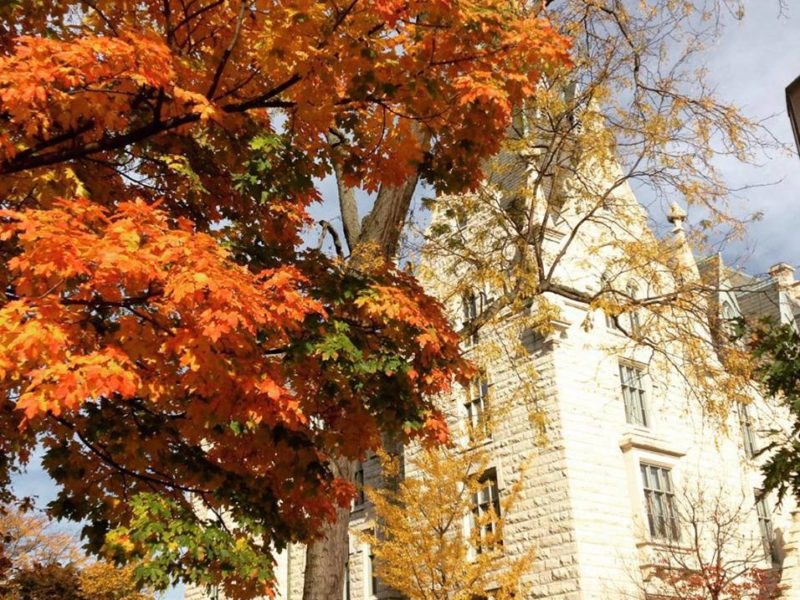 Want to study in the U.S. and simultaneously live abroad? For those who aren't experts in the art of teleportation, make your way to Northwestern University where you can live your sunny summer months in Chicago, IL, and spend your winter exploring their campus in Doha, Qatar. In this home away from home, students can expect to explore amazing skylines, diverse cultures and the largest institution in the world. Not only that, but the campus has some of the most state-of-the-art facilities to offer to its students, including advanced media tools and spaces like a multimedia newsroom, production studios, theaters and more. You'll find the main campus only miles away from central Chicago. A student will never have a dull minute— let alone the time to scroll through Twitter. They'll be too busy keeping up with the hustle and bustle of the city around them. From skyscrapers, theaters, city skylines and professional teams to keep up with, this city never seems to slow down. And a cherry-on-top of the whole thing: the campus buildings in Chicago are made with the most sustainable, eco-friendly material around. Northwestern focuses on protecting the planet, not harming it.
8. University of Minnesota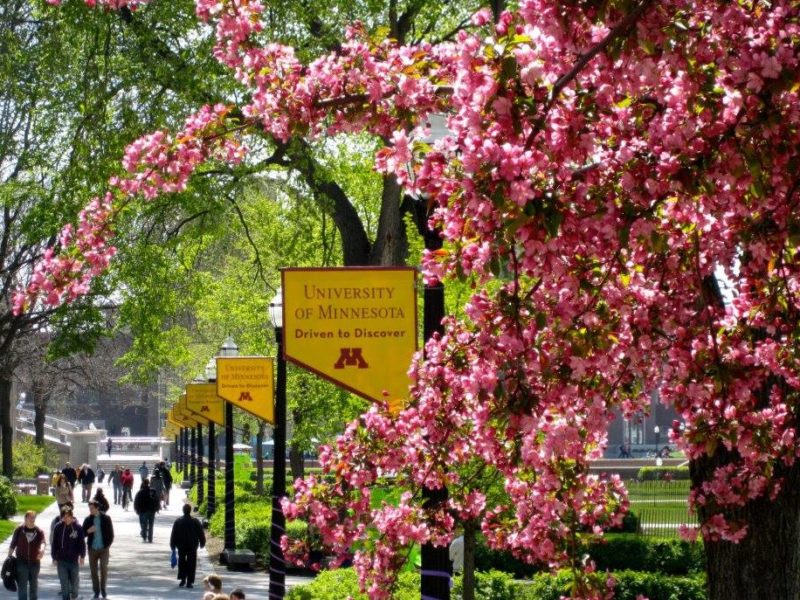 The University of Minnesota campus will impress you at every season change. And beautiful nature excursions wait around every corner. Trade ancient looking hallways and late nights at the library for canyon-like passageways or hikes up a mountain or down the banks of the Mississippi River for a study break. Take that break you've been craving—no, the occasional blink while staring at your screen doesn't count—and go for a stroll. Take in all the adventure during your time at the University of Minnesota. Not into the outdoors? Then get into the history of the architecture on this campus. Not only are the buildings classic brick and traditionally-styled, they're also among the oldest buildings in the district. Take the Eddy Hall. Built like Queen Anne style in 1886, it's the oldest building on campus. Pillsbury Hall, built in 1889, incorporates Richardsonian Romanesque details. English majors will soon get to enjoy all that history when the building reopens as its department home.
7. University of Michigan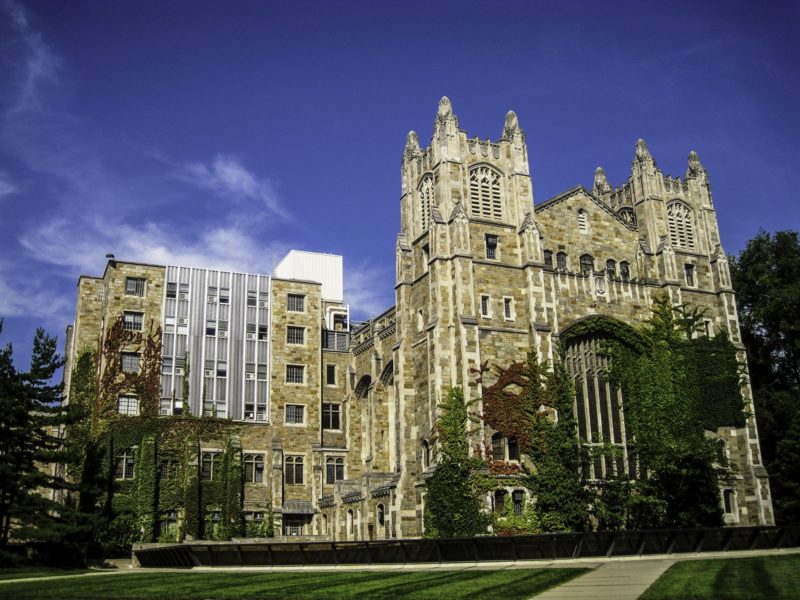 You don't need to venture out into the woods to feel one with nature at the University of Michigan. The Rackham Building at the University of Michigan is made up completely of Indiana limestone, topped with a pure copper roof. The other buildings on campus are a mix of ancient and modern to shake up your unified Gothic-styled expectations. So your walk around campus will have mountains, old buildings and modern architecture– what more could you ask for? And maybe you are a nature lover and want to bond with the great outdoors. Go to Ann Arbor. With 1.5 million trees, the City of Trees at Ann Arbor will bring everyone with life.
6. Loyola University
Magnificent Mile on a study break? Yes, please. At Loyola University, students live in the heart of Chicago. Most campus buildings overlook the sparkling Lake Michigan. Talk about daydreaming of outside adventures on the beach whenever class finally ends. But don't let the daydreaming stop at the water's edge; Loyola has a sister campus in Rome, Italy. Whenever you get tired of that deep-dish pizza, hop on a plane and Loyola will serve up spaghetti and meatballs. Some buildings date back to the 1920s and others to the early 2000s. Mertz Hall, Flanner Hall, Damen Hall and Cudahy Science Hall reflect a Brutalist architecture style, while some of the newer buildings on the Lake Shore Campus reflect Art Deco and Queen Anne styles. And yet, these all-brick, Cathedral-like buildings still look cohesive as you walk down a memory lane while at Loyola.
5. University of Wisconsin-Madison
Forget being one of the most beautiful Midwestern campuses; UW-Madison takes the cake as the most beautiful college in Wisconsin. A common place for tourists, the campus rests between Lake Mendota and Lake Menona, and Memorial Union shows off the best view of it all. Grab a snack, get out some homework or a book and take in the scenery. Pose in front of the Red Gym, because it looks like a giant red castle. Fool your friends by making them think you live in a majestic castle land when you actually just sweat your butt off at the gym. Better yet, wait for the winter months to roll around. You'll wake up with a blanket of snow covering the campus.
4. University of Chicago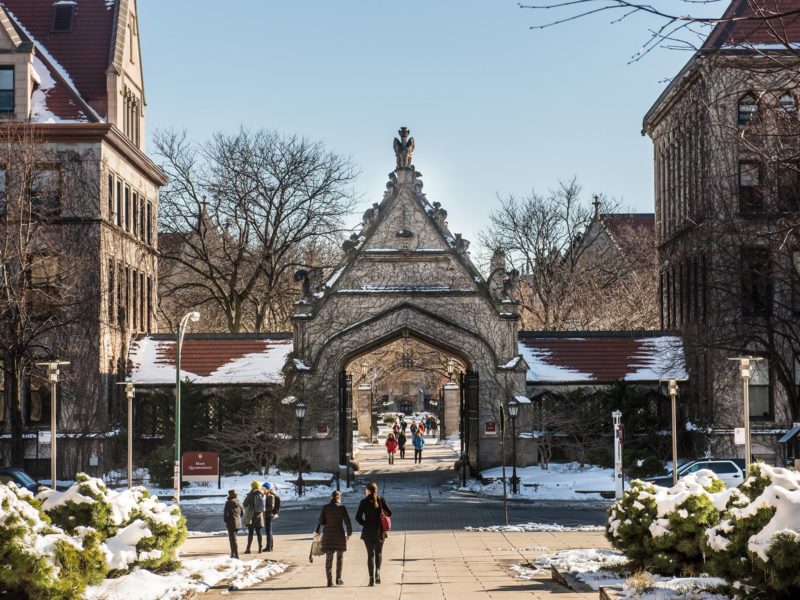 UChicago students focus on their studies on this small campus, feeling like an island away from the hustle and bustle of Chicago. UChicago modeled itself after other great universities, inspired by the Gothic style at Oxford University. As time went on, famous architects like Frank Lloyd Wright and Walter Netsch shaped other iconic buildings on campus. Wright designed the Robbie House, now a National Historic Landmark. Netsch designed the Regenstein Library in Brutalist style. Henry Ives Cobb designed the first completed UChicago building, Main Quadrangle Location.
3. Washington University in St. Louis
Washington University in Saint Louis will take your breath away. The massive archways look like they were built for giants. The Collegiate Gothic buildings feel ancient and historic; small detailing surrounding the campus like gargoyles, brickwork, and round towers makes it feel like a castle. "All the buildings match, and it's very cohesive and pretty," freshman Sofia McGrath said. Better yet, you can venture off to 53 nearby state parks for a study break. At Prairie State Park, become one with nature and its wildlife; it's home to 25 endangered animals. Or head over to Mark Twain State Park to go hiking, fishing, swimming or boating in the Mark Twain Lake. Oh, and WashU's a national leader in sustainability. The university intensely focuses on cutting down its carbon footprint to make sure campus stays incredible for ages to come– talk about "staying green."
2. University of Notre Dame
Welcome to Notre Dame: a university with 175 years of natural beauty. Students can navigate through 524 acres of campus with neighboring lakes and forests. Whatever outdoor hobby floats your boat (kayaking, climbing, hammocking, etc.), you'll find it here. "The whole area feels open and friendly and unchanged since the university was founded," alumnus Michael Vaclav said. You'll see campus landmarks around every corner, like the Golden Dome on the Main Building, Touchdown Jesus, Notre Dame Stadium or the Basilica of the Sacred Heart. The Fighting Irish find themselves engulfed in this campus' natural beauty for hours on end.
1. Miami University
This Oxford, Ohio campus is so breathtaking that it doesn't need the beaches in Miami, Florida. Pack your winter jackets and hiking boots, 'cause you're in for an adventure the moment you step on this campus full of wildflower walks (and smells), hiking trails and open natural areas. Want to experience the natural area beauty all at once? Join in on the annual Hike–A–Thon that leads you through marked trails in Miami University's Natural Areas. You'll explore over 1,000 acres and 17 miles of trails and walk up to five miles.
Poet Robert Frost called Miami University "the most beautiful campus there ever was." For those not familiar with the architecture term "Georgian Revival," picture brick buildings, wide open archways and cobblestone streets. Take Upham Hall, for instance. This academic hall was built as a gateway between the past and the future. The building's famous archway leads to the HUB. Its grand brick detailing and structure makes it stand tall at Miami University. Legend has it that if you kiss your sweetheart under the arch, you're destined for a life together. Your picturesque fairytale ending awaits at this Ohio university.
Top 10 Most Beautiful Campuses 2018
The 10 Best Colleges for Skiers
Top 10 Pet-Friendly Colleges 2018
Top 10 Midwestern Art History Universities to Crack the Da Vinci Code