Spring break is right around the corner, which is just one more trigger to set off your panicking about how you'll look in a bikini, what to pack and how you'll manage to get through your midterms while you're dreaming about sipping margaritas on the beach.
In the last couple of weeks before your big getaway, there are a few things one can do to be beach-body ready in no time, even if the winter blues have you feeling less-than-confident. The main motto of spring break beauty is worry and mess-free, because how you look in pictures should be the least of your concerns as your relax and enjoy the beach views.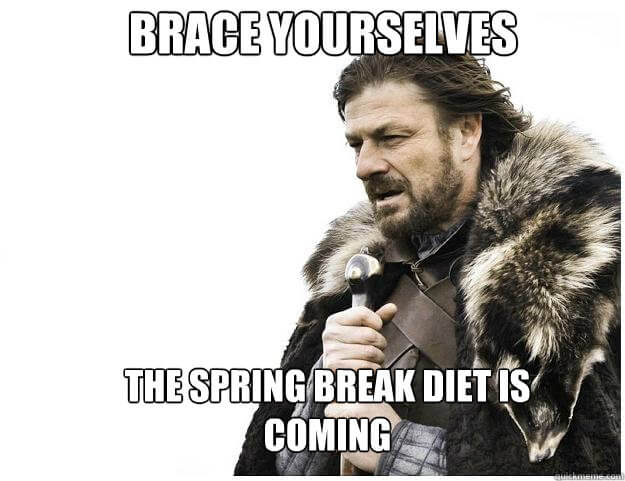 Getting that sunny glow is something most people aren't naturally born with, and honestly it seems like a perfectly acceptable thing to go into spring break not looking like a glistening bronzed beauty. Using a gradual self-tanner and exfoliating regularly can help skin look glowing.
This would also be the time to kick up your workouts as much as possible, if being a gym rat wasn't already part of your repertoire. Squeeze in as many workouts as you can, and watch what you eat for the next week or so, particularly salty foods that cause bloating.
This might seem a little late, but getting in any working out possible will help temporarily tighten your muscles, even just for that week. Above all,don't resort to crazy diets or cleanses that promise to help you shed weight fast; eating and drinking less than usual will only cause your body to cling to the nutrients it has and go into "starvation mode", which means it won't be burning the calories you consume and it will hold on to weight.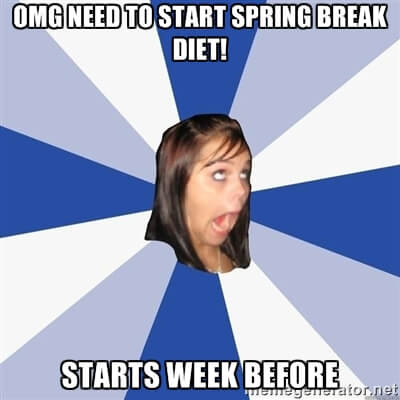 Spring break is usually pretty synonymous with drinking and having an all-around blast in skimpy clothes, so hair and makeup should be as natural and fuss-free as possible during your trip. Let your hair go natural or add a slight wave (which could also work in your favor if humidity strikes!), and use as little (waterproof) makeup as possible to keep from looking like a huge oil slick. This way you won't have to worry about getting wet and your makeup smearing down your face.
As the Zac Brown Band so eloquently put it, on spring break you'll have your " toes in the water, ass in the sand, not a worry in the world, a cold beer in my hand," and this perfection should not be marred by worries about your looks. If you have good scenery and good friends, there's no need to overanalyze what you look like, but rather about feeling your best and making the most of your memorable trip. 
Image: Tomy B Salon