Senator Maggie Hassan started out as a lawyer and a mother. Inspired to run for office by her son Ben, who suffers from cerebral palsy, Hassan built her career around protecting the disadvantaged. After three terms in the New Hampshire state senate, she made a run for governor of her home state, where she served for four years. In her new position as the junior U.S. senator from New Hampshire, Hassan is working to help us reach 50 by 2050.
Maggie Hassan Career Timeline
1980 – Graduated with her B.A. from Brown University
1985 – Graduated with her law degree from Northeastern University
2004 – Elected to the New Hampshire State Senate
2008 – Elected Democrat Majority Leader in the New Hampshire state senate
2012 – Elected Governor of New Hampshire
2016 – Elected to the United States Senate
Q&A with Powerful Women Leader Senator Maggie Hassan
Q: What inspired you to get involved in public service?
A: I got involved in public service in part as an advocate for my son Ben, who experiences severe disabilities. Growing up, Ben had the opportunity to learn and make friends, just like every other child—and that was only possible because of those families and champions who came before us and advocated for a more inclusive society and country. My experience as Ben's mother inspired me to advocate for others, and it was one of the reasons I ran for the state Senate and then for governor, and most recently for the United States Senate.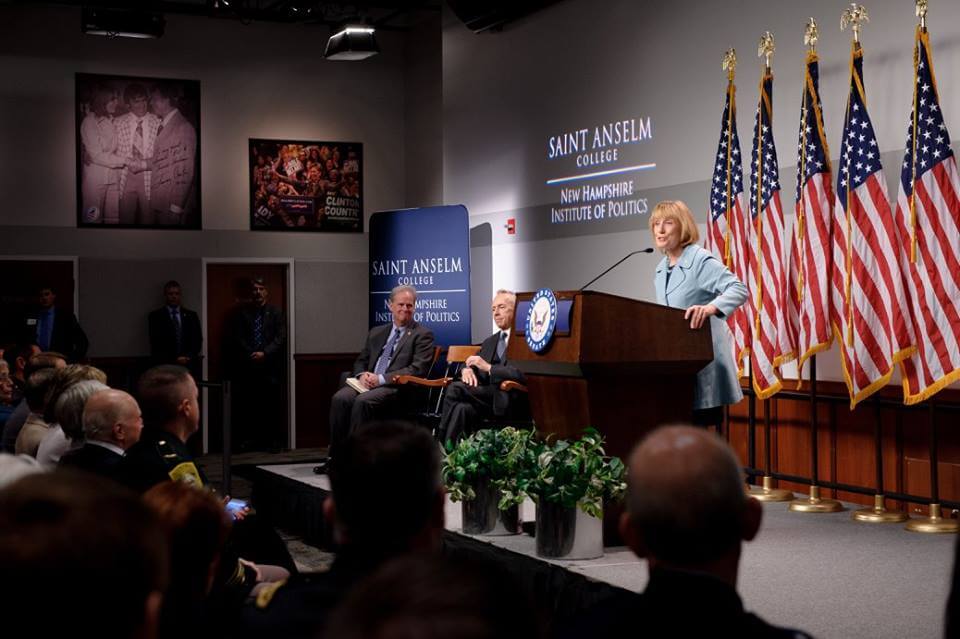 Q:  At College Magazine we're working together with EMILY's List, Emerge America, Human Rights Campaign, Higher Heights, She Should Run, Victory Fund and IGNITE on an initiative to fight for equal representation in congress called "50 by 2050." What are your thoughts on the goal of achieving 50 percent of women in Congress by 2050? What advice would you have for young women considering a career in politics?
A: I'm proud that in New Hampshire we have a strong tradition of women in leadership positions. We know that when there are more perspectives represented, when there are women at the table – and crucially, at the head of the table–we make better decisions. My advice to any woman thinking about running for office, or pursuing any career for that matter, is to have confidence that there are usually ways to make it work. When I was deciding whether or not to run for state Senate, I had a busy law practice and two kids, as well as concerns about what running would mean for my family, especially for Ben. I remember listing for my husband Tom all the reasons I shouldn't run–and that he told me that somehow we would make it work. With Tom's—and my children's—help, we've been making it work ever since.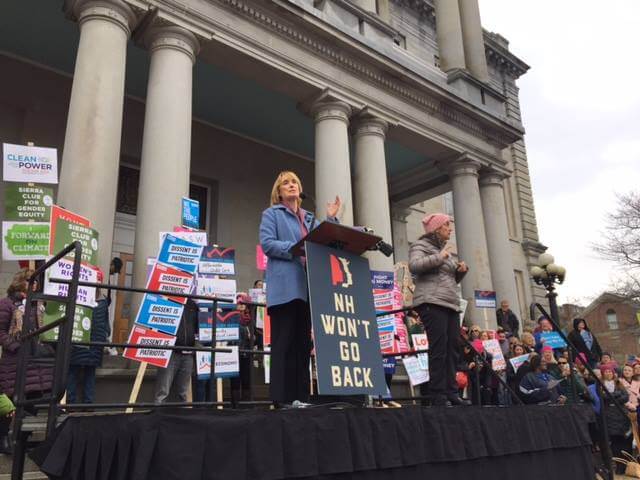 Q: What issues do you think are most pertinent to tackle in our government right now and how do you think we should go about solving those issues? 
A: The 2016 election exposed divisions in our nation. But in a season that focused on our differences, we also saw glimpses of how much we share. As Governor, I worked with members of both parties to find common ground and get things done—including mounting a comprehensive approach to combat the heroin, opioid and fentanyl crisis in New Hampshire; expanding access to job training and making college more affordable; cutting red tape and providing tax breaks for small businesses; and fixing our highways, roads and bridges. This is the same approach I am bringing to the United States Senate, joining with my colleagues from both parties on critical priorities including working to combat the heroin and opioid crisis and promote fiscal responsibility. I look forward to continuing to work across party lines to expand economic opportunity and stand up for the American values that make us strong.
Q: What is a moment in your career that you're proud of?
A: I am also proud to be a part of the first all-female, all Democratic Congressional delegation with Senator Shaheen, Congresswoman Kuster and Congresswoman Shea-Porter, and I will continue working with them to build on the bipartisan progress we've made in New Hampshire to ensure that all hard-working Granite Staters and Americans have the opportunity to get ahead and stay ahead.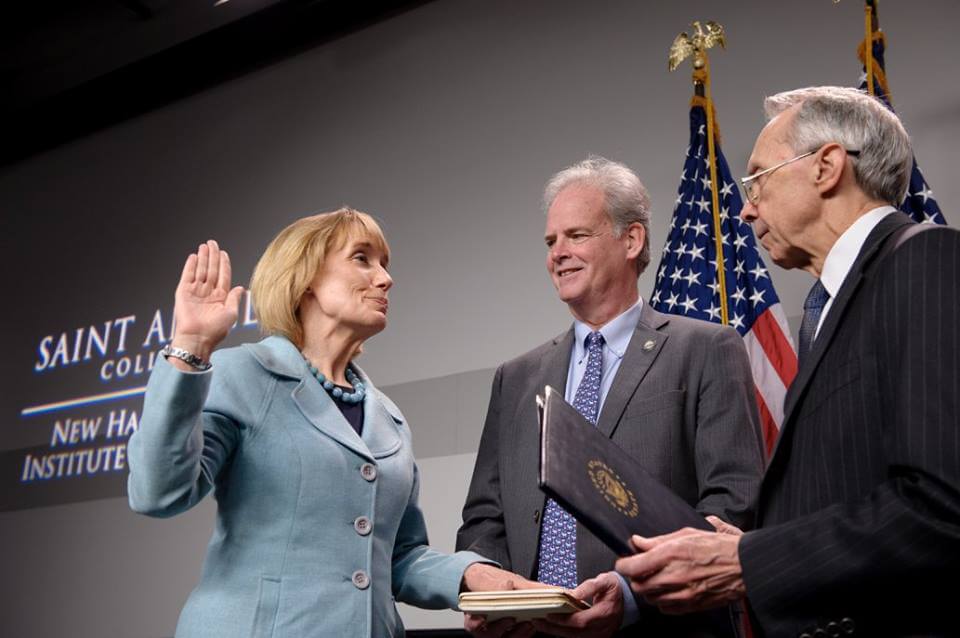 How to Connect with Senator Maggie Hassan
Send her an email via her online form: https://www.hassan.senate.gov/content/contact-senator
Write her a letter or give her a call:
Washington D.C. Office:
330 Hart Senate Office Building
Washington, DC 20510
Phone: (202) 224-3324
Fax: (202) 228-0581
State Offices:
Manchester
1200 Elm Street
Suite 2
Manchester, NH 03101
Phone: (603) 622-2204
Portsmouth
14 Manchester Square
Suite #140
Portsmouth, NH 03801
Phone: (603) 433-4445