Wendy Carrillo works for the people in the name of social good. While protesting at Standing Rock she felt inspired by the change that happens when people come together. This prompted her to run for a congressional seat in California and now she's energized to be on the front lines against the Trump administration on issues such as immigration and education and move our congress towards the goal of 50 by 2050 (50% of women in congress by the year 2050).
Wendy Carrillo Career Timeline
2005 – Graduated from Cal State L.A. with a bachelors degree in rhetorical communication
2006 – Started working on "Knowledge is Power" with Power 106 FM
2009 – Graduated with a masters degree in journalism from the University of Southern California
2014 – Covered the Ayotzinapa case for Reported.ly
2016 – Protested at Standing Rock Sioux reservation
Q&A with Powerful Women Leader Wendy Carrillo
Q: What inspired you to get involved in the political sphere?
A: I've been involved politically in the intersections of media and politics and advocacy for the past 15 years in my professional career. The new administration clearly campaigned on the backs of immigrants and women and LGBTQ folks and Mexicans specifically and the Black Lives Matter movement and all of our movements are intersectional. Now more than ever we need to ensure that all people are represented in the halls of Congress.
I was actually at Standing Rock between October and December and that's when I found out the congressman was going to be appointed the new attorney general of the state. I was just leaving Standing Rock when I made the decision to run for the seat in South Dakota. I made that decision while I was actually at Mount Rushmore, thinking about the future of this nation and what it could potentially look like. So I felt very inspired by what I had just experienced at Standing Rock, both in terms of ceremony, prayer and resistance as well as in shock over the violence that took place on behalf of a militarized police state against tribal nations and people that were strictly there to protect water.
I feel like the direction our country is taking is not a positive one and I want to be part of a movement, a resistance, that actually brings people together. And then the seat opened up, and this was the seat where I grew up, where my parents live, where I went to public school, where I have roots, where I was recently able to purchase a home myself in a very changing community that is facing gentrification. So I thought, if not now, when? If not me, who?
I was the first woman to jump in. It's not easy—for women or women of color to do this because we don't have the structures or infrastructure to actually run a campaign and the most critical part of that is raising money.
Q: Lately we've been seeing a lot more women running for political office. How do you think that will end up shaping our political sphere? What issues have you seen specifically as a woman running for Congress?
A: Women, we bring something different to the table, and that is a different sense of understanding and thought process with compassion. There are four main things that impact the district, that the people of this district care about, which frankly I think are issues which resonate all across the country. And those are healthcare, our right to healthcare, immigration, the economy, when it comes to jobs, and education.
Those are the four top things that we continue to talk about throughout the district but really immigration is high up there just simply because one, the rhetoric of the country, but second, Los Angeles is a very densely immigrant community, not just Latino, but from all over the world. And the 34th Congressional represents some of the most diverse and multi-ethnic, multi-cultural, multi-lingual communities in the entire country.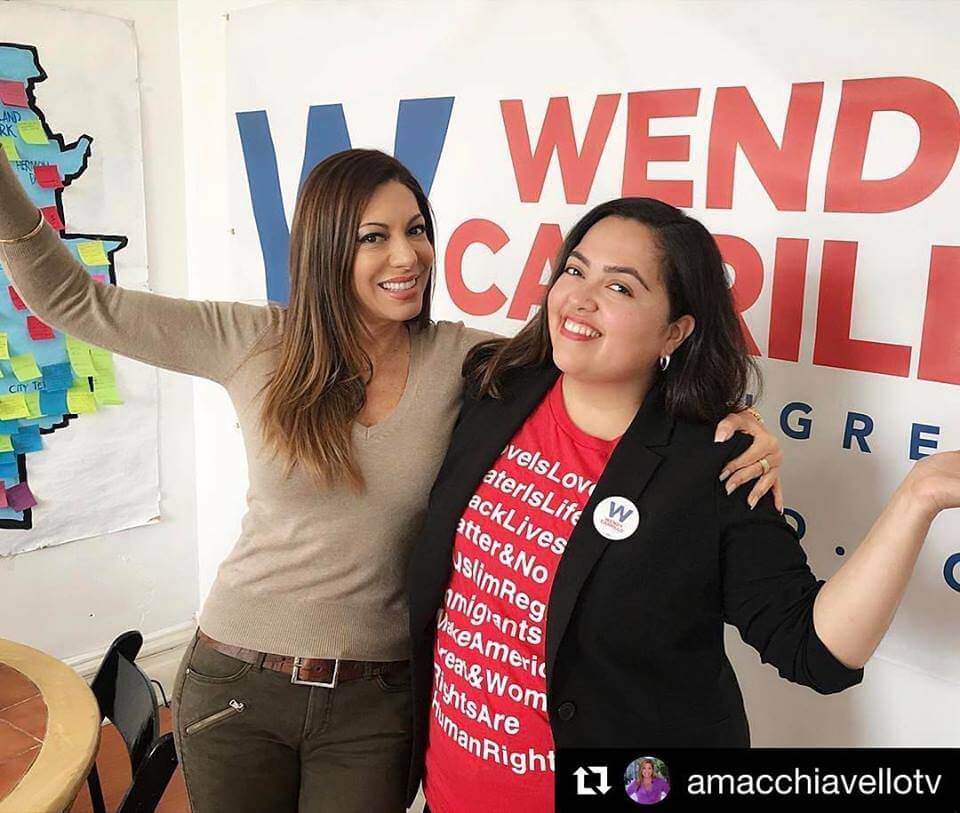 We have these communities like Little Tokyo and Historic Filipino Town and Chinatown and Koreatown and Pico-Union Westlake, which is the largest Salvadorian community in the country, aside from the fact that it's also a very densely Latino and Mexican, Mexican-American community. In the neighborhood and our district, known as Highland Park, there was a national story of a father who was dropping off his children to school when he was detained by ICE—doesn't have criminal record, was just targeted. We need to figure out what that looks like and how to protect communities and, you know, ICE is showing up to these communities wearing jackets that say "Police" on them, which should not be tolerated.
Q: At College Magazine we're working together with EMILY's List, Emerge America, Human Rights Campaign, Higher Heights, She Should Run, Victory Fund and IGNITE on an initiative to fight for equal representation in congress called "50 by 2050." What are your thoughts on the goal of achieving 50 percent of women in Congress by 2050?
A: I think it's great. I think that's what political representation looks like and we need to start planning for it because it doesn't happen overnight.
Q: What are the issues that you are most passionate about?
A: Immigration is clearly one. Education, of course, is the next big one for me. I'm the product of public schools. I paid my way through college. I went from just a general high school to a community college, which sometimes can be a detriment to the inner-city because we tend to stay there for much longer than needed, but I was actually quite focused in getting my education because I took about a year and a half off after high school—to just work.
I had an experience with an employer who had to downsize her company, and I thought I had a really good job. I thought I had it made. I was 18 years old, making good money, and I was downsized. My boss, who was an incredible woman, told me, "You know, we have two receptionists and we can only keep one because we're downsizing, and the other receptionist is going to college, and you're not." I decided right then and there that I wasn't going to let anyone tell me I couldn't keep a job or be able to have a job because I didn't have an education.
I started going to college full time. I enrolled at East L.A. Community College and started taking classes. Within about two years or so, I had enough to transfer out, went to Cal State L.A., got my undergrad degree and started working again, then decided to go to grad school at USC. That's been my trajectory and I have paid my way through college the entire time. Education is incredibly important and it's important to this district and for the country. We all want to be able to have a good job and a decent wage. Sometimes that requires a lot of sacrifice, but we shouldn't go into debt over it.
Q: At College Magazine, we're the guide to the undergraduate experience. In what ways did your college experience at Cal State and USC prepare you for your experiences in public service?
A: I loved my experience at Cal State L.A. I'm a first-generation college student, I'm the oldest of five daughters, I'm the first one in my family to go to a university in the United States. My mother has what we consider an undergraduate degree from the University of El Salvador, but coming here and doing the system here is very different, and I needed to figure that out.
I was able to participate in ASI, which is the Associated Students Inc. I was the vice president of the university in my senior year. I loved it. I became very engaged in the community, I became engaged as a student that was responsible for the budget that was allocated towards clubs and organizations and ensuring that we were distributing funds so that student groups could put on programs, which was amazing because we had all this money and nobody had tapped into it before.
I saw how being a leader could really impact change, and this was at a very local, collegiate level. We also created something called Student Core. It was called ASI Lobby Core, so it was a lobby core that actually lobbied the state legislature on the increase of tuition during that time. This was when we had Governor Schwarzenegger in office and there was always threats to hike up fees for students. We created like this whole army of students that went up to Sacramento to lobby against the fee increases.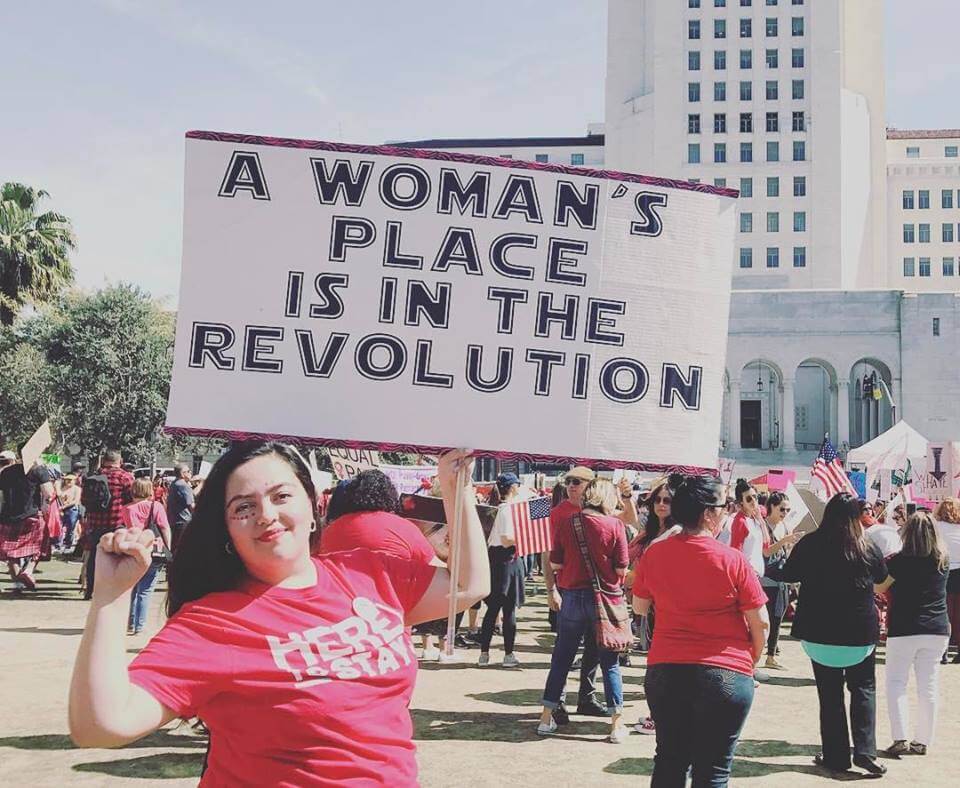 Clearly there were ways we could impact change, and that directed me, into always being involved politically—electing progressive candidates or working behind the scenes, I worked in labor for many years, organizing community, organizing workers on issues that were important to us like immigration, the foreclosure crisis, healthcare access, a living wage, the fight for 15, all of those things as a communication strategist, which was my undergraduate degree.
Q: How did you get involved in the movement at Standing Rock? Why do you think it's important for people to get involved when they think the government is doing something objectionable and start publicly dissenting?
A: I have been a human rights journalist for many years. I was one of the founding members of an organization called Reported.ly which is a social news site that looked at human rights violations and global conflict as well as social movements around the world.
I had been covering Standing Rock since the year prior in April, when there was maybe about 14 people there, 10 to 14 people camped out. And in August of last year, Reported.ly shut down. So I had time on my hands. This was during the general election and I wanted to get out of L.A. and I wanted to talk to voters that were supporting Trump at the time and see where the country was going to go. I rented a little car and I started traveling the country and I went from Los Angeles to New Orleans so I drove cross country and then I went up towards North Dakota. I was only going to be there for a week and a half but I decided to stay much longer, so I was there for about two months.
I think the right to clean water is an issue that not only impacts, clearly, the Standing Rock Sioux reservation, but people around the world. The fact that we, as a country, would even consider putting a pipeline, an oil pipeline, underneath a natural water resource, that is a lifeline to the Standing Rock Sioux tribe, but also to the millions of Americans that depend on the Missouri River for clean water, I think is just the most insane thing. It clearly shows that we are putting profits over people. You can't drink oil. Once you contaminate the water there's very little you can do to restore it.
Environmental justice, the right to water, rights to clean water and tribal sovereignty are also issues that we need to look at on a much deeper level. I don't believe that there's any member of Congress that's putting that all together, really the connection and intersectionality of the movement of environmental justice, climate change, water rights, tribal sovereignty and issues with migration and immigration and undocumented communities, all of whom were present at Standing Rock, the Black Lives Matter movement—all of these movements were present in one place. For me, it was completely life changing, which made running for office that much easier.
Q: Can you speak a little bit about your journey with Reportedly? What was your experience in journalism like?
A: In Los Angeles I had a radio show called "Knowledge is Power" where it was a talk format on a hip-hop station, so we talked about some very serious stuff with elected leaders, holding them accountable, as well as community and nonprofit leaders and civic leaders—community folks and students, talking about the issues that impact Los Angeles, that impact our state and that impact the country—on a hip-hop station so we'd have some serious conversations but also have a little fun. So we'd be play the latest Drake or whatever had dropped to keep it lively, but also important. These are important conversations. I had that show for about 10 years and it ended in April.
Simultaneously I was a part of Reported.ly. So Reported.ly came together, our founder is a guy named Andy Carvin, who was with NPR for many years and like, wrote the book on social media and journalism, as well as how to cover social movements around the world. Reported.ly consisted of six journalists around the world, in Ireland, Greece, Italy, D.C., New York and L.A. We had shifts, just based on time zones, who covered what—issues like the Mediterranean refugee crisis, to unaccompanied minors from central America.
I covered a lot of Latin America, just based on my time zone, being in Los Angeles. From the missing 43 students of Ayotzinapa, I don't know if you're familiar with this case, but there were 43 college students that left their state of Guerrero, left their college, to go to a march in Mexico City. They were stopped by police and 43 of them have disappeared and they haven't been seen since, and this was September 2014. So those were the types of issues we would cover on Reported.ly.
I got an opportunity to go to Mexico City for the one year anniversary of the students being missing. Imagine if a bunch of students that read your magazine got on a bus and were going to travel to D.C., our nation's capital, for a protest and they were stopped by police and then never heard from again. That's literally what happened at Ayotzinapa in Mexico. That's an egregious act of human rights violation that we continue to see.
Q: What has been the most rewarding moment of your career so far?
A: I have been covering Ayotzinapa and the missing students since it started, and actually going to Mexico City for the one year anniversary, I did like a travel reporter's blog. It's still up on Reported.ly. Going there on the one-year anniversary and actually meeting the parents and having conversations with the parents and conversations with the students, their classmates, and just talking to people about what this means for the country.
Actually our role as the United States government in that whole process was an incredible, one, learning experience, but also, having been a student activist myself, and being an activist, just understanding very deeply what it means to simply be a student that gets on a bus to do your civic duty and participate in a protest, which should be everybody's right, and then to be stopped by police, detained, and then disappeared—you start thinking about what that truly means and how that even happens in a country that's supposed to be a democratic country.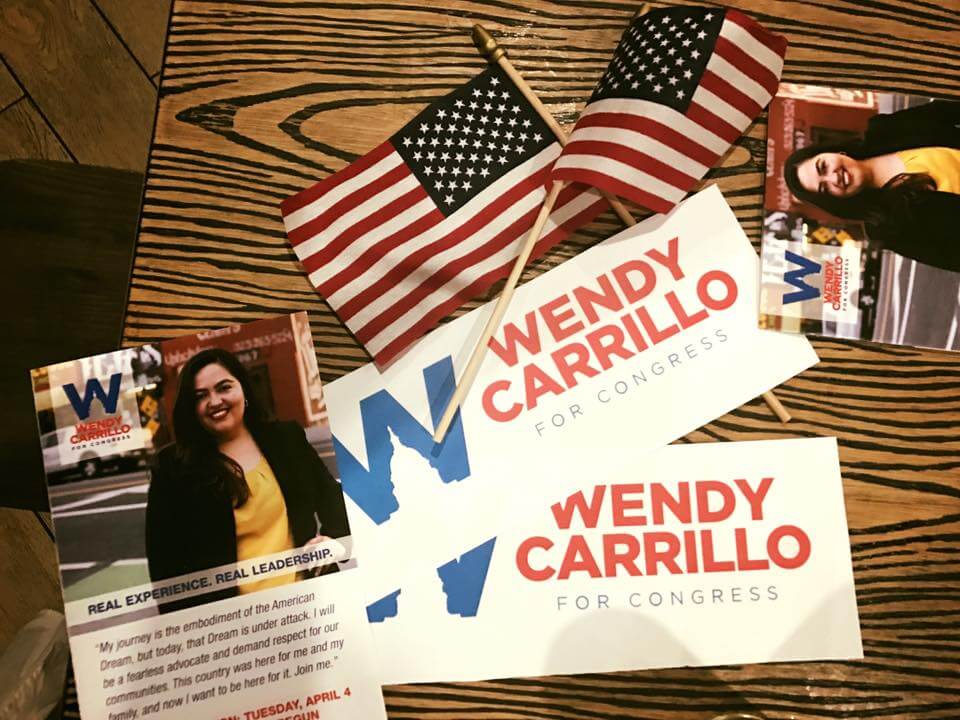 It makes you wonder what's the direction of this nation when we have a militarized police state that also chooses to water cannon people in 14 degree weather at Standing Rock and that throws tear gas at elders and grandmothers, and that has riots because of Ferguson and Baltimore, because of an increase in police violence against people of color. You begin to see the parallels.
Q: Is there anything else you want to add to this conversation?
A: If you are a young woman, if you are a student, and you're thinking about working for an elected official don't underestimate your talent and don't undersell your value. Make sure you are asking and you are negotiating for a salary that is deserving of what you will be doing because it is long hours. If you are thinking about running then start working on your network because the most important thing that you will need to do when you run for office is raise money. That means calling everyone that you've ever met in your entire life, and asking them to help you. Start working on the network.
The fundraising game of running for office is no joke and that's the reality of that as well. We need to be prepared and we need to make sure that we are asking not for ourselves, but for the future of this country. My friend runs a company called Girls Who Code, she's one of the first people I called and she gave me the best advice. She said, "You have to not be afraid of asking for money, because you are not asking for yourself. You are asking for people to make an investment in the future of this nation."
How to Become a Powerful Woman Leader
1. Let go of Self-Doubt
"Consider running and really start forming the idea of what you want to do, and let go of the self-doubt. Men will choose to run for an office if they are maybe 20-30 percent qualified for it. Women, we tend to think about it, we need to be 110 percent qualified for it," said Carrillo. "Oftentimes we think we are not ready, it's not our turn, we should know more and learn more before we decide to do it because of our own self-doubt. I bet that more women are more qualified to run for office, they just don't believe that they are and we need to just change the narrative—because the men don't wait and we shouldn't either."
2. Invest in Other Women
"We need to support each other and we need to learn how to fundraise for each other and how to show up with our wallet," said Carrillo. "If we can spend $100 on a new pair of shoes or a new bag, then you can spend that money on supporting a woman candidate that's running for a local seat or a state seat or a congressional seat, whatever it is, and ensure that we get into office."
How to Connect with Wendy Carrillo
Email Wendy at: [email protected]
Follow her on Twitter: @wendycarrillo
Check out her website: http://www.votewendycarrillo.com/