Missouri State Auditor Nicole Galloway never expected to run for political office, but she's always loved two things: math and serving her community. It wasn't until the Treasurer position opened up in Boone County, Missouri that she realized she could combine the two by running for public office. As a CPA and Certified Fraud Examiner with degrees in applied mathematics and economics, she's dedicated herself to making sure every taxpayer dollar is put to fair use during her time as Auditor. Now, she's running for Governor of Missouri.
If she's elected this November, she would make history as Missouri's first female governor.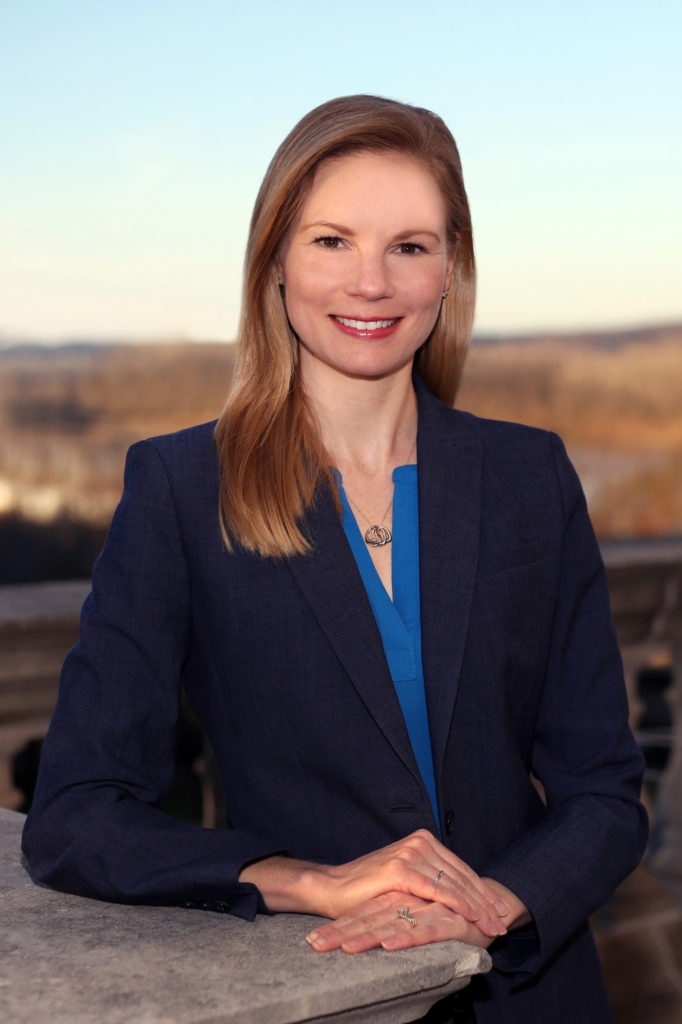 Nicole Galloway's Career Timeline
2004 – Graduated from Missouri University of Science and Technology with a bachelor's degree in applied mathematics and economics
2008 – Earned a master's degree in business administration from the University of Missouri
2012 – Elected Treasurer of Boone County, Missouri
2015 – Appointed State Auditor of Missouri
2020 – Running for Governor of Missouri. Advanced from the Democratic primary on August 4th.
Q&A with Powerful Woman Leader Nicole Galloway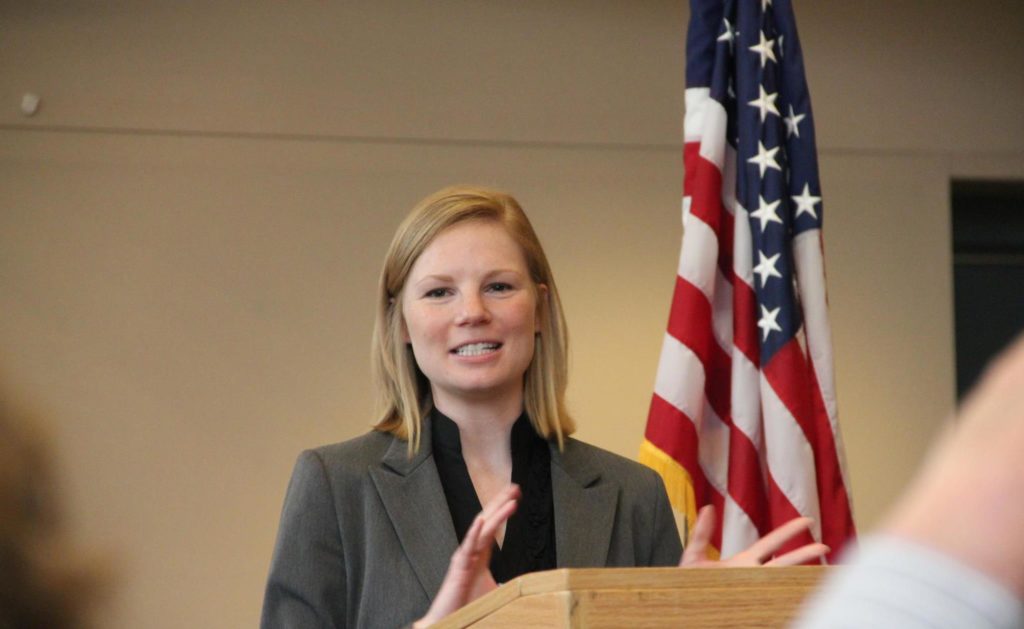 Q: At College Magazine we're working together with EMILY's List, Emerge America, Human Rights Campaign, Higher Heights, She Should Run, Victory Fund and IGNITE on an initiative to fight for equal representation in congress called "50 by 2050." What are your thoughts on the goal of achieving 50% of women in Congress by 2050?
A: My initial thought is that I wish it didn't have to take until 2050 to achieve this goal. Women bring unique qualities to leadership that our country needs. Those unique perspectives—to public service, to business, to education—matter. Because the issues that matter to women matter to families, and therefore matter to our economy and overall economic success, whether it comes to paid family leave or affordable childcare or equal pay. All of these issues help not just a woman, but her family and therefore our entire economy.
Q: What inspired you to get involved in the political sphere?
A: I never thought that I would be running for political office. That was never something that I imagined for myself. My mom is a nurse, my dad is an engineer. When I was growing up, I really liked math. I went to Rolla, which is now Missouri S&T, and have degrees in applied mathematics and economics. I'm also a CPA and a Certified Fraud Examiner. I started to work in the private sector and when I moved back to Columbia, Missouri, the position of Boone County Treasurer opened up. Having worked in the private sector as a CPA, as a fraud examiner, in the financial sector, I thought, "I could do that. I could use the skills that I have developed to help improve the economy around me and help improve the community around me."
To me, it was about public service and giving back. While I was never into politics, and my family certainly wasn't into politics, I was into service. That mattered to me. To me, public service is about meeting people where they are in their lives and finding out ways to help them—sometimes in small ways, sometimes in big ones—to make their life better. That's it. That's what it was about for me is using the skills that I had to make my community better.
Q: What tangible advice do you have for college women interested in getting involved in politics and public service?
A: My advice is for young women to find something they care about. Find an issue that motivates you and figure out a way to advocate for that. Being involved and making a difference doesn't mean you have to run for office. You can work for a nonprofit. You can volunteer on a campaign. You can be a speech writer. Or you could be the candidate.
When the folks around you see that you're able to stand up and negotiate for yourself and for the things that you care about, they will realize that, "She can do that on my behalf, too. She can do it on behalf of my organization. She can do it on behalf of this issue I care about. She can be effective."
Q: At College Magazine, we're the guide to the undergraduate experience. In what ways did your college experience at Missouri University of Science and Technology and University of Missouri prepare you for your experiences in public service?
A: One of the things that I liked the best was that no matter where I went, I knew someone. I felt that I was part of a community there and I wanted that community to succeed. I was involved in different service organizations at Missouri S&T and the culture there gave me an opportunity to still engage in public service while I went to school there, but also build relationships that I still hold dear now. The folks that I met through those clubs and organizations mean a tremendous amount to me.
The education that I received at Missouri S&T is why I'm successful now. I would not be where I am without the education I had at Missouri S&T or at Mizzou. I firmly believe that. What I want is for any kid in this state that wants to go to Rolla, Mizzou, UMSL or Truman to have that opportunity. Unfortunately, there's just so many roadblocks now in getting an affordable postsecondary education. It's a troubling trend.
Q: What was your most inspirational class or who was your most inspirational professor?
A: When I was at the MBA program at Mizzou, we had a seminar on negotiation. That was incredibly influential to me because I learned how to not just ask for what you want, but ask for what is needed; how to do that for yourself as an individual but also on behalf of a larger organization. That class on negotiation was probably the best and most influential class that I have ever had.
Q: Do you have a moment or project that you were involved in that has been the most rewarding of your career so far?
A: In my work as State Auditor, we did an audit of a rural hospital in Missouri that was on the brink of financial disaster. This hospital was going to close, which meant this rural community would no longer have a hospital where they could get critical care, but also meant that the jobs that the hospital provided to that county were going to be gone. A fraudster from Florida swooped in, took over the hospital, and ran a multi-million-dollar fraudulent billing scheme through that hospital. Anyone that participates in our healthcare system was ripped off by what these guys did. Not only did we uncover the activity that was happening in Missouri, but identified that it was happening nationwide. Because of that audit, now, more than 20 criminal counts have been brought against those involved. Taxpayers and Missourians are finally getting justice for that fraud. I am really proud of that.
On what feels like a smaller, more personal level, we did an audit of a charter school in Kansas City and found that the administration was manipulating attendance records to get money from the state that they didn't deserve, that should have gone to public schools and that should have gone to education across the state. We called that out. The school is now closed. There was a lawsuit to get some of that money back. But we also found in that audit that kids were getting course credit for things like walking their dog or going grocery shopping or cleaning their room and that's not an education, right? The system failed those kids, the system failed those families, and we lost a chance of giving those kids a good, educational opportunity and education is so important. I'm proud that we called it out and put an end to it, but that one stuck with me even though it happened years ago.
Q: We've seen more women running for office and getting involved in that process. How do you feel that will end up shaping the political sphere in this country?
A: Women running for office shifts the public conversation to needs of working families. During this pandemic, we have seen cracks in our system that have existed for a long time, but they have gotten wider from the economic fallout of this pandemic. Women running for public office right now are calling attention to those cracks in our system and the fact that they need to be prepared because we will not come out of this stronger until we focus on these issues that impact everyday families.
How to Become a Powerful Woman Leader
1. Find something you care about
Figure out what goals you want to achieve in your community and in this country, then work to achieve them. "Find an issue that motivates you and figure out a way to advocate for that," Galloway said. When you discover a goal you're passionate about, nothing can stop you from reaching it.
2. Get involved
You can do so many different kinds of work to serve the public while in college, both on-campus and off. "Being involved and making a difference doesn't mean you have to run for office," Galloway said. "You can work for a nonprofit. You can volunteer on a campaign. You can be a speech writer. Or you could be the candidate." Start working towards your goals now.
3. Advocate for yourself
Powerful women leaders speak up for themselves and the issues they care about. "Advocate for yourself, stand up for yourself, and negotiate for yourself. No one is going to do that for you until you start doing it on your behalf," Galloway said. You need to believe in yourself before others will start believing in you. You're capable of amazing things, so own it!
How to Connect with Nicole Galloway
Visit her website
Like her on Facebook
Follow her on Instagram and Twitter
Contact the State Auditor's Office