Consider yourself a part of history when you see thousands of pink pussyhats marching toward the U.S. Capitol. The Women's March on Washington made history on Saturday, January 21, 2017. And I was lucky enough to be one in a sea of Nasty Women.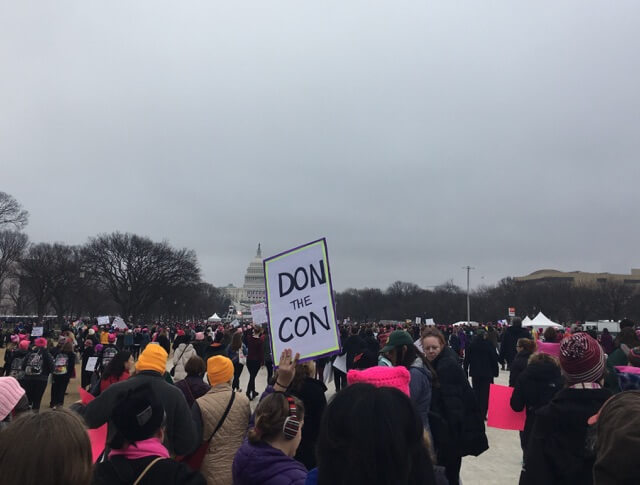 I journeyed to the meeting place, Independence and Third Streets, with a group of friends at 8:30 a.m. Originally our group wanted to Metro, but as soon as we arrived at the platform, our plans changed. The Metro was over-packed; people young and old with their pussyhats and signs crammed in like sardines. My group decided to walk 30–45 minutes to the U.S. Capitol instead. We journeyed past the National Mall, following the expanding sea of pink protestors.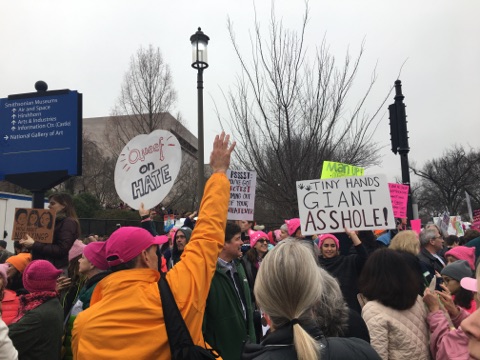 The rally and March hadn't officially begun, but I could already hear them chant and cheer in excitement and solidarity. Hearing, "When women's rights are under attack, what do we do? Stand up, fight back!" set an exhilarating tone for the rest of the march. Even if others believed that this march didn't make a substantial difference, it did send a message to governments around the world that women couldn't be ignored any longer.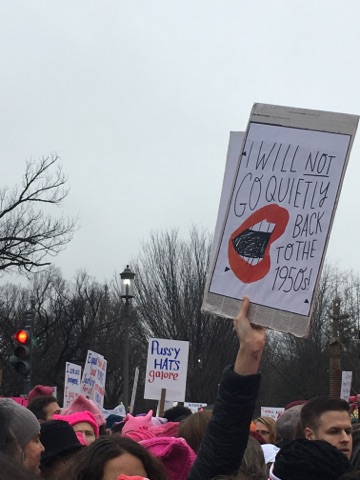 So many people crowded the streets, making it difficult to find a clear direction or path. My group weaved through the crowd until we ended up on Jefferson and Seventh Streets with one jumbotron. Unfortunately, we couldn't hear every single speech and performance. It made me wish that I went at 6:30 a.m. with other George Washington University students who got really good spots right by the stage.
But in the end, it didn't matter. We heard amazingly inspiring bits of speeches that warranted loud cheers and applause from the audience. Some courageous people even climbed on top of porta potties and large vehicles to get better views of the crowd and screen.
A little after 2 p.m., the people in our section started to filter out onto the streets. We heard a rumor circulating around that there were too many protestors to march, but we just scoffed and decided to start anyway. That's what we came to do, to march around the streets of D.C. and make our voices heard. We impatiently shouted, "I believed that we will march!" and "March!" multiple times even though we knew that the organizers by the stage couldn't hear us. Shouting pumped us up even more, and eventually we all imploded out onto the streets of D.C.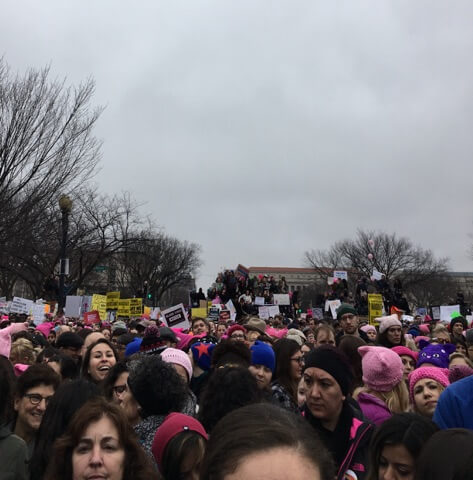 My group mainly marched on 14th Street, from C Street all the way to U Street. We passed the March's official boundaries around K Street, where cars started to honk in either solidarity or annoyance. Some stood at the sidewalk or watched from hotel windows overlooking the streets. A Metro bus with little children passed us by, and those kids eagerly waved at us, enchanted at the huge crowd of protestors marching for their futures. We had strayed away from the main crowds, and showed onlookers how we wouldn't be silenced once we left the contained path.
"This is what the popular vote looks like!" we screamed at our audience with the eruption of cheers. "We are unstoppable! Another world is possible!" It felt powerful to be surrounded by so many, making our voices heard and garnering support from onlookers who wished that they had the ability to march with us. Optimism for the future, a future where women weren't ignored and silence, filled my mind.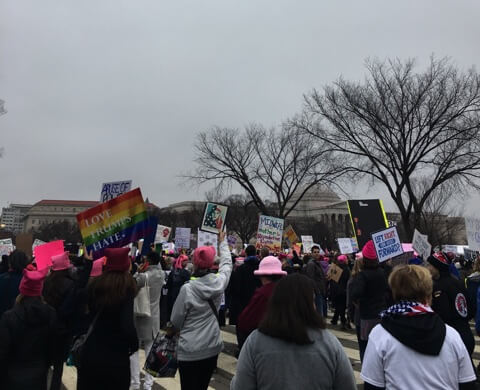 Throughout the entire March, the unity I witnessed impressed and inspired me. Several protestors commented on how polite and friendly everyone acted. The march accommodated disabled protestors; crowds made clear paths for wheelchairs and a sign language interpreter graced the bottom right corner of the jumbotron screen. Someone in front of me in the crowd passed around pink nail polish to paint on our fingers, while another person blew bubbles during Alicia Keys' performance.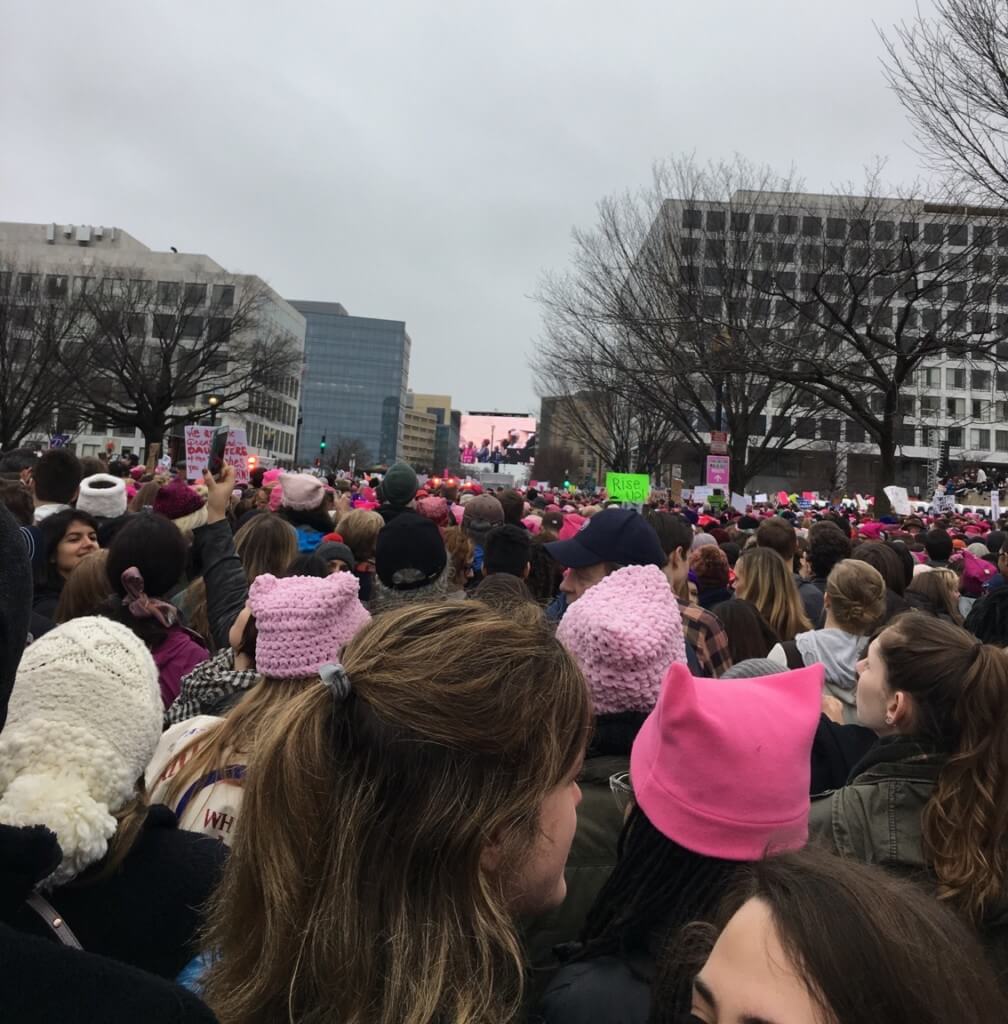 A complete stranger heard me briefly complain about my hunger, so she kindly offered me her entire bag of trail mix, saying, "Us girls need to look out for each other." A friend who wore a rose pink hijab to the March received compliments and messages of solidarity and support from women throughout the March. "No hate, no fear, everyone is welcome here!" from earlier in the day proudly replayed in my mind whenever someone new complimented her. To me, it felt comforting to see the collective community from all those women, despite all of our differences and conflicts. With this March, many of us could put aside those differences and parade the streets in solidarity in order to protect our futures.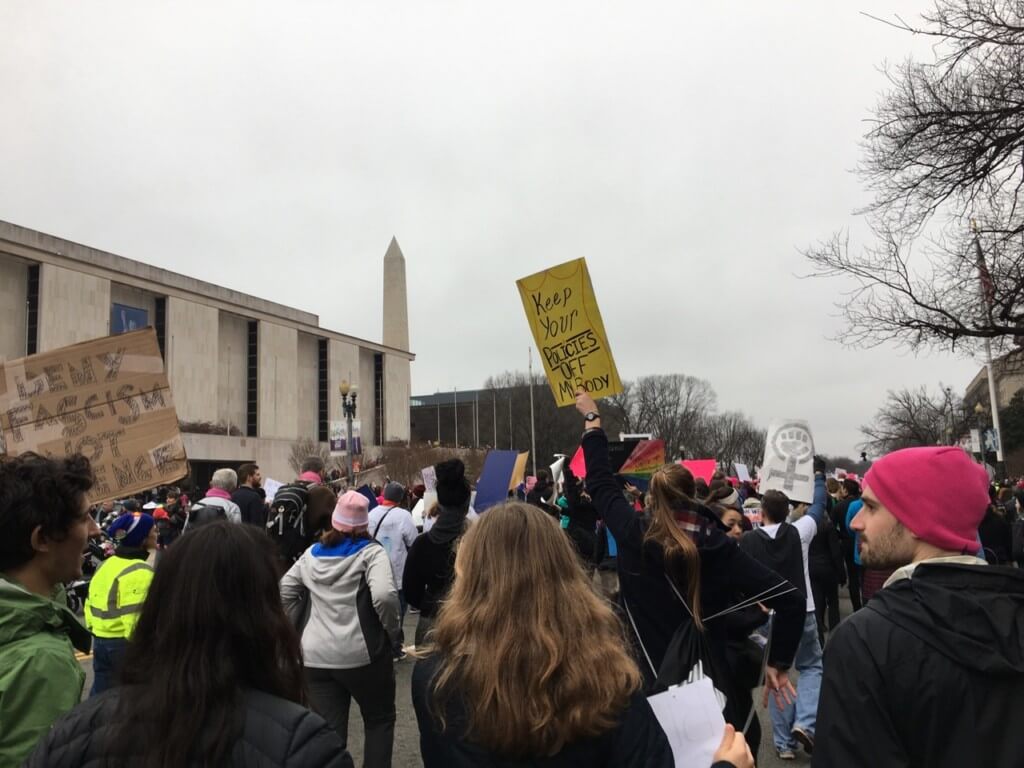 Before the march, an estimated 200,000 people planned to attend. After the march, various organizations estimated that there were at least 500,000 people marching. Some comment on how it wasn't as intersectional as it promised to be. However, despite the march's imperfections, I saw a beautiful image of solidarity of the past, present and future generations of women in America, and the world.