I always thought I knew what I was put on this Earth to do. I was destined to become a writer with a best-selling novel—a goal of mine since my freshman year of high school.
And it all changed when I took a required class for my major, English 324: Sheepshead Review Practicum.
The literary journal on my campus at University of Wisconsin-Green Bay is known as Sheepshead Review; a student run journal that features creative writing and art from students and people all over the world. Over my years, the journal became my favorite thing about studying English. The literary journal brings all of the Humanities departments together to work on one thing for all of the students on campus to enjoy.
All creative writing majors have to take the Sheepshead Review Practicum since they can't graduate without it. In the class, students hold positions ranging from editor to general staff and handle every aspect of the publication's layout. Dr. Rebecca Meacham, acts as the advisor who keeps the staff on track and makes sure we have a full journal by our deadline.
Sheepshead found its way onto my schedule during spring semester of my sophomore year.
I went into it thinking my calling was to follow in the footsteps of John Green and Margret Atwood, but this experience changed that idea completely. As a member of the fiction staff, a constant flow of submissions keep us busy. We have a 3,000 word limit and over 100 submissions from the previous semester. Simply put, we had a lot of reading to do before the time submissions closed.
I struggled at first because I wanted to keep all of my favorite pieces, but with our limit and other people's opinions, I had to compromise. The learning the process of being selective with what I kept for the journal allowed me to figure out the writing style that catches my eye and why certain stories don't work for me. A story has to intrigue me with creative characters, writing style and a compelling plot. This experience opened my eyes to choosing what content I want other people to read and what content would work for readers.
Arguments between fiction staff members happened along the way, but I found that the disagreements became learning experiences.
Whether we argued about why we enjoyed a piece or fought for the ones we wanted to put in the journal, the way each of us talked about pieces lit a spark in me, the spark of finding something that I just wanted to keep writing or talking about, that I wanted to share with other people with every part of my being. I hadn't felt this spark since writing papers on Romeo and Juliet during my freshman year of high school. Once we had decided on a piece, that was it. The stories went off and I waited in eager anticipation of the final journal, a project I worked so hard on for a whole semester.
The moment the final product was in my hands, a lightbulb went off in my head. I knew I wanted to do something in publishing. That feeling of sheer pride and success I got from touching that first journal was something I had hoped to feel every time I wrote a story. Seeing the words on the page made it seem like they came to life right before my eyes. This feeling made me want to keep publishing and creating. I keep coming back to the moment when I realized my love for publishing during the stressful finals struggles.
If I can create something so amazing that has the ability to impacts others, then all of the struggling can be worth it.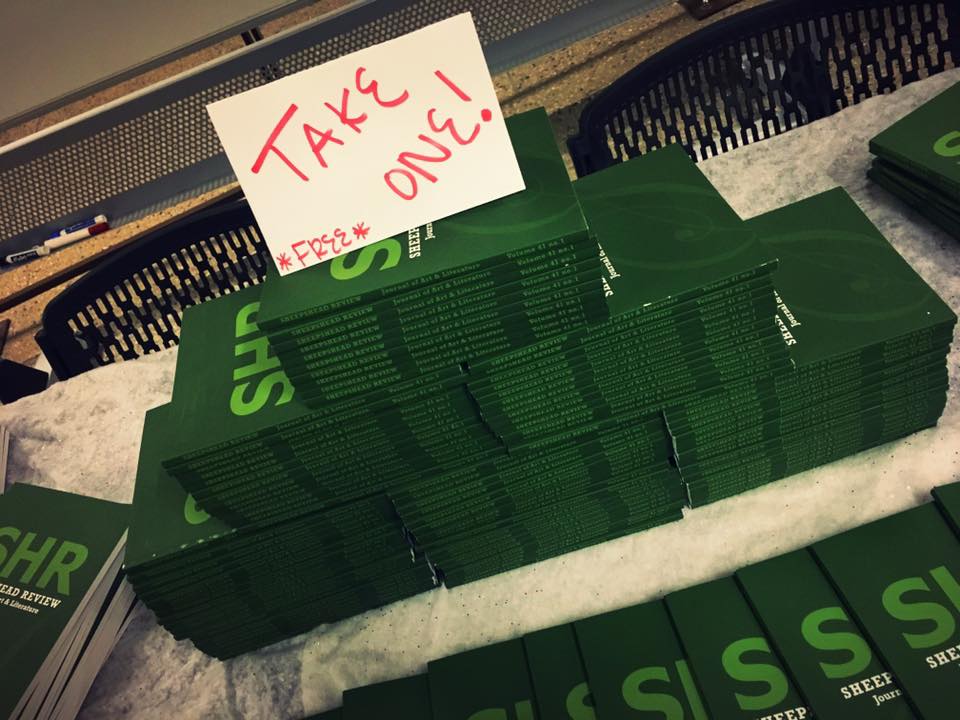 I decided to sign up as an org member for the past fall. The new semester brought new faces both on the fiction staff and the editor team that I worked with two days a week. We all became great friends over the months of reading together. I always left class wishing I could spend more time in that room in Theatre Hall because it meant creating and doing what I loved.
Of course, more arguments took place about pieces and what to put in the journal, but there lied that same agreement that we all wanted to make this journal the best it could be. I found myself constantly talking about the journal and telling people how exciting it felt to finally have it published. Luckily, that same feeling of pride and success returned when I held the journal in my hands. Now I know I will have the same feeling next semester when I find myself back on fiction staff yet again.
But it does not just stop at that inspirational feeling that I want to keep chasing.
The camaraderie that comes with working on something so important to the team makes me want a career in publishing. In particular, the unity felt between the staff as we all work towards the same goals and look forward to the same moment: holding the completed journal in our hands. If I can continue igniting this spark, then why wouldn't I want to do everything in my power to have that in my life?
When I write, I think about how people will perceive the idea and the words printed on the page. But in Sheepshead, I think about how the work we put in leads to something incredibly special because at the end of the semester, our names are on the page with the pride of knowing we all had a part in creating the newest copy. This feeling of pride is felt by the editors, the readers and Dr. Meacham, our advisor. I love seeing Dr. Meacham's face light up as she watches us geek out about our final product.
With Sheepshead, I never question the value of my hard work. I am only focused on making the journal great. I concentrate on creating something that people talk about weeks after they get to have the final copy in their hands. Sheepshead made me certain that publishing, not just writing is my calling. That's something that I will always be eternally grateful for.