You can't stay up all night, go to sleep at 10 p.m. the following night and have a perfect sleep schedule from that point on. Believe me, I've tried. Unfortunately, there's no quick fix for a solid sleeping schedule, but there is hope. Whether you're trying to adjust your sleep schedule from the time you spent abroad, for your new internship or just because you feel silly waking up at 2 p.m., here's a few ways you can get your sleep schedule back on track.
Find out how to fix your sleep schedule.
Get off your phone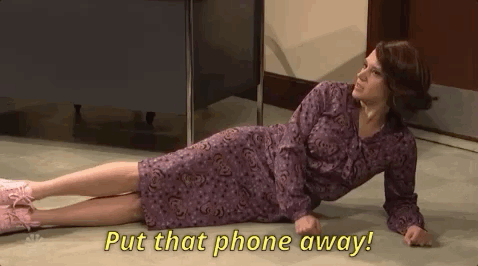 Laptop, tablet, whatever — your devices will be there tomorrow morning. Don't you dare start that new season on Netflix or swipe to refresh your Twitter feed "one last time" while you're in bed. Trying to sleep is obviously not as fun as seeing what your ex has been up to recently on Facebook, but creeping is absolutely killing your ability to sleep by suppressing melatonin production. Your body can tell it's time to sleep when there's no light, and if you're directly looking at a source of light, there's no way your body can get that cue.
Try not to snack after dinner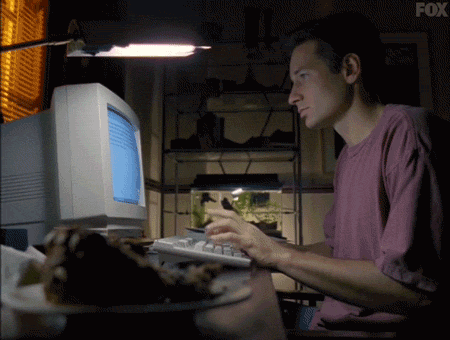 Your body not only gets the go ahead to sleep from the lights dimming, but also the absence of food. By no means should you go to bed on an empty stomach, but feeling full and heavy causes tossing and turning. If you ate an early dinner or didn't eat dinner all together, try dairy. People always say that a glass of warm milk or tea will help you sleep, but the truth is that any dairy product or warm beverage can help. Dark chocolate can also help because it has serotonin. Although alcohol can make you sleepy, it also ruins the continuity of your REM cycle — keep in mind that those last beers will hurt you more than they'll help.
Get up at the same time EVERY day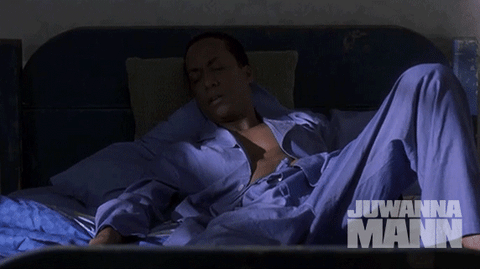 The weekend may be your only two days to sleep in, but sleeping in makes you lose all the hard work you've done locking in a sleep schedule during the week. There's going to be a point where you don't even need to set an alarm on weekends because your schedule is so on point that you'll wake up anyway, and not even want to sleep until noon. Hang in there, champ.
Persevere, but don't stress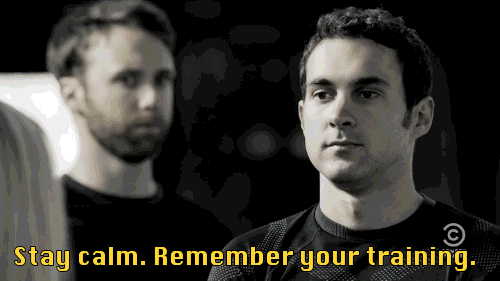 Stick to the schedule you've set for yourself as much as possible, but don't freak out if you screw up. There are going to be those frat parties that you just can't bear to leave and all-nighters because you forgot about an assignment. This doesn't mean you need to go on a bender or hate yourself; the key is to not give up. Instead, try to stick to the exact times you sleep and wake up, despite what you did during the hours leading to bedtime. If you absolutely must, a power nap between 15 to 20 minutes long can help you feel refreshed. Just be careful, because 30 or more minutes can make you feel groggy, hungry and unable to sleep that night.
Talk to your doctor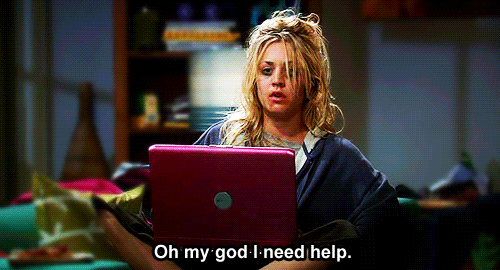 There's no point in getting frustrated and feeling hopeless because you can't manage to get your 7.5 hours. It might not even be your fault. If you find yourself unable to transition into dreamland after an extended period of time, reach out to a medical professional. You could have one of dozens of sleep disorders.
Whatever you do, don't take a big risk to catch Z's.
Written by Alex Rush, senior, journalism, University of Maryland
Impending paper due date, job applications and drama. What doesn't keep us up at night? While some college students are catching Z's when they can, some are turning to another solution to getting a full night's sleep—sleeping pills.
The National Sleep Foundation estimates 50 million Americans suffer from chronic sleep problems. However, many students are using sleep aids without a diagnosis. "Obsessing about exams and drama in college plays a very big part in keeping students awake…then some feel as if they need to take a pill to calm them down and self-medicate," said Dr. Harris Stratyner, Caron Treatment Center Vice President.
According to a study by Thomson Reuters, a health information resource, sleep aid users younger than 25 nearly tripled between 1998 and 2006. "The rise in sleeping pill use really speaks to the fact that we've become a quick-fix society," said Amy Henning, associate director of counseling at Drexel University.
Sleeping pills may provide short-term solutions, but they aren't a cure. Products come with side effects including drowsiness and confusion. Prescription sleeping pills may cause more extreme effects like aggressiveness, hallucinations and fatal tongue swelling.
Using sleeping prescriptions to get through just the occasional night can become a health hazard. "It's scary just to take a pill because you can't predict what the side effects may be and it may hide a bigger problem at hand," said Henning. Difficulty sleeping may be part of a more complex mental or physical health issue that sleep aids mask.
Instead of using sleeping pills, Stratyner recommends students get on a tight study and sleep schedules to overcome "poor sleep hygiene" resulting from habits like caffeine and alcohol consumption. "I'm a realist, I know students want to have fun and experience life, but students need to try to set more consistent times to study and to sleep," he said.
*Updated on November 30, 2017 by Louise Nessralla to include an original video.
*Updated on November 30, 2017 by Alex Rush to include "Addicted to Sleep: Risks Students Take for Z's."