UCLA plays home to an overwhelming amount of student organizations. As an incoming student on a massive campus, finding a place to grow into your own while maintaining your identity as a Bruin may prove difficult. However, when one finds their community, everything falls into place. The Bruin Belles Service Association allows womxn to expand their perspectives as students and interact with the city that surrounds the stunning campus. This womxn-centered organization creates a safe space for establishing social awareness and personal development while aiding communities who need it most.
Read on for the ultimate guide to volunteering with the Belles.
Leadership Through Service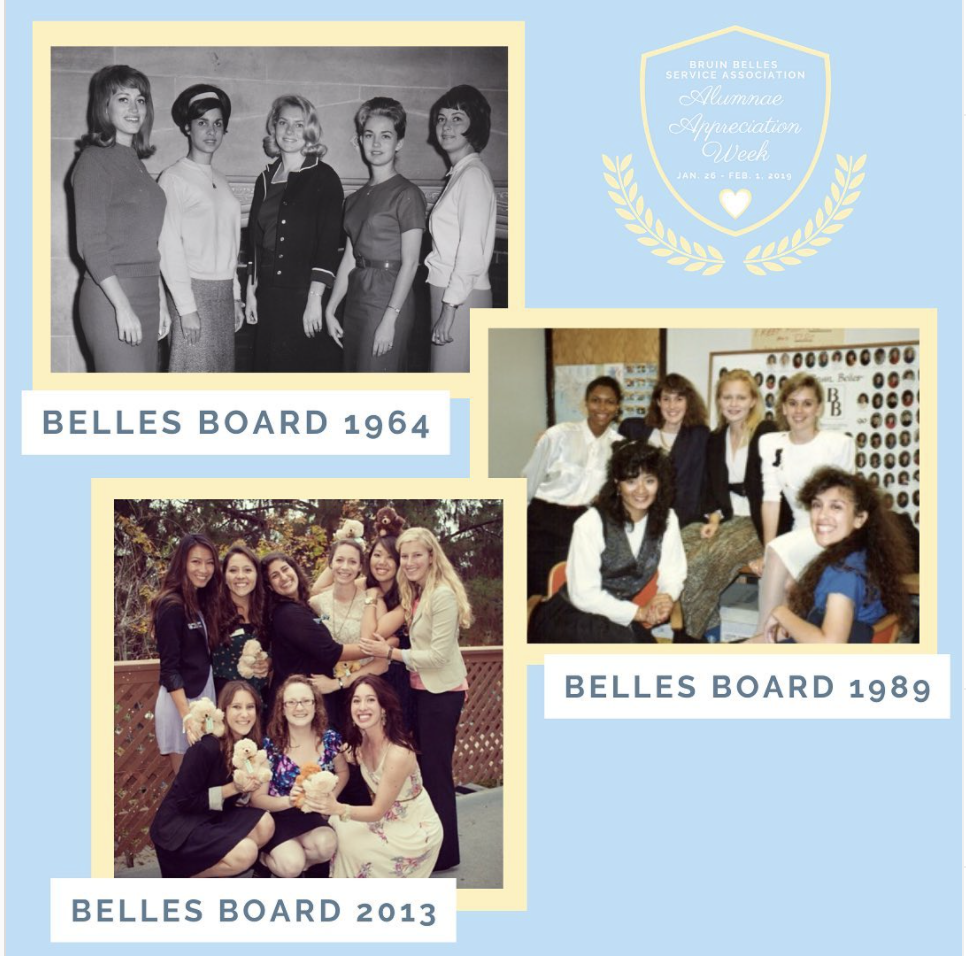 The Bruin Belles Service Association (BBSA) dates back more than 50 years. This student-run organization finds its roots deep in the pages of UCLA's history. "Established in 1946, Bruin Belles filled an ambassador role on campus, serving as hostesses for visiting sports teams and greeting important guests at various UCLA events. Since then, our organization has rooted itself in the LA community, dedicating over 10,000 hours of community service annually to UCLA's campus and the greater Los Angeles area. While the daily life of a Bruin Belle has evolved over the past 75 years, our commitment to leadership through service remains unchanged," recent UCLA graduate and former BBSA Public Relations director AJ Maloney said. Bruin Belles also work on empowering women through bonding activities, leadership conferences, professional development, and more. The Belles create a strong community of womxn who work together in giving back to the community while developing skills as a leader and Bruin.
The Belles in Action
https://www.instagram.com/p/B-n2RYzgORn/?utm_source=ig_web_copy_link
BBSA focus their philanthropy efforts in not only the UCLA campus but the greater Los Angeles area as well. The organization aids in providing a plethora of volunteering opportunities. Members can choose from weekly lists of available volunteering positions ranging from working in animal shelters to assisting in charity gala events in the Los Angeles area. Belles receive transportation to multiple events outside of campus. Each quarter, a member must meet a certain number of philanthropy, social, women's leadership, campus culture and fundraising events to maintain their position in the organization. Also, members who have passions in certain subjects can suggest volunteer events to the executive board, thus requesting for more events pertaining to their interests. BBSA gives Belles opportunities to involve themselves in the UCLA community in a more intimate and caring way.
Inside the World of Bruin Belles
https://www.instagram.com/p/CAeTkkgg7Np/?utm_source=ig_web_copy_link
One of the most enticing and inviting aspects of the Bruin Belles lies in the sense of kinship amongst members. While working to better the community, Belles also gets to know one another and build meaningful connections. Members attend retreats, social events, and exciting fundraising opportunities such as Hollywood award shows. However, going beyond the glitz and the glam, the Belles association also aids in the professional and personal development of members.
Every week, members attend an hour-long meeting that requires professional business attire. In these meetings, Belles can sign up for volunteering and social opportunities. Also, members can also experience workshops and presentations that aid in career and personal development. Although the Belles emphasize their amazing service accomplishments, many of the activities focus on establishing inner empowerment and real-world readiness.
What Belles Learn
https://www.instagram.com/p/B_yFRFOgL8c/?utm_source=ig_web_copy_link
Through this organization, members expand their perspectives beyond that of the dreary and tiring academic bubble. Every year BBSA plans and hosts the annual Womxn's Leadership Conference, open to both UCLA students and residents of the greater Los Angeles area, providing a way for members to connect with the community outside of volunteering. This event encapsulates the core values promoted by the Bruin Belles organization. "The annual Bruin Belles Womxn's Leadership Conference this year focused on how to disconnect to reconnect with your community. It was at this Bruin Belles event that I learned how many different communities I am a part of and how my actions can benefit others. Not only can I rely on these different communities when I am down, but I can support, empower, and lift my community up," UCLA senior and current BBSA Public Relations director Brianna Gorham said. Therefore, along with establishing the importance and benefits of supporting one another, the Womxn's Leadership Conference further e also highlights social issues that plague the world of female-identifying women.
Get Involved
Recruitment occurs every Fall quarter, and interested individuals must complete the written application found on the official organization website. This application asks for past experiences, accomplishments, female role models, reasons why you're interested in BBSA, and more. If the executive board approves of a candidate's qualifications, the next step consists of an interview. A successful candidate must differentiate themselves from other applicants through their unique interests and passions, and a refreshing enthusiasm for the organization.
Impress the Executive Board
Passion acts as the most important aspect of a potential Bruin Belle. Each year, BSSA receives an overwhelming amount of applications. To stand out, candidates must show their true individuality and excitement for the BBSA mission. "When reading applications, we look for applicants that show a genuine passion for service and a commitment to being an active part of the Belles community. One of the best parts about Belles is that we come from different majors, disciplines, and backgrounds, and encourage all that are eager to serve the LA community to apply," UCLA senior and current BBSA president Mia Baker said. The core philosophy in the Belles lies in having an eagerness to aid in empowering communities from multiple different backgrounds, and cultures.
A Belle's Legacy
https://www.instagram.com/p/B7872gSgqq9/?utm_source=ig_web_copy_link
BBSA creates a safe and loving community for UCLA's female-identifying students. Especially in this day and age, the world needs young individuals to take initiative and progressive action within communities to provide support to disadvantaged Angelenos. The troubles of the Los Angeles community may seem invisible to students who find themselves surrounded by the chaotic yet wonderfully blinding UCLA sparkle. Thus, Bruin Belles acts as both an escape from the academic bubble and as an eye-opening experience characterized by opportunities to exercise leadership and compassion.