Turkey and stuffing and gravy, oh my! We love nothing more than a home-cooked Thanksgiving meal after a long semester. Fall break opens up more time to spend with loved ones and to catch up on assignments before the semester closes out. But what happens if spending money on a flight back home doesn't exactly fit your ramen and cheap beer budget? Will you starve to death? Not quite.
These Thanksgiving dinner recipes will send you on a mental flight back home if you find yourself stuck on campus.
If stuffing, sausage and cranberries decided to make a baby, this recipe would be it. A traditional stuffing recipe requires a gang of vegetables that you won't find in your mini fridge. Don't fret—you already have access to plenty of substitutions for these food groups (sorry, Ramen Noodles do not count).
This sausage cranberry and stuffing recipe will not cause the same stomachache as your roommate's enchiladas. The bulk of the preparation for this occurs during the baking process. Typically, stuffing cooks better in the oven, but you most likely don't have a community kitchen at your disposable. Before you try sneaking into the dining hall kitchen, turn on your microwave. Your mighty microwave can do more than heat up your roommate's ravioli that you occasionally help yourself to.
Prep time: 5 minutes
Cook/Bake time: 8-10 minutes
1 box of stuffing (yes, you have to actually buy it)
1 pack of breakfast sausage links (pork, beef, or turkey)
1 cup of water (good ol' sink water can do)
1-4 tablespoons of melted butter or margarine
Seasoning (anything, like pepper or oregano, that can add flair)
½ cup of dried cranberries (because who wants raisins?)
Heat your breakfast sausages at the temperature required. Try not to let them explode.
Remove the sausages from the microwave and cut them into ½ inch slices.
Add stuffing mix, one cup of water and as much melted butter or margarine that you want into a microwave safe bowl.
Microwave for four minutes, covered.
Channel your inner Chef Curry and mix, mix, mix.
Stand at-least four feet away from your microwave mix and sprinkle in your craisins like #SaltBae.
This recipe may not trigger the same nostalgia as your grandmother's, but it's enough to comfort you through the second season of Stranger Things. But what about dessert, you say? Let's be real, stuffing is just the side piece to the main dish. Microwaving a turkey is a little more complex, but we have you covered when it comes to your sweet tooth.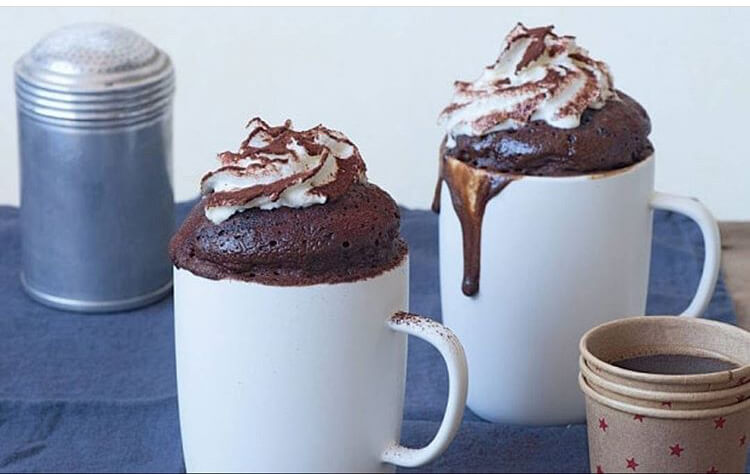 By now, you have earned your stripes in dorm room culinary. You can do anything at this point without setting off the fire alarm (hopefully). This peanut butter brownie in a mug recipe is filled with all the calories that TV warns you about, which means it's perfect.
Prep Time: 5 mins
Cook Time: 1 min
¼ cup of sugar which is equivalent to three mini packs of sugar that we all randomly have stashed somewhere
Instead of all-purpose flour you can try oat flour AKA a pack of oatmeal
A smidgen of salt which is probably all you have any way
Chocolate! A hot chocolate packet, a candy bar, literally anything that has cocoa in it.
A dollop of the kind of peanut butter that we like to eat out the jar
¼ cup or a mouthwash cap of your finest tap water
Dump all your dry ingredients into your favorite mug and stir.
Pour in your wet ingredients and stir until it looks like hot chocolate
Add a tablespoon or six of peanut butter in the middle of the mix and push down until its literally tucked inside the mix
Do what you do best—microwave for one minute.
Seriously, Thanksgiving without real food sucks. Just it from these students.
"Last year I decided to make a four-cheese macaroni for my boyfriend," said Temple University senior Cierra Williams. "Let's just say I ended up buying a frozen Stouffer's mac & cheese to replace the molten lava that was left in the pan. It was actually a lot cheaper."
Seriously, don't let that be you. You're supposed to be thankful on Thanksgiving, not miserable. Temple University junior Yanessa Hodge reflected on the first Thanksgiving that she had to spend alone. "Not being able to go home sucks, especially when you're not from the area." Hodge hails all the way from Greensboro, North Carolina, and a non-stop flight from Philadelphia to North Carolina around Thanksgiving can cost easily between $666-670. Last year, Hodge spent her Thanksgiving cramped up in her resident hall.
"The dining halls are closed during Thanksgiving break, so it doesn't leave a lot of options. I actually ended up eating at McDonald's," she recalled. The resident hall that she lived in at the time only had a communal refrigerator and microwave. "Microwaves are basically against my religion. Where I'm from we make everything from scratch. I would not even know where to begin with making a meal in the microwave," she said.
Fortunately, Hodge will be spending her Thanksgiving with her family. "If I knew I could make stuffing in the microwave I would have definitely tried that before McDonald's," she said.
*Note: Recipes have been simplified and modified from their original versions.