Thanksgiving dinner kicks off the rest of the holiday season, gives you a little time off school and a chance to eat copious amounts of food. What other time during the year is it socially acceptable to eat 10 pounds of turkey and buttery sides? Unfortunately, going home for the holiday may not be feasible for all, especially with the other holidays right around the corner. If you can't book a plane ticket for the weekend, check out some great ways to get into the Thanksgiving spirit at your home away from home.
Read on for 15 delicious Thanksgiving dinner recipes that will get your mouth watering.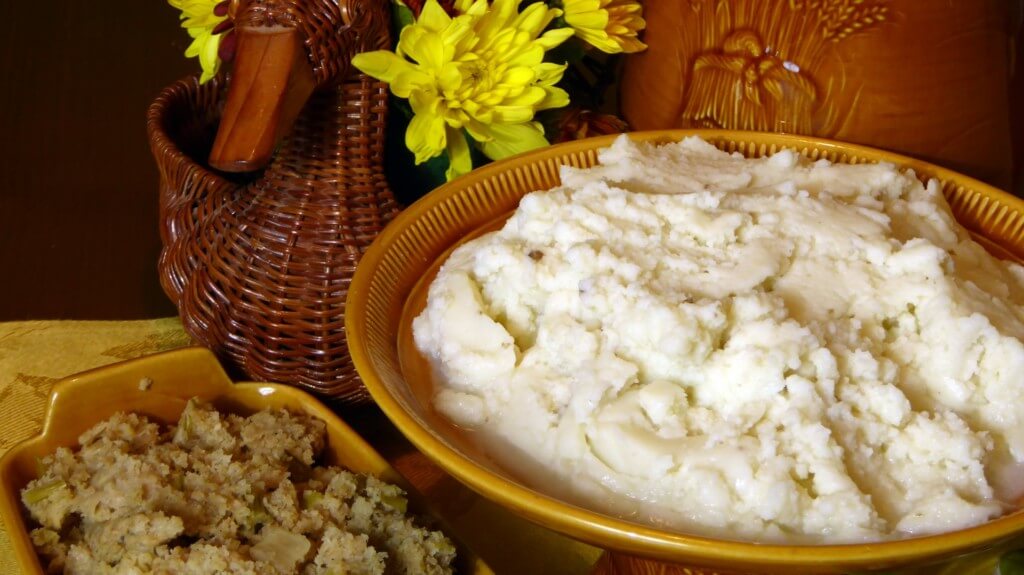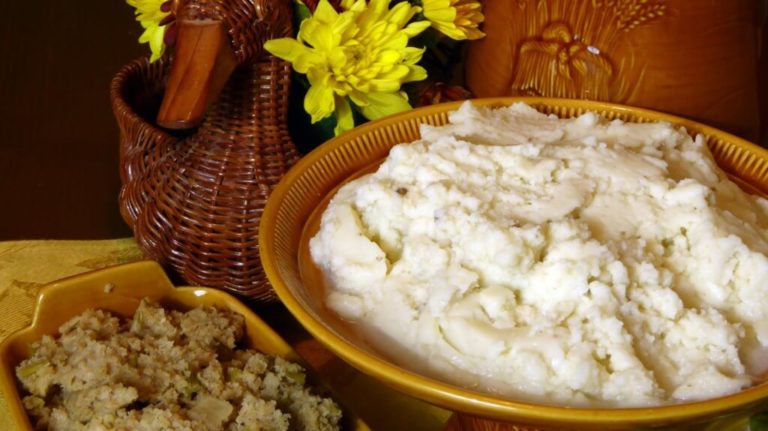 These clouds of simple-card goodness double as a Thanksgiving staple. When you're home, odds are your mom peels the spuds, and then brings out the electric whisk to get them to the right consistency. But when stuck in your tiny dorm, you most likely don't have that kind of space. This alternative recipe is not only healthier, thanks to the hidden cauliflower, but easier. "I actually make this all the time in my tiny apartment. It's quick and cheap and an easy way to sneak in more vegetables," said University of Florida senior Lauren Sutton.
2. Turkey Cutlets
What's Thanksgiving without turkey? The communal oven on your floor might not be the best place though to leave a 10 pound turkey basking in the heat for hours, though. And that's not to mention the mess and work that preparing a turkey takes. Opt for turkey cutlets and save the traditional process for when you're not struggling to finish your history reading.
3. Gravy
Sure, you can buy stuff that comes in a can, but the whole point is to make the holiday as homey as possible. Use the drippings from the turkey cutlets you just made, add fresh herbs, flour and butter and you'll have yourself a simple gravy to pour over your entire plate. "I use a really easy recipe to make gravy when I'm back home, the best part is that all the ingredients to make it can be found at the Dollar Store of all places… It's not only delicious but cheap," UF senior Carrie Moore said.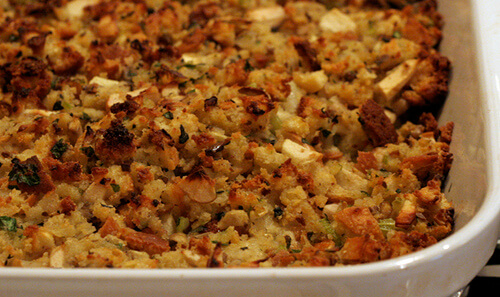 You won't be stuffing an actual bird, and if you're avoiding the box stuff, use that stale sandwich bread you use to make PB&J's. You'll have another delicious side dish to add to your overflowing plate.  All you need is cubed stale bread, minced onion, minced celery, butter, chicken stock, poultry seasoning, salt and pepper. Mix well, then place in the oven for a crisp top. In less than 30 minutes you'll be on your way to feeling stuffed (pun intended).
5. Salad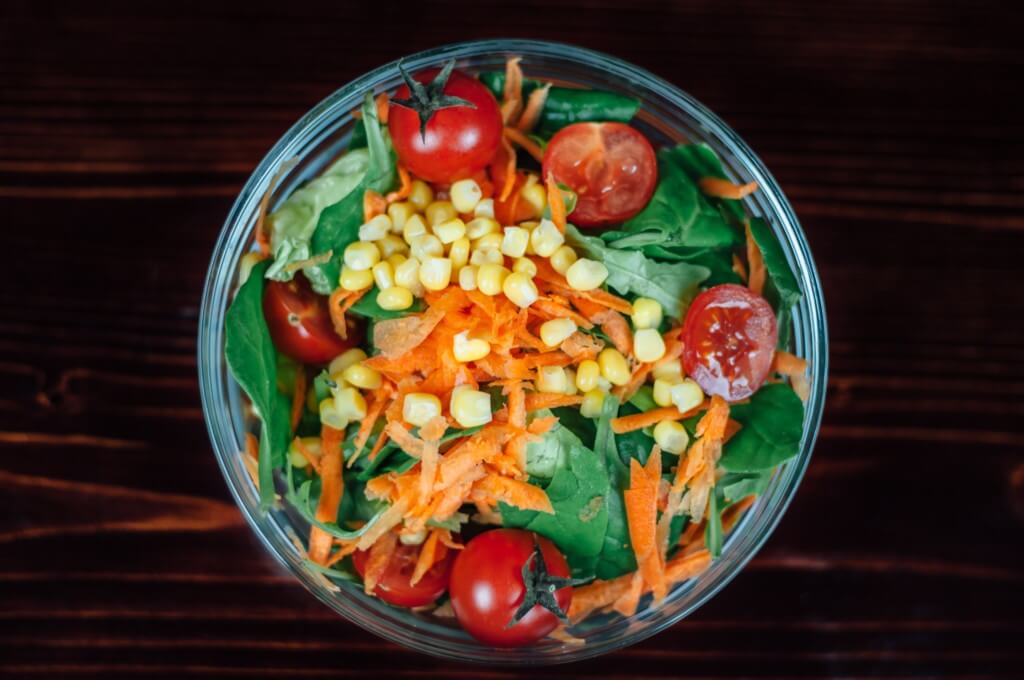 Short on cash? Or maybe you're saving to buy holiday gifts. Either way, bringing a salad to your Friendsgiving is light on your wallet and your stomach. Grab a bag of pre-washed lettuce, mini tomatoes, cucumbers and a couple of salad dressings for your friends to choose from. "Even though I think Thanksgiving is the one day you don't have to [eat] healthy a salad is always a good option to have at the table," University of Central Florida junior Lindsay Ward said.
6. Sweet Potato Casserole
Does this one count as a side dish or dessert? I can never tell, but either way it tastes delicious. This easy version of a Southern classic will have everyone asking you to bring to the next holiday get together. Add marshmallows if you want to liven up the sophisticated dish.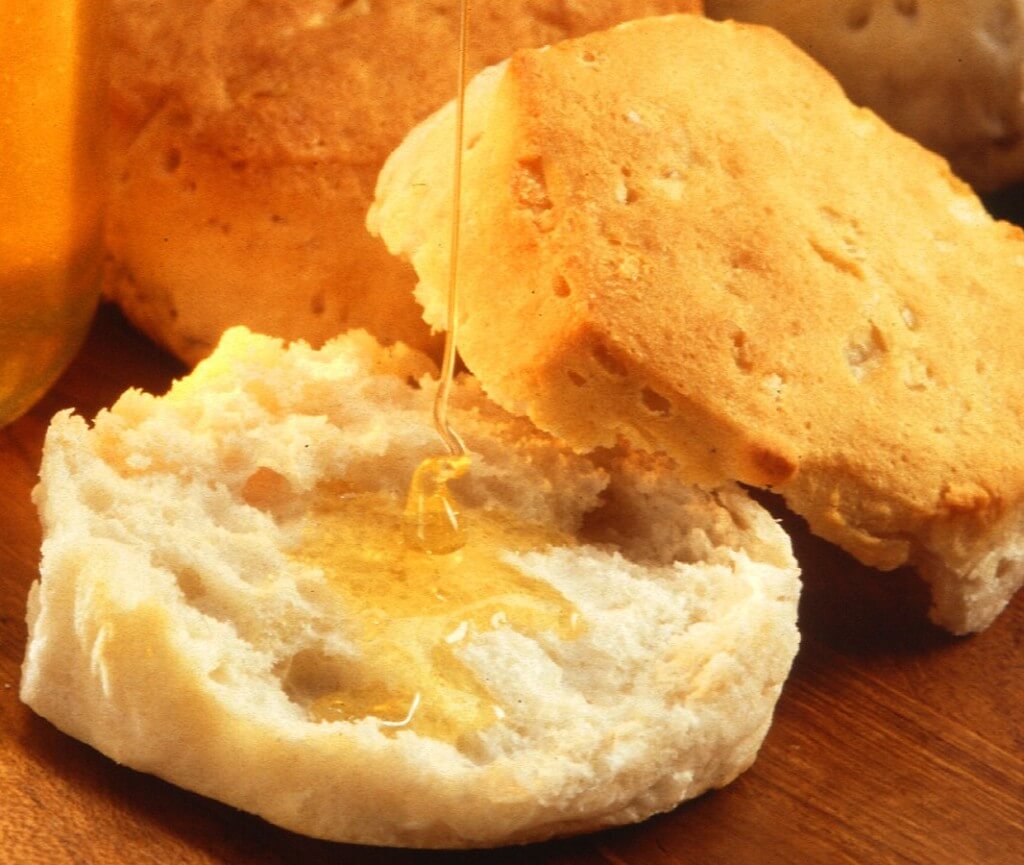 If you're the friend who does the bare minimum when it comes to potlucks, this is the recipe for you. Drop the mixed flour and butter on a cookie sheet, and you'll be out the door. "I'm not the best in the kitchen so anything bread related is my go-to, this recipe definitely won't have me burning down my whole apartment building," UF senior Gabriella Banks said.
8. Green Beans
Creamy casseroles taste great. But if you're trying to lighten up your plate, stick with fresh ingredients. The prices of the fresh ingredients are comparable to the canned vegetables. Even better? This makes the perfect healthy side dish for your friends who literally live at the gym.
9. Mac & Cheese
Cheese makes everything better. I know that in my family this dish goes fast, as does the time it takes to prepare it. In under an hour you can have this childhood classic out of the oven. If you're making the dish for only a few and not a crowd, you can find mug versions that cook perfect macaroni without the powdery chemicals. "Macaroni and cheese is my absolute, I don't eat it a lot regularly but with an easy recipe I'm sure I can recreate it—fast," UF senior Tara Clemens said.
10. Butternut Squash Pudding
Squash is in season, along with a variety of simple ways to create yummy dishes. So if you ever get tired of the same old boring pie and biscuits at Thanksgiving, try something new with a fancy but healthy pudding. Your entire floor is sure to smell like fall.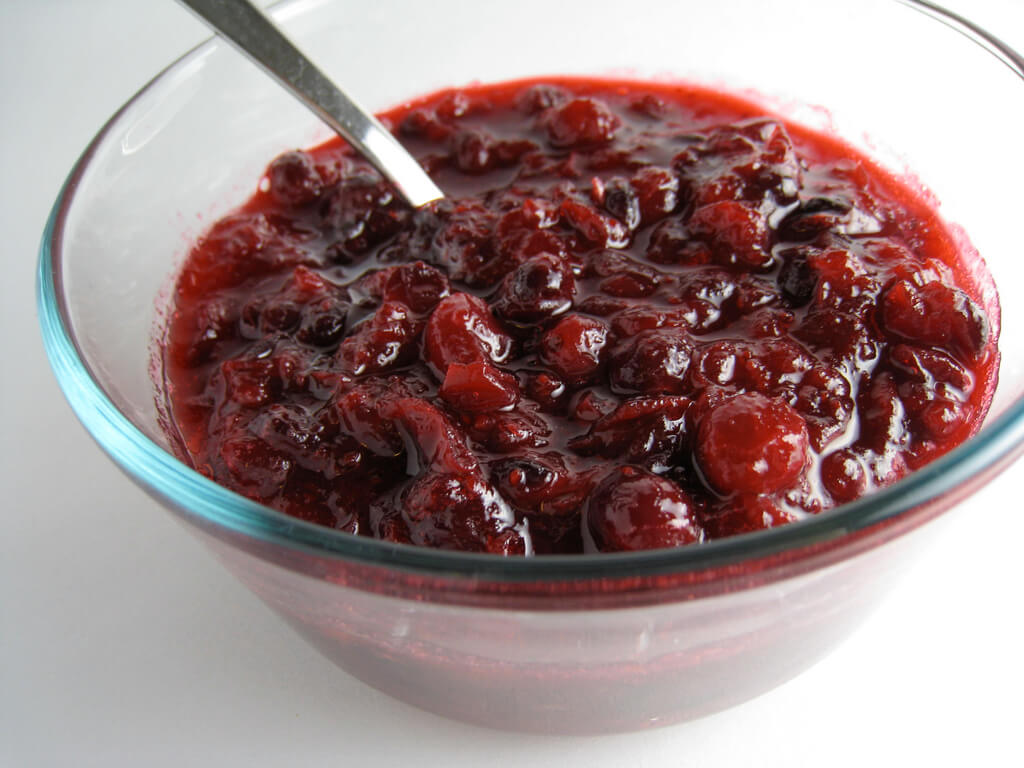 I'm not sure how popular this side dish actually is but it serves as a nice colorful addition to the rest of your meal. Use a bag of fresh cranberries and give the classic a flair by adding orange zest.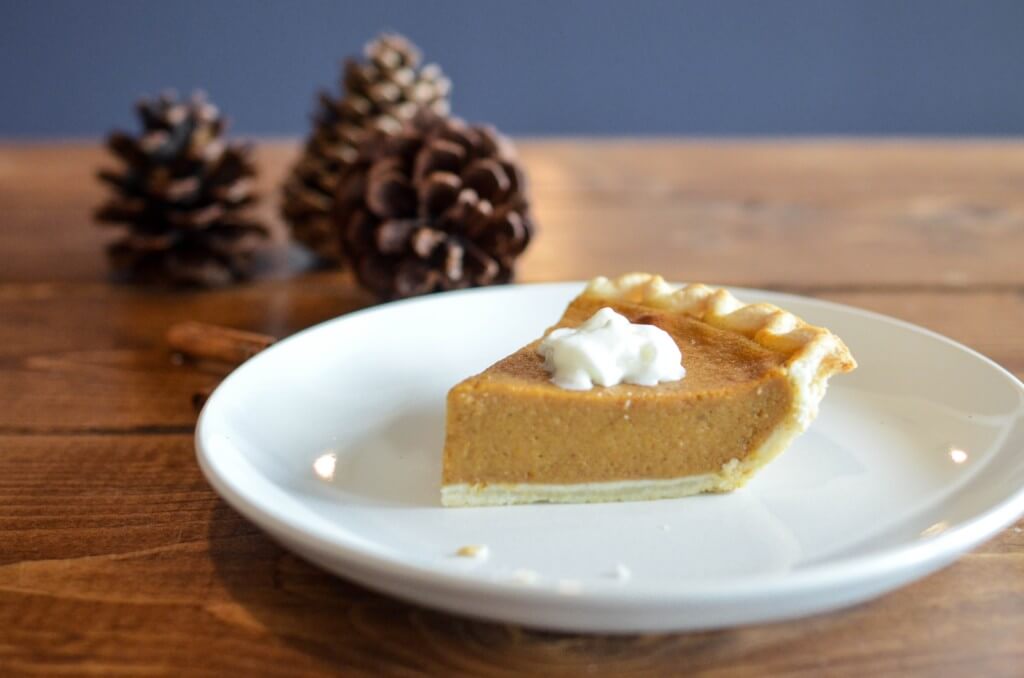 The pie is not only traditional, but will remind you of your grandma's famous recipe. The best thing about this pumpkin pie is that it requires no oven time. If you don't want to make the crust, just buy one of those pre-made ones—no one can tell. You literally just need a mini fridge to chill this overnight, and then you'll have a yummy pie to devour.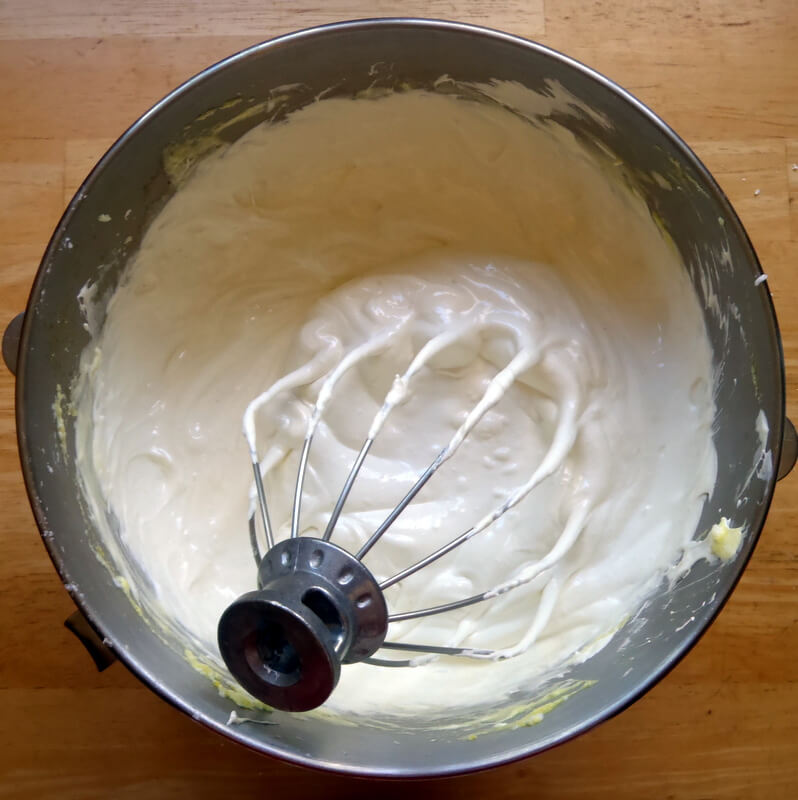 This two-ingredient dip works great for those whose only counter space is their desk and only kitchen equipment a cereal bowl and spoon. A block of cream cheese and marshmallow crème make this dip the perfect addition to the dessert table. If you're feeling festive, add a dash of pumpkin spice or cinnamon and serve with your favorite fruits and cookies.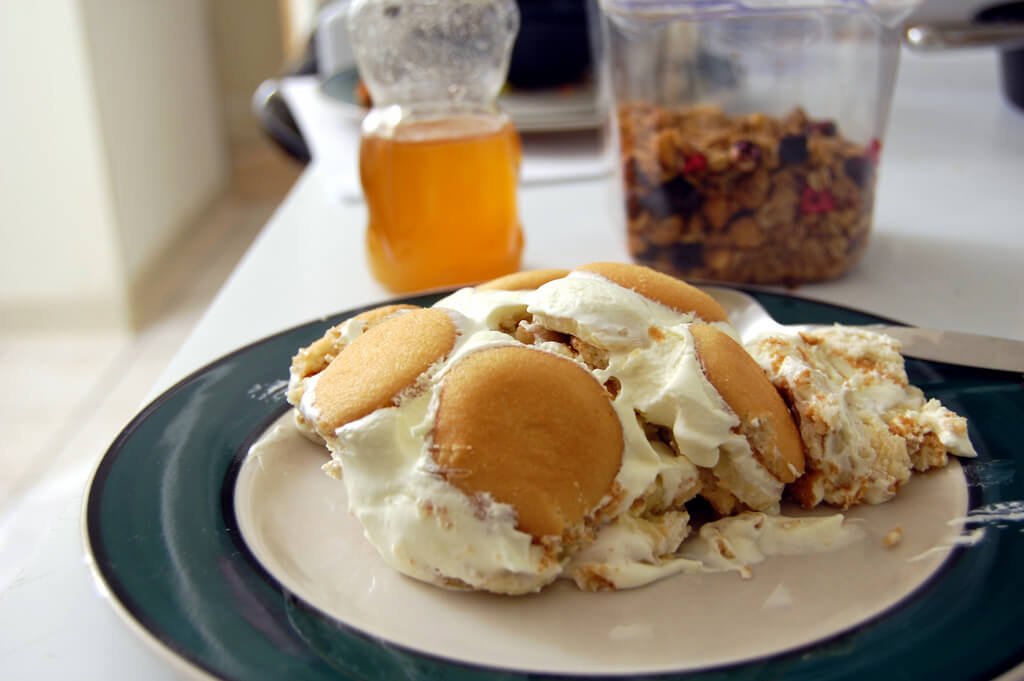 There is no such thing as too much dessert. Use those extra wafer cookies from the dessert dip as the base of this "cake"—no actual baking required. Use a box of instant banana pudding as the cake part, a tub of frozen whipped topping as the "frosting" and garnish with banana slices. This will trick your friends into thinking you spent the entire day leveling, sifting and measuring out ingredients.
15. Cranberry Spritzers
You can't leave your guests thirsty. If you're trying to make your event classy, make cranberry spritzers. With just lemon-lime soda, cranberry juice, a lime slice and skewer of cranberries, everyone will keep going back to this. If your friends are of drinking age, throw in a little alcohol, like vodka or tequila, to make the party even more fun. "Whenever my friends and I do a Friendsgiving, I always offer to do a drink because I know it's something everyone will enjoy," UCF Katie Bayne said.