You might think you know Thanksgiving. After 18 years of turkey and charming anecdotes about the pilgrims (there's always that one great-aunt), you feel pretty confident in the familiarity of the holiday. Well, think again. Gone are the days of relaxed food comas: Everything changes when you come back for Thanksgiving after leaving for university. From facing The Inquisition at the dinner table to trying to navigate your free time, here's what you need to know about your first Thanksgiving back from college.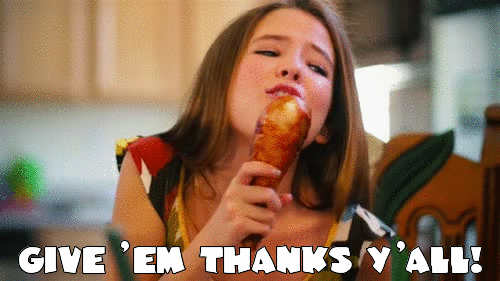 1. AN AIR OF MATURITY

You've learned how to separate your whites. You've learned how to cook (ramen in the microwave). You've learned not to sleep through all six of your alarms. By the time you get to the end of November, you're essentially the wise (wo)man of the forest. You're very old and very mature and are above arguing with your little sister about who gets to eat the last piece of pie… until she unceremoniously grabs it without asking.
Then all bets are off and you're back to being 12.
2. THE HOVER PARENT

As far as your mother is concerned, the past three months have been spent in starvation. You haven't slept since the summer (TBH this is arguably true) and you probably have a minimum of two to nine stress-induced illnesses. You'll realize your parents have turned into hover drones when you look up from your desk and see them perpetually standing in the doorway.
One of them will likely be holding a bowl of soup to cure the aforementioned illnesses you don't have.
3. THE NEIGHBORS

You might have pet-sat their hamster for a weekend in the sixth grade. Little did you know at the tender age of 11, this random act of compassion would entitle them to know every aspect of your life until the end of time. Though you didn't speak to them at all during high school, this won't stop them from showing up on your doorstep the first day home and demanding to know if you've found love in the dining hall and are planning a June wedding.
4. POTENTIAL OBESITY

Sometime around mid-October, you might have an epiphany and realize that for the sake of your health, you probably shouldn't eat five pieces of pizza and a waffle every morning for the next four years. So you start a gym routine–but all potential progress you've made in leading a healthy life will be shot to hell when you get home. Before you even take off your shoes, your mother will be right there force-feeding you bread because "there is no food in college." Celebrate the holidays the way the pilgrims intended: by spiraling towards obesity via eight slices of pecan pie.
5. 20 QUESTIONS, STARRING YOUR LIFE

How are your classes? Have you found a summer internship? Do you have a five year plan yet? Are you drinking responsibly? Are you taking your vitamins? Do you need more vitamins? Have you met someone yet? Why aren't you dating? Don't you want to give me grandchildren?
6. THE EXISTENTIAL CRISIS STEMMING FROM THE 20 QUESTIONS

Am I going to fail out of college? Should I reconsider my Japanese art major and go for something practical like accounting? Do I have the legs necessary to pull off the accountant pantsuit I would have to wear? Do I have fibromyalgia because I haven't been taking my vitamins? Am I going to die single and alone in the presence of my cats?
7. HAVING A BEDTIME

The last time you had a set bedtime was probably primary school, but come Thanksgiving break you'll find yourself in bed with the lights out by 10 p.m. The difference between 18-year-old you and 8-year-old you is that this bedtime is self-imposed and largely due to the fact that there is literally nothing to do at night in your hometown. That said, living in Suburgatory has its perks: You'll get more sleep in the four days of break than you've gotten all semester.
8. QUALITY TIME WITH YOUR SOFA

Netflix and chill is taking on a whole new meaning: prepare to be couch-locked. Since ABC Family airs Harry Potter marathons more often than Kim Kardashian posts selfies, there's a good chance you'll have plenty of quality programming to keep you occupied.
Which brings me to this next point…
9. THE UNFORTUNATE REALITY OF HOMEWORK

Unlike your high school teachers, college professors are heartless beings who actually assign work over break. The good news is that with Thanksgiving break comes a number of original excuses you can use to get out of said work or to pretend it doesn't exist in the first place:
"I was travelling. For four days straight."
"The pilgrims were morally against Organic Chemistry."
"In 20 years I won't remember the reading for my communications class. I'll still remember making that cranberry sauce."
10. THE ONSLAUGHT OF THE HOLIDAYS

Your college campus might be good at exercising holiday restraint, but in the real world the holidays start right after the pie. There's no calm before this storm. It's as if some cheery little elves got rid of all semblance of dignity overnight and launched the entire world into the gift-wrapping, peppermint-eating, Michael Bublé- worshipping phenomenon that is The Most Wonderful Time of the Year. Nefarious creatures.