Cardinal and gold or blue and gold: that is the question. USC and UCLA have been battling on and off the field for decades. While both universities reside in sunny Southern California, the difference between USC and UCLA lies in athletics and networking opportunities, among many things. Can't make up your mind about which school to attend or support? Don't worry, I've got an answer for you.
Read on to find out why USC beats UCLA, unquestionably. 
1. "Trojan Family" Is Not an Empty Phrase
As a Trojan, the words you'll hear "Trojan Family" thrown around more times than students can count. So much so the phrase may at times appear hollow and without substantial meaning. But the Trojan Family is very, very real. Coming across in robust career resources, advising, connections and professional opportunities to get your foot in the door, the Trojan Family pays off greatly in palpable ways. The Trojan Family casts an undercurrent of support and care rekindled when meeting other Trojans. "Trojan pride is very strong, not just on campus but from alumni as well. Trojan Network is well-known to be very strong," said second-year USC student Eugene Lee. Tapping into Trojan Family connections, alumni can join networking groups categorized by profession, such as entrepreneurship, real estate, education, entertainment and the military, race and ethnicity, age and department of study. "Being a part of the Trojan family means that you can learn from, grow with and rely on this one-of-a-kind group of students," said sophomore Hannah Kim. There is no Bruin Family. There is only the Trojan Family. 
2. The Trojan Spirit Is Unlike Anything Else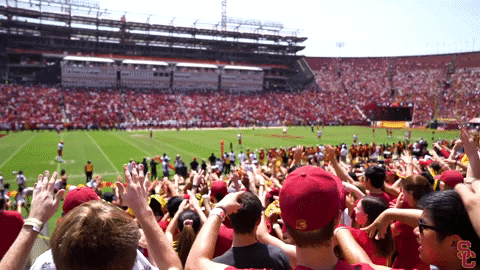 There's nothing quite like the Trojan Spirit. Pride swells on the daily and fills the hearts of all Trojans to the brim. "Everyone is always wearing a USC sweatshirt or t-shirt, but everyday there is always someone who is decked out in USC merch from head to toe (hat, shirt, pants, Nike shoes, and backpack to state the least). Those people are always a nice reminder of the Trojan spirit that runs rampant on campus," said sophomore Britney Castillo. And, of course, I'd be remiss if I didn't mention THE sport at USC: football.
Every Saturday during fall semesters, students don cardinal and gold gear to support the home team Trojans. "Football season is so much fun, game days really are something else with tailgates all over campus and the tradition of kicking the lamppost as you walk to the stadium. Basketball has a strong turnout too, gets a lot of hype," said Lee. Football games are such a big deal that ESPN frequents USC for College Game Day! What's most impressive is how Trojan pride transcends generations. "Even when something bad arises, we pick each other up and poke fun at ourselves. It's generally a community that does understand that we have become a part of a larger network of students and alumni so we carry that pride," said Castillo. USC's unparalleled athletic and academic tradition unites the Trojan Family across generations and continents. Through thick and thin, Trojans are proud to call themselves Trojans.  
3. Athletics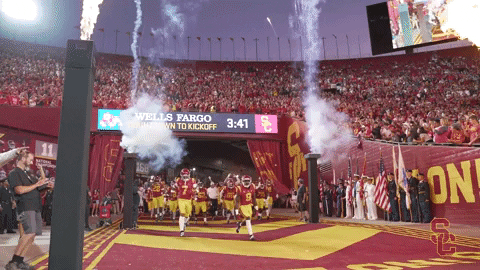 The list of schools rivalling USC's sports culture, especially football, is short. Extremely short. Tailgating, a rite of passage of some sorts, can start as early as 6 a.m. on campus or across the street in Exposition Park at the mighty LA Coliseum. Nothing compares to watching the USC football team demolish UCLA in the beautiful Coliseum cheering alongside 50,000 kindred spirits. The accompanying world-famous marching band, which performed at Coachella with Odesza, amplifies the experience as well.
From the rubberized tracks to cool pools to volleyball courts and football turfs, Trojans and Women of Troy make their formidable presence known on the collegiate sports scene. Having won 130 team national championships, consistently winning at least 1 national team title over the course of 26 consecutive years, it's axiomatic why Trojan Pride sings so vivaciously in students' minds. Whenever Trojans succeed, students, alumni and faculty celebrate the fiery passion and commitment to triumph and excellence. Fight On! 
4. Trojans Bring Home the Gold
Trojans never fail to bring home shiny hardware. USC lays claim to the Women's Capital One Cup, which recognizes the finest women's athletics program in the country. Trojans also won a stream of national titles among the women's teams in beach volleyball, water polo and soccer. From the 1904 Summer Olympics through the 2016 Olympic Games, 422 USC athletes have competed in the Games, taking home 135 gold medals (with at least 1 gold in every summer Olympics since 1912), 88 silver and 65 bronze. There have been more Trojans in the Olympics than from any other university in the world. If USC were its own nation in the Olympics, it would rank-tied for 8th in the world for total gold medals earned. 
5. Notable Alumni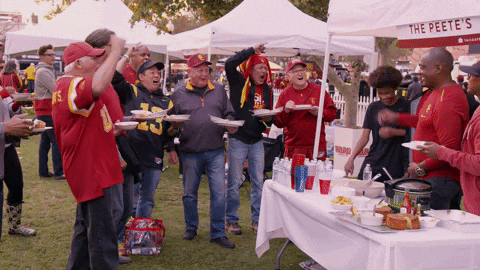 Isn't it crazy to think about how stars like George Lucas, Will Farrell and Neil Armstrong sat on the same steps you did or visited the same library you did? Imagine sitting next to John Wayne, James Franco or Lily Collins in class…bizarre. USC is home to a whole host of celebrities ranging from cinematic arts to sports to entrepreneurship. But beyond celebrities who claim Alma Mater to USC, alumni networks are very well established and robust globally. What really makes USC stand out is the fact alumni strengthen their camaraderie and bond with each other by regularly scheduled trips to all corners of the world together.
6. Personalized and Intimate Classes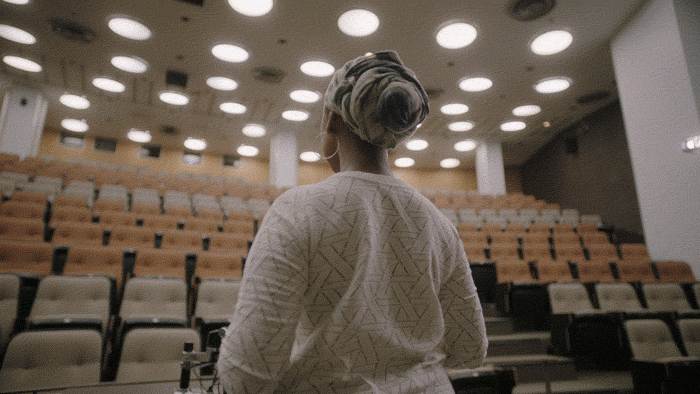 One of the many perks of attending a private school: the average class size is small. With a student-to-faculty ratio of only 9:1, Trojans can get personal with professors and TAs. At large public universities like UCLA, you are often just one undergrad in a sea of thousands. "I felt like each class was as personalized and as intimate as they could be, even in bigger classes like my biology class. It surprisingly didn't feel all that different from the closeness of a high school classroom (which was only 25 people at most for me) and there were always opportunities for help and time talking with teachers if you needed it," said USC sophomore Gwenan Walker. Typical lecture halls for GEs at USC are capped at 150 seats as well. Additionally, all USC classes are guaranteed. You never have to fret over not being able to get into an important class because of availability, a perpetual issue with the UC schools. 
7. Diversity Is Everywhere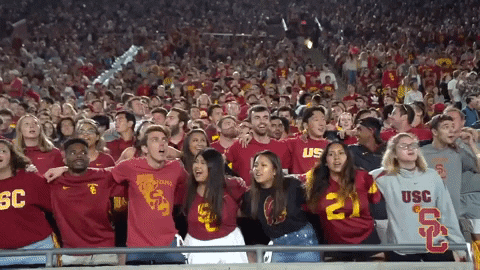 Sure, "diversity" can sometimes come off as being an overused buzzword deployed by sanctimonious students and faculty. But if it weren't for diversity in nationality, race, ethnicity, creed, sex and ideology, college life would be monolithic. Over 60 percent of USC's domestic student population comprises people of color. USC also boasts of having 25.4% (compared to 12% in UCLA) of its students hailing from countries abroad, which adds to the richness of the USC experience. "I've met people from all over the country and the world of all different races and ethnicities," said USC sophomore Gwenan Walker. What's also impressive is the sheer intellectual diversity at USC. "I can say without a doubt there really is something for absolutely everybody, and the university has really strived to make any sort of major or combination of majors as possible," said Gwenan Walker.  USC stands out as being filled to the brim with curious minds from different cultures.
8. Stunning Campus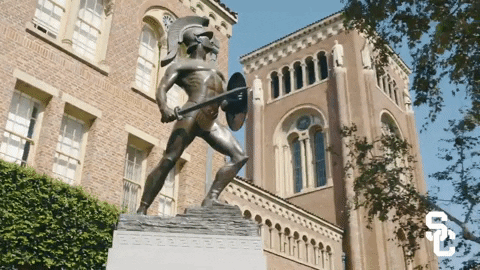 Although both USC and UCLA bask in the same genial warmth of Los Angeles and enjoy the same beaches, nightlife, concerts, plays and sports games, USC definitely prides itself in having a more beautiful campus. Behind the picturesque bricked architecture on USC, there lies stories and histories. The LA City Council has named 12 culturally significant buildings on the University Park Campus as Historic Cultural Monuments. "USC's atmosphere is more archaic and old-school given the architecture of buildings. It's what you'd expect from a private university constructed in the early 1900s," said Andrew Campos, a second-year student at the University of California, San Diego. The buildings alone make the USC campus worth a trip.
Greeting you at the entrance is a delightful rose garden where you can wander around lanes blushed full of gorgeous flora and fauna. You'll find students loitering in the well-manicured quads and lawns with their friends often. The school's proximity to Downtown LA, Hollywood and Santa Monica are major bonuses as well. Talk about perfect location and vibe.