To someone who has never had a credit card, the concept of one may seem terrifying. Why? It's the idea of being able to purchase things without having to pay for them….and then being unable to. "When you purchase something on your credit card, you are essentially 'borrowing money' because, unlike with a debit card, that money is not getting directly taken out of your bank account. Not until the end of the month," said Jean E. Pierre, Financial Manager of a Central Florida Bank of America. Get over your fear and get your first student credit card.
Despite the horror stories you've heard, they're manageable. And we need them to build credit in this economy.
When should I get a student credit card?
As much as you wanted one in middle school, you have to admit that wouldn't have been a good idea. But what about now? You're "mature" enough…right? "I believe young adults should get credit cards right when they turn 18. They need to build up credit as soon as possible," said Pierre. And while this is a popular belief, there also grows a concern of allowing new adults such freedom when they are yet to even be real "adults" yet. Again, credit cards are a huge part of adulting. That comes with responsibilities that can—and will—be managed.
What do I look for in a credit card?
What's a good intro APR rate? Wait, what even is that?
APR rates have to do with interest. What's interest, you ask? According to ConsumerFinance, a credit card's interest rate is the price you pay for borrowing money. When these interest rates are stated, they're usually done so in a yearly format, as a "yearly rate" called the annual percentage rate (APR). The lower the APR, the better. That means you pay less money when you borrow money.
The good news? Many cards won't actually charge you for borrowing money as long as you pay your balance in full each month. So if you pay your entire credit card balance each month, APR doesn't mean much to you. That equals more money in your pocket. With that in mind, make sure you don't overspend. The bank can and will raise your interest rate if you don't manage your payments. You don't want that.
Do I want cashback or rewards?
"It really depends. Cashback programs are for people who prefer cash versus rewards. If you don't travel often, then cash back is usually the better way to go," said Pierre.
Credit card rewards programs offer you the opportunity to earn airline miles, merchandise, services or cash back. Deciding which fits best ends up being up to what you spend your money on.
Rewards programs, on the other hand, are often only a good deal if you can spend and redeem enough to offset the annual fee you probably paid for your brand new Rewards Card, as Pierre mentioned. Either program will cost you an annual fee, but people are much more likely to use their card on items that will grant them cash back—such as gas and groceries—as opposed to plane tickets and hotel bookings.
Moral of the story? Cashback is usually a better bet for college students. Not only does it give back for every late night pizza slice or grocery trip, but it reaps more rewards for you, ironically, instead of a Rewards program.
Should I have to pay to open a credit card?

Annual fees, AKA interest charged yearly as opposed to monthly, are usually only paid on credit cards with rewards (which have differing amounts of interest rates) or some sort of benefit. And some rewards cards can come with deals that include not paying interest for the first year. This is good because you're paying less money for using your card.
On the other hand, applying for a secure, regular credit card should not cost you anything. Why? That's just the way they are. Like a debit card, opening an account should not cost you anything. It's the additional that costs you the extra. However, according to Pierre, you may have to pay if the bank does not accept your application for the card. "In some instances, the bank will offer you other options that involve paying a fee in order to obtain a partial secure credit card," said Pierre. You could be denied for a criminal or negative financial history.
What's a good interest rate?

According to ValuePenguin, the average interest rate for a Student Credit Card is 19.8 percent. A low interest rate would be around 13 percent, while a high one would be around 23 percent. Again, the lower, the better. Why? Remember what we said about APR rates. A lower interest rate means less money that you have to pay. So, having a lower or "good one" maybe be in your best interest (pun intended).
What do I do once I have this fancy credit card?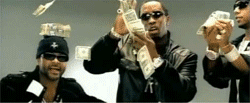 The world is your oyster, but think smart. Create a financial plan. You don't want to overcharge yourself and lose the brand spankin' new plastic you just got. It can break.
Decide how much you can spend per week, an amount that allows you to pay back your credit card easily.
Remember to use your credit card if Rewards are available and your card isn't over charged for the month.
Balance your financial plan realistically. If you're going to be spending a lot this week, you might not want to charge the credit card next week.
"Often, parents that get their children credit cards at a younger age will enforce limitations or a financial plan of some kind," said Pierre. This should not change because the account is under your name.
How much should I spend?
Student credit cards often begin with a limit between $500 to $1,000—however, this does not mean you are free to spend $500 a month without consequences. Use your credit card as you would your debit, with a limit. Meaning, don't charge money that you know you don't have.
When do I pay back my bill?
Credit card companies usually send out their bills at the beginning of the month and grant you a week or so to pay it. The sooner you pay, the better your credit. And don't forget about that APR rate.
So, what did we learn? Credit cards aren't scary. Your irresponsible use of them can be, though. Make a plan, do the research and do your best at adulting. You'll be better at it than you think. Always feel free to visit your local bank with any questions or concerns.
But honestly? As long as you don't act like Cher from Clueless, you'll be just fine.