With long summer days ahead, a road trip on Highway One allows for a scenic and safe way to travel amidst the pandemic. Each city in between Los Angeles and San Francisco has its quirks and picturesque spots—but you can't miss out on these stops. This list of my favorite spots along the coast can guide you to make the most of your trip. Travel light with a disposable camera to treasure your memories. You'll want to stay on the road the entire summer. To quote Kerouac: "The road is life."
Keep reading for ten spots to visit on a road trip on Highway One!
10. Stroll through Solvang, California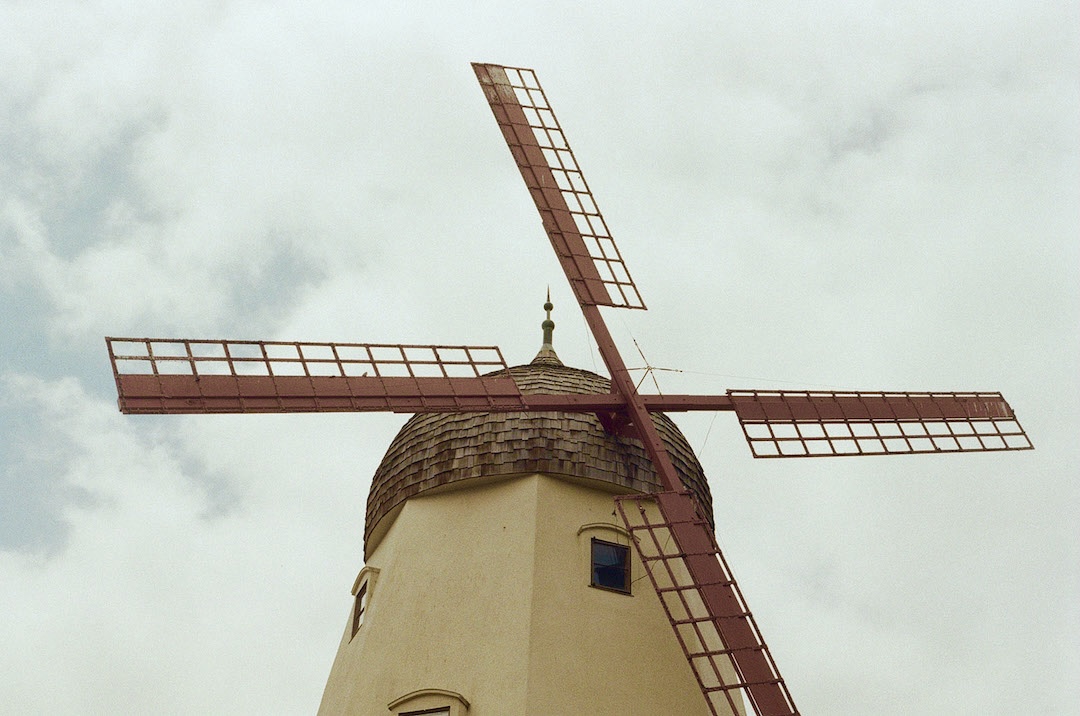 Known as the Danish capital of America, the equally cute and historical Solvang will leave you wanting to stay here forever. With windmills to gawk at and Danish bakeries for tasty strudel, this small village located outside of Santa Barbara offers a lot of sightseeing and shopping nooks. You'll actually want to window shop due to their colorful displays.
Fairytale lovers must visit the Hans Christian Anderson Museum, but Solvang additionally includes history, art amber and even vintage motorcycle museum options. Ride the horse-drawn trolley and go wine-tasting. Get inspired by all the miniature shops to design your own dollhouse or fairy garden. Buy a comfortable pair of clogs for all the walking ahead of you! Book a nearby vacation cottage or a room at the King Frederik Inn if you decide you want to stay another day or two.
9. Clam Chowder in Pismo Beach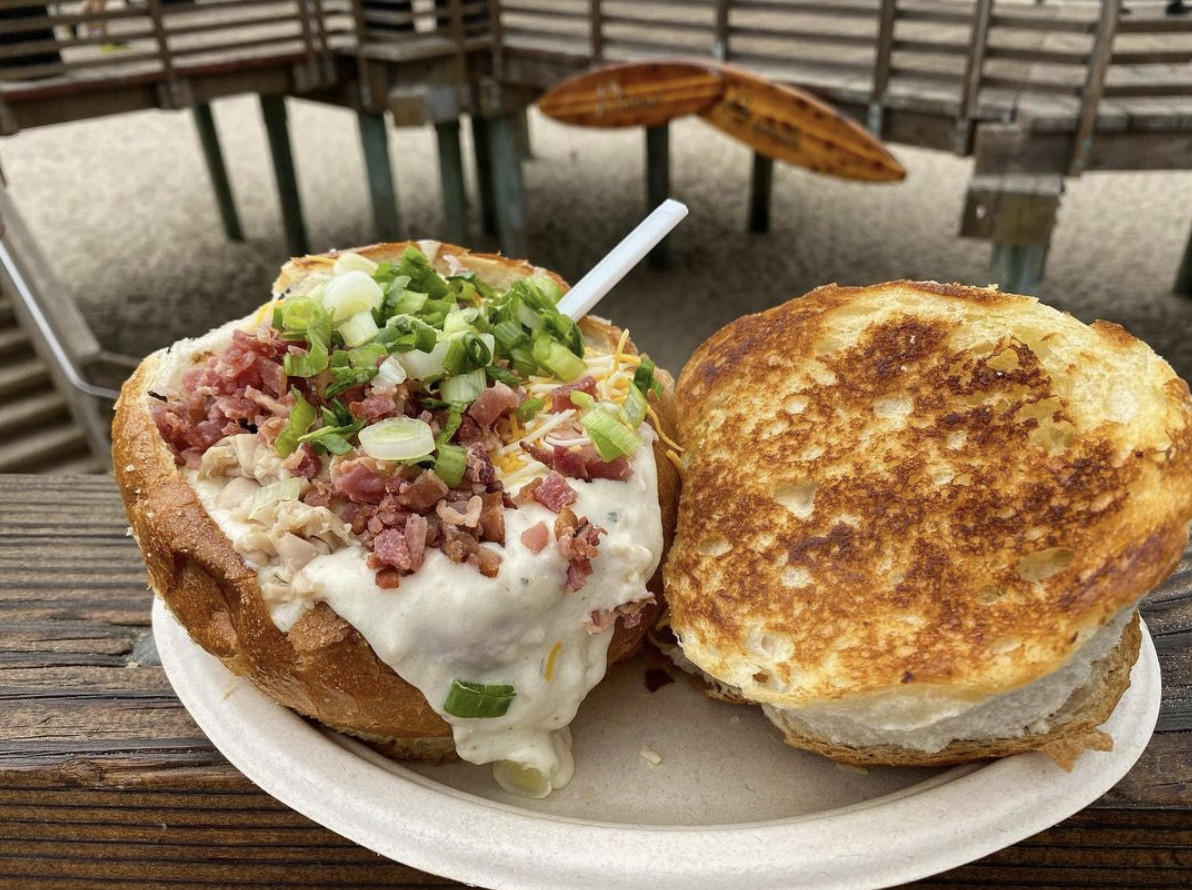 Feeling hungry? For a lunch break, Pismo Beach offers delicious food and seaside views. Stop by the famous Splash Café, known for its bread bowl clam chowder with many topping options. Not in the mood for soup? Splash Café's menu also includes burgers, sandwiches and other seafood. Admire their funky decor and wall art while you dine.
"Splash Café has the best clam chowder," Bard College junior Penelope Bernal said. "I love adding bacon to mine. The creaminess of the soup combined with the crispy bacon and crunchy bread is amazing. It's worth the three-hour drive from LA just for soup."
Go to the pier afterward and rent a boogie board if you want to go in the water. Make sure to buy saltwater taffy for the road! 
8. Oceanside Views from Montaña de Oro State Park and Elephant Seals in San Simeon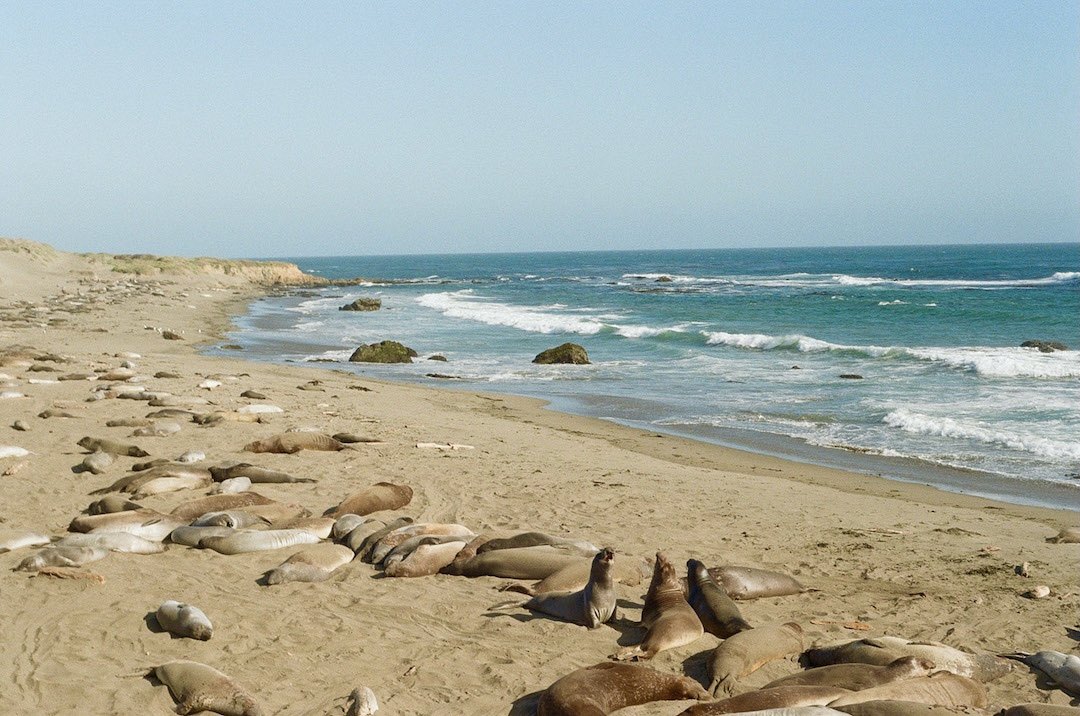 Heading up north, you won't miss the 8,000-acre state park right before Morro Bay. The golden wildflowers you'll find will help you understand its namesake as the "Mountain of Gold." Hike through its ocean bluffs and summits for dramatically beautiful scenery. Explore the coves and dip your feet in the water. Watch flocks of birds fly by. The park includes campsites if you'd like to spend the night.
After driving for about an hour, you'll see the exit for the Elephant Seal Vista Point in San Simeon. Watch these infamous elephant seals sunbathe and playfully fight with one another from the observation deck. Though currently closed, the must-see Hearst Castle lies only five miles away. For now, nature continues to impress and entertain.
7. See the Falls at Julia Pfeiffer Burns State Park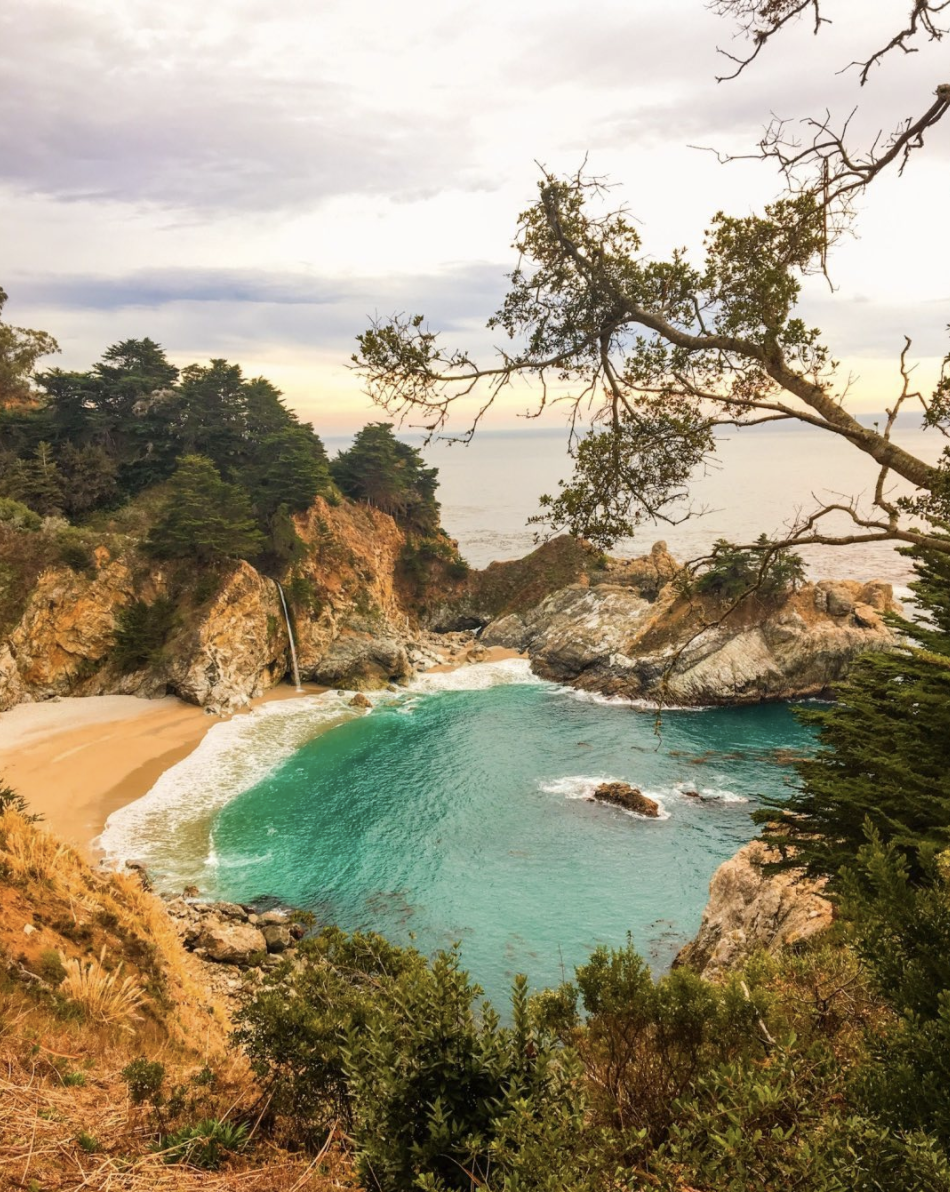 As you continue driving through the thickets of Big Sur, make sure to stop at McWay Falls to see the breathtaking 80-foot-tall waterfall. A short half-mile roundtrip hike and you'll see the secluded cove with a waterfall landing gracefully into the Pacific Ocean. Big Sur itself has many parks, campsites and lodges to choose from if you want to truly immerse yourself in nature. From the magnificent mountains to the tall redwoods, the abundance of scenery and wildlife proves itself endless.
Advertised as the place "where nothing happens," the aptly named Henry Miller Library welcomes all to read, learn, challenge and exchange ideas. With many live shows and art showcases, creativity endures in the enchanting forest. Read some of Henry Miller's books on the drive there if you're unfamiliar! Kerouac's poems wouldn't hurt either. The Bixby Bridge empties you out into Carmel.
6. Watch the Sunset and Grab Dinner in Carmel-by-the-Sea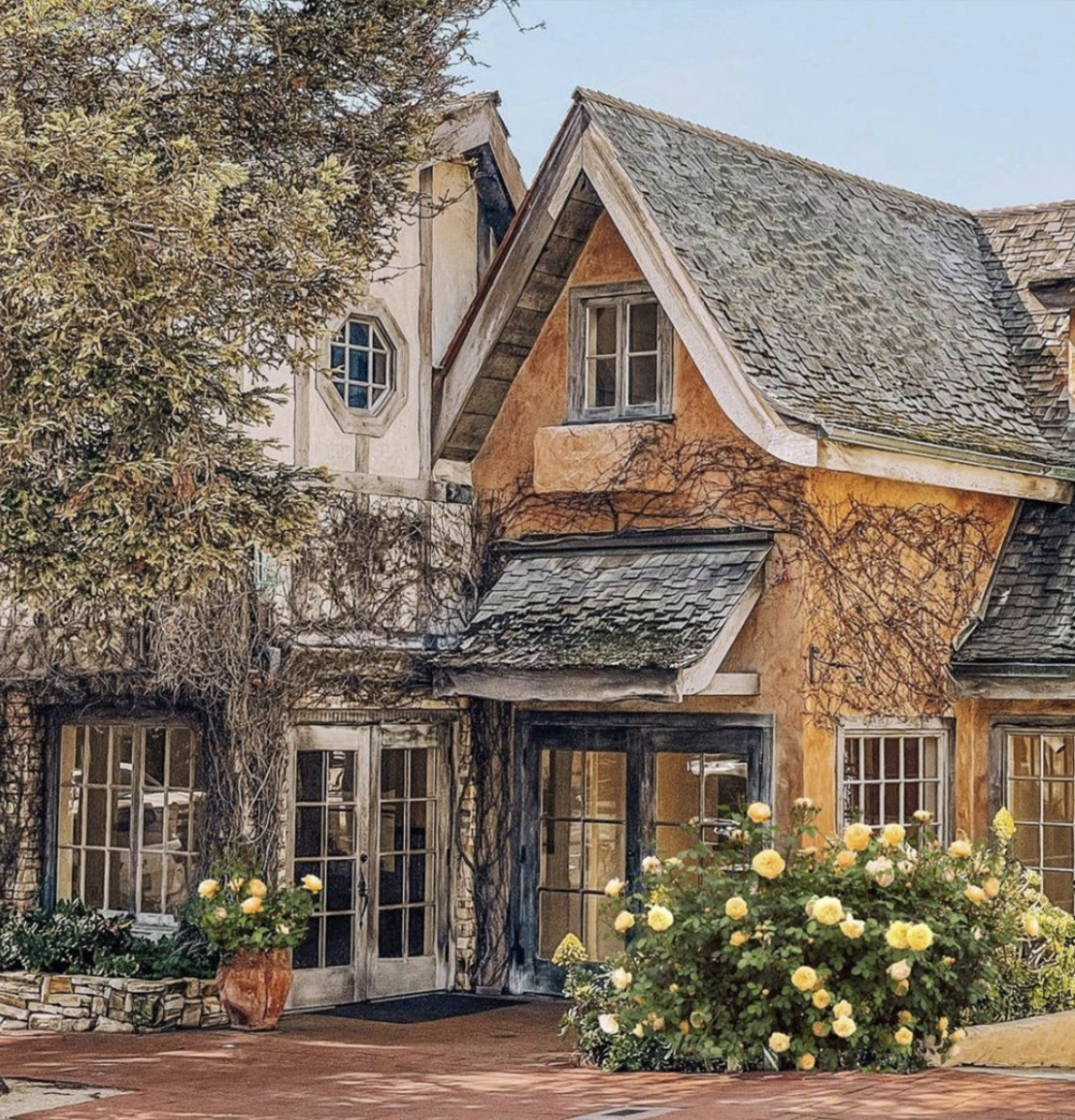 Go down Ocean Avenue and you'll find the marvelous white sand beach. Surround yourself with Carmel's iconic cypress trees as the last rays of sunlight linger over you. The specialty shops and boutiques here will not disappoint from the Burns Cowboy Shop to the Music Boxes of Carmel. Grab a quick bite at the quaint 1906 Carmel Bakery before heading to the waterside. Known for their giant Bavarian pretzels, they also serve excellent cannoli, homemade sandwiches and breakfast burritos. Remember to get the lemon aioli to dip your pretzel in!
"For over 100 years the bakers at Carmel Bakery have supplied the 'village in the forest by the sea' with fresh baked goods, and I am so proud to own this piece of Carmel history," current Owner since 1986 Rich Pèpe said.
After the blissful walk and admiring all of Carmel's whimsical cottages, you'll want to try one of their artfully intimate restaurants. From more upscale coastal restaurants like Aubergine tucked away in L'Auberge hotel's courtyard to the culinary sanctuary of Stationæry, you will travel through various cuisines from the comfort of a Californian backdrop. Prepare yourself for modern twists and mouthwatering farm-to-table dishes. Perhaps save room for a classic boardwalk dessert in Santa Cruz.
5. Ride the Giant Dipper at Santa Cruz Boardwalk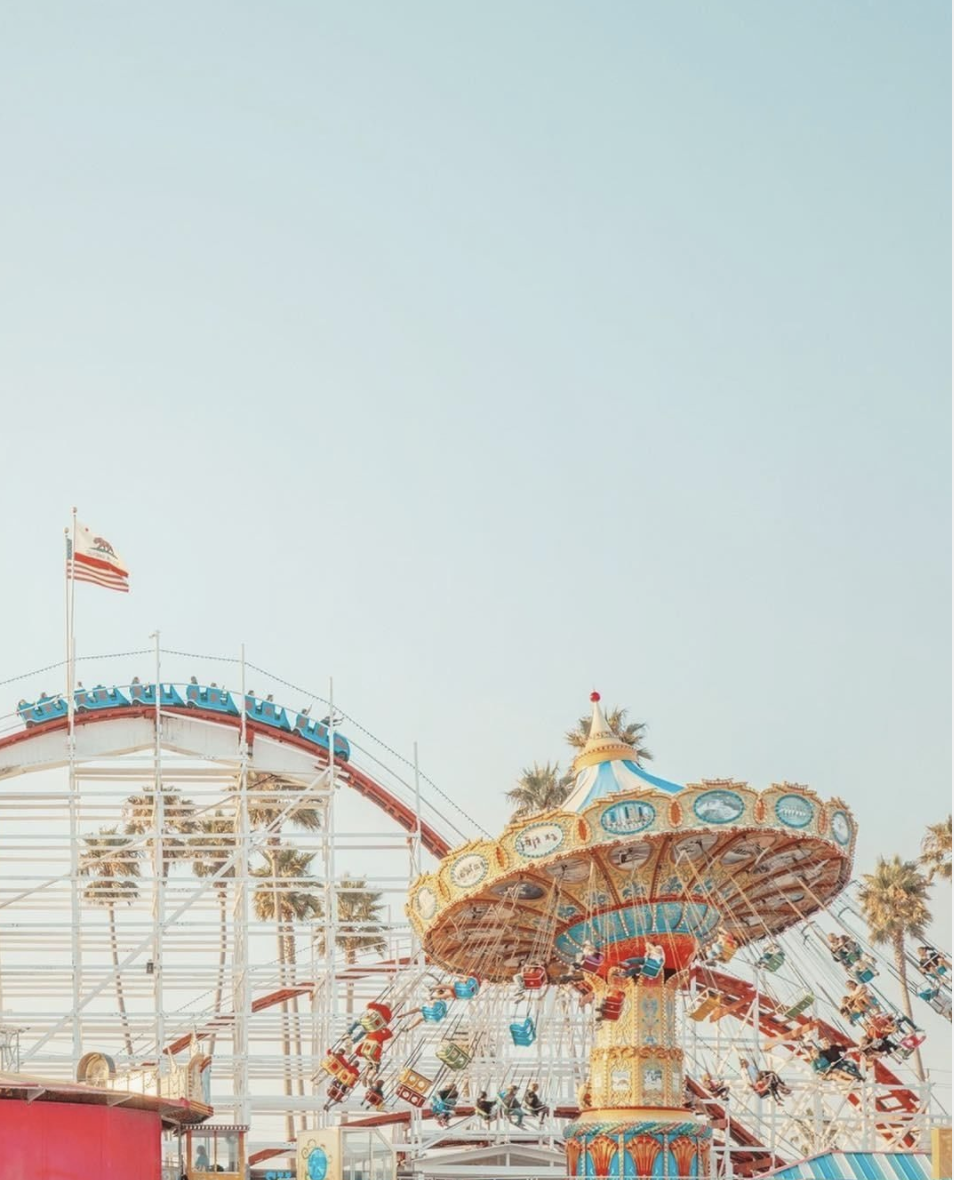 Known for its vibrant seaside amusement park since 1907, Santa Cruz Beach Boardwalk still excites visitors at night. With the boardwalk lit up, you can catch views of the whole park as well as the ocean from the Sky Glider. Throw some rings into the clown's mouth at the 1911 Loof Carousel or the iconic 1924 Giant Dipper wooden rollercoaster to make the fun old-timey experience. For thrills, rides like the spinning Fireball or the Shockwave will have you wanting to ride until closing. Late-night bowling, mini-golf, laser tag and arcade games may appeal to you too. Split a funnel cake with strawberries, whipped cream and powdered sugar for a treat. Filled churros, flavored cotton candy, Dippin' Dots, waffle cones, and sundaes also make up the festive experience. Grab some handmade chocolates and caramel apples for later.
4. Strawberry Picking at Swanton Berry Farm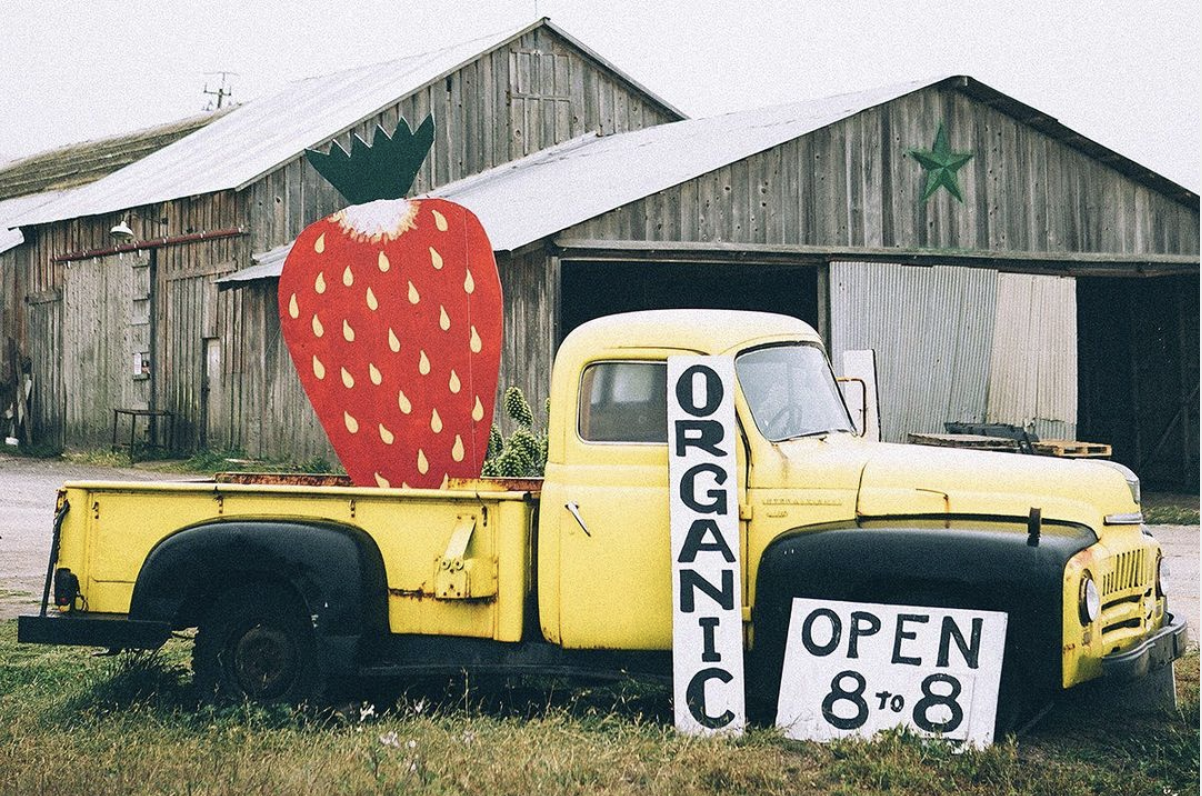 Located in Davenport, this seaside berry farm wins in both tastes and aesthetics. Founded in 1983 by Jim Cochran as the first certified organic strawberry farm in California, they also harvest olallieberry and kiwi depending on the season. Starting in May until October, you can pick your own ripe strawberries with their U-Pick option at only $6 a pound. It makes for a rewarding bonding experience. Their daily farm stand also offers delightful baked goods from fruit pies to strawberry shortcakes. Drink some hot strawberry apple cider to warm yourself up after strawberry picking. Swanton also sells their own jams and artichokes. The cute blue picnic table area provides a wonderful place to picnic. Take a photograph in their large strawberry cut-out to remember your visit for years to come!
3. Visit the Pigeon Point Lighthouse in Half Moon Bay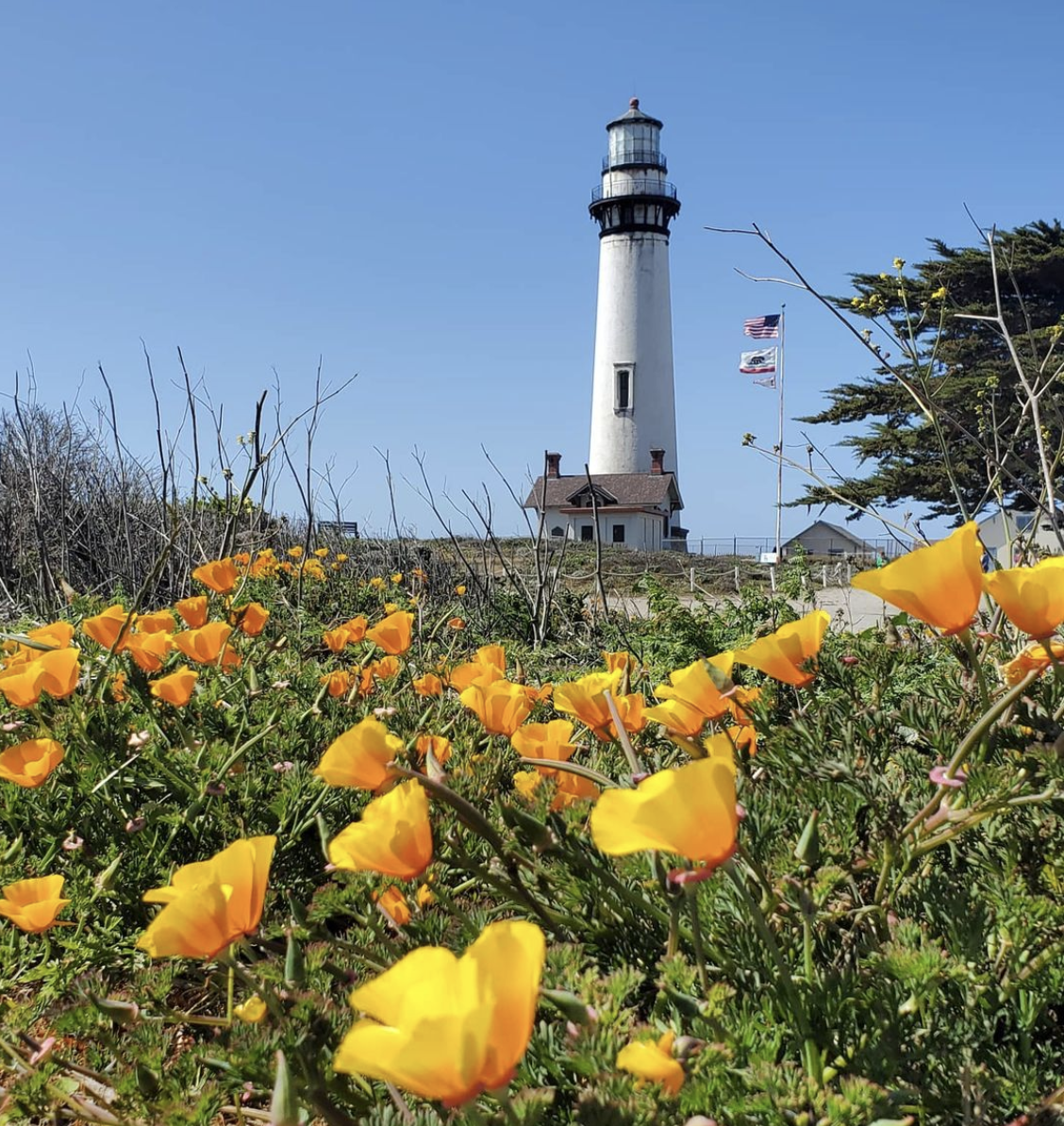 Adventure through the coastal headlands and find yourself at the Pigeon Point Light Station State Historic Park. Built in 1871 due to a series of shipwrecks, at 115-feet, Pigeon Point proves itself as one of the tallest lighthouses in the United States. Learn more about its history in the visitor center and bookshop. Accommodation available at its attached hostel. Watch marine life from a comfy distance and you may see a seal or two!
Though Half Moon Bay itself houses many unique boutiques and gourmet restaurants, you must visit its neighboring community of Princeton-by-the-Sea. The picturesque Pillar Point Harbor provides whale watching tours and spectacular views from its old wooden pier. Check out all the silly boat names bobbing out by the water. Local favorites like Sam's Chowder House will keep you stuffed and warm from the seaside breeze. You'll also see the famous Mavericks Beach that houses the legendary annual surfing competition. With waves reaching fifteen to thirty feet in height, you can try your hand out at riding these waters if you're daring enough.
2. Check Out Some Modern and Fine Art in San Francisco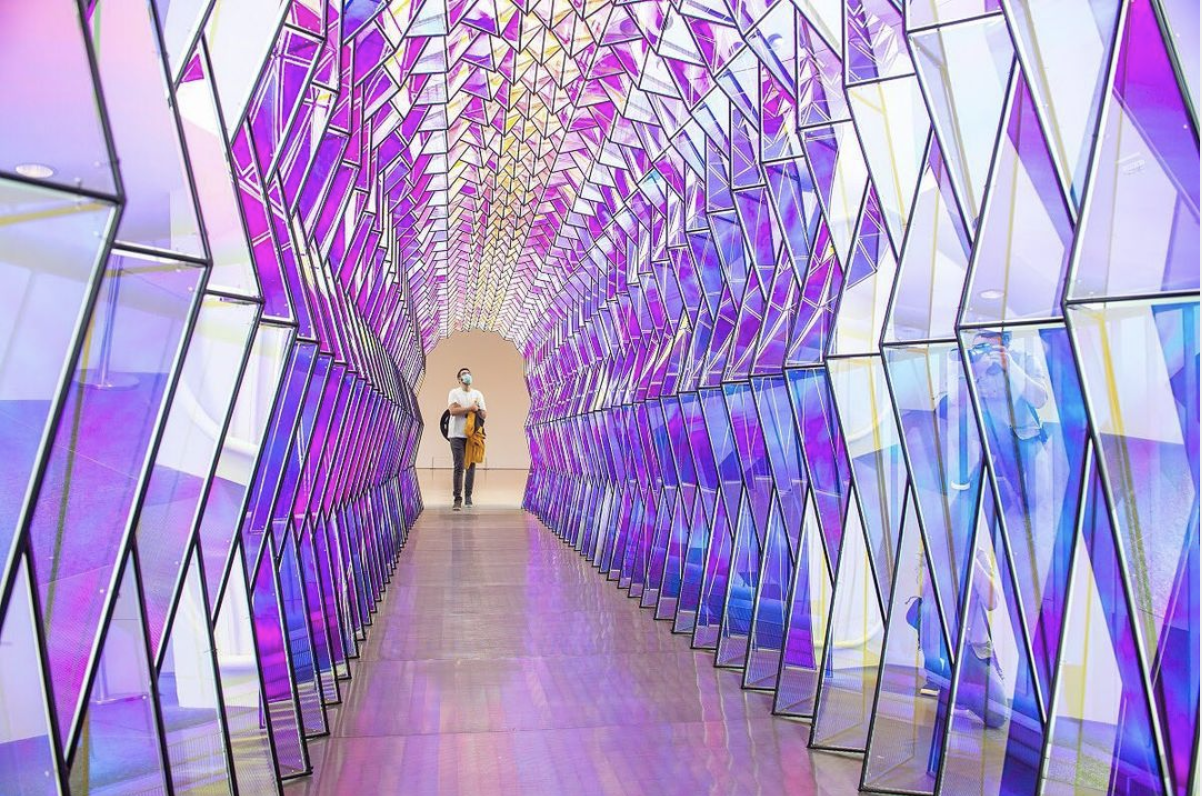 If you want a break from all the roaming outside, then step inside some museums once you reach San Francisco. Founded in 1935 as the first museum on the West Coast devoted to modern and contemporary art, the SFMOMA features more than 33,000 works of modern and contemporary artworks. Designed by Snøhetta, the 2016 renovation will leave you feeling as if you entered a work of art yourself. Take some photos by their Living Wall, a multi-sensory experience of an entire ecosystem inhabiting a terrace wall. They even have a whole floor dedicated to photography!
"Each time I visit the SFMoMA, I am surprised. Not that 'San Francisco' is a disclaimer, but I always suspect (at least internally) that it must be inferior to the other modern art museums, like the MOMA in New York or the Tate Modern in London," Recent Loyola Maramount Graduate Megan Loreto said. "Yet, from the windows that overlook the San Francisco city street to Matisse's 'Femme au chapeau' to an almost unrivaled photography collection, the SFMoMA ceaselessly delights me every time I visit."
Saunter through the incomparable Golden Gate Park and sit by the fountain in front of the de Young Museum for a breath of fresh air. The renowned museum houses American art from the 17th through 21st centuries as well Oceanic, African, Indigenous and textile art. The ninth-floor observation deck, free to the public, offers 360-degree views of the city. If you're not feeling the Academy of Sciences, one of the largest natural history museums in the world, take a secret path beside it and find the romantic Shakespeare Garden. Sip some tea at the Japanese Tea Garden afterward. 
1. Cross the Golden Gate Bridge to Sausalito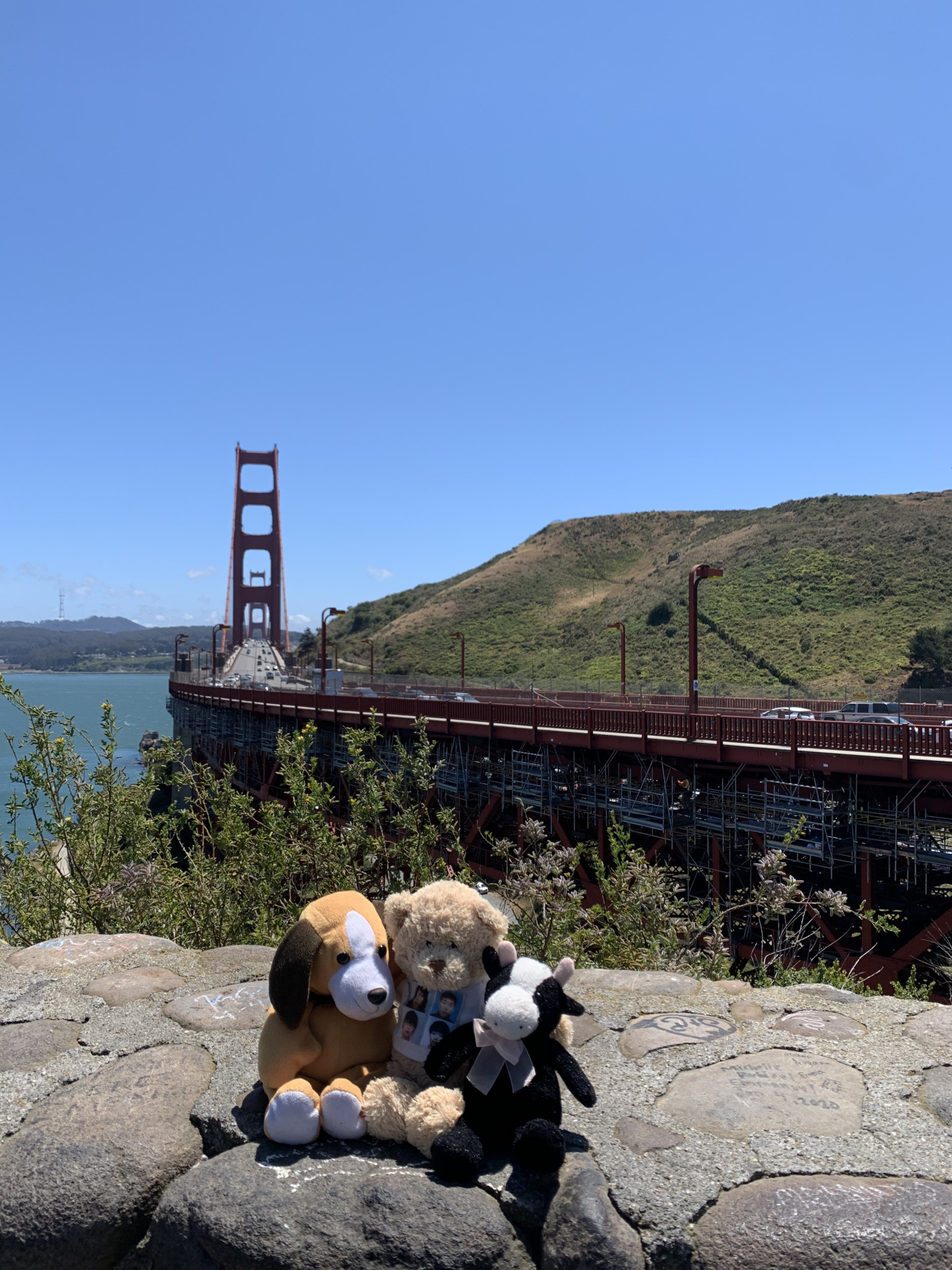 Finally, you must cross the iconic Golden Gate Bridge. With its arched cables and Art-Deco towers, you'll be amazed going across it. Biking to Sausalito fares a popular option because you can feel the full experience and take a ferry back. The vista points make for great photo opportunities with the water and towering skyline if you don't want to walk the whole 1.7 miles. Sausalito itself has a wonderful waterfront to watch the city from afar and all the elements that make up a perfect seaside town.
Visit the Marin Headlands for thrilling coves and the Point Bonita Lighthouse. Guiding ships safely since 1855, the National Guard still relies on Point Bonita today. The trail to the lighthouse has stunning views of the waves and cliffs. Go hiking through the wildflowers of Tennessee Valley and birdwatch. Finish your day off with a sunset picnic at Rodeo Beach. The waves as endless as California's beauty.