Campus Events
Eagles Hockey
(Conte Forum during basketball/hockey games, via bceagles.com)
BC's men's hockey program reached the Frozen Four last year and has won three national titles since 2008. One game highlight is a traditional school taunt. "Chanting 'sieve' at a helpless goalie caps the awesomeness of the night," pre-med sophomore Pierre Leconte said. "It's a fun sport to watch, especially since we usually win," LaPré said.
The Boston Marathon
(The Boston Marathon passes St. Ignatius Church, via bc.edu)
Commonwealth Avenue, the northern border of Main Campus, transforms every year into the Boston Marathon route. On Marathon Monday, classes are cancelled and students pack the school's Comm Ave. frontage to cheer runners at the Marathon's Mile 21. My first Marathon Monday came one year after the marathon bombing, and the overwhelming turnout of "Boston Strong" support inspired everyone. Spectators love watching fellow BC students run in the marathon, and many commemorate the occasion with BC's most reckless drinking of the year.
Nights on the Heights Events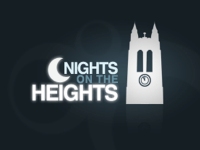 (NOTH logo, via bc.edu)
Nights on the Heights, a student programming body, runs late-night events on Fridays, Saturdays and some Thursdays. Memorable events from last year included making stuffed bears, Harry Potter trivia night, decorating gingerbread houses and a candy and bounce house night. These events receive astonishingly high funding for food and cool prizes. "I usually left with something cool like a free BC phone case or a $25 gift card," LaPré said. Not bad for an organizational scheme to tone down BC's party scene.
Getting Outside the College Bubble
For more on Boston College, check out:
As Told by Boston College Alumni
10 Things Boston College Students are Thankful For
CM gets to know Massachusetts Professor of the Year at Boston College.