I'm a junior by credits, and I'm not proud (kind of). Reading that probably made you roll your eyes—and I get it. I'm one of those people. I did what most kids do in high school and got ahead of the game.
So far, getting ahead remains as both a blessing and a curse. Hear me out.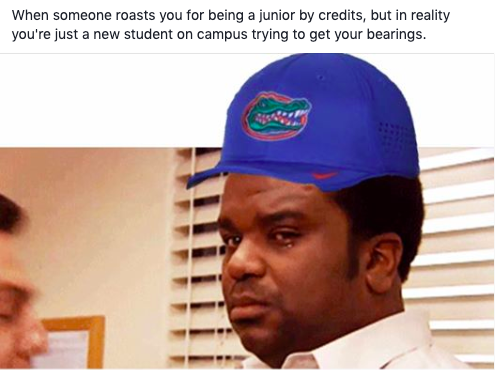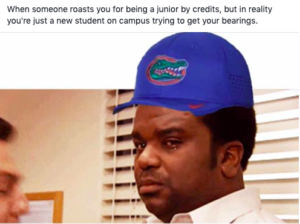 When I walked into my first advising session during freshman orientation, I knew my advisers would try to convince me to do all four years. "Take this random elective. It's so much fun," they said. I knew better than that. Advisers love to tell students to take more classes because more classes equals more tuition money.
Not wanting to get played, I ignored my advisers and figured out how to get ahead.
I went into college with about a year and a half's worth of credit completed. I'm guilty of overachieving when it comes to certain things such as with academics. My first two semesters didn't turn out too difficult since I didn't take on more than one extracurricular and didn't get a job until after spring break. That said, I overworked myself during Summer A, however, to secure my early graduation plan.
I remember scrolling through Facebook laughing at all the memes about juniors by credits. Even though I hated them, I lived as one of them. As of right now, I'm graduating in December 2020, as opposed to May 2022. So what am I complaining about? I'm avoiding torturous years of class and saving tons of cash. Let me you why it sucks.
Living as a junior by credits means missing out on at least one football season, saying goodbye to nights out with friends once you graduate and overall, just losing experiences that you won't get back.
Even though adulthood sounds fun, our college years stand as our last chance for some #noregrets fun.
Technically, I am in the summer after my "freshman" year, but I'm already studying for grad entrance exams and certification exams. I didn't think I'd study for this stuff early on in my college career. While most college kids only recently picked a major and still have no plan for the future, if I don't stick to my plan, then no early graduation for me.
I should probably tell you why I'm so set on graduating early. One of the main reasons obviously involves money. The more time you spend taking classes just takes more money that I want to use for graduate school—which costs even more.
Aside from that, I can't wait to start teaching and turn into a fully independent person.
Thinking about my future job makes me feel hopeful. I'm excited for the challenge that comes with actual adulthood, not the fake "adulting" captions I put on my selfies taken while doing something like groceries. For that reason, I worked to become a junior by credits. Despite making myself the butt of every joke and missing out on valuable college experiences, I'm a proud college junior at 19.
Though I'm owning the title, I don't go around announcing my class standing. Whenever someone asks me what year of college I'm in, I hesitate. On the bio at the bottom of this article, it says I'm a junior at the University of Florida and rightfully so. I did more than I required in high school to make sure that college would turn out a tad bit easier for me in the long run. Should I change it to junior by credits? Of course not, because I did that. Hell no.