Ever wondered where the iCarly gang's adventures took place? Have you felt the impending urge to check out the location of where Heath Ledger sang "Can't Take My Eyes Off You"? Buckle up, straddle down and fix your seat belts.
Let's see what we can do in the Seattle in 24 hours.
6 A.M. HIKE ALONG RATTLESNAKE LEDGE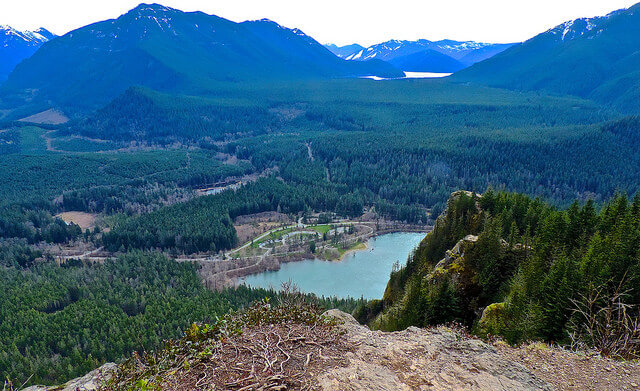 Start the day off right with a little exercise and a view of the sunrise. Rattlesnake Ledge tends to be an easier trip to make when you have a full day of nonstop fun planned. Come for some exquisite greenery laden trees that leads to a wonderful rock outcrop on a lake. "Leave campus and explore," said University of Washington senior Nicolas Khamphilom. "Whether that may be the nearby beaches of golden gardens or alki, or hiking in the nearby trails, in Seattle you can never be too far from water, mountains or forests."
7 A.M. FIND COFFEE THAT ISN'T A GREEN MERMAID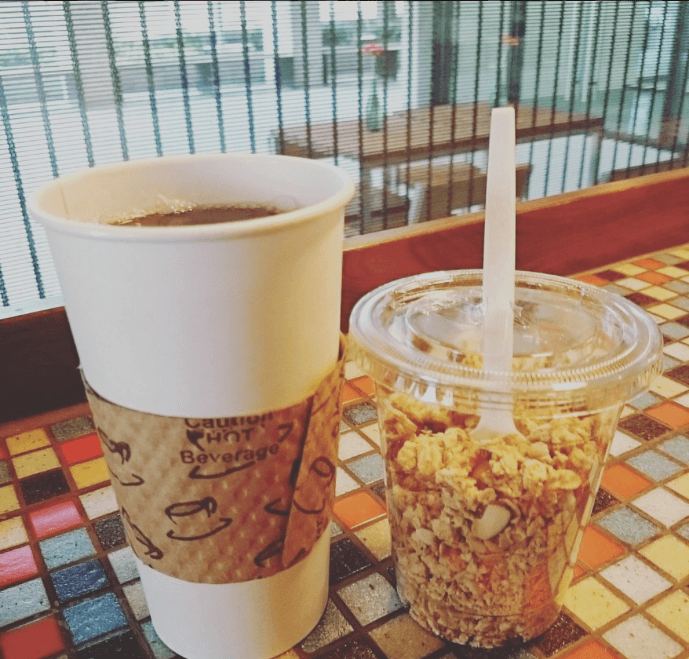 No discrimination of frappuccino addicts, but you'll find so many interesting and taste-defying coffee shops to hit up. These include locations like Voxx Coffee, Analog Coffee, Seattle Coffee Works… and how often will you be in the area to try local coffee shop drinks and pastries? Never heard of tarte aux prunes or a kouign amann? Buy one and figure it out.
8 A.M. TIME FOR THE SPACE NEEDLE
The iconic Seattle Space Needle lets you view the city from a bird's-eye view. Luckily, if you're an early bird to the lines you can score an awesome discount for the entry fee, saving $10 to go to your souvenir funds. Don't forget to pack your camera because the sights are amazing: Preside over the city of Seattle like a deity, watch the people roam like ants and the cars unfold from one end of the street to the others.
9 A.M. TAKE A TRIP DOWN SOMEONE ELSE'S BEAUTIFUL GARDEN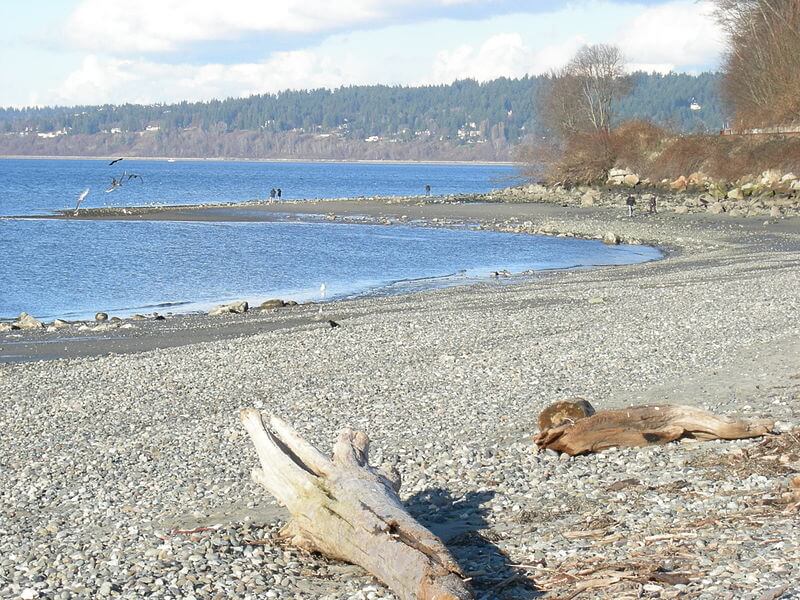 Golden Gardens, named aptly for the beautiful hues painted at sunset, poses more as a beach than a secret jardin. You can fish, you can bonfire and you can grill all in one place. "My favorite place for [running, biking, having a picnic or just studying by yourself], would be Golden Gardens," said UW senior Ken Siow. "Simply because there isn't a better place to hang out with friends on a nice, warm day,"
10 A.M. CHECK OUT APPLE'S COMPETITION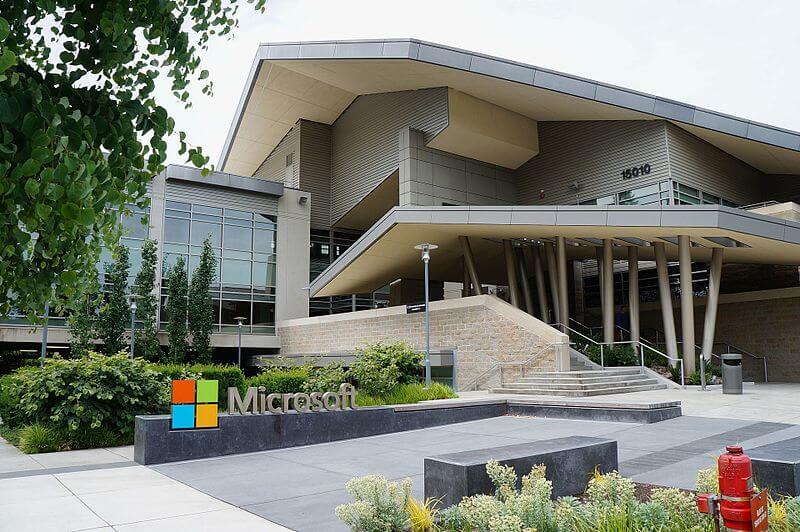 Wanna check out the Microsoft office located in Redmond? A bit of a ways from Seattle, but close enough to make you want to drop by. Get a sneak peek at all the nifty little tools and gadgets Microsoft develops here. This hi-tech phenomenon is open to the public, just make sure that they're accepting visitors instead of hosting a private party before you head over.
11 A.M. AVOID the LUNCH PANIC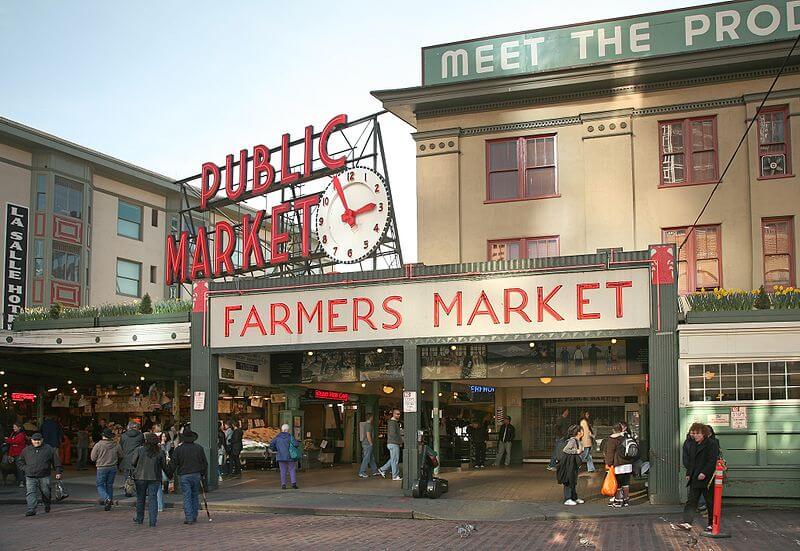 "Pike Place is a fun place to go to with friends to try new foods and support Seattle's local businesses," said UW senior Hakikat Bains. Pike Place Market has weird and unique foods that just smells like Seattle once you get it in the kitchen. Feeling that raw goat milk? What about some edible wild mushrooms? Or maybe just some almonds…flavored hickory or Cajun or honey roast or raspberry? Don't even get locals started on the clam chowder. "Pike Place is quite fun," said UW junior Jessica Yeh. "Always so many people but it's an awesome place for food, small shops and pictures."
12 P.M. GET INTO A STICKY SITUATION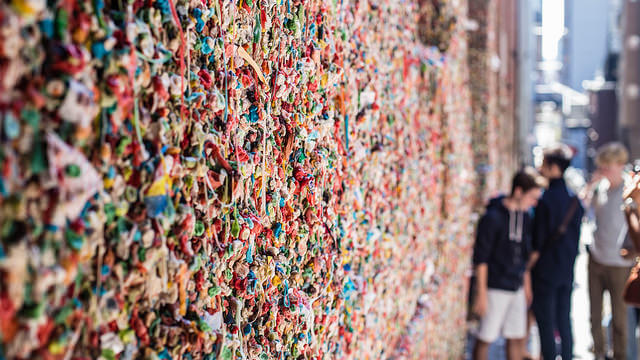 The colorful gum wall awaits your arrival, just a gum's throw from Pike Place. Sticky residue hangs off the walls and gum covers gum in a mesh of flavors and blobbiness. Stick a couple here and know that you will always be a part of Seattle history. "There are gorgeous flower bouquets and the gum wall," said Khamphilom on the location. "It's a great place to see different individuals and communities of Seattle."
1 P.M. APPRECIATE SOME ART
Hopefully the limited number of tickets for the Seattle Museum of Art won't run out when you go. "A college student can visit the Museum of Pop Culture (MoPOP), or the Seattle Art Museum (SAM) over the weekends, as they usually have gorgeous exhibits to go see," said Siow. "Student discounted tickets are offered, so that even as a college student, it is fairly priced and always worth the trip to experience." Depending on which location you visit, you'll be in for a visual treat. For instance, Yayoi Kusama's "Infinity Mirrors" is mind-boggling, while Australian Aboriginal section draws from simple, earthy colors for similarly simple depictions.
2 P.M. DISCOVER THE DELICIOUSSNESS OF HOMEMADE ICE CREAM
Buying from locally grown farms really makes this an ice cream you can only get when you're in the area. Molly Moon's represents more than just an ice cream parlor, it serves as a place to connect and smile over a nice pint of Vegan Sweet Mint ice cream. Or maybe hit up the OG strawberry or earl grey. Good flavors. Strong flavors. Mmm.
3 P.M. GET R&R IN AT WRIGHT PARK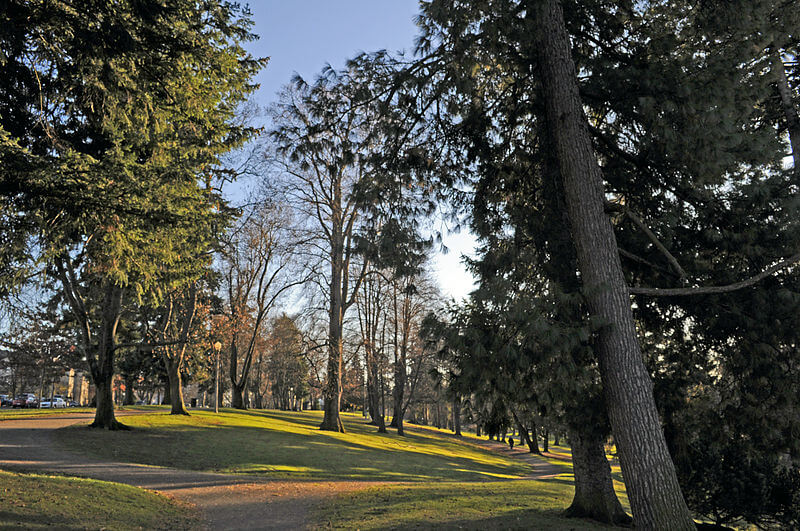 Gorgeous greenery coexisting with a family-friendly park and trails? Sounds like a great place to hit up for a little R&R from all your city adventures. Look for all the beautiful trees dotting the landscape and the new bridge to take a new profile photo that really says, "I love nature."
4 P.M. Walk Down the Avenue
"College students would love hanging out on the Ave in University District," said Seattle Pacific University junior Emilee Phounsavath. "There's plenty of bubble tea spots, late night bites and a very diverse array of food. Everything is super affordable too!" Bubble tea at affordable prices for the broke college student? Sounds reasonable. And if spending money or eating is something you feel like you've done enough of today, just stroll through the area to check out the historic buildings or even the University of Washington itself. "The UW campus is a really nice place to explore," said Yeh. "The Ave also has a lot of good food."
5 P.M. CHANNEL YOUR INNER WRECK-IT-RALPH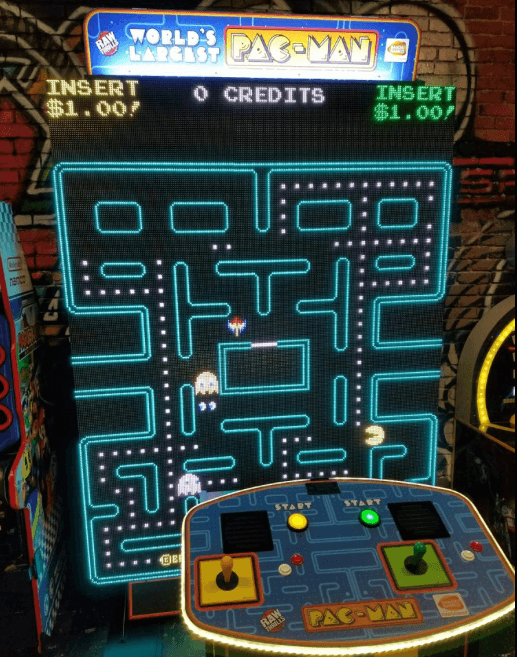 Welcome to the video game arcades lauded in the set design of Stranger Things. Missing Mario Kart, Asteroids or Pacman? Let your inner child out as you grab a cold one with the boys— or just knock back a couple of beers in the dimly lit arcade room of adulthood. Get ready for a blast from the past as those iconic video games take a final bow at Dorky's Arcade.
6 P.M. STOCK UP ON LATE-NIGHT READING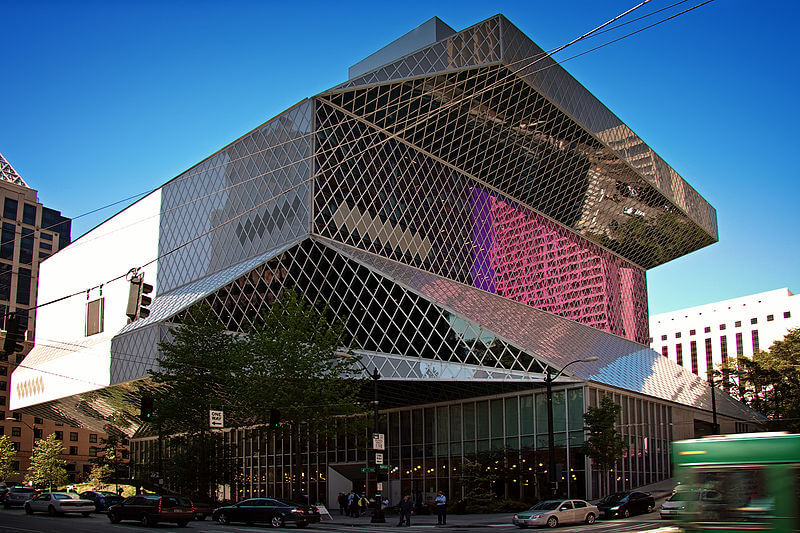 Have you ever met a sexy library? Seattle's Central Library is pleasing to look at and also has some innovative furniture/architecture that'll make your eyes go wide… and your camera go click. This is worth a visit once the lights go down to see just how the library lights up the night and lights up people's minds.
7 P.M. SHOOT FOR THE SEATTLE SKYLINE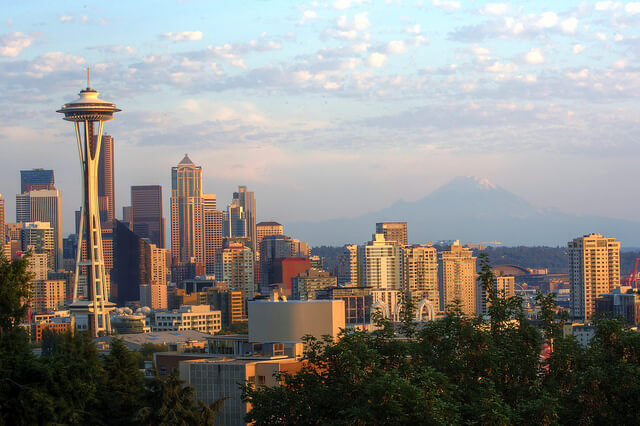 Aim to get to Kerry Park at sunset, but beware the throngs of photo mongers and tourists doing the same. Kerry Park boasts one of the best places to shoot the Seattle skyline. Look out for people unwittingly blocking your amazing hi-def soon-to-be Instagram. Of course, you'll find many other parks worth your time too. "You should definitely check out all of the city parks like Kerry Park," said Phounsavath. "It has a great view of the space needle, Gas Works park also has an amazing view of the Seattle skyline and Discovery Park in Magnolia is like a beach oasis within the city."
8 P.M. EAT A SEMI-FANCY MEAL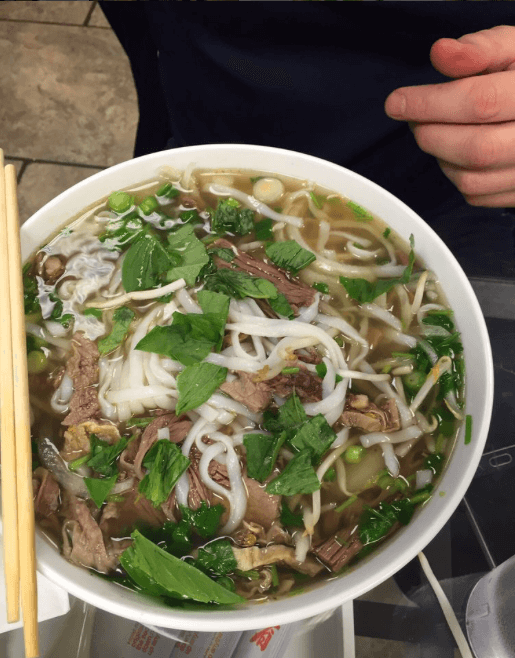 Wanna check out a food joint shown on the Travel Channel's Bigger is Better? Dong Thap Noodles provides a hearty pho bowl after our long day adventuring and gives you the lasting power to finish the rest of this list. If you're feeling ambitious, take a gander at their "super bowl" of pho.
9 P.M. SEE HOW THIS WHEEL GOES
Check out Seattle's Great Wheel while it still spins. Hop on to ride it round and round or admire it from a distance with your wallet safely tucked away. At $14 per adult, it has the glistening water on one side and the layout of Seattle on the other to lure customers.
10 P.M. NIGHTTIME DRAMA
Maybe planning a little theatre or improv to giggle the night away? Each performance at Unexpected Productions is unique because they play off the audience, so going any day will be a new experience. Just as their name suggests, expect the unexpected. Improv can be tricky, but it doesn't need a big-name celebrity to make you laugh till you pee your pants.
11 P.M. WALK ALONG THE WATERFRONT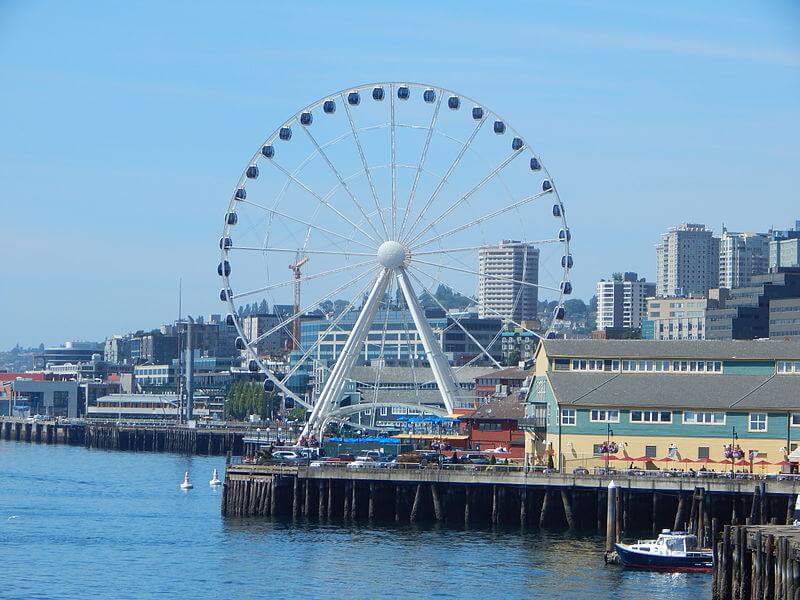 As if you needed more scenic Insta to prove how #blessed you are. But you can't visit Seattle without hitting up the waterfront. Think classic views, the smell of fish in the air and an overall chill vibe. Elliott Bay has never looked better.
12 A.M. DANCE AT A BAR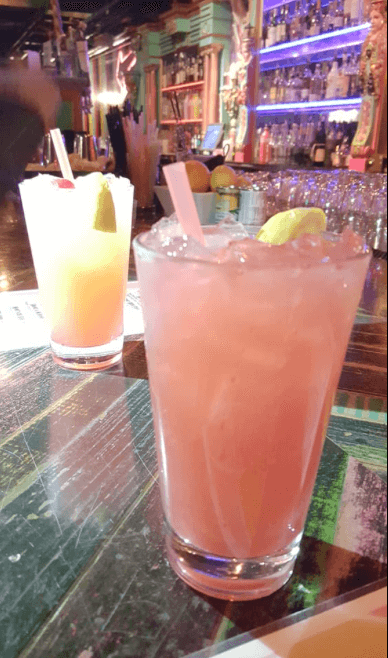 Feeling up to a little drunken flirting, munchies and an irresistible carnival vibe? Hit up the aesthetic Unicorn Bar for your cotton-candy themed fantasies over 21. If Unicorn Balls, Magi-Corn Dogs, Pegasus Burgers or Unicorn Droppings sounds good to you, man are you in the right place. Grab all your unicorn-themed paraphernalia and boogey out to your inner rainbow vibes.
1 A.M. NEIGHBORHOOD WANDERINGS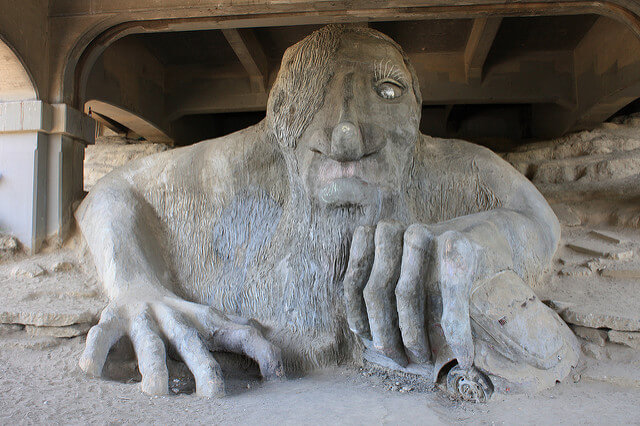 "A college student can spend time on the weekends here exploring the various neighborhoods around Seattle," said Bains. "These neighborhoods have various attractions each area is known for, such as Ballard's farmers markets, Fremont's troll sculpture, University District's cherry blossoms or Capitol Hill's late night food." Who needs sleep when you have so many places to see?
2 A.M. PAC-MAN PACK ATTACK
If you feel a little tipsy and out of it, a quick game of life-size Pac-Man will help you digest. No game pieces, just you and your drunk friends running around a roped off section of concrete looking like the iconic arcade game.
3 A.M. BLACK HOLE SUN HERE WE COME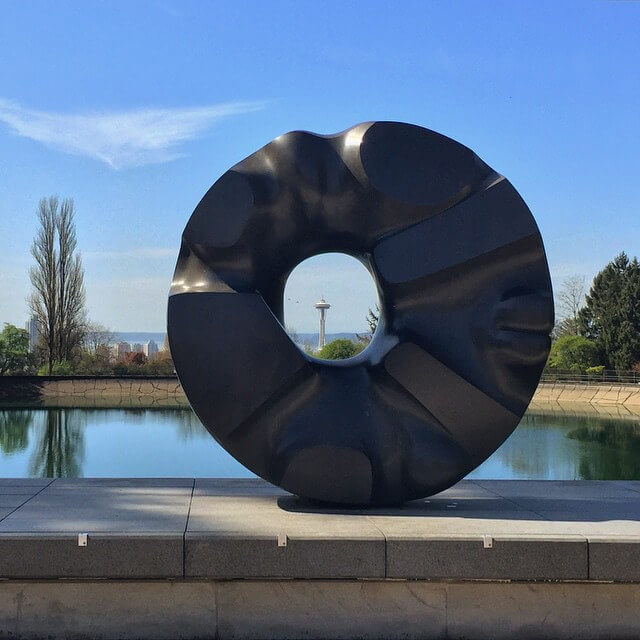 Sculpted by Isamu Noguchi to look like a doughnut, this sculpture should be on the forefront of your tourist checklists. Not only does it look like a cream-glazed delicacy, its hole holds the Space Needle in frame.
4 A.M. TO THE LIGHTHOUSE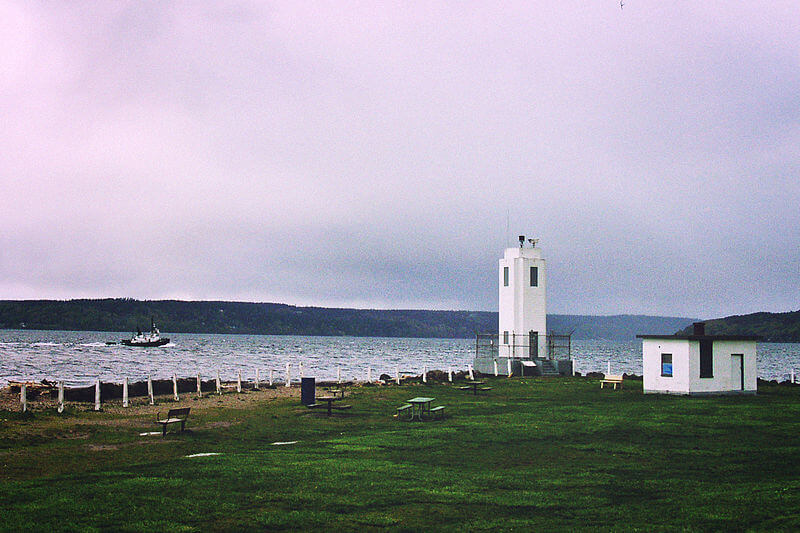 Four in the morning is the perfect time to appreciate inanimate objects. Admire the lighthouse at Browns Point for all that it does and the lives that it saves. Also a good time to check your intentions with spirits and the like.
5 A.M. DISCOVER THE SUNRISE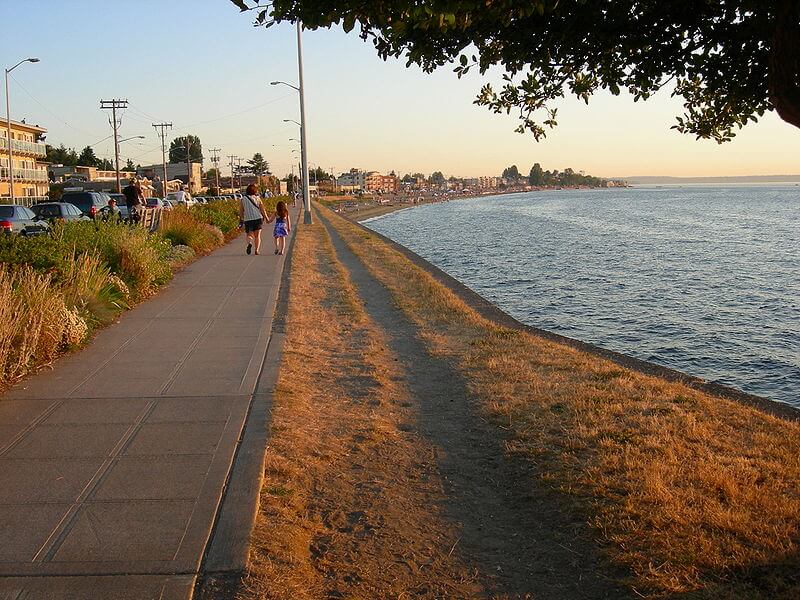 Take a moment to appreciate all that you did today as the sun gently comes from behind the horizon and slathers on reds and oranges around you. "[Alki beach is] an awesome place to watch the sunset and eat some good food with awesome company," said Yeh. Sit in the sand with a blanket and another cup of coffee. Let the sun rise and wash over a new day for you in Seattle.