Rome: a city filled with ancient sites, where without a set plan you'll find yourself quickly lost. This metropolitan capital brings people from all over the world to appreciate the history that once walked its streets. Home to hundreds of landmarks, every step you take in Rome has a story. If you find yourself wandering in Rome, confused on what to visit first, do not worry. From hidden Italian restaurants serving only carbs, gelato shops at every corner and amazing pizza everywhere you look, our guide helps you navigate your way through your stay in one of the most historically fascinating cities in the world.
Check out these 24 things to do in 24 hours when in Rome.
7:00am-9:00am Grab Coffee from La Casa del Caffè Tazza d'Oro & Walk to the Colosseum
As you spend the upcoming days in Rome, you will discover that every neighborhood possesses its own meaning and history. The many places in Rome own their historical values. Of all these sites, of course, the heart of Rome beats for the Colosseum. Located in the heart of Rome the city, you cannot miss this huge site. A tour of the Colosseum can turn lengthy and you will only enjoy your time inside these ancient walls with an amazing cup of coffee beforehand.
"Rome has been on my bucket list for many years. I have wanted to see the Colosseum for years, as I minored in history for a reason," said Ana Castillo, a first-year student at California State University, Northridge. "The history in the Colosseum is amazing. I would love to go one day to see it in person. Until then, I'll imagine how beautiful it seems with pictures."
Before heading to the Colosseum, make sure to stop by La Casa del Caffè Tazza d'Oro. Walking around this area will allow you to immerse yourself into Rome efficiently. The busy coffee shop sits fairly close to the Colosseum. With a 4.5 star rating, you will grab an amazing cup of coffee before roaming the halls of a wonder of the world. The one downside: European coffee shops do not have a great reputation for their iced coffees, as they mainly serve it hot. If your day seems excruciatingly heated, make sure to ask for a cup of ice. Then make your way down to the Colosseum and take your time to understand the amazing history stored here!
9:00am-10:00am Visit La Licata for Breakfast
Now that you finished your tour of the Colosseum, the time for an actual breakfast amplifies. Unfortunately, eating pasta this early in the morning may not seem appealing. Luckily, La Licata decided to step in to create an amazing breakfast menu suitable for anyone in Rome. This restaurant creates an attraction for anyone visiting Rome. Open since 1967, their menu accommodates for vegan and gluten-free visitors. After walking around in the Colosseum, La Licata will satisfy your grumbling stomach. Make sure to order the pancakes as La Licata serves them amazingly fluffy!
10:00am-12:00pm Visit the Vatican Museums and the Sistine Chapel
Take a cab or walk over to the Vatican Museums and the Sistine Chapel. Located inside the Vatican City of Rome sits the public Vatican Museums. Brimming with amazing art pieces from many years ago, these pieces mainly come from the Renaissance area, featuring artists like Leonardo Da Vinci, Michaelangelo and Sandro Botticelli. The Vatican Museums offer guided tours with professionals who know all about the museum and its art. One of the main amazing paintings created by Raphael named School of Athens sits in the Vatican Museum. This painting should make the top of your list alongside Michaelangelo's The Last Judgment and the Sistine Chapel ceiling he hand painted. But beware: once you enter the Sistine Chapel you may not take any photographs. On the plus side, this gives you more time to appreciate the amazing artwork on the walls.
12:00pm-2:00pm Have lunch at Ristorante Trattoria Antonio al Pantheon then walk to the Trevi Fountain
After your long morning of history and art, take a relaxing lunch break at Ristorante Trattoria Antonio al Pantheon. Serving amazing Italian cuisine and delicious pasta, unwind with a glass of wine (only if you are over 18 years old, Europe's legal age for drinking). Their menu includes classic appetizers such as a Burrata cheese spread, tuna fish tartare and various pastas like Carbonara and seafood spaghetti. Make sure you stuff yourself with enough food to take a 10-minute walk to the Trevi Fountain. Nicola Salvi, Giuseppe Pannini and Alessandro Galilei created the Trevi Fountain in 1732. The fountain features Neptune taken by two different horses. One of which creates a calm nature while the other seems triggered. The fountain generates as a wishing well for most visitors. Tradition states that you must throw a coin at the Trevi Fountain when visiting for good luck.
"The Trevi Fountain is an amazing place to visit in Rome because of the details all around the sculptures," said Alina Stepanyan, a freshman at UCLA. "Each sculpture is unique and beautiful. Galilei is one of the most well known architects of that time, so it is understood why the Trevi Fountain became so well known."
The Trevi Fountain creates one of the most famous wishing wells in the world. Many people visit just to throw one of their coins in the water near the sculptures. The site demonstrates an amazing detail of architecture, and an incredible place to visit to test your luck. Plus, if you stop by the Trevi Fountain at the right time, you might witness a marriage proposal.
2:00pm-3:00pm Take an Italian Cooking Class from Locals
Many different local shops in Rome provide cooking lessons year-round for traditional Italian dishes. This activity emphasizes traditional Italian cooking and offers the chance to gain knowledge about the city from people who actually live there. Whether you participate one-on-one with professionals, or attend with a group, this activity helps you get out of your comfort zone. You can cook traditional dishes like fettuccine or your favorite pizza alongside amazing, outgoing people. Obviously this activity involves learning, but it also involves eating!
3:00pm-4:00pm Visit the Piazza Navona
To relax after your cooking class, take a stroll around Piazza Navona. The Piazza Navona presents as a completely public area, and it copies the idea of an open stadium similar to the Colosseum. Also, the Piazza Navona featured an area used for athletic competitions as well. The Piazza Navona also presents popular because of the Baroque style around the entire area. The inside features a number of different fountains. The main fountain that sits in the Piazza Navona is the Fountain of four rivers which features four statues representing the Nile, Ganges, Donau and Rio de la Plata. You will also find two smaller fountains in the Piazza Navona, one of which was created by a student of Michaelangelo. With so many beautiful sights within the walls, this serves as an amazing place to take photos with family. Plus, alongside the Piazza Navona sit various cafes for you to sit down and grab a drink before your next adventure in Rome.
4:00pm-6:00pm Attend an Opera and Grab Drinks Before Dinner
Europe remains famously known for their various art styles, including theater and the opera. The list of different operas intensifies, due to many different opera and classical performances. I recommend visiting an opera that plays Vivaldi, as his music presents beautifully. While visiting the opera, remain respectful of the performers and leave your phone off for the duration of the show. Enjoy your surroundings and engage in the music. After your opera, stop by a local bar or cafe to enjoy a Spritz Italiano. This vibrant drink prepared perfectly on a hot night allows you to cool down. Prosecco, the main ingredient in many Italian drinks, amplifies the Spritz Italiano The main flavors of Prosecco include fruity flavors like honeydew, peach and green apple. I also recommend sitting at an outside table while drinking your Spritz Italiano so you can people watch!
6:00pm-7:00pm Have dinner at Ristorante II Falchetto
Finally, dinner in Rome begins. Pasta in Rome beats Los Angeles pasta anyday. This lowkey spot in Rome features many options of pizza and pasta to satisfy a hungry soul. Make sure to confirm if they take reservations at this location, as you may need one.The menu includes fan favorites such as Cacio e Pepe, traditional Italian fettuccine, and much more. You can also find different fried appetizers and amazing desserts to enjoy after all the carbs you inhaled. Enjoy your food at one of the top restaurants in Rome!
7:00pm-8:00pm Visit Open Door Bookshop
Open for more than twenty years, the Open Door Bookshop holds all your book needs for when the books you packed on your trip have magically been read. The Bookshop also holds a wide variety of English, French and Italian books if you want to pick up a new language while visiting. Poetry, popular novels, classics and tote bags sit in this bookshop available for purchase. With a very small "Bookshop" label on the top of this small store surrounded by a brick wall, you will find yourself in the right place. This bookstore hides in a very small alley surrounded by other cafes and restaurants, so keep your eyes open in case you get lost!
8:00pm-9:00pm Roam, Rome
In Europe, the sun sets fairly later than America, usually around 8:00 p.m. Now that the city became dark, walk around and discover Rome in the night. The bright lights and the various sites all illuminated create a different type of beautiful. Now also demonstrates a time where the city appears less crowded. You can freely walk around with no major crowds blocking your path and discover things you missed in the daytime. If you were unable to get a picture taken at the Trevi Fountain because of the crowd, definitely do so now. Watch the sunset and enjoy Rome at night.
9:00pm-11:00pm See a movie at Cinema Nuovo
Movie theaters generate a different experience in Rome than in America. Cinema Nuovo creates a great spot to see a nighttime movie. A very traditional theater, you will not find any blockbuster movies here. Instead, it specializes in artistic and independent films. This theater also sits hidden away in a quiet corner of a street while actually sitting in the center of Rome. Check out the movies being played in the theater beforehand and grab some toasted peanuts before you head inside for an amazing movie experience.
11:00pm-12:00am Take a Night Tour of the Colosseum
At night, the city cools down and everything elevates. A night tour of the Colosseum proves exactly that. If you did not get to visit the underground area of the Colosseum, where the gladiators once fought, this night tour will take you there. Did you experience long security lines to enter the Colosseum in the morning? Now, you will breeze past the line as the crowds dissappeared. You will see the places where the gladiators once walked to enter the arena. You can also look up from the bottom of the arena to see the Colosseum as a whole, where it once held over 72,000 people. All in all, this experience differs greatly from the morning Colosseum experience.
12:00am-1:00am Enjoy a Drink at The Court With a View of the Colosseum
The Court, a beautiful bar sits right next to the Colosseum and offers a wide variety of alcoholic, nonalcoholic drinks and appetizers. After your evening tour of the Colosseum, stop by to relax and unwind while also viewing the Colosseum with all the lights illuminating the outside. The Court presents the best views of the Colosseum at night. Book a table on their website to ensure you get an amazing spot in their outdoor seating area. However, also plan ahead to wear something nice because they do have a smart casual dress code!
1:00am-2:00am View Rome's city lights on top of the Spanish Steps
After your visit at the Colosseum, you experienced what it feels like to stand underground in the city of Rome. Now, make your way to the Spanish Steps where you will experience Rome from above. Looking at the Spanish steps alone at night creates a relaxing, beautiful atmosphere. All of the lights illuminate the area perfectly. Now also proves the perfect time to take pictures with less of a crowd in your way. Start ascending the Spanish Steps all the way to the top to see Rome in all its beauty.
2:00am-3:00am Visit the Pantheon at night
Like the Colosseum, the Pantheon also illuminates at night. You can appreciate the details of the Pantheons architecture in this evening setting, as you can get up close to everything now. Although you cannot go inside at night, you can still see everything from the outside. As the Pantheon also stands as one of the architectural wonders of the world, night is the perfect time to visit. Don't worry about the area feeling too dark to see anything, the lights take care of that!
3:00am-4:00am Walk around all of Rome's Fountains to make a wish
Obviously, Trevi Fountain stays at the top of many visitors lists when going to Rome. However, many other fountains in Rome match Trevi's beauty. Make your way around all of Rome's fountains at night to the Fountain of Four Rivers, Triton Fountain and Turtle Fountain. The Fountain of Four Rivers sits in the Piazza Navona, and the architecture presents beautifully. As Rome creates a home to more than 2,000 fountains this should take you a while. Make a wish and take pictures at each fountain located in historical Rome.
4:00am-5:00am Visit a 24 hour Mcdonalds in Rome
Ever wonder how different every McDonald's appears in different countries? Your chance to find out in Rome seems to be now! McDonald's in Europe also stays open 24 hours a day, but while analzying their menu, you will see how it differs entirely from your Mcdonald's menu. From the various dessert options, salads, burgers and even croissants on their menu! If you need a late night snack, McDonald's looks like the way to go. They carry regular Italian snacks like their caprese salad which features mozzarella, basil and tomatoes. Also, on their dessert menu they feature a sandwich with Nutella! Mcdonald's in Rome presents as the only café open for the next two hours. Enjoy!
5:00am-6:00am Walk around Castel Sant'Angelo
If you love history, you will know the Castel Sant'Angelo mainly turned into a famous location in Rome because it holds Emperor Hadrian's tomb. Built in the second century, the Castel sits next to the Bridge of Angels. This fortress deems an amazing visit, especially in the morning hours because it can develop crowds of history nerds quickly. Also, tunnels surrounding the Castel go all the way to Vatican City. Also once used as a prison, this site holds many different historical events. Rome is a relatively safe city, so walking around the Bridge of Angels and Castel Sant'Angelo will classifies as the safest activity all day.
6:00am-7:00am Watch the sunrise at the Spanish Steps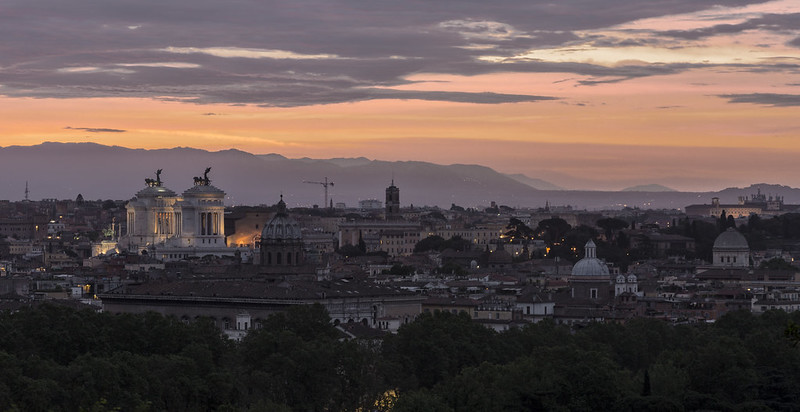 Finally, you're waiting for the sunrise will come to an end as 6:00am rolls around in Rome. Go up the Spanish Steps to watch the sunrise over the Colosseum, the Pantheon and the many other architectural wonders of Rome. Bring a blanket, as it may not become that hot yet. Although you may not sit on the steps watching the sunrise will become one of the most relaxing activities you can do in Rome. Great for photos with a morning golden hour, enjoy the amazing view at the top of the Spanish Steps making Rome light again.
---
7:00am-8:00am Grab Rome's Best Tiramisu at Pompi
Pompi officially opened bright and early at 7:00am. Make sure to get there slightly early so you can stand in line for Rome's best tiramisu. Italians are known for their amazing tiramisu, and Pompi can provide just that. This site sits also just walking distance away, so make sure to speed walk right after watching the sunrise! Enjoy your tiramisu with a hot cup of coffee as well. Afterwards, hit the hay because this amazing 24 hours in Rome officially ends now. You definitely need some sleep after this long day and that phenomenal tiramisu.