Rio de Janeiro, known as "The Marvelous City," is one of the most populous cities in Brazil. Known for Carnaval, parties, beautiful beaches and a lively aura, it's the best vacation spot if you're a college student in your twenties. The city was even featured in the animated movie "Rio" and chosen for Edward and Bella's honeymoon in Twilight.
If you want a mix of adventure, relaxation and busy nightlife, keep reading for 24 things to do in Rio De Janeiro.
5:00 a.m. Watch the sunrise at Copacabana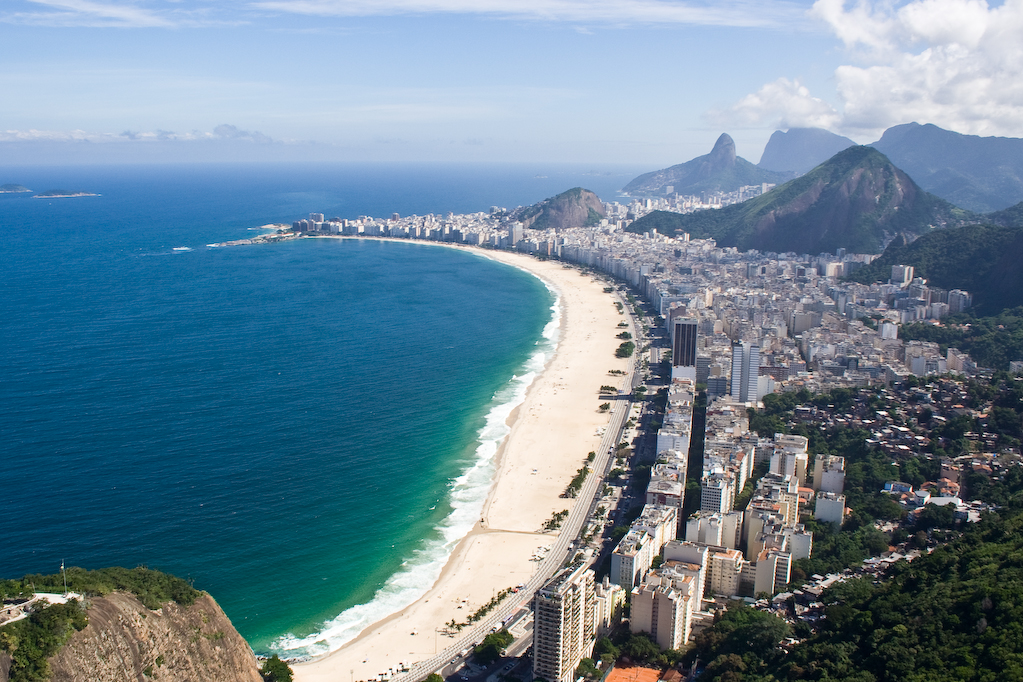 Copacabana is a neighborhood in the South region of Rio de Janeiro known for its crescent moon shaped beach with the same name. The area is full of hotels and one of the most touristic areas in Rio. There, you can find the Copacabana Palace hotel, where some of the most social events in Brazil happen. It's the perfect place to watch the sunrise if you don't want to go too far from your hotel.
6:00 a.m. Walk to the Forte de Copacabana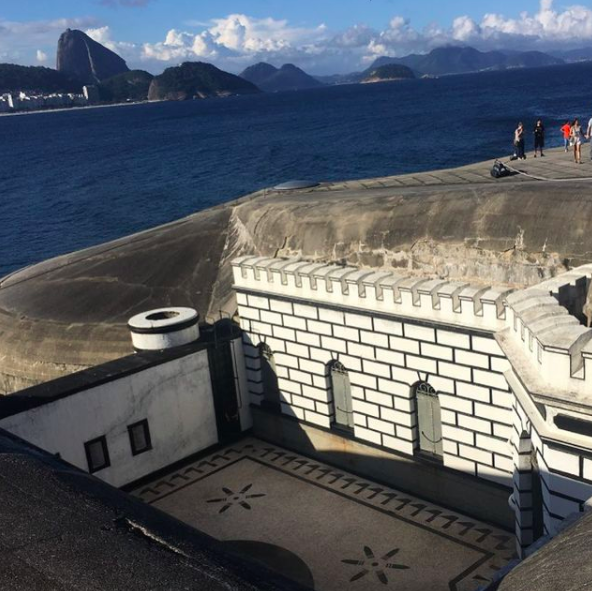 The Forte of Copacabana (in English, Copacabana Fort), is located at the very end of the Copacabana neighborhood and beach. There you can find the Museu Histórico do Exército (Army Historical Museum). The museum has more than 15 thousand historical pieces and you can also enjoy the beautiful view of the Copacabana beach. With its location, you can feel the ocean breeze that will alleviate the hot weather. The entrance to the museum is only $6.
7:00 a.m. Get breakfast at Colombo
Located in the Forte de Copacabana, the Colombo Coffeeshop is one of the most traditional coffeehouses in Rio, founded in 1894. You can enjoy a nice cup of coffee and amazing food while watching both the beach and the Pão de Açucar (Sugarloaf Mountain), a peak that resembles a load of sugar and can be accessed through its famous cableways. Grab a delicious sandwich and enjoy the view.
8:00 a.m. Bike to Mirante's Lookout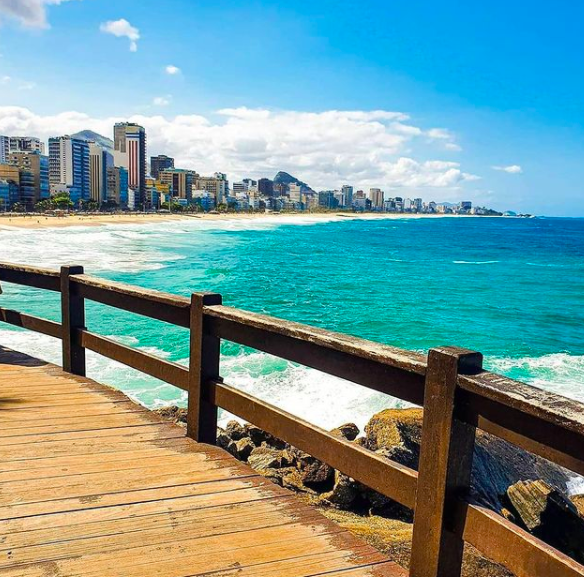 Located at Leblon Beach, the Mirante do Leblon (Leblon's Lookout) is another known tourist attraction, great for watching the beach and enjoying the beautiful view. The lookouta deck made of wooden boards and manned by a wooden fence. The place is pet-friendly and you can see Leblon's, São Conrado's and Ipanema's waterfronts. You can also find kiosks selling coconut water that will help you fight the summer heat.
9:00 a.m. Go hang gliding in São Conrado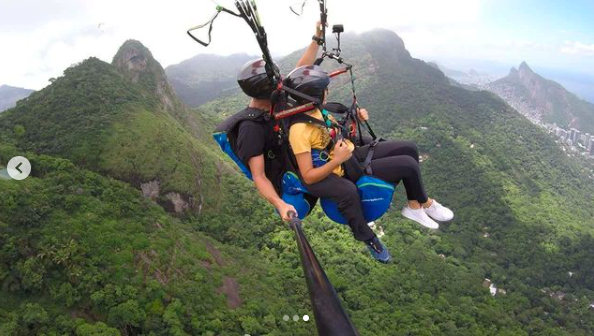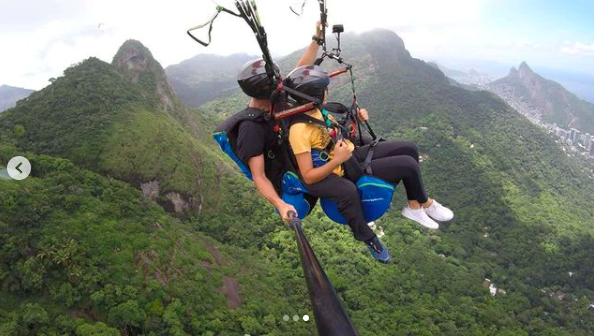 Now it's time for some adventure. Thinking of flying through the sky with a non-motorized aircraft? At the Clube São Conrado de Voo Livre (Free Flight São Conrado Club), you can go hang gliding. Before the take-off, your instructor will guide you through all the procedures in order to have a safe flight.
"You have a sense of freedom and you can enjoy the view of the entire riverfront in a privileged way, from above, without any obstacles," said Gabriela Barros, a doctor working in Rio. "It's an adventure."
While hang gliding, you can go over the Floresta da Tijuca (Tijuca Forest) in the National Park, ending at Pepino Beach.
10:00 a.m. Hike at the Tijuca Forest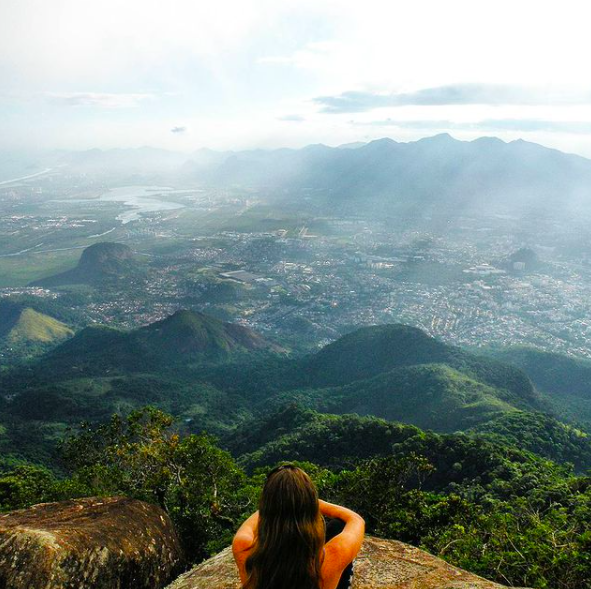 At Floresta da Tijuca, you can hike your way up to a waterfall and hydrate yourself a bit. One of the best trails to hike is called Pedra Bonita.
"The path is really fun. You will exercise and see a lot of nature," said Enzo Duarte, a junior at Penn State. "The best part is the feeling of fulfilling the goal and completing the trail to get to one of the most beautiful views in Rio de Janeiro."
The trail is a safe trail to hike and has multiple levels of difficulty. It takes about 30 minutes to reach the top and you can enjoy the beautiful Atlantic Forest.
11:00 a.m. Go swimming at the Barra da Tijuca Beach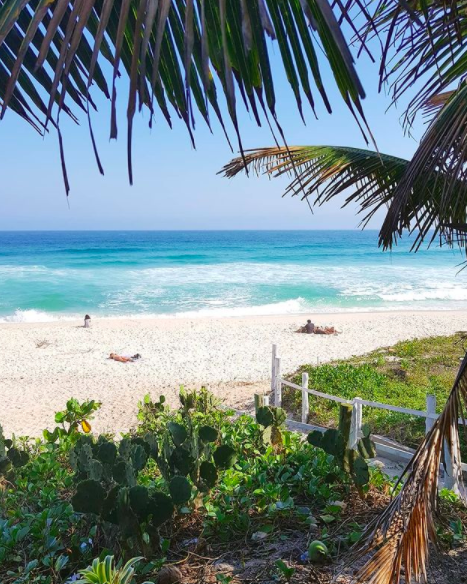 Barra da Tijuca Beach is one of the longest beaches in the area and it's located in an environmental preservation area.
"I love the cold water, hot sun, globe biscuit and mate tea," said Carol Tzemos, a sophomore at Penn State. "It's quieter and has fewer tourists."
Take your time to enjoy the white sand and greenish waters.
12:00 p.m. Have lunch at Delírio Tropical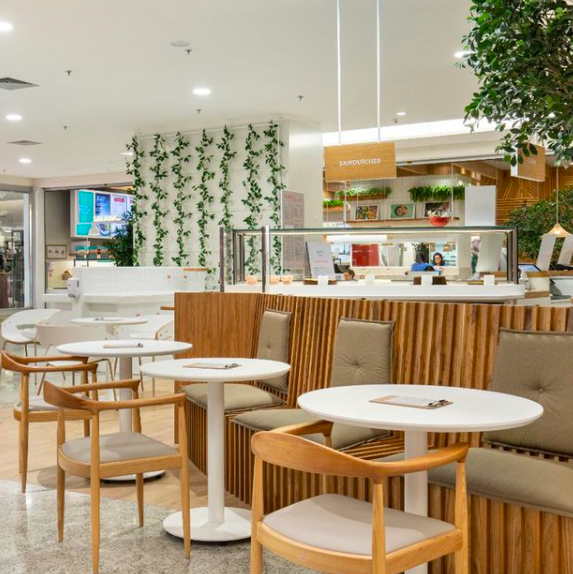 Located at Rio Sul, Delírio Tropical offers a variety of salads and grills. You can choose a mix of salads that they offer in three different sizes and add extras such as grilled items, pies, quiches, crepes and soups. The menu can change slightly every day, so make sure to check online before going. Their slogan is "fresh food every day" to describe their delicious natural food.
1:00 p.m. Visit Pão de Açucar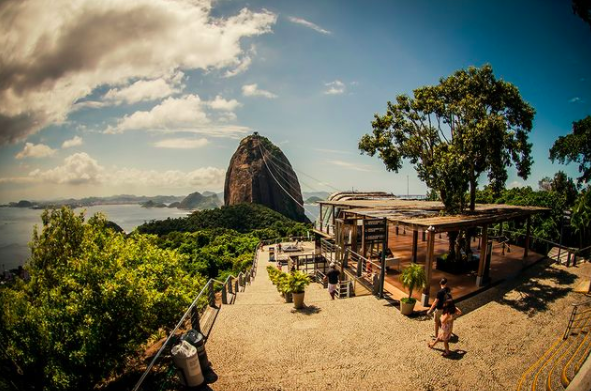 Pão de Açucar (Sugarloaf Mountain in English) is one of the most known tourist attractions in Rio.
"Pão de Açucar is one of the best things about Rio because it has the prettiest views when you get to the top," said Sol Ferrari, sophomore at Penn State. "I love that you can hike it instead of taking the teleferico because there are usually monkeys along the way, which are so cute."
It's the perfect place to enjoy the panoramic view of the city after a full meal.
2:00 p.m. Visit Cristo Redentor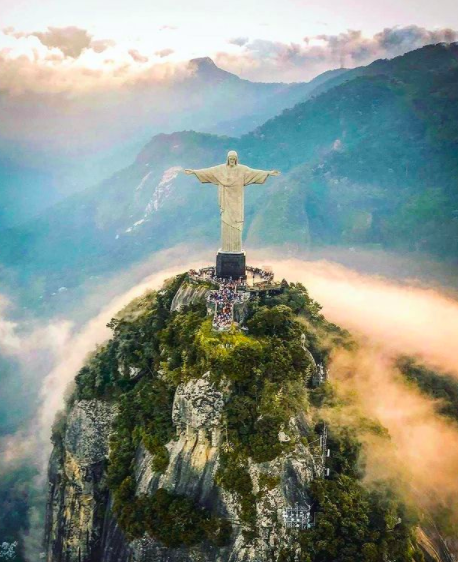 Christ the Redeemer, one of the most popular tourist spots in Rio de Janeiro, is the well-known statue of Jesus Christ with open arms featured in many films and TV shows. It's one of the Seven Wonders of the World, and a must-go spot in Rio. If you're coming from Leblon you will pass through two nice neighborhoods, Gavea and Lagoa, on the way.
3:00 p.m. Take a Break at Joatinga Beach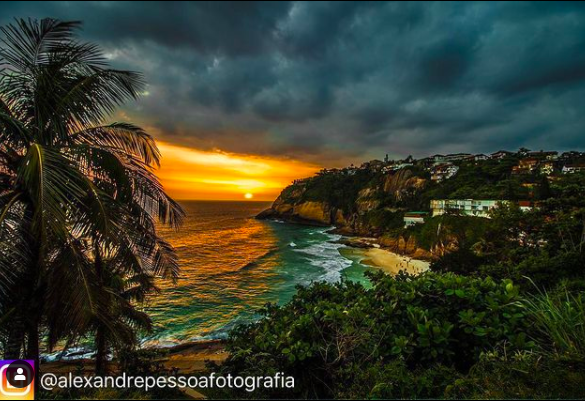 After hiking, hang gliding, swimming, hiking again and climbing all the way up to Christ the Redeemer, you deserve a break at Joatinga Beach.
"Joatinga is the best beach in Rio for me. It is a little harder to get there since you need to walk on some rocks, but it is totally worth it," said Bruno Chelotti, junior at Penn State. "There are more young people there, which is cool if you're looking for this vibe and people play footvolley there."
Located between Barra da Tijuca and São Conrado, this hidden cove will take your breath away.
4:00 p.m. Visit the Royal Portuguese Reading Office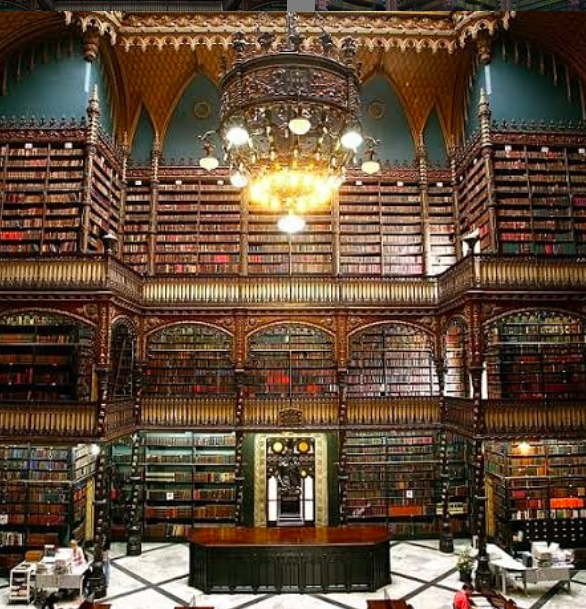 The Real Gabinete Português de Leitura (Royal Portuguese Reading Office), was founded in 1837 by Portuguese immigrants. "There are a lot of books and it's indoors," said Gabi Salama, a sophomore at the Federal University of Amazonas. "[It's] a combination of everything I like."
If you are tired of doing everything on the outside, this is the perfect place for you.
5:00 p.m. Watch the sunset at Vista Chinesa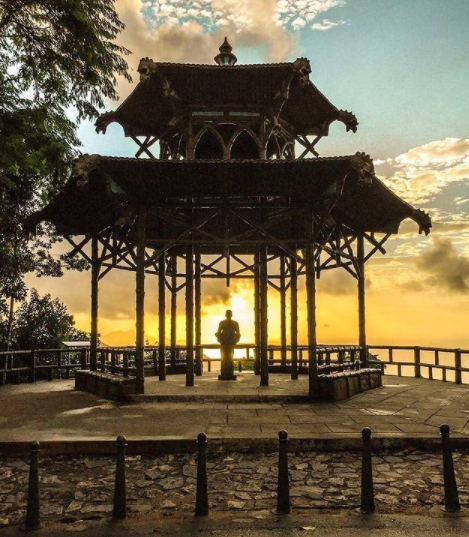 Also located at Tijuca Forest, Vista Chinesa is the monument in honor of an Asian country in Latin America. If you're lucky, you might get to see the monkeys that linger around. Feeding the monkeys is prohibited, though, as Vista Chinesa is located in an environmental protection area.
6:00 p.m. Run to finish watching the sunset at Arpoador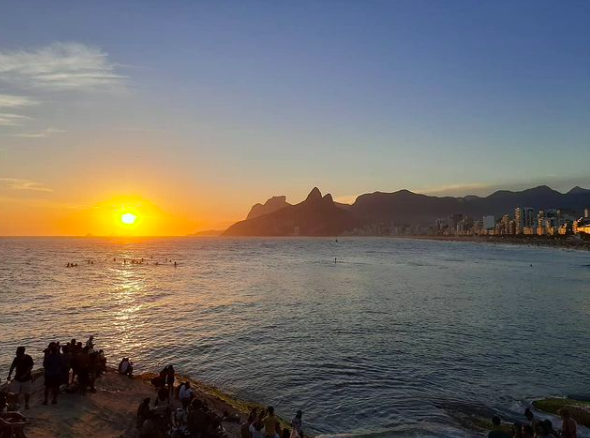 Arpoador is a rocky beach located in Ipanema. The beach is known as the best beach to surf because of its waves. There you can find the Arpoador Roch, a very traditional place to watch the sunset during the summer. Many people reunite every summer day to watch it, even applauding at the end. Completely Instagram worthy. Nearby you can find the Parque Garota de Ipanema, named after the famous song by Brazilian singers Vinicius de Moraes e Tom Jobim.
7:00 p.m. Go to Quadra do Salgueiro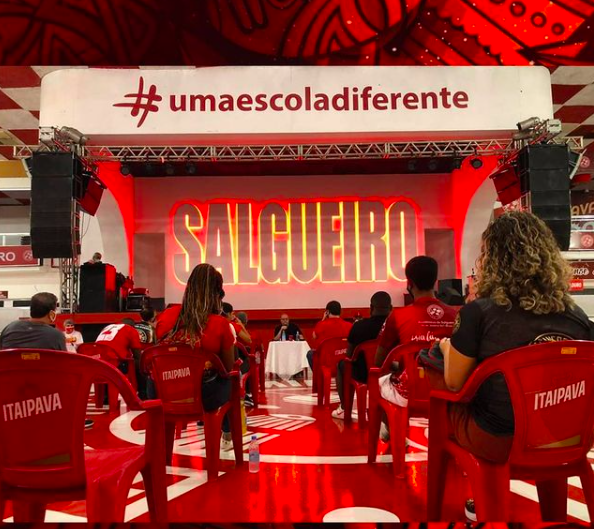 During the Brazilian carnival, you can watch many parades with decorated cars. Quadra do Salgueiro is the place where some of the samba schools train for the parades. "I love Carnaval and it's the samba school court of the Salgueiros academics," said Adriano Monteiro, a junior at Amazonas State University. There you will be able to (hopefully) watch the samba school in action.
8:00 p.m. Shop at Rio Sul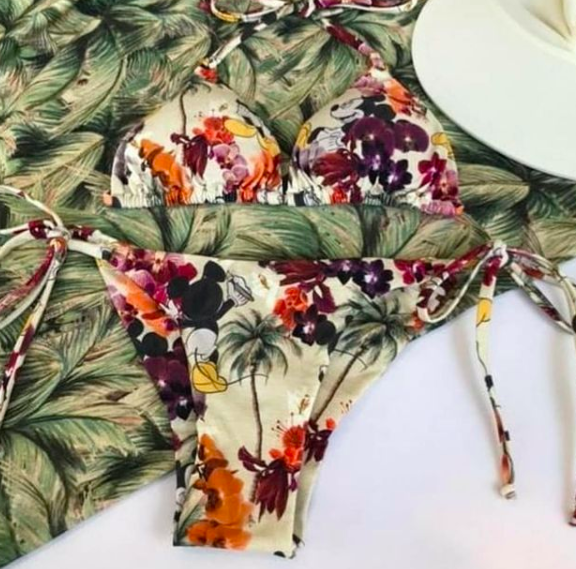 Rio Sul is a shopping mall located at Botafogo. It's the perfect place to find some souvenirs to remember your trip and try on some Brazilian fashion. Check out Água de Coco and Cia Marítima, two famous bikini stores; Farm, a clothing store known for its light and colorful summer dresses; and Havaianas, the most famous flip-flop store in Brazil and the perfect place to get beach-appropriate footwear.
9:00 p.m. Start the night at Mureta da Urca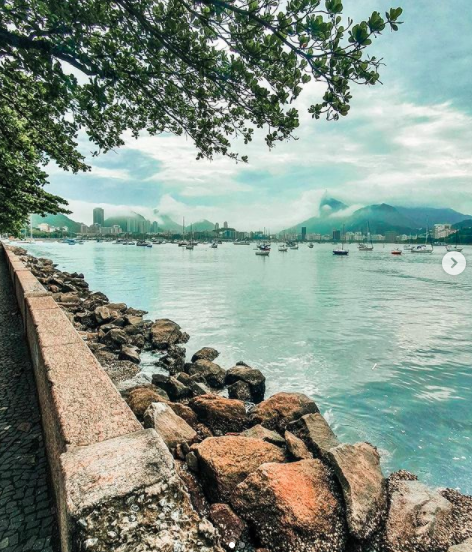 The Urca Wall is where the pre-gaming starts. The wall is located by Guanabara bay where locals sit around, talk and drink with their friends. Grab a beer, sit on the wall and start your night. In a place as friendly as Rio, you never know who you may meet just by hanging out around the wall. For freshmen and sophomores, remember that the drinking age is 18 in Brazil.
10:00 p.m. Snack at Joaquina do Leme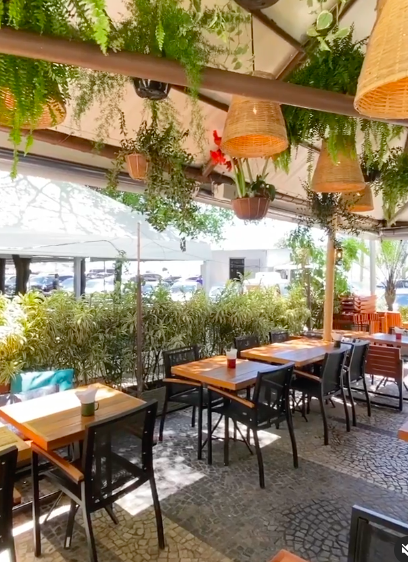 Located at Atlantic Avenues, Joaquina do Leme bar and restaurant is the perfect place to grab a late-night meal.
"It's wonderful… You can get tapioca mini-cake, [a] colonel's snack and sea prawn," said André Vidal, a doctorate student at Penn State.
Joaquina do Leme is a great place to start your night life if you want either a quick snack or a full-course meal.
11:00 p.m. Drink at the São Cristóvão fair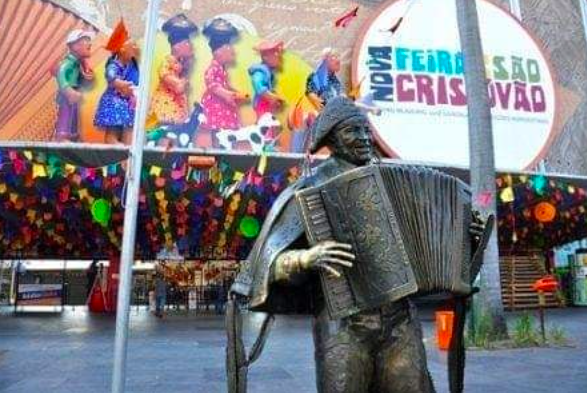 The Feira de São Cristóvão is the place to do both shopping and eating.
"During the day there are restaurants and shops. At night there are a lot of karaoke bars, forró shows and cheap drinks," said Rafaela Pontes, freshman at Penn State.
If you want to get to know the typical Brazilian music and dance that is forró, then Feira de São Cristóvão is your place.
12:00 a.m. Drink (again) at Mureta do Leme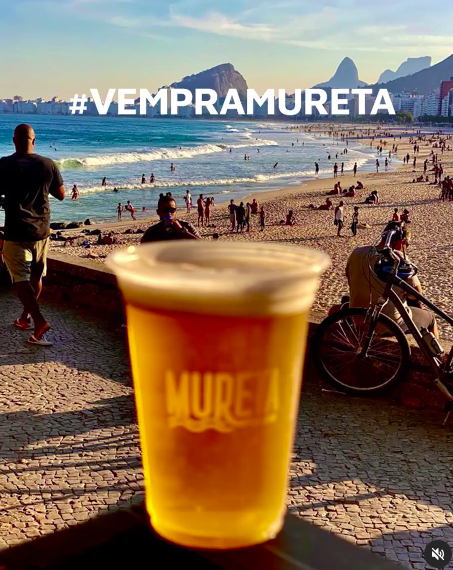 Just like Mureta da Urca, Mureta do Leme is another nice place to sit around, drink and meet new people. Enjoy a panoramic view of Copacabana while sitting at the Leme wall. Relax, grab a drink and enjoy live music with a scenic view. If you're looking for something a little more structured, there's a restaurant with the same name located right in front of the beach.
1:00 a.m. Drink (one more time) at Leblon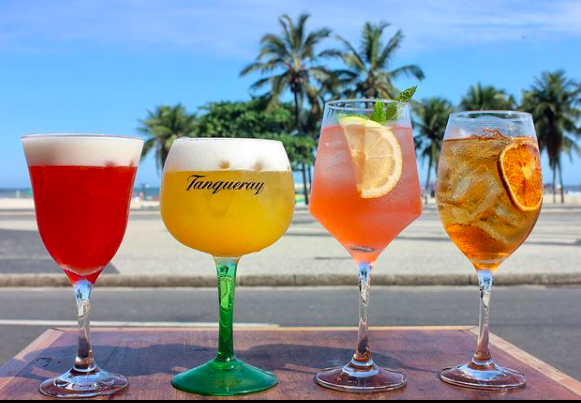 At Leblon, you can find countless bars to spend your night. You can certainly find one to fit your taste among the many options. Boteco Belmonte, for example, has affordable drinks and snacks and it's a popular place among locals. Yndú Lounge, on the other hand, has a beachy decoration with colorful sofas and a mix of Asian and Brazilian food. Stuzzi, another bar, has Italian tapas and bottles on the ceiling as decoration.
2:00 a.m. Go to Samba da Pedra do Sal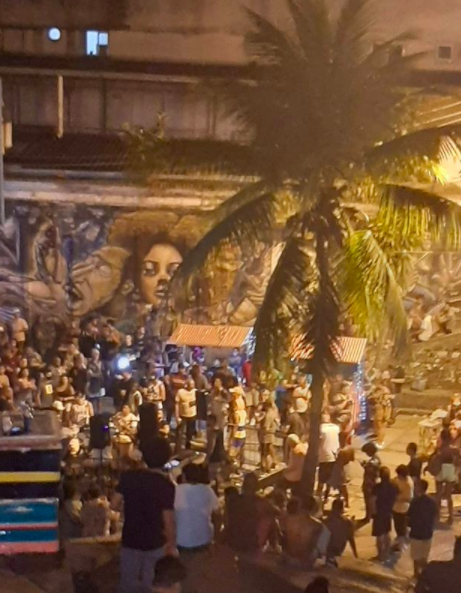 The Samba of Pedra do Sal was created to preserve the memory of 19th-century samba.
"There is a lot of African culture, samba and a lot of local groups perform and sing there," said Stefany Schmidt. "There are many paintings on the walls in honor of the black community."
Up to this day, people reunite at the bottom of the Morro da Conceição to celebrate samba, a Brazilian music genre and dance created by Afro-Brazilian communities.
3:00 a.m. Party at Barra Music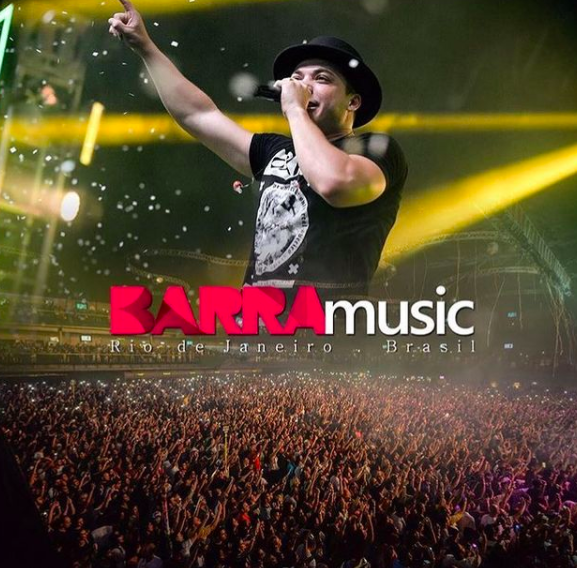 Considered one of the best places to party for college students in Rio, Barra Music will keep you awake all night. The club hosts music events and parties year-round, open from 10:30 p.m. until 5 a.m. with the capacity to hold 6000 people.
"Barra Music is where are the best parties in Rio," said Pedro Pellerin, junior at Penn State. "Vitrinni is good, but Barra Music is better."
Stay safe and enjoy the night.
4:00 a.m. After party at Bar Alto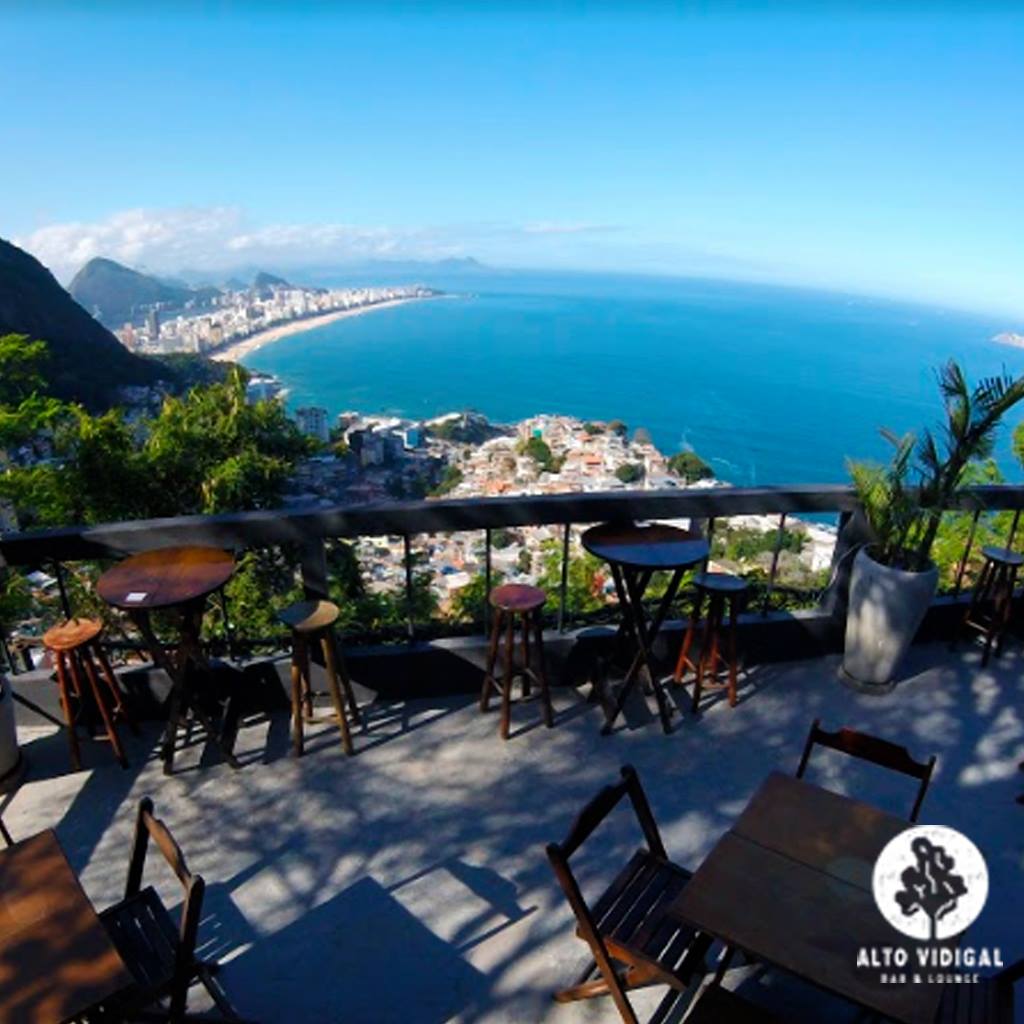 Located at Vidigal, Bar Alto has a 180° view of Rio from above. The bar is open until the morning and it's a great place to slow down (or go harder) in the early hours of the a.m. With an adequate price and a deck to enjoy the beautiful view of the city, it's the best place to end your 24-hour tour of Rio in a cheerful tone.