Tipsy and grinning, you stand in an ornately decorated room surrounded by your friends as you shine the brightest in your super sexy outfit. Facing you, your bestie demands you to turn around and numerous flashes suddenly go off as everyone starts pointing their cameras at you. After hearing an exuberant "three, two, one" from the crowd, you turn yourself around to someone holding out an appealingly garish sign made just for you. It's your sign night, you've just turned 21 years old and it's time to f—ing party. Indeed, a sign night is the rambunctious night where you—or whoever's birthday you're celebrating—wander your city while following a list of 21 irrational challenges written on a plastic sign that's strung from your neck. A tradition in many college towns, a sign night presents an experience like no other, and you're definitely going to want to celebrate one for yourself.
For tips on how to bask in celebration, seltzers and laughter when you turn 21, follow these 15 steps for throwing the ultimate sign night.
1. Prepare a Budget Checklist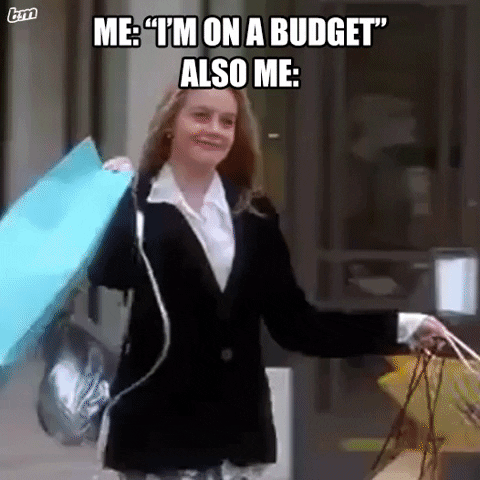 Perhaps the most important question you'll ask yourself: how much will all of this cost? Depending on how lavish you'd like the decorations to look or how generous you'd like to treat your guests, a sign night can turn out to be pretty expensive. However, you can totally shop around for budget-friendly items that won't break the bank. After all, we are still in college.
An efficient way to organize your expenses involves first coming up with a maximum price that you're not willing to spend over. Then, jot down a list of necessities you'd like to purchase for your party: your sign, a flattering outfit, festive balloons, finger foods and anything else you desire. Narrow down your list to what you can afford before you hit the stores.
2. Decide Who's Doing What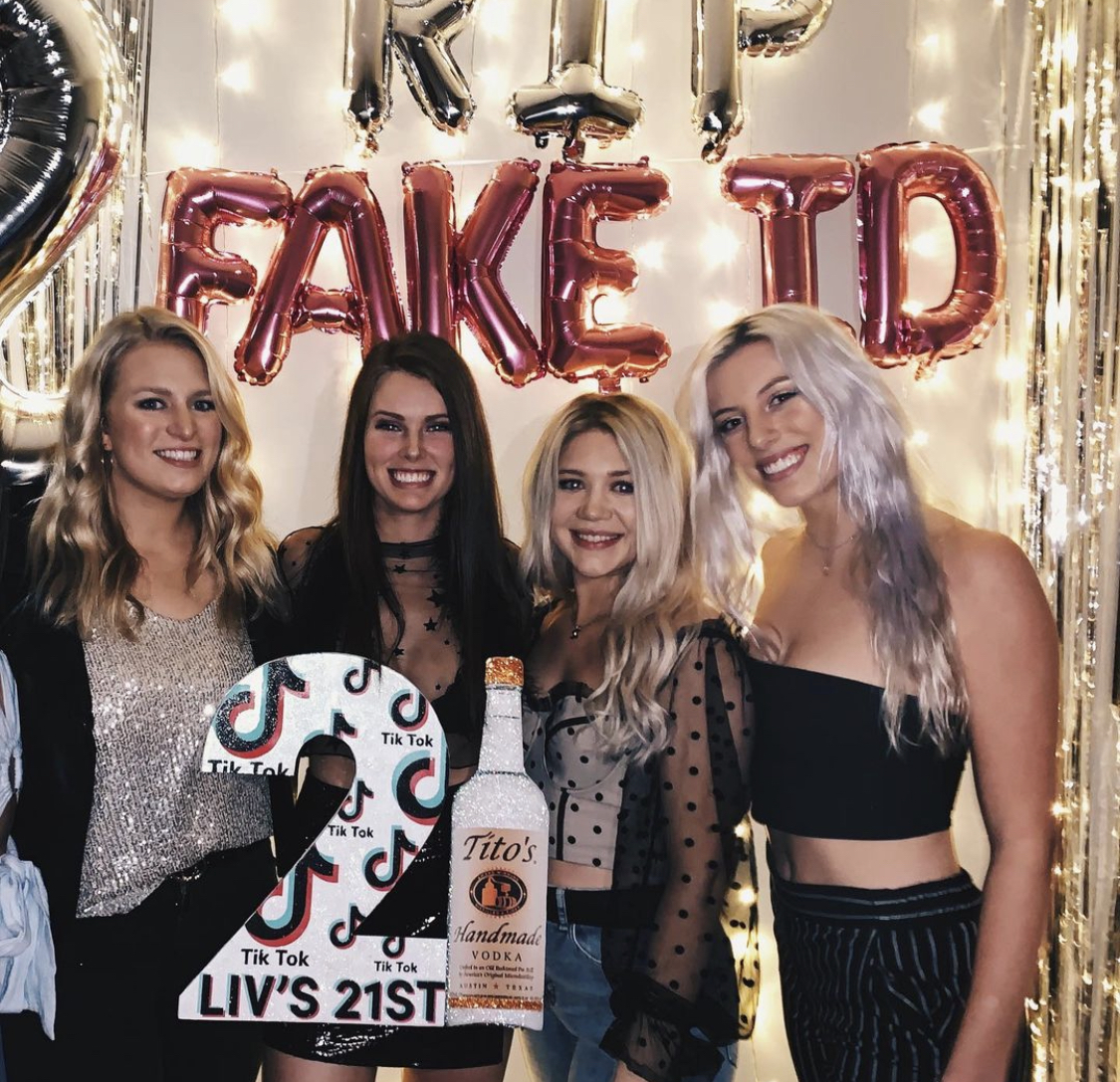 Unless you revel in controlling every situation, you'll most likely want to host a sign night as a collaborative effort with friends. This not only efficiently divides tasks among your friends, but also allows more people to be involved in the pleasure of planning a party. 
"Make a collaborative Google Doc and Pinterest mood board to plan everything out with others so everyone is on the same page and can help plan," University of Florida junior Iris Young said.
Perhaps one friend can take control of acquiring the decorations while another person can send out the invites. On the other hand, someone needs to make sure all the ideas remain within the budget. They say teamwork makes the dream work, so gather your clique to help you arrange one of the most memorable nights of your life. 
3. Come Up With an Engaging Theme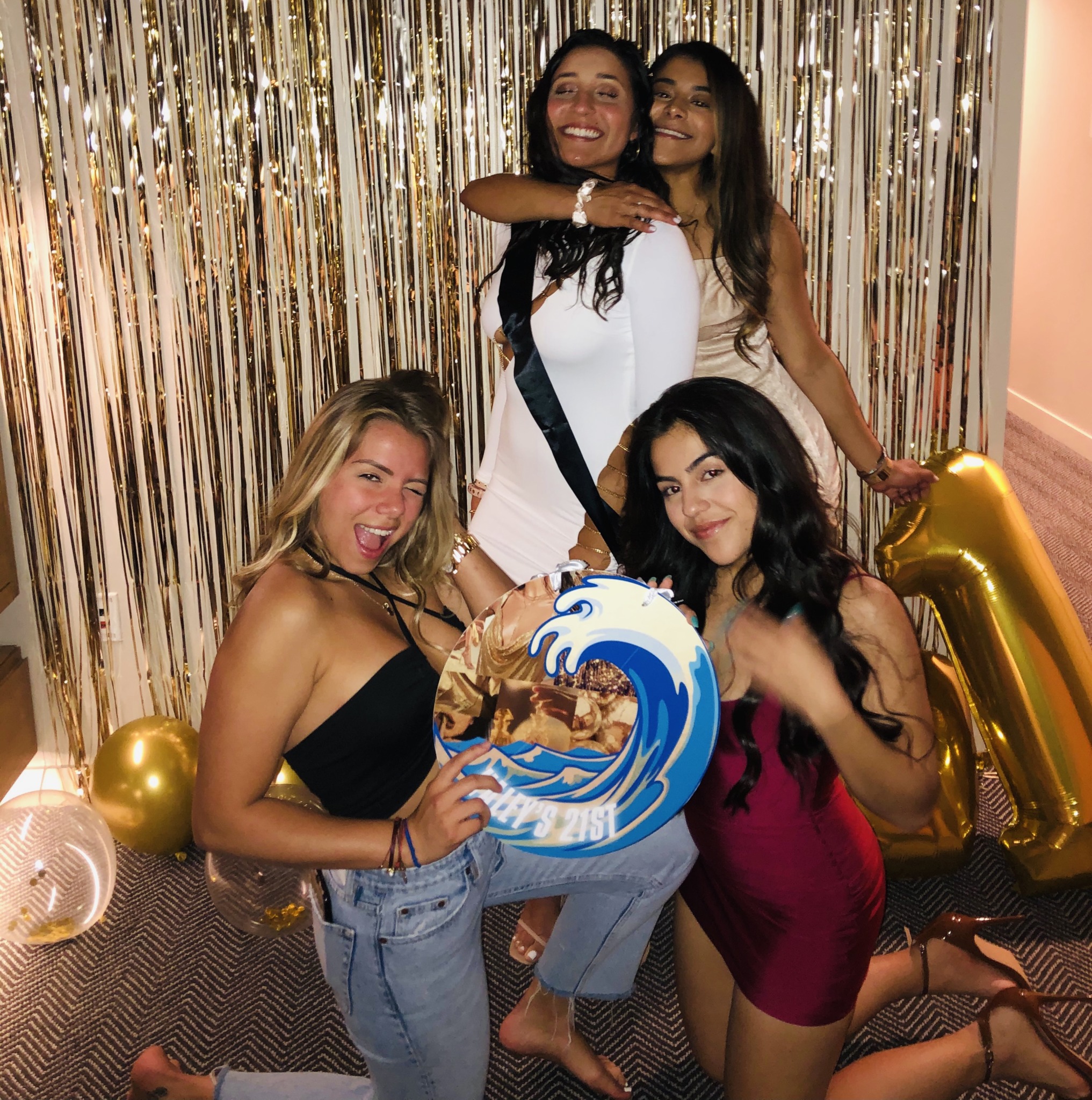 From 'disco & dancing' to 'all about ranch' (yes, some people are just so enthusiastic about ranch that it's evidently been the center of a theme), you can practically base the theme of your sign night around anything! Generating a fun theme will not only decorate your venue and enliven your party guests, but the theme ultimately paints a picture of your glimmering personality and everyday interests.
"The theme of my party was my poppin' 21st, so everything was very good and very extra," Florida International University junior Haley Colaco said. "We had made a Pinterest board before the party to get the vibes of outfits and decorations."
Draw up a theme that highlights your hometown, favorite hobbies, to-die-for snacks, comfort movies, popular eras or even college major (because, ya know, pre-med students need to flaunt their accomplishments). Think of how you can incorporate certain objects—specialty drinks, decorations or the dress code—with your theme to make the celebration even better! You'll really want to hone in on that creative side, but don't forget to have fun with it.
4. Create the Sign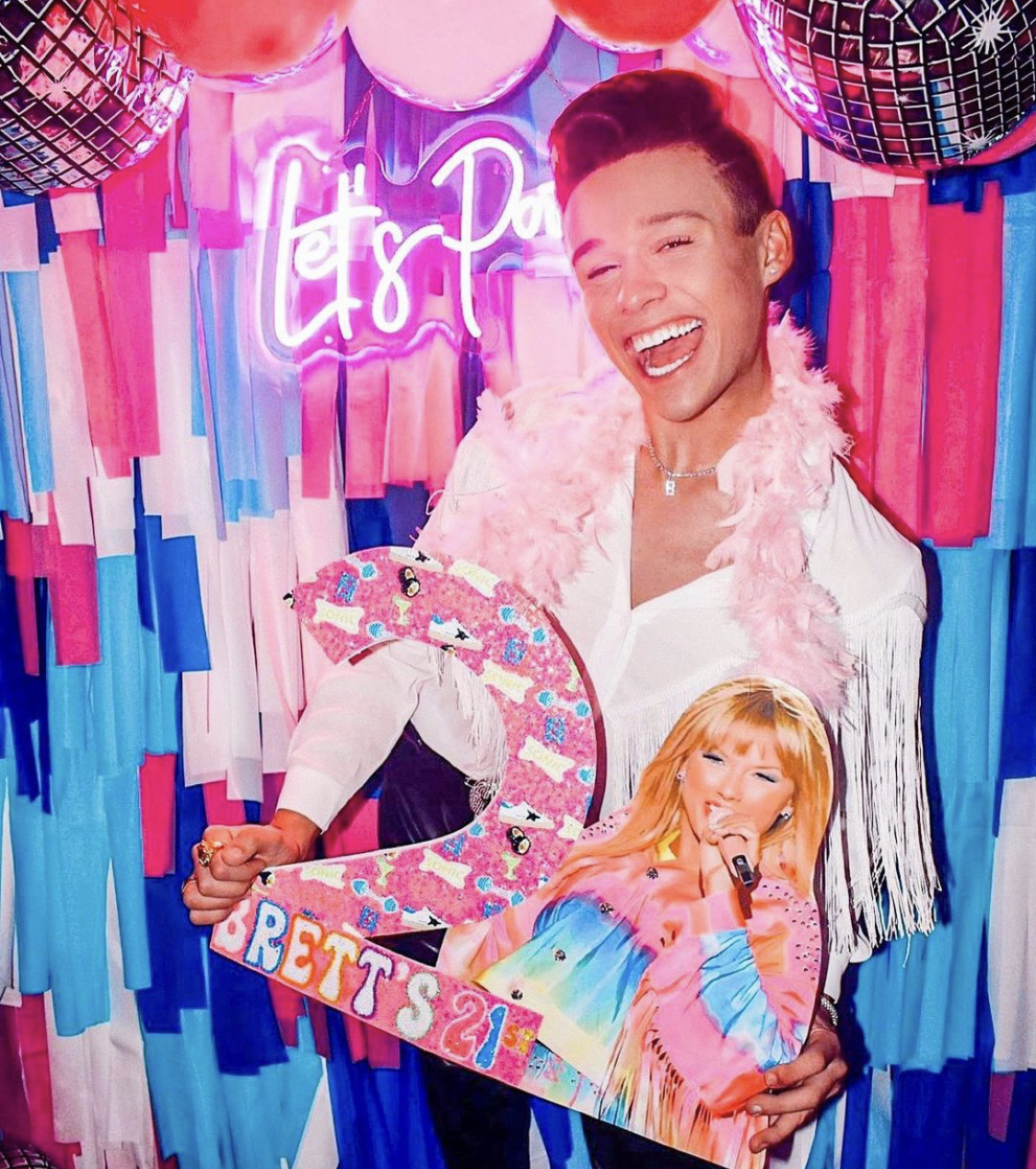 One of the focuses of the party—besides the lucky college student turning 21, of course—certainly includes the lovely sign you'll wear round your neck all night. To indulge in the element of surprise, you'll want a friend to handle making your sign if it's your birthday. But if you're making the sign for your buddy, there's a number of businesses that design signs for this special day. From local printing companies to Instagram pages, you're sure to find an artist who creates a sign that perfectly encapsulates your personality.   
"My best friends had the sign made for me for my 21st, and the design was a surprise to me! Their intention was to make a sign that went with the party theme but also showed a little about me; I'm from Sarasota, and I love going to the beach all the time," Colaco said. "They used @lilscreativemind on Insta because I had used her for another friend before and it came out amazing."
Of course, don't forget to add 21 challenges to the back of your sign with check boxes next to each. They can provoke you to do silly, slightly risky or completely ridiculous acts throughout the night, such as "sign your name on 21 people" or "dance on a bar." Impress your friends and create awesome memories while doing so, but remember to make the tasks realistic and safe.
5. Choose the Location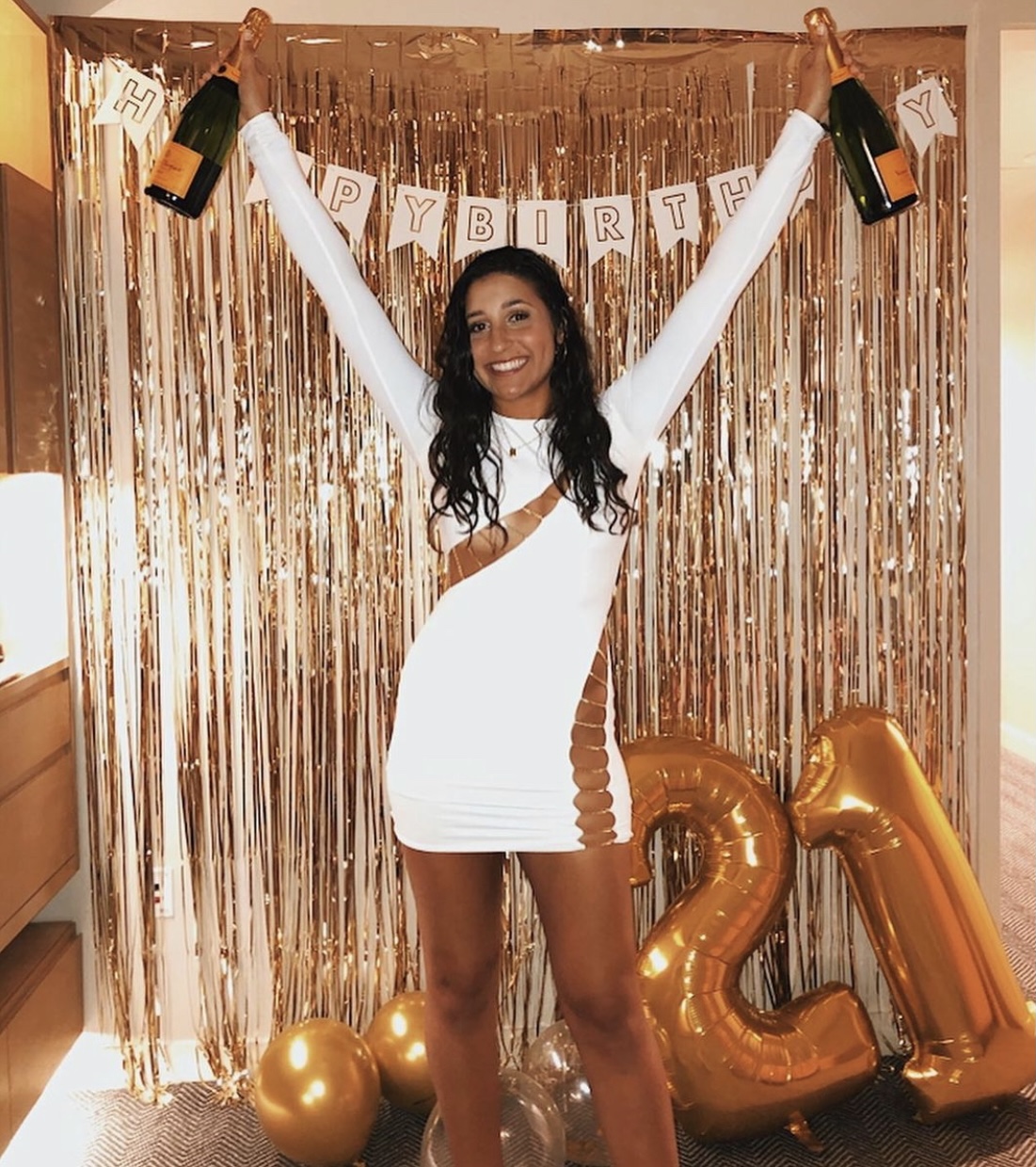 So you've got the theme all set and your sign's getting designed. It's time to pick the venue! Whether it's a college apartment or hotel room, the location of your sign night should ultimately support your guest list and—if you're going out afterward—sit near the clubs, bars or restaurants you want to hit up post pregame and sign reveal.
"We have learned that it's really good to get a one-bedroom suite; that way everyone can get ready in one room then you have a whole other room to hang in, decorate and party!" Colaco said. "I think based on the amount of people you know will be coming, you would have to choose between an Airbnb (so like a house) or a hotel room."
You'll want to choose a place that not only provides ample room but also accentuates the theme. In other words, now's the time to close your eyes and envision how you'll decorate the place. Decide what furniture will get moved, where the drinks will go and how you'll regulate foot traffic. This may seem a bit stress-inducing, but we've only just begun. 
6. Shop For Decorations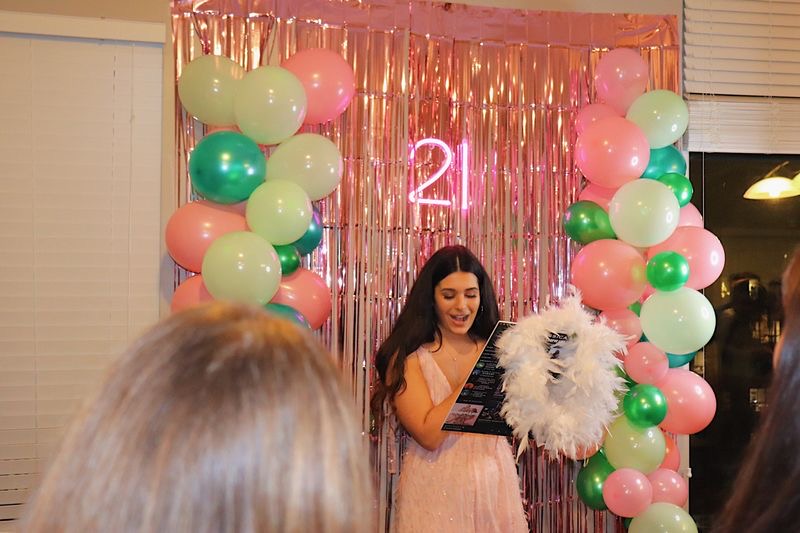 Don't turn off that vision inside your head just yet! Broke college student or not, you can certainly hunt for festive yet affordable decorations that turn your theme into a reality.
"Since we're all on a college budget, I recommend looking at Amazon, Walmart and Mercari first for the best deals," University of Florida junior Daina Elsaye said. "Also, creating a picture wall is a great way to decorate for cheap; it costs 9 cents to print pics at Walmart and you can even reuse them in your apartment when you are done."
Figure out how you want your decorations to highlight your theme and entertain your guests. Perhaps a shimmering backdrop or balloon arch can stimulate picture taking, while a Pluto Dreamlight projector can illuminate your venue. If you're still not totally sure about what you want, check out Pinterest for more ideas.
7. Stir Up Excitement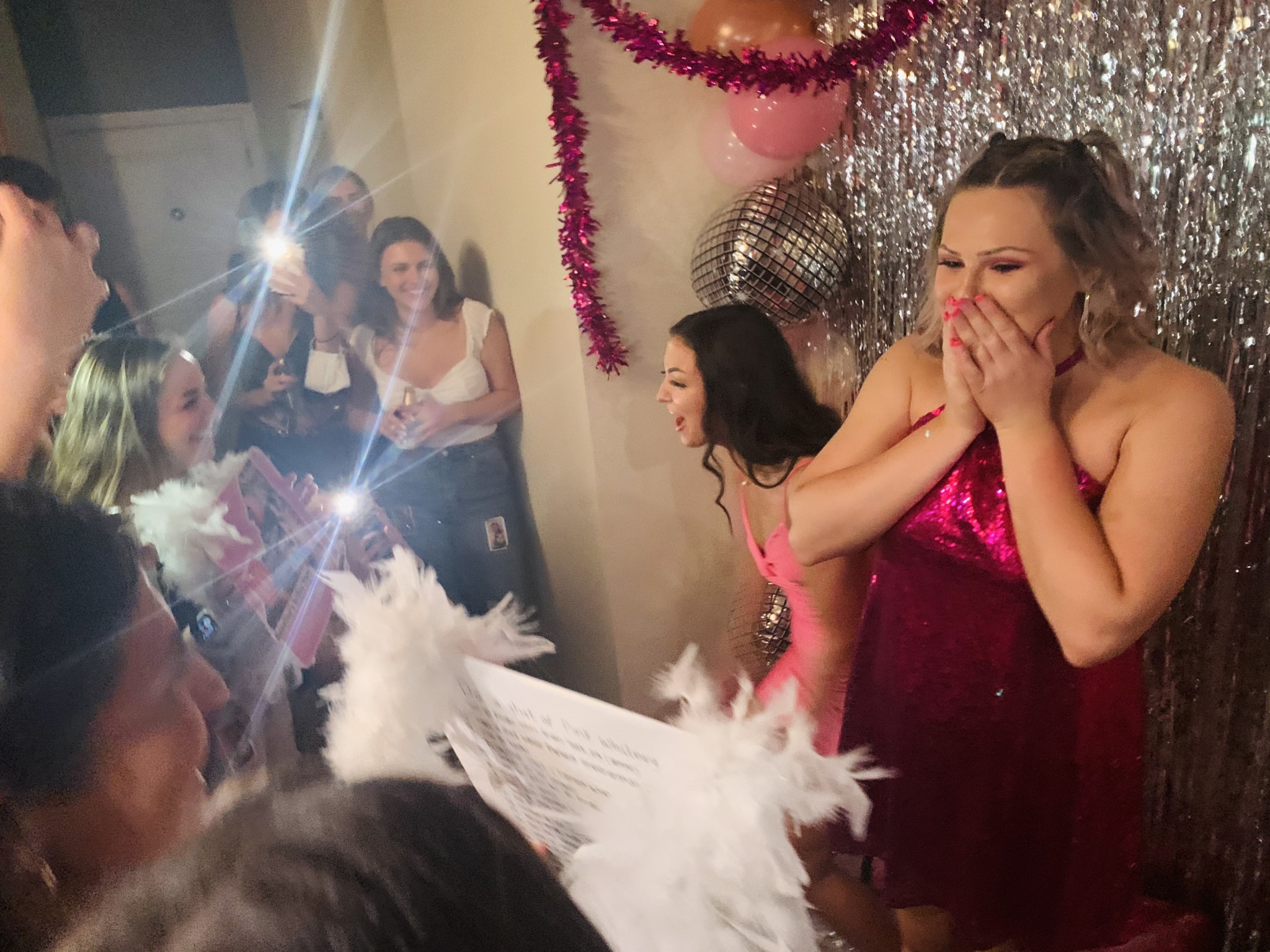 Creating a Facebook event page for your sign night remains one of the best ways to get the word out to all your invitees. However, this is no ordinary Facebook page. It's a private page—let's hide this from potential employers for funsies—that not only commemorates all your most legendary moments, but allows your friends to post funny, cringe-worthy pictures and videos of you on the wall.
You might want to let your bestie handle organizing your Facebook page if it's your birthday. Remember to give it a witty title and fill the description with details of your sign night (the address, time and dress code) and 21 phrases that encapsulate 'who should come' based on your most glorious or hilarious memories. Here's an example of how to enthusiastically start the description:
"Attention friends and fitness junkies, it's time to put that pre-workout down for one night and raise a glass to celebrate Fiona's Fit & Fabulous 21st! She's sexy, she's sporty and she wants you to show up to her super dazzling yet energetic sign night on July 7 at 8:00 p.m. in room 312 West Apartments. Please make sure you come dressed in your favorite neon fitness attire and only show your face if:
Your diet mainly consists of Trader Joe's and Smoothie King

You wake up at 4:30 a.m. during vacation to workout in the hotel gym

You lose count of drinking skinny margaritas at Cheesecake Factory…"
As you can see, the Facebook page should exhibit an exaggerated picture of your personality and your most mischievous moments. It also informs, but ultimately it hypes everyone up for your sign night.
8. Bring Out the Booze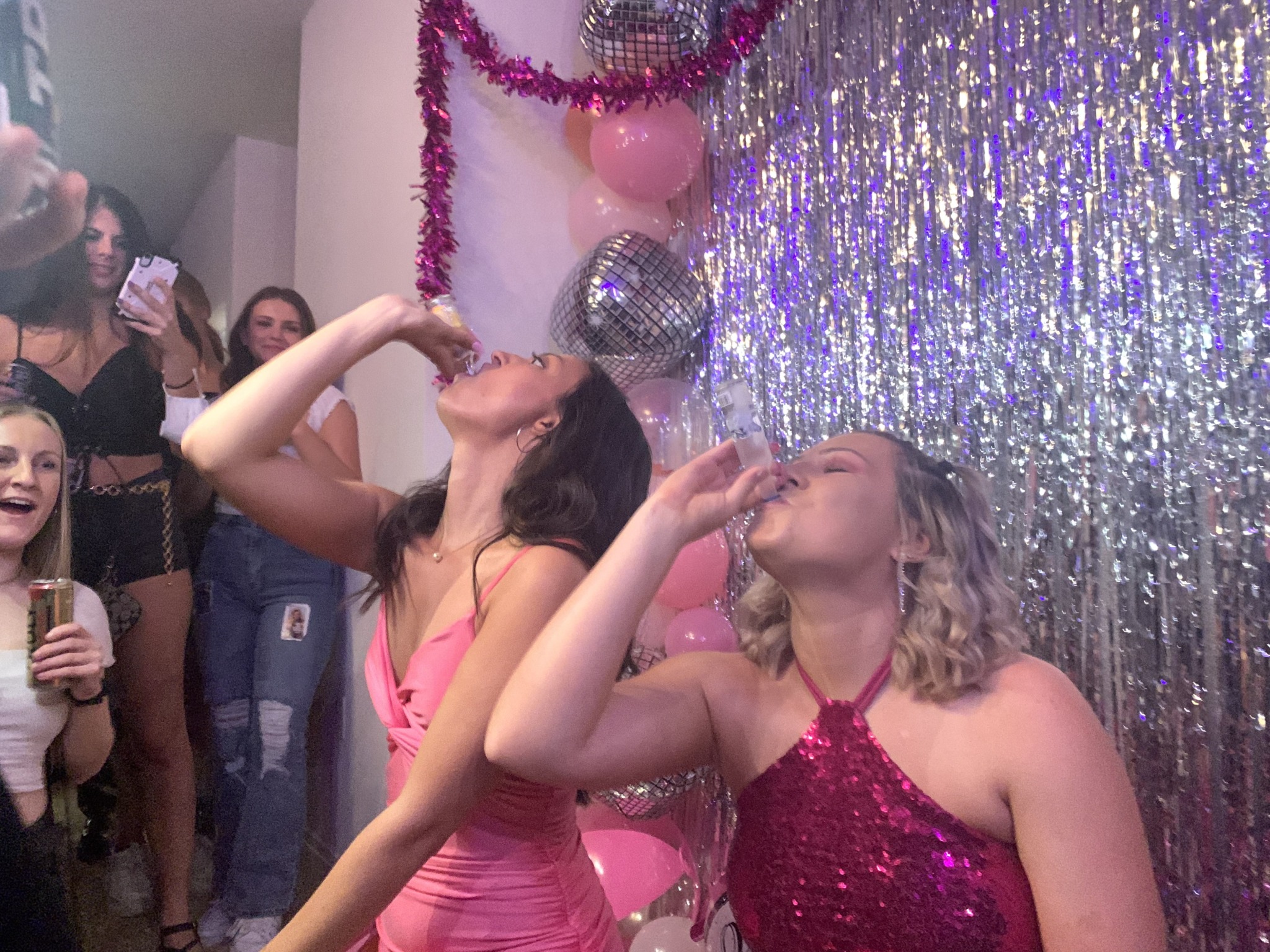 What's a sign night without alcohol? I mean seriously, why else would we celebrate turning 21? If you're gonna throw a party, you may as well provide the party favors. And yes, that includes the so-called "happy" juice that not only loosens up the crowd, but welcomes in the waves of confidence and laughter. Let's be real: unless all your guests happen to be your close friends, why else would they actually go to your sign night? In other words, there's no room for pulling that BYOB card.
"Always provide fun drinks and good decorations," University of Florida junior Annalise Story said. "We kept things organized: the kiddie pool with the seltzers were found outside on the deck, a liquor bar in the kitchen and in the entryway we had jello shots."
That said, you might even want to create a signature cocktail that matches the theme of your party. Simply mix up your favorite liquor and fruity ingredients into a pitcher, give it a funky name and countdown how long that baby lasts until it runs out; I'd give it one hour at the most. With all this talk about booze, make sure you also provide a bathroom and some water for your guests.
9. Capture the Moment, Seriously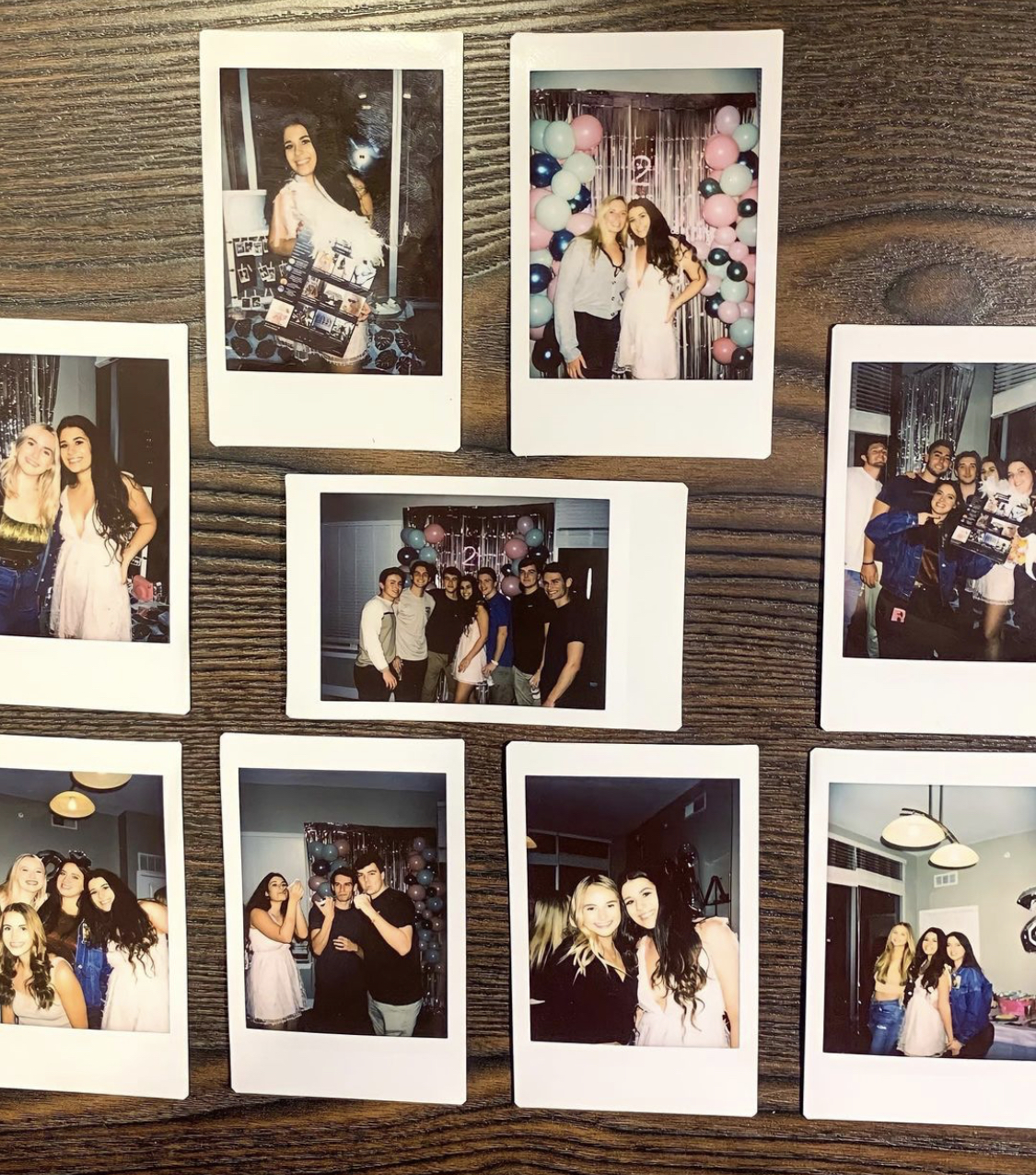 If not for the wild yet heartfelt memories, college kids probably wouldn't throw a sign night to celebrate their welcome-to-adulthood day. However, our memories can fail us. Good thing we're thriving in the age of artistic snapshots and digital cameras.
"Invest in a Polaroid. I bought a lot of extra film and I had a board with little clothespins on a table telling people to take a pic, shake it out and then stick it on the board; I got so many fun instant pictures with it that it was totally worth it," University of Florida junior Jessica Lorenzo said. "Have someone designated as the picture taker throughout the party taking pictures of you with friends, candids and other people in groups while you enjoy the party and talk to people."
Additionally, you may want to invite your close friends to come an hour early before the majority of your guests arrive so you can capture as many pictures of yourself with your besties. When it starts getting crowded, you'll feel ready to chat, drink and be merry. Don't forget to designate a hashtag to your celebration so you can easily find all the photos taken at your party that later end up on social media.
10. Give Your Guests Goodies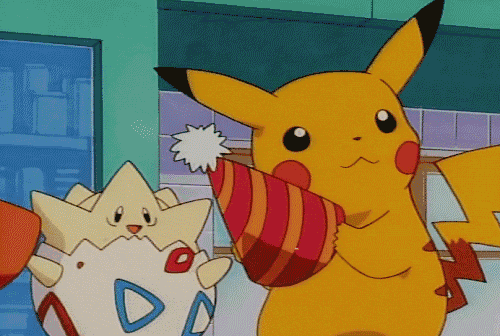 We all like receiving gifts, so thank your guests for coming by providing them with a little keepsake to remember your sign night. From metallic beaded Mardi Gras necklaces to plastic party headbands, present your friends with something entertaining that flaunts your theme.
Stickers are a very popular souvenir that everyone in attendance wears during the sign night. Spotlighting the birthday person's personality, the stickers typically feature a quirky photo and a fun slogan, such as "Rosie's Rockin 21st." You can get these custom-made at a printing company (such as avery.com), or simply purchase blank stickers and design them on your own!
11. Whip Out the Drinking Games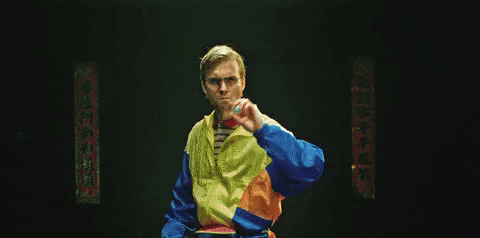 Everyone likes to play (drinking) games, right? If you're turning 21, you may as well. A staple in any crowded environment serving alcohol, beer pong can easily engage anyone at your party in a friendly competition. Either borrow someone's table or purchase a six-foot foldable table from a hardware store — you can even plan a day with your friends to decorate the table if you think it looks boring.
If you expect a smaller group of guests at your sign night, try to immerse everyone in a question game like "never have I ever" or "most likely to…" that combines laughter with potentially a few sips of wine (or shots for the daring at heart). By at least providing some sort of drinking games as a backup plan, you can save your sign night from any unintentional awkward vibes.
12. Throw in a Little Razzle Dazzle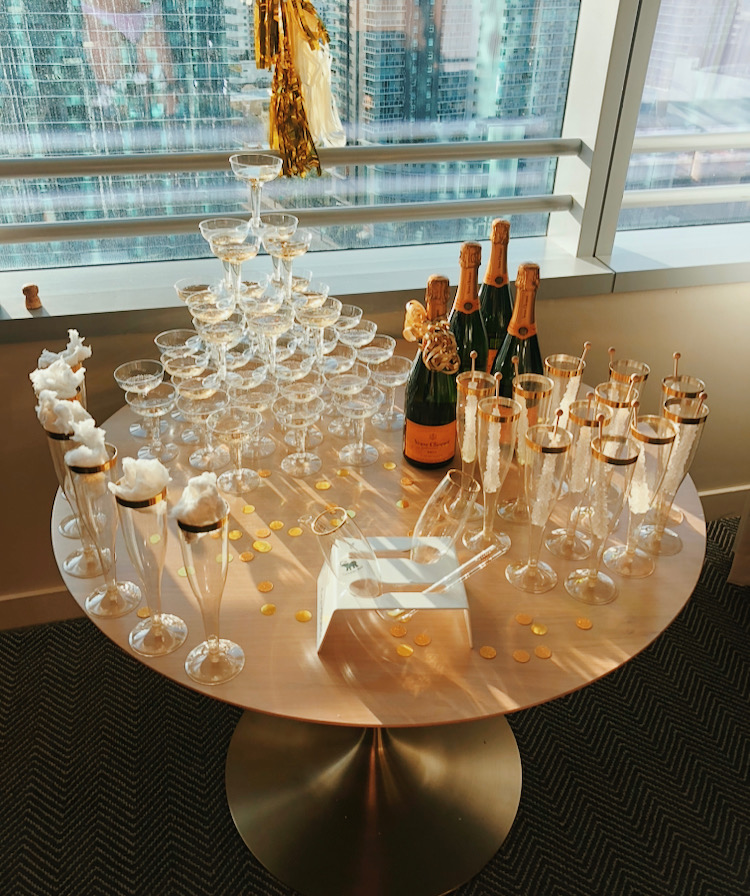 As human beings with high standards, we like to feel impressed. Definitely consider this step optional, but perhaps the attention seekers who throw a sign night would like their party to be remembered more than others. That said, arrange a little surprise of some sort to thrill your guests.
It could be a piñata filled with alcohol mini bottles, a cascading champagne fountain or an exotic dancer giving lap dances — the possibilities are endless. At your sign night, people expect to experience a fun time, but most don't expect to feel fascinated by a one-of-a-kind experience. So add a little razzle dazzle to your celebration so they'll keep talking about your sign night for years to come.
13. Arrange the Going-Out Itinerary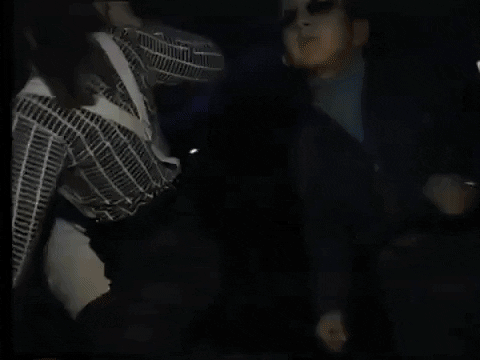 The gleaming moon rises, the music gets louder, everyone's tipsy and your friends start tapping on the Uber app — it's time to head out! Get an idea of where you'd like to spend your night post pregaming, that way you can seamlessly lead your crew toward the clubs, bars or restaurants you want to visit.
Additionally, make sure all your guests figure out their mode of transportation. Whether it's walking from the pregame, summoning multiple Uber rides or perhaps renting out a party bus, you should ensure your group follows you out. Moreover, double check whether all your friends can get into the clubs or bars you frequent. No one wants to feel left out from celebrating your special night.
14. Ensure Amusement at a Safe Cost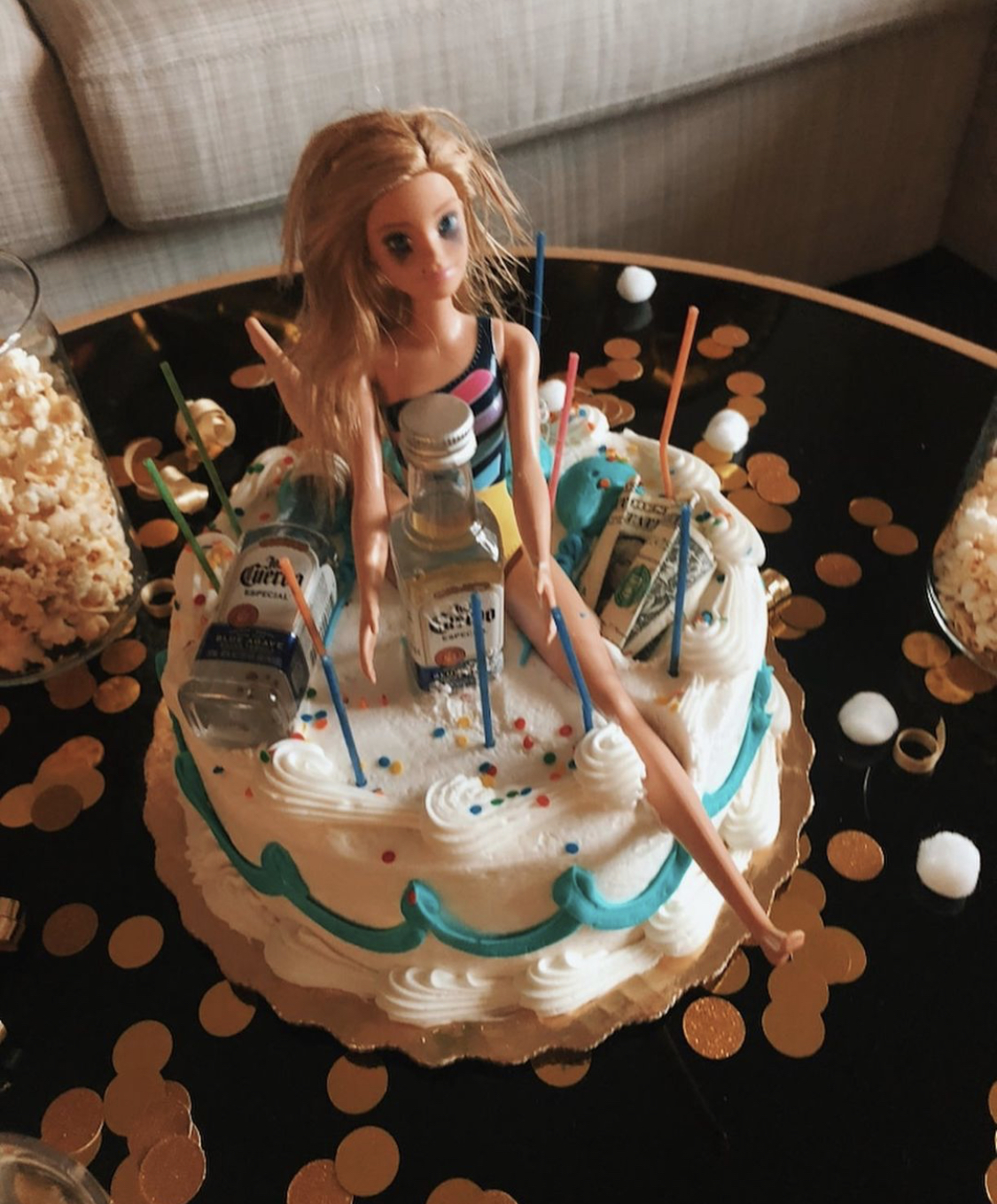 Although you may want to experience a wild night, it doesn't go without saying that everyone should remain as safe as possible. Beware of how many drinks people consume and always remain cautious of your surroundings, especially once you've already begun wandering the night scene in your city. Most importantly, don't walk alone.
A great suggestion for keeping tabs on everyone includes forming a group chat for your guests (text people the next day to make sure they arrived home safe). Additionally, remember to still make rational decisions even when you're supposed to perform irrational acts — I'm talking about those 21 challenges on the back of your sign! Though it might seem memorable, a visit to the emergency room or police station definitely shouldn't correlate with any of those tasks.
15. Please (Oh Please) Clean Up Afterwards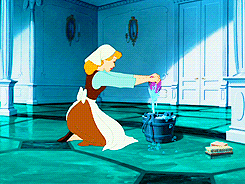 The morning after usually calls for a loaded breakfast, a creamy coffee and a strong ibuprofen to ease those harrowing hangover symptoms (personal pro tip: consuming AlkaSeltzer before drinking can reduce the likelihood of experiencing a hangover the next day), but today actually calls for a major cleanup. Whether you booked a hotel or simply transformed your living room for one night, we may assume the place appears littered with empty White Claws, red solo cups and sticky countertops.
Especially if you live with college roommates, clean up the day following your sign night. Unless you've employed a personal maid, don't act like that monster who leaves the place trashed — it's rude and inconsiderate. Play Cinderella for a day and gather gloves, disinfectant spray and a broom to start tidying up. You might actually enjoy the whole cleaning act, you know? Plug in your headphones, recall the glorious memories of last night and just enjoy the thought of a soon-to-be sparkling place.