You just locked eyes with the cutest stranger during a terrible syllabus day icebreaker. You blank on your name. What's next? Your head spins. Next thing you know, you two set a date to share a meal. A romantic dinner out sounds too pricey. A short coffee date seems too casual. Should you learn a few cute and cheap meals? Should you go to College Magazine for inspiration? Should you proceed to woo your date, fall in love and then become the Gordon Ramsey of the relationship until you both grow old together? Yes to all.
Keep reading for 15 dinner ideas that'll set the mood for date night.
1. Chicken Parmesan
You don't need to import fresh Italian ingredients to whip up a quick, tasty and filling meal. As Pixar taught us in 2007's Ratatouille, "Anyone can cook." First slap Ragu on a breaded frozen chicken cutlet. Then, sprinkle shredded cheese and parmesan on your creation (extra points if you look like the one and only Salt Bae). Finally, bake your marvelous creation in your tiny apartment toaster oven. It might not match up to Remy's work, but hey, I bet your dish would make him smile.
2. Quesadillas
Quesadillas just treat me right. University of Florida computer programming sophomore Lucas Grinspan said, "I survived almost the entirety of UF Summer A semester on quesadillas alone. My girlfriend had to make me stop once summer B started. It's a bit disappointing because I was honestly getting really good at digesting them." Slapping butter on a pan, then layering that with a tortilla shell, cheese, heated-up chicken, more cheese, pico de gallo, still more cheese and then another tortilla can't get any easier. You just can't go wrong with melted cheese.
3. Egg fried rice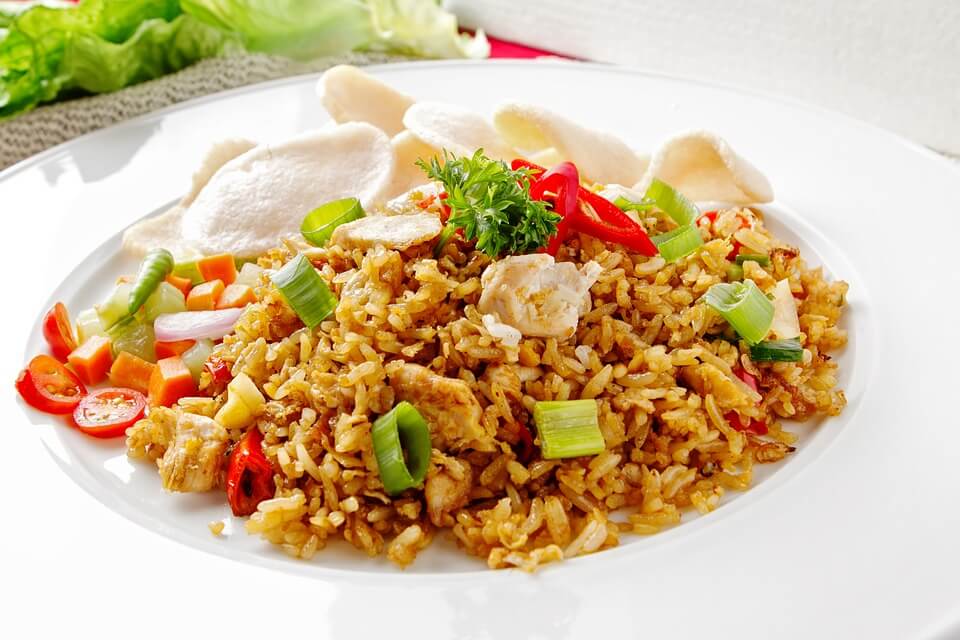 Egg fried rice gets a bad rap. You think of it only when the clock sings 3 a.m. and your drunk mind chants for nothing but takeout food. I'm here to change that. I believe that nothing screams romance like egg fried rice (aside from that spaghetti dish in The Lady and the Tramp). Heat up vegetable oil in a large frying pan—or if you want, score extra brownie points with your date and use a wok—then beat your egg with sesame oil and add it to your cooked white rice. Throw that all together into your pan. Add color to your meal with vegetables like peas or bean sprouts. I promise you'll actually enjoy eating your greens this time.
4. Omelets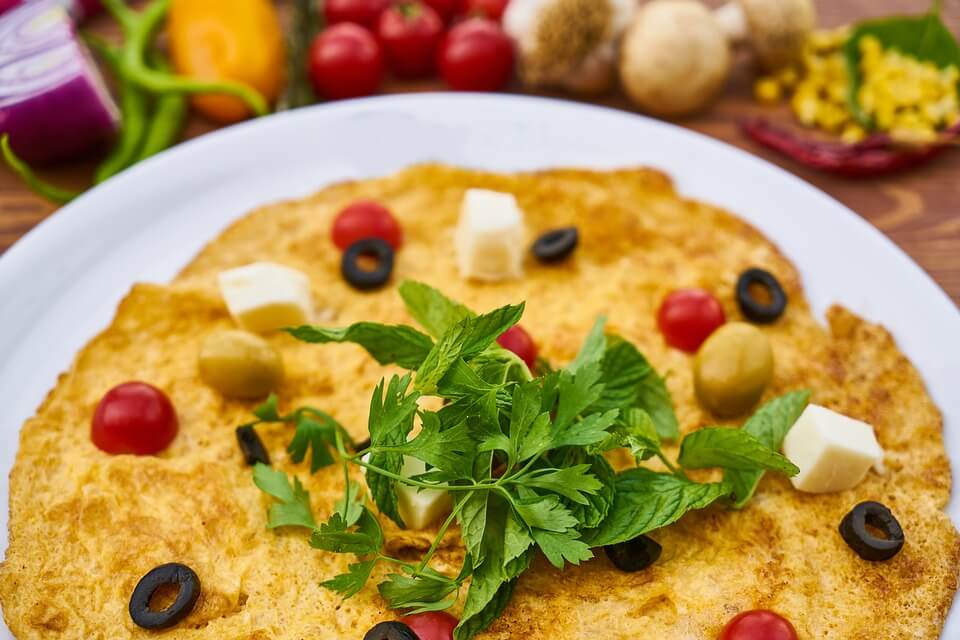 Parks and Rec's Leslie Knope may hate me for suggesting anything other than JJ Diner waffles, but I hope she'll forgive me because as she once said: "Only idiots eat anything other than breakfast food." Make a romantic breakfast-for-dinner night with bae. Beat eggs, salt, pepper and water into a small bowl. Pour that into your buttered-up pan and wait for the edges to harden (when liquid disappears from the top). Toss in ham (or juicy bacon), cheese and sautéed mushrooms. Fold it in half then serve it right away. Afterward, continue in your gluttony by ordering waffles with way too much whipped cream at your local diner. If your date hates all the P and R jokes, consider this your official warning. You two aren't meant to be.
5. Grilled ham and cheese
Don't think this ham and cheese will resemble that hastily prepared, after school snack you threw together before procrastinating on geometry homework. That's the past. This ham and cheese makes all the other ham and cheeses cry at recess. Heat up rosemary butter in one pan and start cooking a few slices of bacon in another. Lovingly place your bread on the pan and layer it with the fanciest cheeses and hams your #brokecollegestudentbudget can afford. Add on as many cheeses as you like, like muenster or provolone, then gently sprinkle bacon bits inside the gooey center. Amp up the gourmet and throw in in caramelized onions, too. Add the top piece of bread then flip until both sides look golden brown. As a finale, warm up old school Campbell's tomato. Clink together your grilled cheeses as a cheers, then with pinkies up, dip them into your tomato soup.
6. Dino nuggets and crunchy french fries
Hear me out. Who doesn't love dinosaur chicken nuggets? Who doesn't love French fries? Popping one into your mouth can instantly take you back to a weekend lunch at your friend's house. Drake and Josh plays softly on the TV. The microwave dings, and you and your friend shove all the dinos you can in your mouth. You chug your juice then sprint into the backyard. Life treats you right. These ingredients both come from the frozen section at the grocery store so you only need to add ketchup to give you that childhood flashback. Put a smile on your date's face and engage in an all-out dinosaur war with your chicken nuggets. Romantic dinners don't always need to involve stiletto heels and five-course meals with candlelight and rose petals. Mature romances sometimes call for viciously defeating your date's triceratops with a T-Rex nugget.
7. French Bread Slices
Borrow a baguette from Remy's restaurant for this dish. Slice up French bread, lather on butter, lay salami across the top and sprinkle shredded cheese. Add parsley flakes for garnish and bake until crispy. Vegan date? You can use vegan cheese, add a tomato slice, then sprinkle it all with oregano. Kiss the tips of your fingers after you place your little works of art into the oven. Wait until golden brown and serve right away. If you didn't set off the fire alarm your first try like me, you already won.
8. Fettuccine Alfredo
To Olive Garden, after this recipe inevitably puts them out of business: I'm sorry. I'll miss your breadsticks. For my lovebirds: Add alfredo pasta into boiling water, then wait about 10 minutes for it to cook. Get started on the sauce in the meantime in a large saucepan. Melt butter and cream. Then add salt, pepper and garlic powder. Slowly pour in parmesan and grated Romano cheese. Try not to get lost in your sauce. Pour it all out onto your cooked alfredo and serve with a smile. Try not to think about Olive Garden's grim fate.
9. Tacos
Tuesdays? Taco Days. Cook beef until dark brown then sauté onions and add chili powder, salt and cumin. Stir it all together and place in your taco shell. Top off with cheese, lettuce, salsa, sour cream and even cilantro. Mourn the loss of Taco Bell as this dish will most likely put them out of business too.
10. Homemade Pizza
Nothing beats a homemade pizza. UF engineering freshman Fletcher Luke said, "One of these days when I make my pizza I'm going to get the dough to stick on the ceiling. It hasn't happened yet, but I kind of want it to." His special recipe goes like this: Knead Publix dough with flour then spread it into a circle on a pam-sprayed pan. Pour a bit of jarred pizza sauce around, and then sprinkle mozzarella cheese on top of that dough like your life depends on it. After, sneak a tiny bit of cheese to your dog. He deserves it. Give him a pat and a smile. Chop up pepperoni, place them delicately, then sprinkle oregano on top. The only challenging aspect of the pizza process comes from the strenuous effort of buckling your pants back after you finish.
11. Cream of Mushroom Soup
Did you know that the dictionary defines "comfort food" as "cream of mushroom soup"? Let this recipe take you back to when you were sick in bed and your mom wanted to shake things up past the regular chicken noodle routine. Melt butter and sauté the onions and mushrooms in one large pan all together. Mix salt, pepper, flour, and a can of broth into a bowl. Combine this with the mushroom mixture and then bring the whole shebang to a boil. Once thickened, lower the heat and stir in cream. Slurp the whole thing up. Finally, go call your mom. I'm sure she'd love to hear your voice.
12. Vegan caesar salad wrap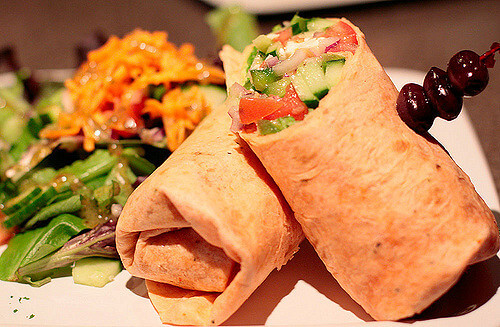 You didn't think I'd exclude the vegan dinner ideas, did you? Healthy and cheap, this dish makes all vegans within a five-mile radius of your kitchen line up for a taste. Create some vegan Caesar salad dressing by blending raw cashews, water, olive oil, dijon mustard, lemon juice and a clove of garlic. Cover tofu slices in flour and bread crumbs and place it into an oiled pan. Lastly, add together chopped lettuce, croutons, your vegan dressing and the cooked tofu slices into a bowl and toss them together well. Spread the mixture out onto tortillas and roll tightly. Chow down on them guilt-free.
13. Frito corn salad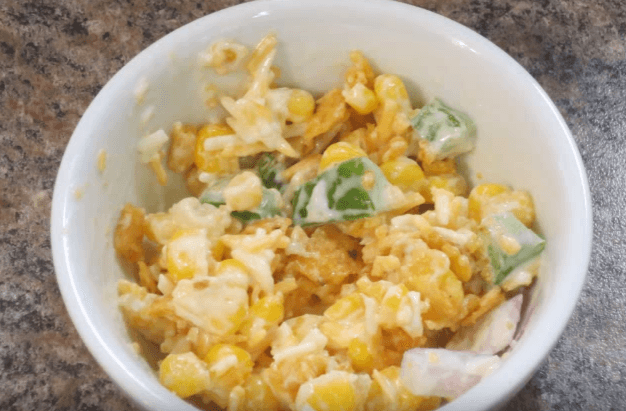 Remember Fritos? That tiny package of mostly air? Always inhaled in less than a minute during elementary school? Walk down your grocery store's memory lane and grab a pack or two. Get home, and combine about two cans of kernel corn, grated cheddar cheese, mayonnaise, red onions and green peppers, then rub your hands together in preparation for the finale. Crush the fritos while still in their bag, and sprinkle the crumbs slowly into your salad while gently mixing. Light a candle and crunch on this romantic dinner with your one and only. Try to save Fritos as a midnight snack, too.
14. Homemade Mac and Cheese
Mac and cheese seems to dominates students' lives during two eras: elementary school and university. This time, throw out that Kraft box and grab two pots instead. Boil pasta in one and stir together milk and flour in another. Add a pinch of salt and pepper. Bring this mixture to a boil, and pour in shredded cheddar cheese until everything melts. Combine this with your pasta and prep the secret kicker. Whip up some bacon, crumble it into your mac n' cheese, and voila! Your date will fall in love before they can even say thank you.
15. Spinach pie
If you kept reading past the word "spinach," I thank you for your great display of courage as a college chef. A true source of bravery. Believe it or not, but Popeye left spinach for the rest of the world. In one pan, sauté onions. In another, combine cottage cheese, parmesan, two eggs, salt, pepper and of nutmeg. Squeeze as much moisture as you can out of the spinach leaves, then add it to your mixture along with the onions. Lay out some Pillsbury pie crust on a small aluminum tray, and pour everything inside. Layer more dough on the top, then impatiently take turns playing Candy Crush with your date as it cooks in the oven. Florida International University English sophomore Sabrina Fernandez said, "I remember getting together with my group in high school just to cook spinach pie. We each were in charge of a specific aspect of the process, and I'll always remember how fun it was to cook together instead of just eating together. I'm kind of hungry for some spinach pie now." When the oven dings, take the pie out dramatically and waft the air with a big inhale and a smile. Don't share with Popeye. Share with Sabrina. She out there, somewhere, hungry and waiting.