We all remember moments in media like "Charlie Bit My Finger" or when Jennifer Lawrence fell on her way to pick up her Oscar. Iconic. So far 2016 has offered just as many internet-fame-worthy incidents and characters. From our disastrous presidential election to the latest Netflix hit, 2016 has delivered meme after meme. Why not take those moments and dress like them? Who knows—your Instagram pics may go just as viral as these moments and characters themselves.
1. Miss Colombia, Miss Philippines and Steve Harvey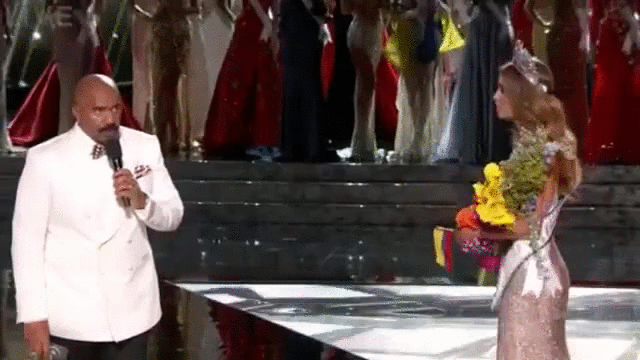 Transform this public disaster into a genius Halloween costume. Find your old prom dresses and make some sashes for the full effect—and make sure Miss Philippines has that crown. Get a third friend to dress as Steve Harvey to complete this uncomfortable moment of a costume. Miss Colombia needs to get her #RBF ready to look really salty all night.
2. Hillary and Donald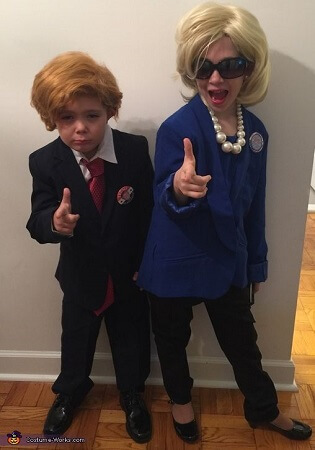 With Election Day fast approaching, who better to dress as than our presidential candidates? Find the best pant suit you can and hunt down some kitten heels to pull of the Hillary Clinton look. For Donald Trump, find a suit, get some orange face makeup, and a Make America Great Again hat to complete the ensemble. This Halloween will be HUGE.
3. Ken Bone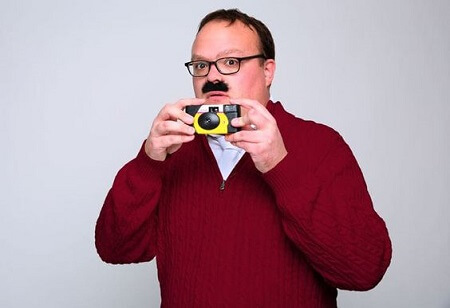 The most iconic man America fell in love with at the presidential debate makes for an easy and cheap Halloween costume. Just grab a red sweater, glasses and fake mustache and you're set. If you want to go the distance, carry around a microphone and ask everyone about their energy policies. Of course, maybe stay off Reddit so you don't go from America's sweetheart to America's perv before your five minutes of fame end. #Bone2016
4. Brangelina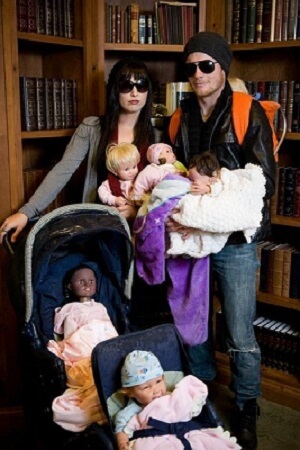 Too soon? This divorce shook everyone. Dress as the couple who you believed would go the distance. For this costume, go for the iconic Mr. and Mrs. Smith so people easily recognize you and your fallen love. To ramp up the drama, get a third friend to be Jennifer Anniston to make things weird at your Halloween party.
5. Basically Anyone from Stranger Things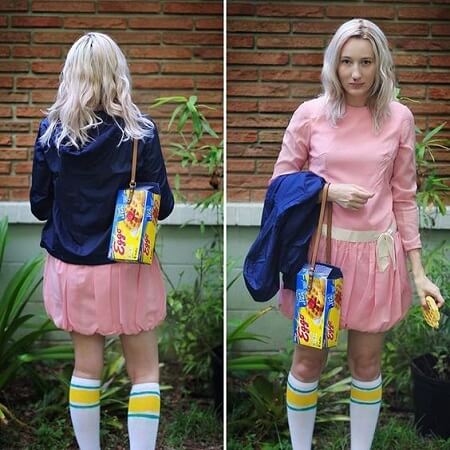 The Netflix show that conquered the internet this year makes for some great Halloween costumes and you can find some pieces in your very own closet. Just grab that pink dress you used for rush week and a blonde wig to pull off Eleven. Each characters rocks their own signature outfit so your friends will definitely know who you are unless they live under a rock. Florida State University juniors Scarlett Dunkley and Olivia Jennings only needed to buy light necklaces for their costumes. Dunkley said, "[Joyce Bryers] is obsessive with those lights because that's how her son talks to her." Jennings added, "[I bought] my lights necklace since I'm a wall." Plus, it's a great excuse to splurge on brand-name Eggo Waffles.
6. Pokémon Go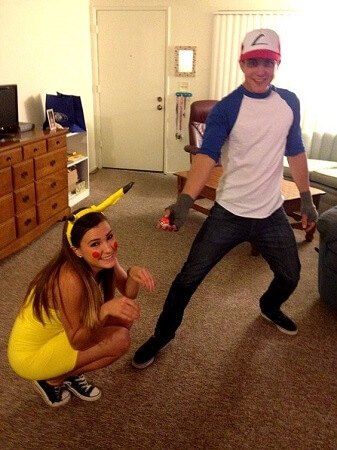 Ash Ketchum and Pikachu are relevant again with the app that swept the nation. To achieve Pikachu's look, go all yellow and paint on those iconic red cheeks while wearing a tail and ears. To be Ash Ketchum, rock his classic baseball cap, jeans and a blue vest. "I dressed as Ash Ketchum every year when I was a kid, so I'm glad Pokémon Go came around and made it socially acceptable for me to go as him again," said University of Michigan senior William Harnett.
7. Chewbacca Mom
https://youtu.be/2ksgMsU-XTY?t=1m53s
Who can forget the cutest mom to exist on the internet? So grab a Chewbacca mask and a short brown wig and you've got the look. It's simple and people will either think you're a genius or just a poorly done Chewbacca. Regardless, people will be drawn to your warm charm and enchanting laugh.
8. Suicide Squad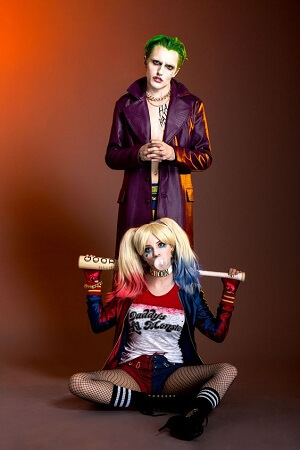 Margot Robbie's Harley Quinn and Jared Leto's Joker will make for some popular costumes this year. "My boyfriend and I are major comic nerds so we're definitely doing the Suicide Squad costumes this year," said University of Missouri sophomore Rachel Lock. The most important part of this costume? The face makeup. Make sure it's on point or you'll just look like a clown, and we don't need any clowns this Halloween.
9. Inflatable T-Rex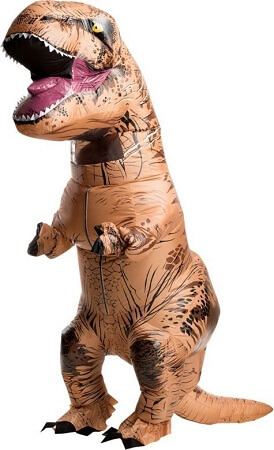 This inflatable T-Rex suit has taken over the internet and you can just order it on Amazon. You'll make your friends laugh all night and go viral on twitter with this suit, too. "Every time I see this costume on Twitter I die laughing so I am hoping to see it this Halloween," said Johnson County College sophomore Claire Elliott.
10. Anything Beyoncé-Related
She basically changed everyone's lives for the better when she released Lemonade (well, maybe not Jay Z's). Grab some friends and achieve the look in the "Formation" music video with the wide hats and side braids. "I always say that in my former life I was Beyoncé so I think this Halloween I'm going to show people I'm not lying," Mizzou sophomore Joy Wilbourn said. Or dress as a literal glass of lemonade. Who can forget the most iconic album of our generation?