Looking for a city with a long, rich history and amazing museum scene? And you definitely don't want to worry about communicating with citizens in a different language. Amsterdam has lots to offer. Admittedly, I have bias on the subject of where to study abroad. I studied abroad in Amsterdam for a semester and loved it.
Here's all the reason why you should also study aborad in Amsterdam.
Amsterdam is always gorgeous
Amsterdam's location proves to be one of its largest benefits. Regardless to the time of year, the city always has picturesque views from colorful fall foliage in the autumn to vivid and postcard-worthy tulips in the spring. You'll get the chance to see the stark and surprising changes between the seasons no matter what semester you study there . As a native New Englander, I felt right at home.
Amsterdam's location also has the ideal proximity to so many other countries in Europe. The country lies so close to both tourist destinations (like Dublin, Ireland or Venice, Italy) and areas of Europe less frequently visited (like the great hiking trails out of Interlaken, Switzerland). If booked in advance, flights, hostels and AirBnBs can prove quite cheap. Flights to London take less than an hour, while you can fly to Paris and Rome in less than two hours from Amsterdam's Schiphol Airport. The Netherlands also closely borders Germany and Belgium, allowing for easy access to amazing cities in those countries as well.
Amsterdam has an amazing access point from which to explore other areas of the Netherlands as well. You can easily reach the modern city of Rotterdam, the quaint town of Zwolle and the famous city of The Hague, home to the International Criminal Court (among many other attractions). Studying in Amsterdam should in no way limit you to that city alone, as many other parts of the country have great sights and attractions to offer.
Many Amsterdam residents speak English
I struggle to learn langugages. But I didn't need to worry about constantly translating to speak with locals on an app while in Amsterdam. Many of the citizens speak fluent English. Although Dutch technically serves as the official language of the Netherlands, the Dutch people lead the world in English fluency. Up to 90 percent of the country is able to converse in English. The lack of a language barrier makes adjustment to a new environment much easier. Plus it adds a sense of comfort to an otherwise nerve-wracking foray into a new country.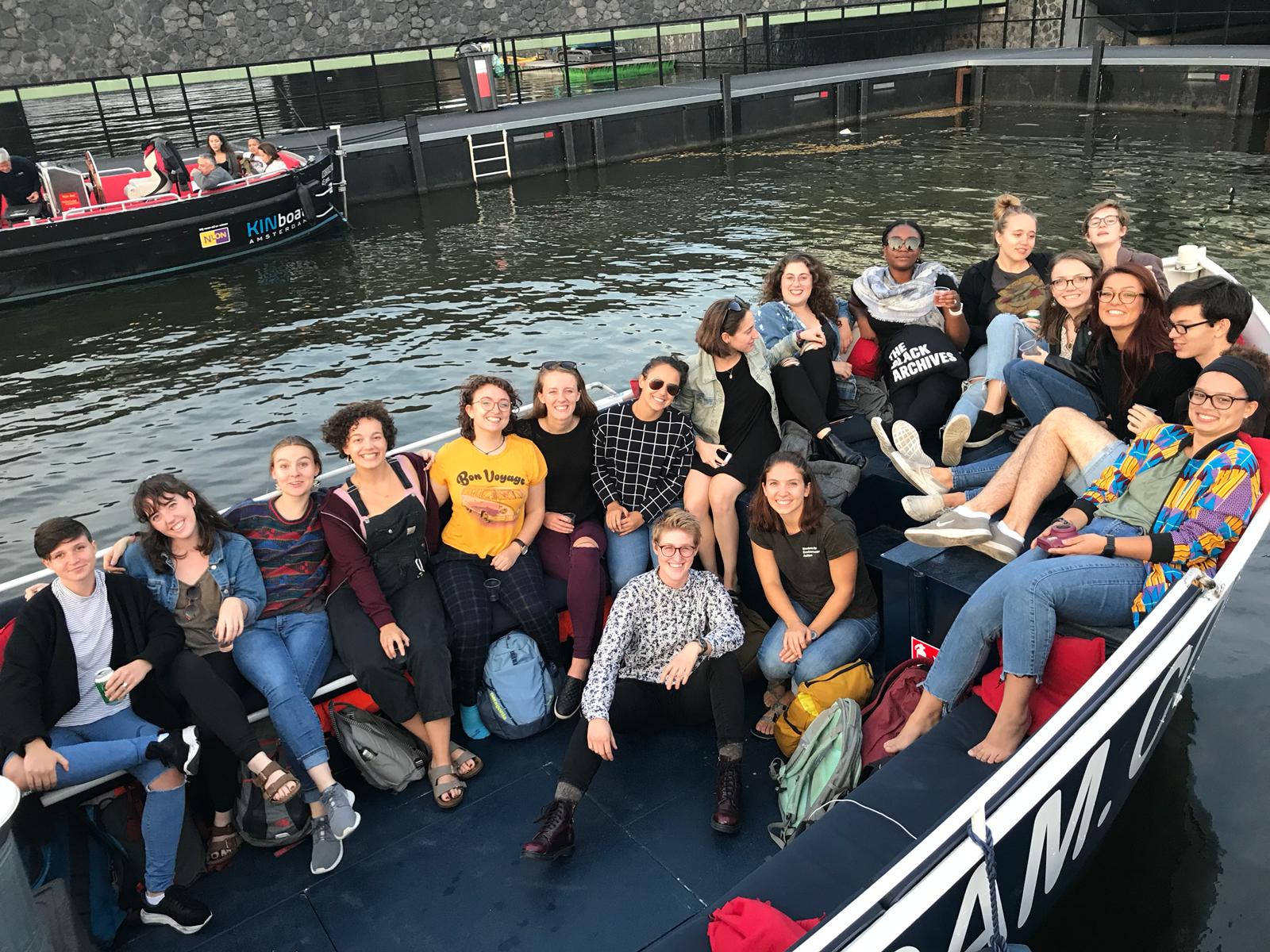 "Dutch Directness" wastes no time
Students will also appreciate the Dutch's sociability. Many will warn you about so-called "Dutch directness." People in the Netherlands tend not to sugarcoat topics and come across as angry when intending to foster efficiency in conversation. In reality, most people you'll meet in Amsterdam will happily help you; you just need to ask. Amsterdammers take a "minding-your-own-business" mentality. So they'll leave you alone until you tell them otherwise.
This often comes into play in restaurants. No one will hurry you away from your table to make room for the next customer. In fact, it may prove difficult to get Dutch waiters to give you the check when you're trying to leave,
Amsterdam will have something to explore
You'll always find something to do in Amsterdam on the weekends and even on weekdays. Numerous boat tours come up and down the canals every day, many with specific focuses on history or culture. I particularly recommend the Black Heritage Tour. It gives a voice to the underrepresented contributors to Dutch history. Compared to some of the more popular tourist boats, this tour gives a more honest look at Amsterdam's deep colonial roots.
On a similar note, if learning and exploring excite you, the city also has museums to visit. If you invest in a MuseumKaart (which many study abroad programs in the city provide for you as a student), you can access almost all of these museums for free or at a largely subsidized cost.
History buffs, head to the Anne Frank House to learn about Amsterdam's dark history during World War II. Or stop by the Tropenmuseum to get a more ethnographic perspective on Dutch history. The Filmmuseum, otherwise known as the Eye Film Instituut Nederland, sits just a five-minute ferry ride away from Centraal Station. Both screen breathtaking foreign films every week, as well as houses a vast collection of posters, photographs and books. For STEM majors thinking about visiting the Netherlands, the NEMO science museum has five floors of science experiments, exhibits on the human mind and many hands-on activities throughout the building.
And Amsterdam also has plenty of breathtaking study spots
Looking for a quiet space? Consider the Openbare Bibliotheek Amsterdam (abbreviated OBA), which holds a collection of Amsterdam's public libraries. The Central Library, just east of Centraal Station, has over six floors of study spaces and resources. It even has a cafe in the lobby for study snacks and coffee. Wherever your homestay sits in the city, you'll likely sit nearby the OBA.
If you prefer some background noise and a good latte when you study, Amsterdam has no shortage of cafés. De Ysbreeker has outdoor and indoor seating as well as a gorgeous view of the Amstel River. If spending any team near the De Pijp in the southern area of the city, the cafes Back to Black and Brecht both offer comfortable seating and a variety of drinks for your study time. Cafe Brecht is also a great spot to grab a drink with some friends in the evening.