Imagine strolling through one of the most #aesthetic and progressive cities in the world. You walk across bridges, travel through canals and snap a few photos—all of which qualify as Insta-worthy, of course. Through the mix of it all, you fall in love with this city and realize you need to see it all since you (unfortunately) leave soon. Among all the places to explore in Europe, Amsterdam remains a must-visit for adventurous travelers. Although one day doesn't give you enough hours to explore this city in its entirety, it gives plenty of time to fall in love with it. Amsterdam beholds too much history to unravel and too much beauty to see.
Explore these 24 things to do in Amsterdam that will convince you to book your flight pronto.
6 a.m. Go for a run in Vondelpark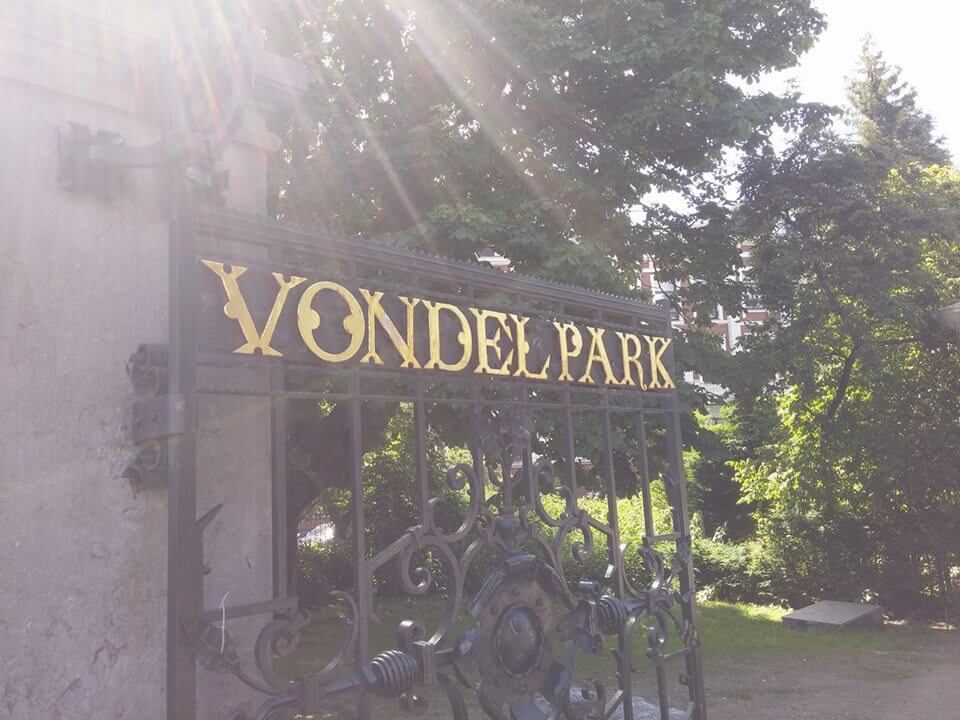 Rise and shine, travelers. Time to get your day started with a run or relaxing stroll in Vondelpark, located west from the Museumplein. If the weather permits, enjoy the beauty of the pond and endless greenery, which consists of birch trees, catalpas, old plane trees and more. After waking up at the crack of dawn, your grumpy mood will immediately disappear once you realize you get Amsterdam's most famous park to yourself. "My favorite part of visiting Amsterdam was being able to ride a bike around Vondelpark. After doing our outdoor activity we found a great spot in the park to just sit back and relax," Temple University junior Lauren Carboni said.
7 a.m. Watch the sunrise near the NEMO Science Museum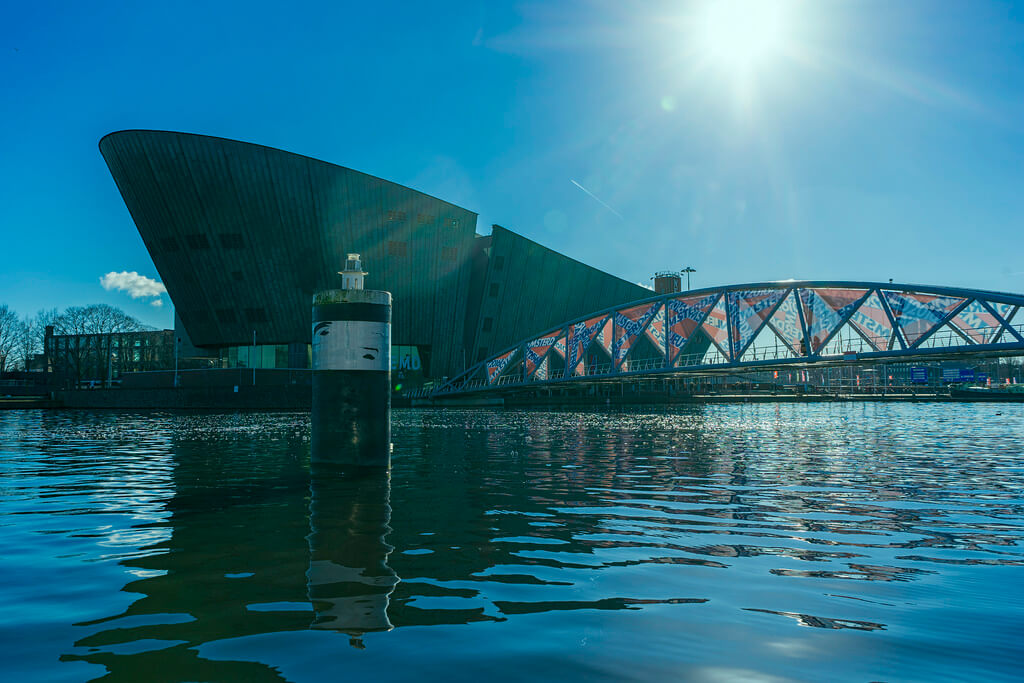 Park yourself by the NEMO Science Museum and watch the sunrise. Surround yourself by the odd yet unique architecture of NEMO and, of course, the beautiful sunrise glistening off of its surrounding waters. You can even access the roof terrace and café free of charge. With this breathtaking landscape and unique scenery, you'll get a good view of the horizon to watch the sunrise.
8 a.m. Grab a croissant and tea from De Bakerswinkle for breakfast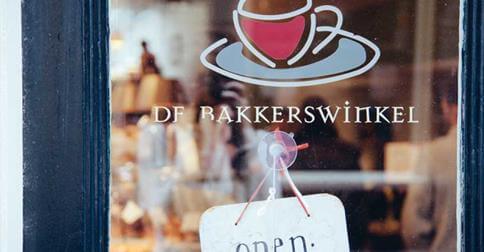 Want to visit a bakery wonderland? At De Bakerswinkle, you can do just that from the second you walk through the doors. No matter what you get for breakfast, it will make your mouth water. We suggest the croissants, quiche, eggs or any of their Amsterdam-specific dishes including ontbijtje or roggekrentenbrood. Any breakfast choice pairs perfectly with their fresh tea, coffee or orange juice. This simple and comfortable meal makes waking up totally worth it.
9 a.m. Take a picture at the I AMsterdam Sign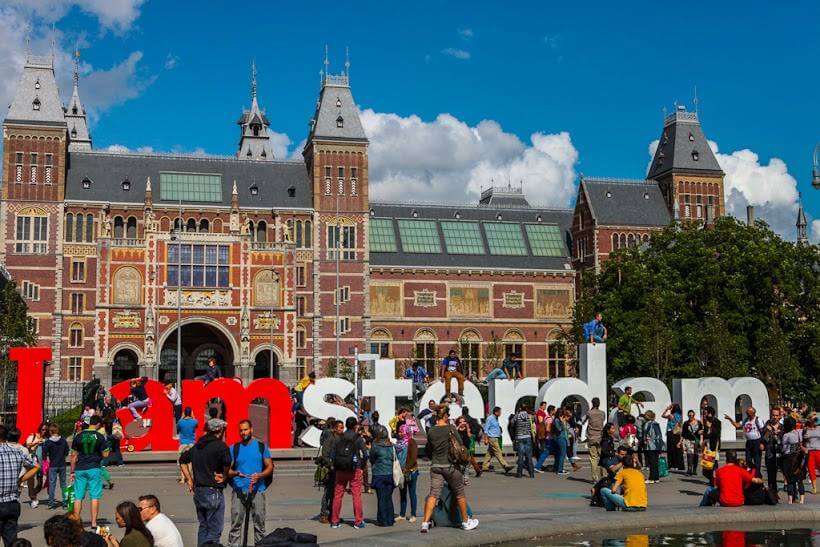 You can't visit Amsterdam and not see the I Amsterdam iconic sign. As one of Amsterdam's most known attractions, showing up at 9 a.m. means you can get your much-needed photoshoot before it gets too crowded. "My favorite thing about Amsterdam would definitely be the scenery and beauty in general. Everywhere we went was so extremely beautiful and peaceful. We were only there for two days but a main attraction we visited was I Amsterdam and the Van Gogh Museum. They're main attractions for Amsterdam, but they also hold so much interesting history," University of Illinois senior Courtney Edwards said.
10 a.m. Snag some poffertjes from Noordermarkt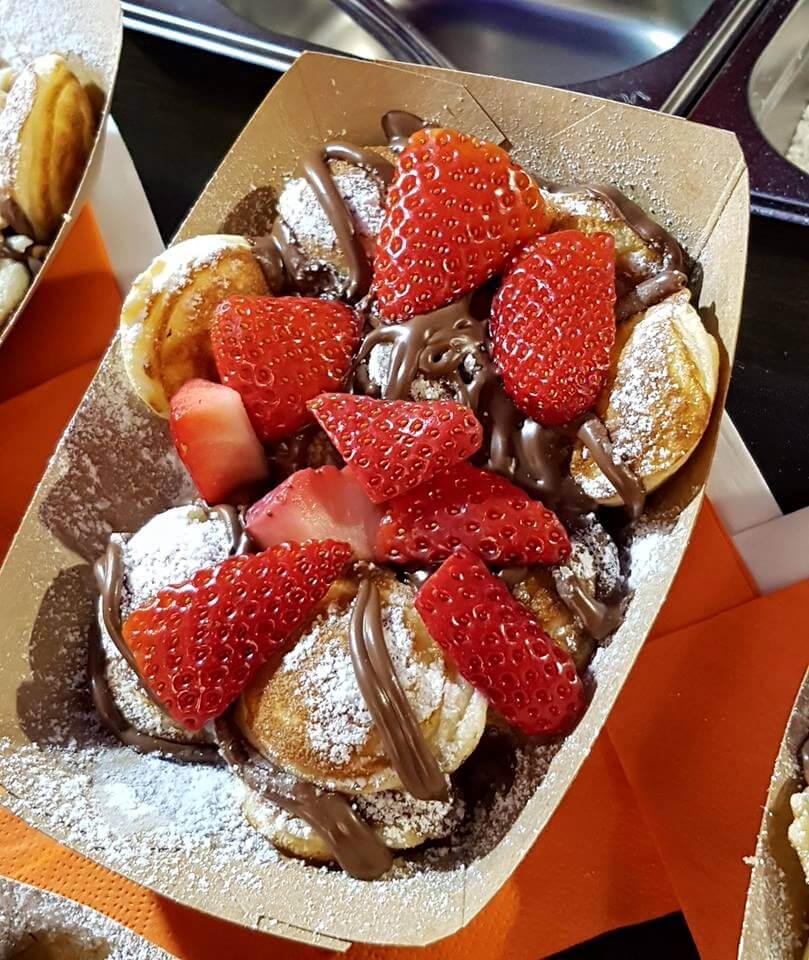 Ditch the basic restaurants and stop by a fresh street cart. Noordermarkt, the trendiest flea market of Amsterdam, sells tons of delightful treats, including poffertjes—mini, fluffy pancakes that get crispy on the exterior when baked but remain moist and chewy on the inside. They get topped with powdered sugar and a slab of butter. If that's not enough sugar for you, definitely add Nutella. You can get 10 poffertjes for only 2 euro (a total steal, TBH).
11 a.m. Take a cruise down the Amsterdam canals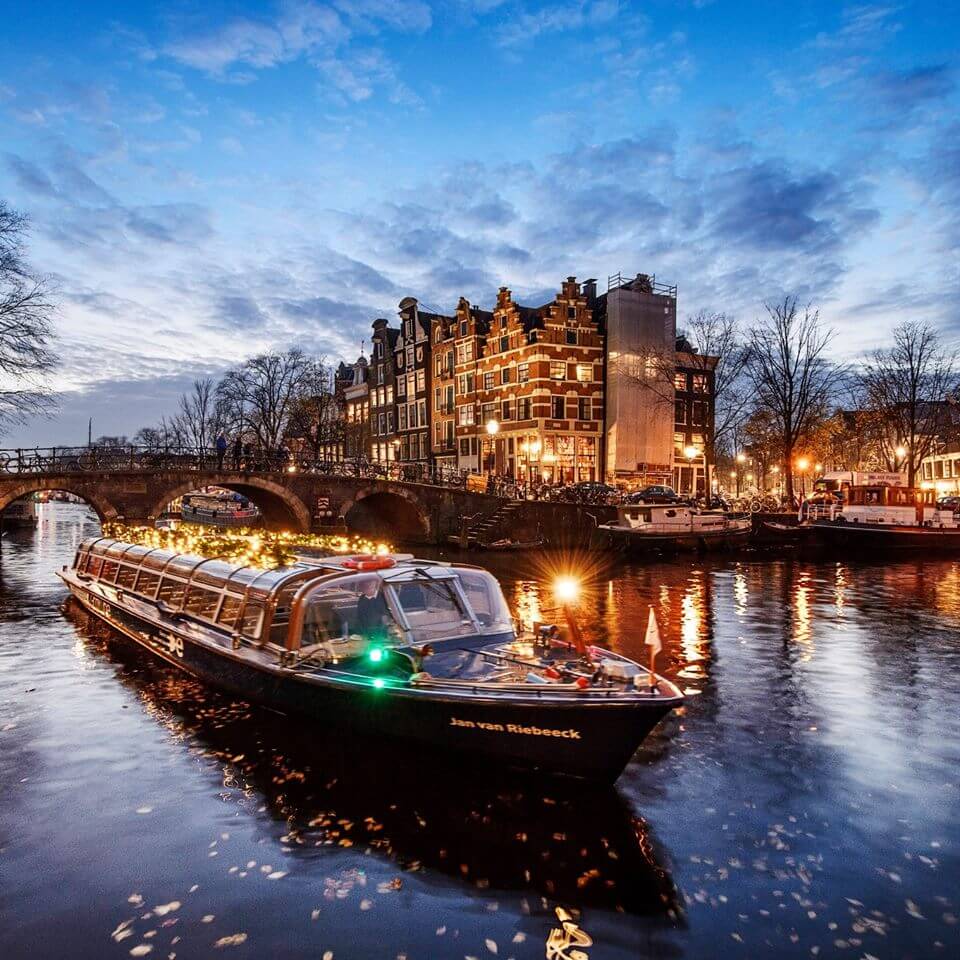 Amsterdam, Venice of the North, was nicknamed as such for its beautiful canals full of gondolas and small cruise boats. Dug during the Dutch Golden Age, Amsterdam's canals were historically utilized for trade and travel. While riding along these canals, you can see famous attractions by water while learning the history and orientation of this city. If you choose to take a tour that uses small boats, you can even discover hidden corners of these canals. Most of the time companies use small, electric boats. To make it even better, most boat owners let passengers bring whatever you want to eat, drink (or smoke) during your boat ride. For your next adventure, cruise down the Singel Canal to get let off at your next stop.
12 p.m. Walk in awe at the Bloemenmarkt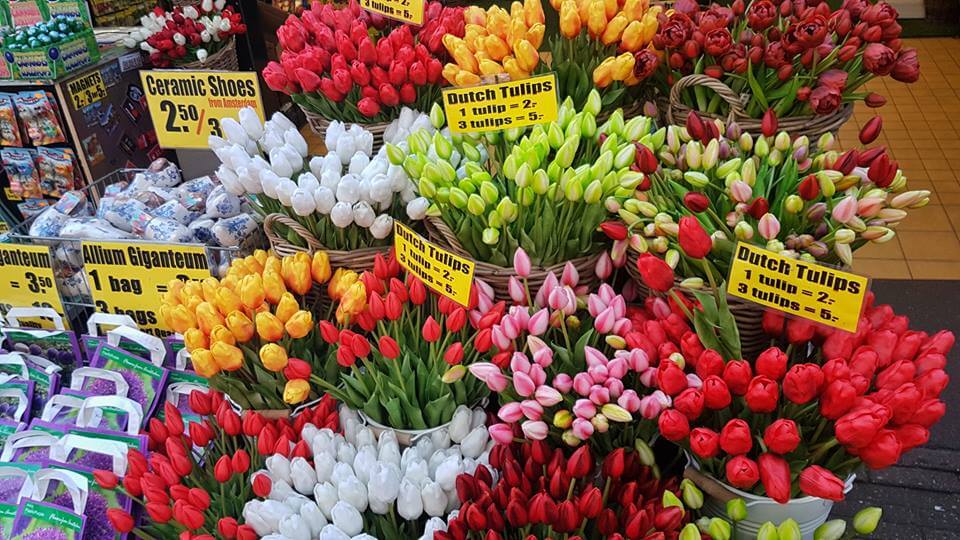 Bloemenmarkt, the main flower supplier in central Amsterdam, is the only floating flower stand in the world. Located right off the Singel Canal, you can easily take your canal cruise right to this beautiful treasure in Amsterdam. The Bloemenmarkt includes 15 florists, garden shops and a variety of souvenir shops. You will find an array of narcissus, geraniums and, of course, tulips. If you happen to travel during April (tulip season), make sure you buy one because it holds so much history and represents the country as their national flower. If you travel outside of tulip season, don't fret. All the shops sell wooden tulips that you can take home as a souvenir.
1 p.m. Grab lunch at Gartine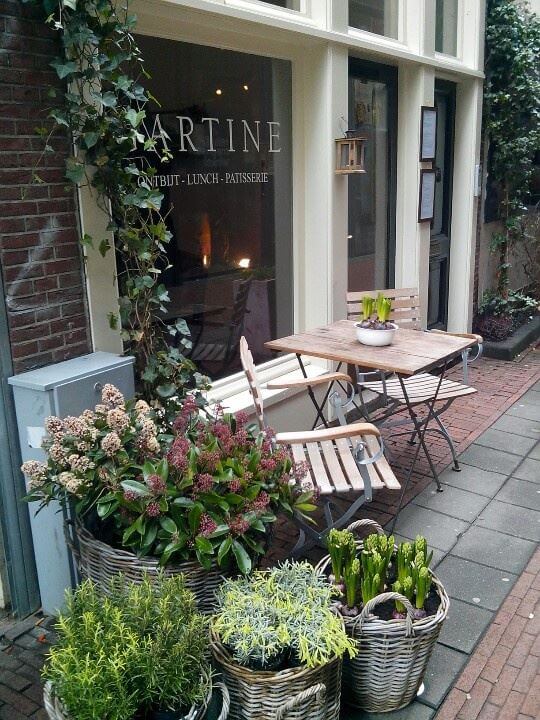 Treat yourself because your day just got started. At Gartine, you'll receive a lunch packed with food that provides a well-balanced diet, including fruits and vegetables from their own garden. The cheap lunch menu provides a quick but cozy sit-down lunch, a needed refresher for hardcore tourists. Choose from many options that include smoked salmon, salads, sauerkraut cake or their homemade rosemary soup. No matter what you eat, you'll taste the love and the local garden. Make sure to purchase a few bottles of homemade fruit preserves to enjoy with croissants when you get hungry while exploring.
2 p.m. (Van) Gogh to an Art Museum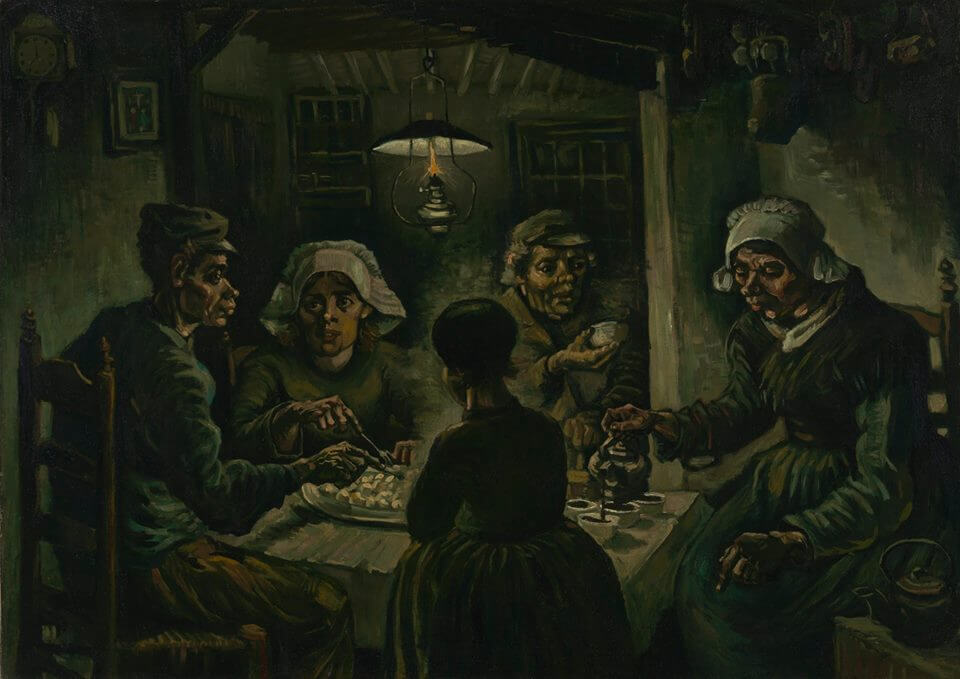 We all know and love Van Gogh's Starry Night and The Potato Eaters but this museum offers so much more. This art museum, dedicated to Vincent Van Gogh himself, holds the largest collection of his paintings and drawings in the world. The museum includes over 200 paintings, along with hundreds of drawings and letters by Van Gogh, all of which record the various phases of his life. Visiting this museum gives the perfect opportunity to indulge in Amsterdam's art and culture, especially since such groundbreaking masterpieces call it home. Other art museums you can venture off to include the Stedelijk Museum. "The Stedelijk Museum in the Museumplein section of the town was amazing. They have an amazing collection of modern art. One half of the museum has a bunch of video displays and the other was modern paintings, photos and 3D installations. It was all really cool," Temple University senior Matthew Rego said.
3 p.m. Walk through Dam Square
All roads lead to Dam Square because it practically acts as the city's center point. Dam Square offers a more city vibe with the bustling movements in an open space. Souvenir shops, memorable monuments and other attractions surround this wide boulevard. These attractions include the national monument, De Bijenkorf and Koninklijk Paleis (the Royal Palace). "What I did most while I was in Amsterdam was just walk from place to place. I loved doing that because it allowed me to really immerse myself into their culture and get to know my surroundings really well. I walked around most of the city in one day and it was pretty amazing," Arcadia University senior Erin Schofield said.
4 p.m. Walk the halls of the Royal Palace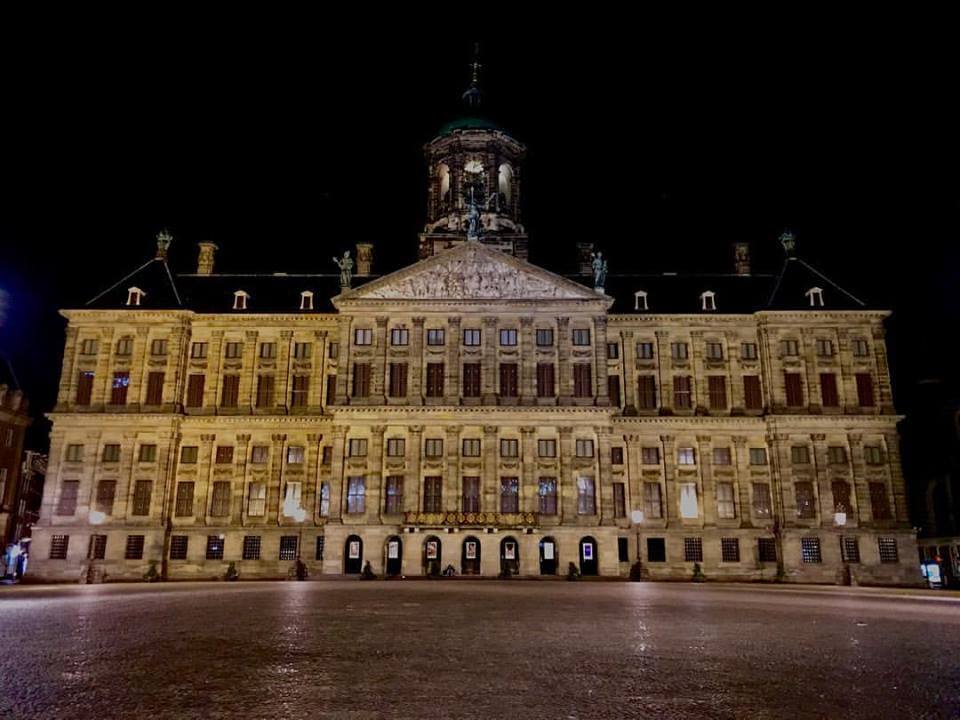 Everyone loves royals, right? Located in the heart of Dam Square, you can find the home of Dutch royalty. The palace, one of the many beautifully architected buildings in Amsterdam stands tall with its massive shape, large pillars and rustic gold outside layer. As the only palace in the country that gets utilized for both private and public use, you have the opportunity to get up close and personal in the life of royalty. You can visit the royal palace for only 10 euro, a price definitely worth the longer line.
5 p.m. Eat (Again) At Local Snackbars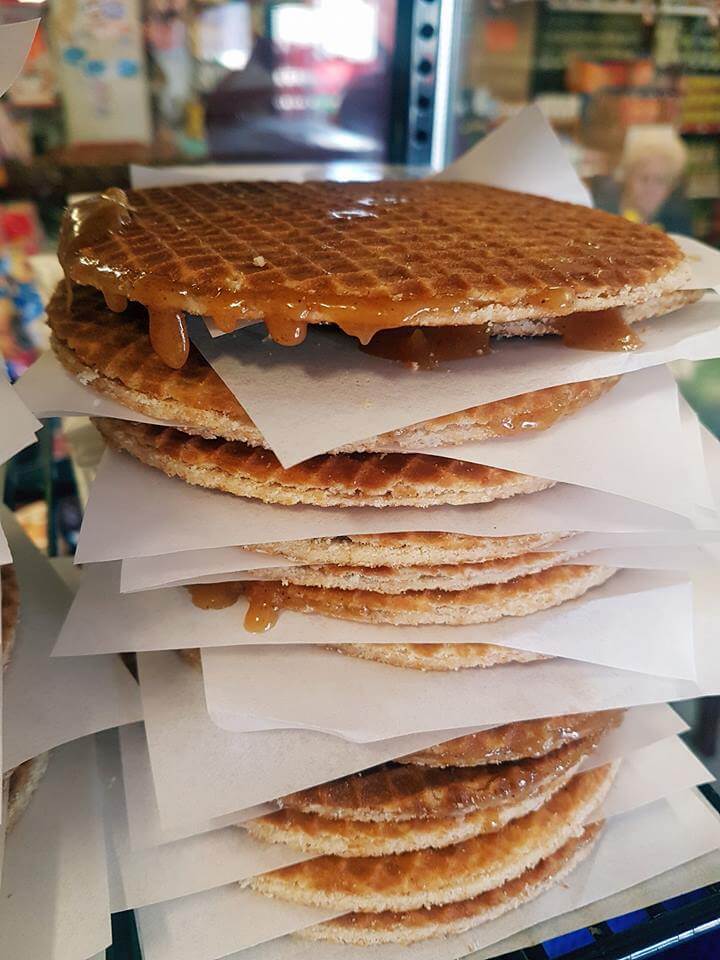 From a stroophwafel (thin waffles with syrup) to ontbijtkoek (ginger cake), Dutch foods will always surprise you. To say the least, if you identify as a foodie, you came to the right city. Amsterdam's food culture consists of too many interesting things to not try it all. If you're craving a snack, try a patatje oorlog from any "snackbar." This snack incorporates French fries with a combination of mayo, raw onions and Indonesian sate sauce. Think of it this way: French fries, an American favorite, with a spin. Want the best patatje oorlog in the city? Go to the center of Amserdam where you can find Vleminckx, a tiny hole-in-the-wall shop known for selling the best fries in Amsterdam.
6 p.m. Ride a Bike through Amsterdam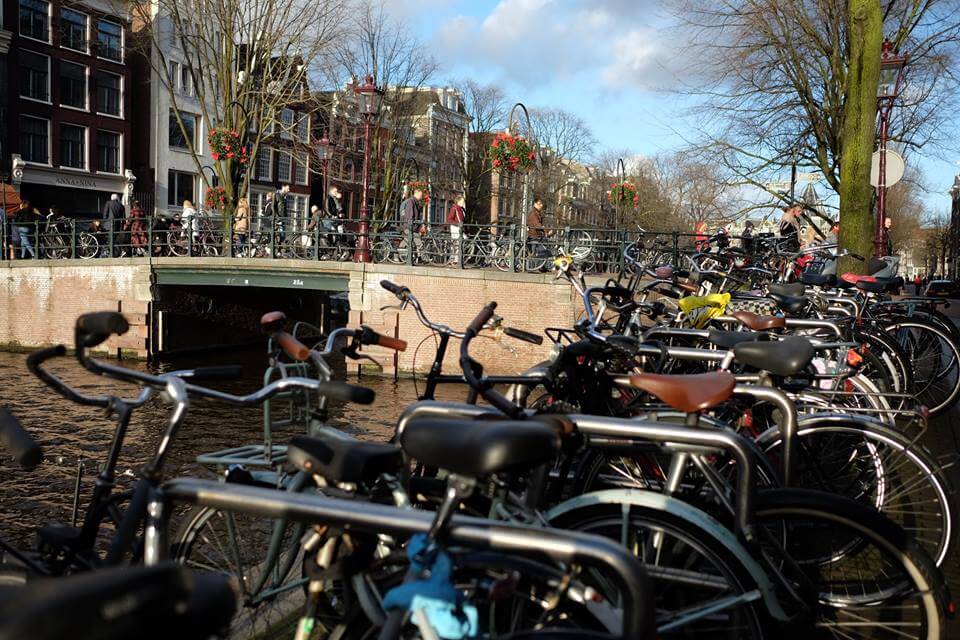 Take a trip on two wheels around one of the coolest cities in the world. Whether you rent a bike or participate in a guided cycling tour, biking around Amsterdam gives visitors a great way to see the city's beauty in an adventurous way. Cycling acted as the main source of transportation through the pre-World War II era. Old habits die hard. "My favorite experience from Amsterdam was biking through Vondelpark. We were there during some rainy days but we caught some really sunny hours while we were near the park, so we rented bikes and rode around. We stopped to people watch at a cafe in the middle of the park where we got coffee and cookies. It was the highlight of our weekend," Temple University junior Hannah Burns said.
7 p.m. Visit the Anne Frank House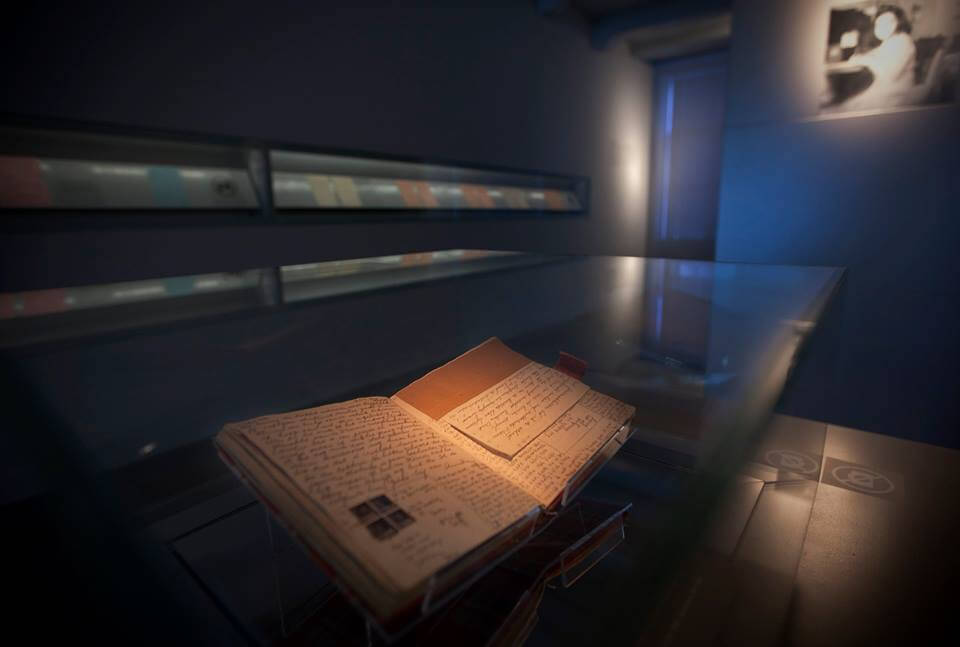 For 9 euro, you can transport back to an unexplored, historical era. See the location of where Anne Frank and her family members hid during World War II. Although an empty space, the Anne Frank House holds so much history from that era. By displaying historical documents, film images, original objects, including Anne Frank's official diary, you will indulge in a true historical experience. During your visit, you will be given a virtual tour of the house and the overall time period. "I visited the Anne Frank House, Van Gogh Museum, Red Light District and coffee shops while in Amsterdam. The Anne Frank House was so moving and really just wandering the streets and observing the culture was incredible," University of Illinois senior Katerina Economou said.
8 p.m. Have a laugh at the Condomerie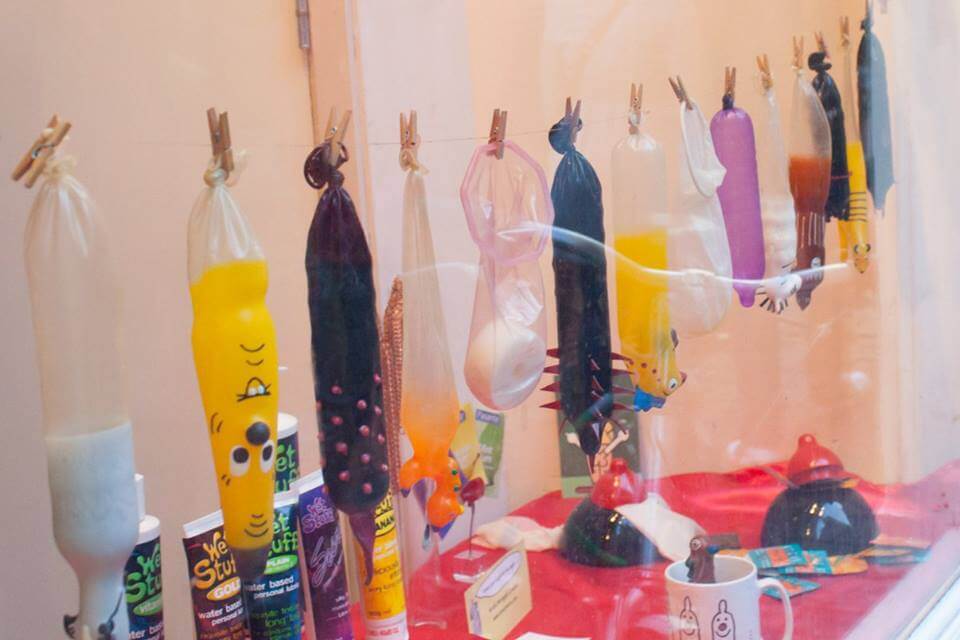 This unusual but fun condom shop summons anyone who's ready to have a good, immature laugh. Only a three-minute walk from Dam Square, this quirky shop sells condoms in many different shapes, sizes, colors and flavors. Despite being a bizarre attraction to have, this store provides a classic Amsterdam vibe. With its place right in the Red Light District, the colorful venue and inappropriate humor gives you so many options for the perfect novelty present for a friend back home.
9 p.m. Dine at Puri Mas for a late meal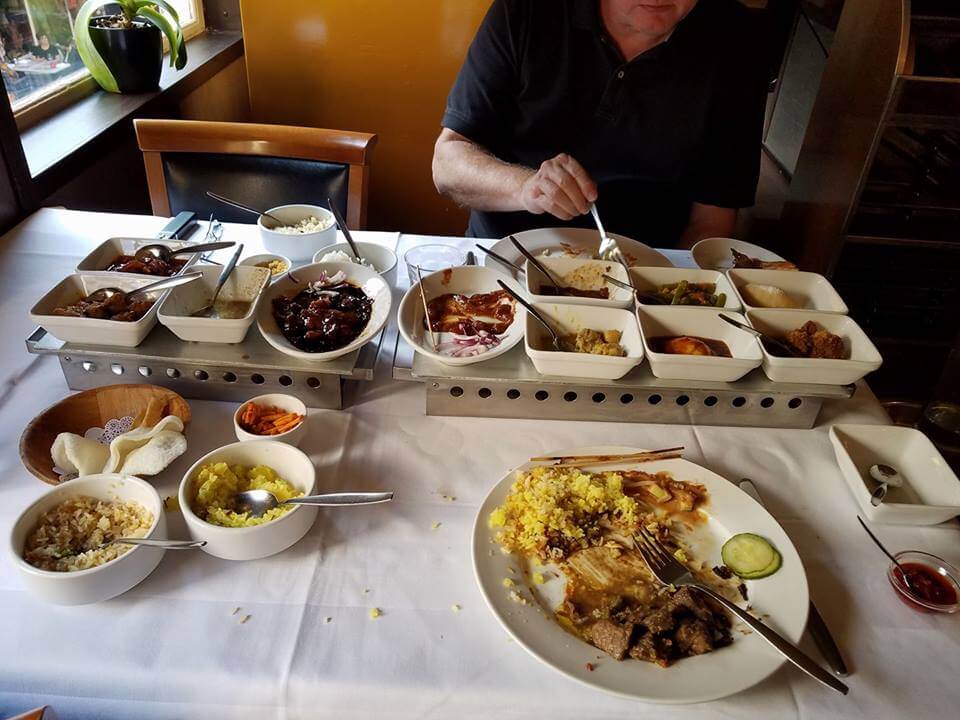 Try out other cultures while traveling abroad. While at this Indonesian restaurant, we recommended you try Rijstaffel, an authentic Indo-Dutch dish that translates to "rice table." Rijstaffel consists of many side dishes served in small portions paired with a variety of rices. Side dishes vary from egg rolls to sambals to fish to fruits and vegetables. This restaurant serves authentic food in the heart of Amsterdam. "While in Amsterdam, I also went to this Indonesian restaurant called Puri Mas where they do a Rijstaffel and it's absolutely amazing," said Economou.
10 p.m. Get dessert from De Drie Graefjes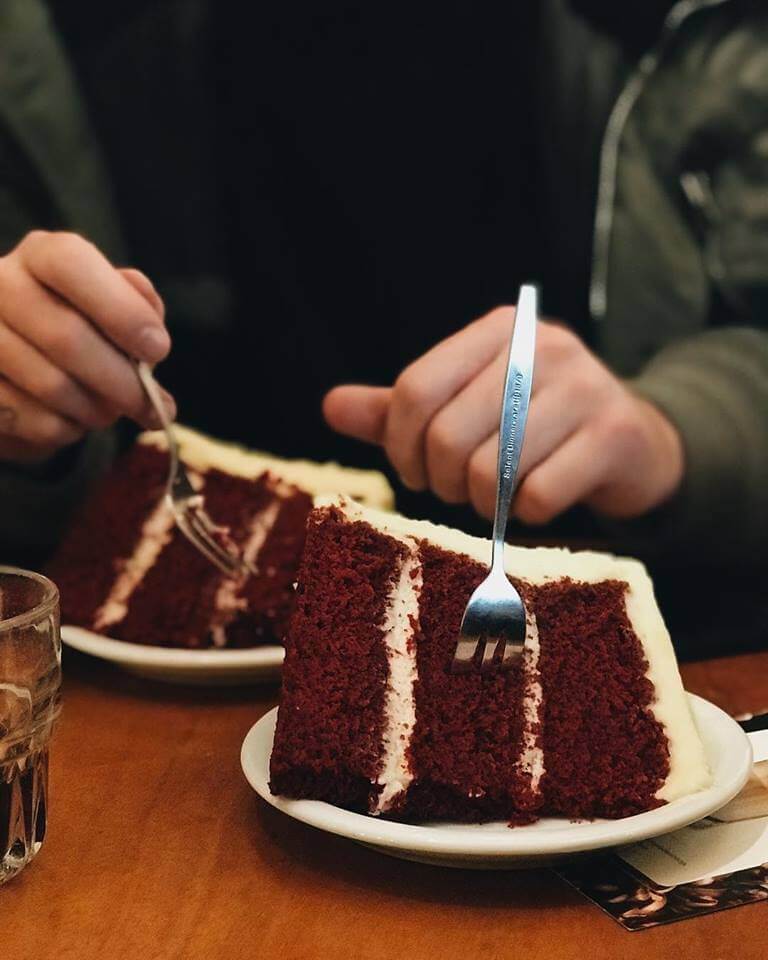 You know the rules: Vacation calories don't count. Don't even think of skipping any chance of some good grub. Head over to De Drie Graefjes for some homemade goodies that put a twist on Dutch foods. De Drie Graefjes sits in the center of Amsterdam and sells tasty desserts and savory lunches. Their pastry menu consists of cakes, pies, cupcakes, cookies, muffins, breads and any baked good you could imagine. At times, it might seem endless; if you have trouble picking, try a big slice of red velvet cake for only 4.50 euro. Served as a large slice, it's incredibly moist and baked in 3 layers. Everyone raves about it.
11 p.m. Chill at the XtraCold Icebar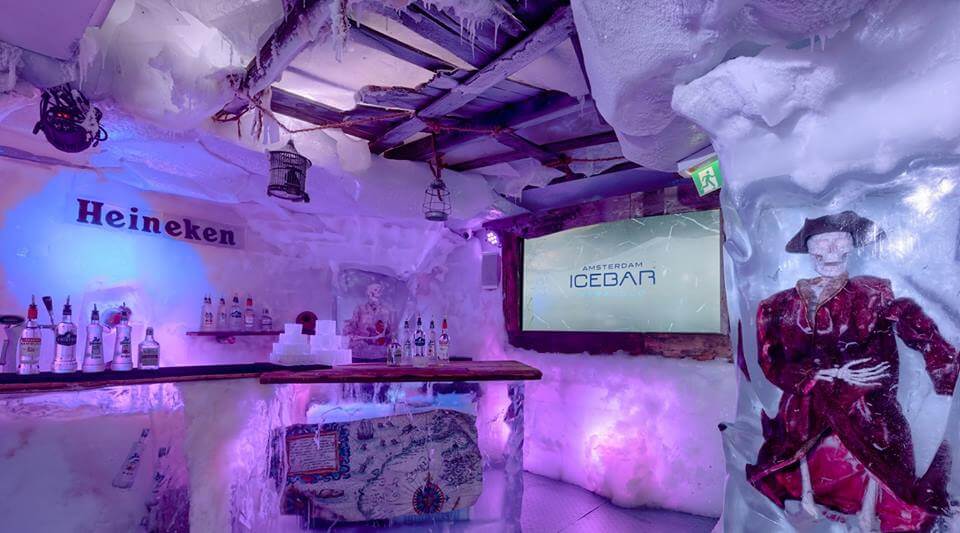 Everyone likes an ice-cold beer but how about adding an ice cold atmosphere to pair it with? This attraction provides a unique experience that you won't find anywhere else in Amsterdam's nightlife. It will literally give you the chills when you walk through the doors. We're not kidding—everything contains ice, from the chairs to bar walls and even the cocktail glasses. This chilly bar will let you know how Jon Snow really felt when winter finally came. Pro-tip: book tickets in advance as they sell out fast. Luckily, your ticket price includes your drinks.
12 a.m. Drink a Heineken at De Blauwe Parade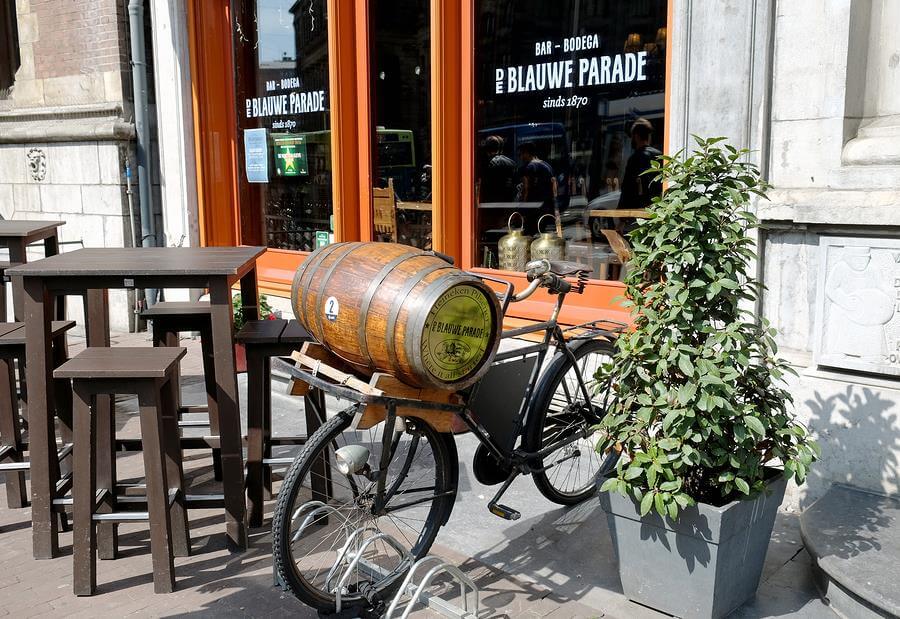 Quench your thirst with Amsterdam's finest—Heineken. No matter where you walk in Amsterdam, you will most likely end up at a bar. This historic bar, not too far from Dam Square, brewed the first Heineken in the 1860s. Of course, they continue to serve their famous beer and many others. While you sip on your local brew, don't be afraid to grab another traditional bar snack, including their bitterballen.
1 a.m. Head over to the Red-Light District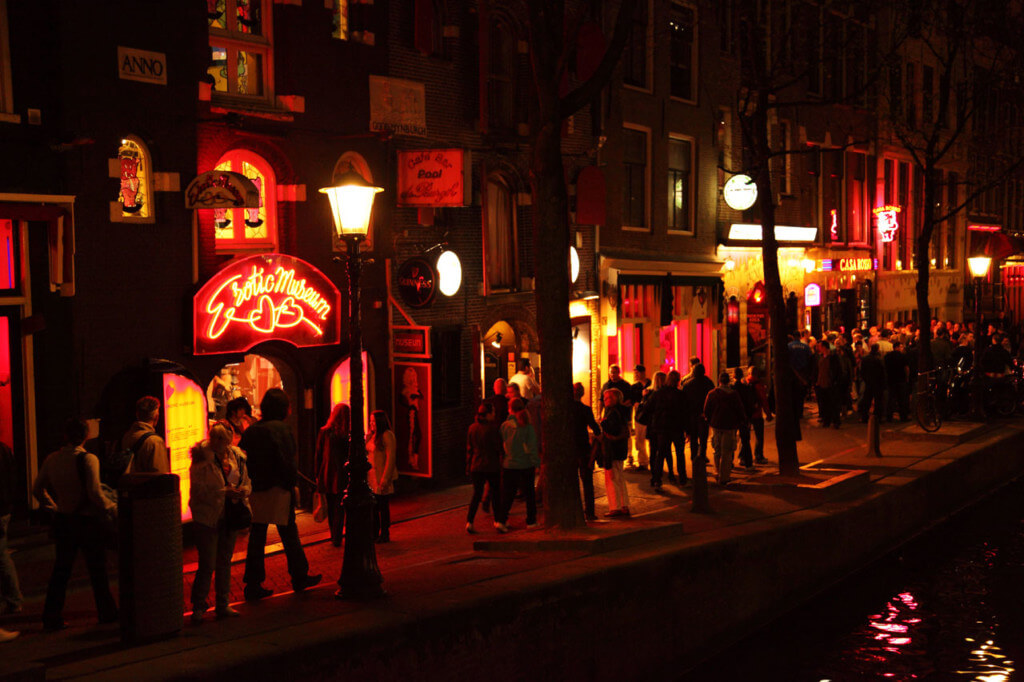 You've probably heard of the notorious Red-Light District, either with your own intrigue or your parents' outrage on the subject. You can't visit Amsterdam and not explore this part of town—it's what makes the city own its rebellious flare. In this district, you can attend peep shows, sex shows or sex museums. But, don't worry: Despite the scandalous activity, it remains safer than expected because of their "open and honest" approach to sex working. Oh, and don't be surprised when you smell some certain herbs in the air (chill, it's legal).
2 a.m. Visit a local coffee shop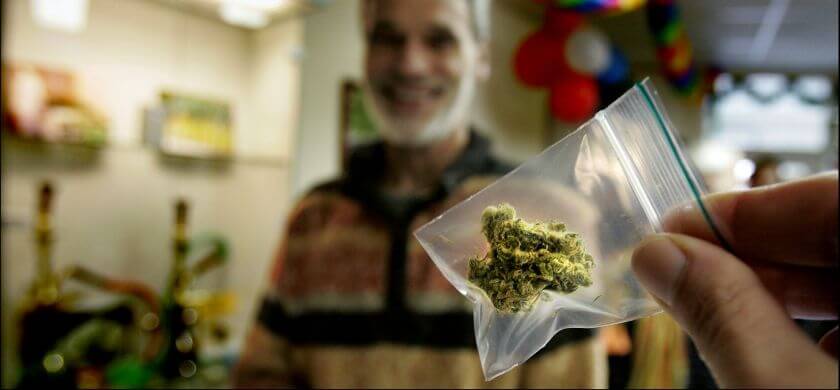 No, we don't mean your closest Starbucks or Dunkin' Donuts. In Amsterdam, a coffee shop patrons can buy and consume small portions of cannabis. To answer your question, yes, most shops sell actual coffee, but find your coffee fix elsewhere because this type of coffee shop definitely isn't the place to get it. Explore this crazy culture that Amsterdam notoriously embodies. With over 250 coffee shops in Amsterdam, you more than likely will stumble upon one throughout your nights out.
3 a.m. Get a drunk meal… from a FEBO wall.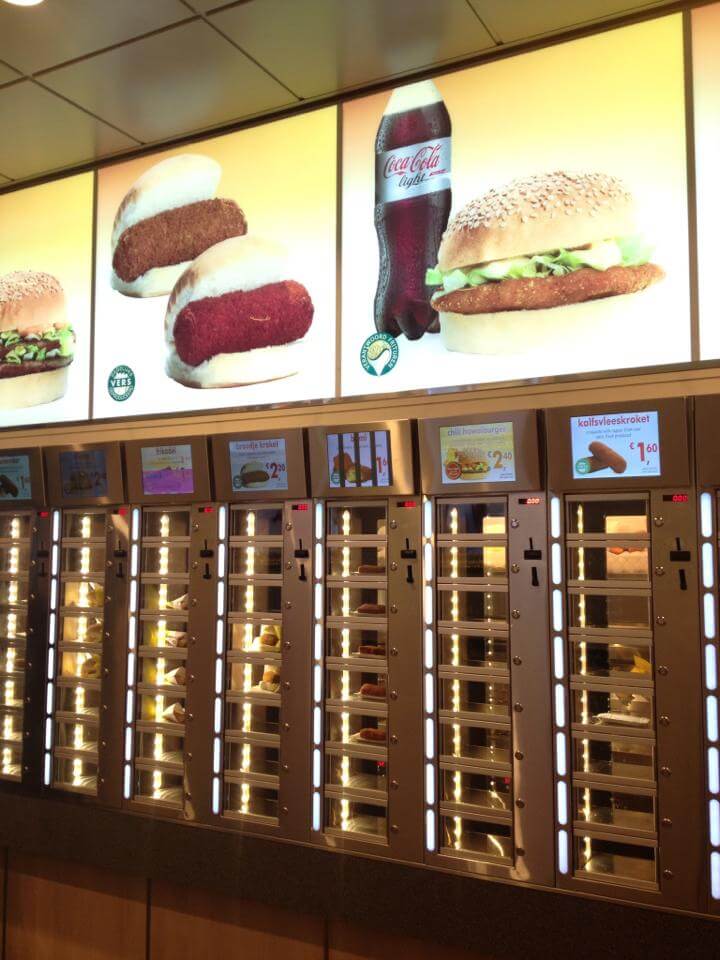 Munchies inevitably happen everywhere, even in Amsterdam. If you can take one thing away from this trip, it's that no matter where you end up in the world you can get the telltale post-puff hunger. Luckily, Amsterdam utilizes FEBO walls, a chain of Dutch walk-up fast food "vending machine." These "walls" scatter throughout the city and offer hot and ready-to-eat snacks to wandering visitors. They take fast food to a new level. For only 2 euro or less, you can enjoy a nice snack, such as frikandel or burgers. Make sure to try the krokets, fried gravy.
4 a.m. Dance at the Sugarfactory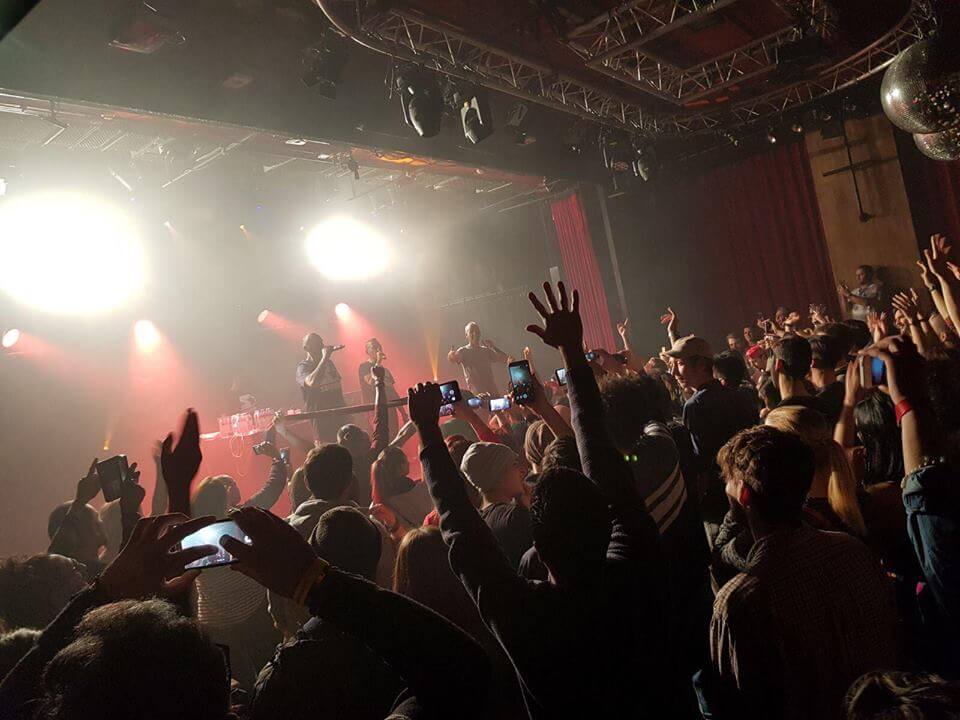 Experience everything Amsterdam offers before your time in this city comes to an end. Luckily, Sugarfactory, a hidden gem of Amsterdam, open their doors close to midnight—a great sign for night owls looking to party hardy. For this venue, the night just started. Live performances will play earlier in the night before the late partygoers roll through. Sugarfactory, a staple to Amsterdam's nightlife, blends a mix of live music, club and theater from local, talented artists. They have theme club nights such as Techno Tuesday, soft hip-hop and house music on Wednesdays and jazz on Sundays.
5 a.m. Get one last glimpse of the city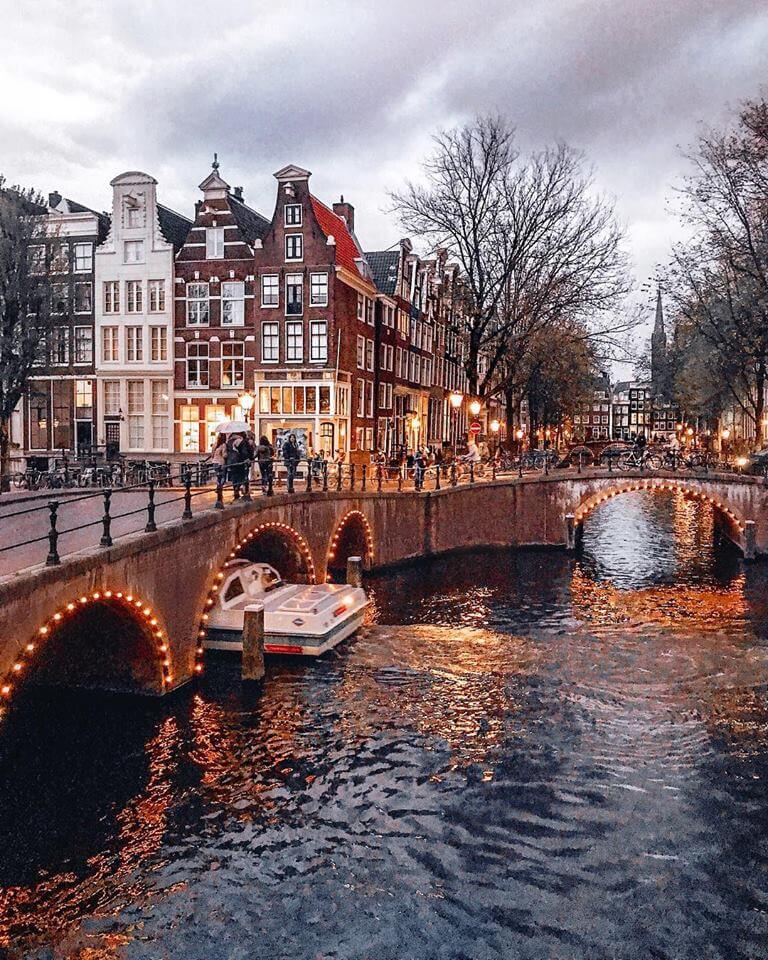 Walking through the city, you'll see its beauty in a raw and non-tourist way because you're away from the typical tour guides and hectic attractions. Explore Rijksmuseum, Oude Kerk or the Leidseplein Square. This last hour will give you a chance to see those museums from the outside. Even though you can't see what's enclosed behind those front doors, you can still admire the buildings' beauty from the outside. Don't be upset if you didn't get to see everything in one day. It just gives you more of a reason to come back to this beloved city. "We mostly walked around in Amsterdam and enjoyed the natural beauty and parks. That was definitely free and better than some of the stuff we spent money on," University of Illinois Master's student Kristina Costello said.